Do you have a father or father figure you would like to appreciate this Father's day and need some Father's day gift ideas?
In this blog post, I will share with you 10 unique Father's day gift ideas that are also budget friendly.
I found that lately, it is so important to not only appreciate fathers, but also to really put some thought and intention in the gifts that we give them.
My husband, M, has recently became the father of 2 when our second little one was born. This Father's day I was looking at different gifts that we could give him to appreciate him for all the love and sacrifices he's made. I'll share some of my findings below.
Gifting does not have to be expensive to show him that you really care and appreciate him. If you scroll below, these 10 gifts cost less than $25 (USD) each and I included them on purpose to find meaningful gifts on a budget.
Pin this for later!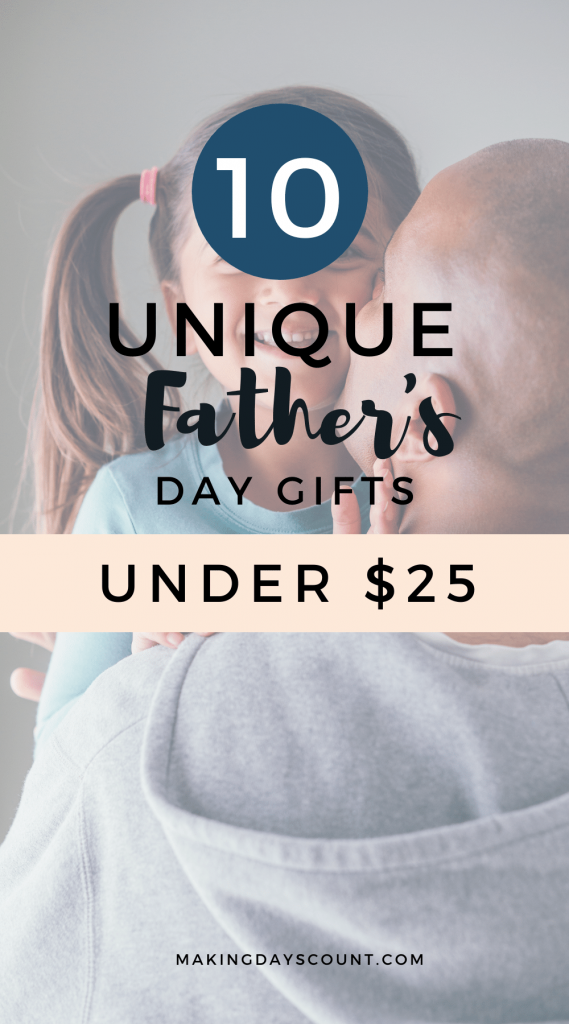 Here are 10 Unique Father's Day Gift ideas under $25:
Disclaimer:

BY CLICKING THE LINKS AND MAKING A PURCHASE, I MIGHT BE EARNING A SMALL COMMISSION AT NO ADDITIONAL COST TO YOU. PLEASE SEE OUR FULL DISCLOSURE FOR MORE DETAILS.
1. New Personalized Wallet
One of the gifts you can give this Father's day is a personalized wallet. What I like about this wallet is that you can customize it with the color of your choice as well as the style you would like it to have.
Not all men wear accessories or jewelry, but they'll need their wallet.
If your dad or hubby needs a new wallet, this is a great gift to give this Father's day.
It will be something that they use often and reminds them of you and your thoughtfulness. Also, it looks pretty good so it's a win-win.
Check out the other personalized wallet options here as well.
2. T-shirt (dad est. 2021)
Another gift that is really thoughtful and great is a dad t-shirt. I bought this shirt (similar one here) for my hubby after our daughter was born. It was something that he wore when we went out on the weekends or on a trip.
Initially, I thought it was a cheesy gift proclaiming when he became a dad. However, he actually enjoyed wearing the shirt without me asking him to.
Whether for a newborn dad or a grandpa, you can customize this t-shirt gift with the font and year of your choosing.
He'll wear it proudly as he goes around with the kids or grand kids.
3. Customized Photo Collage
Another Father's Day gift idea is this customized photo collage. This collage consists of pictures of the dad and children with the word Dad.
This is a wonderful gift and doubles up as a decor piece for his man cave or even in the living room (if that fits your style).
With this customized photo collage gift, you can also customize the word if you would prefer as not everyone calls their father 'dad'.
This is a simple yet very thoughtful gift for dad.
4. Card (funny or whatever he likes)
Some dads prefer a card, one with dad humor.
You know your dad or husband the best, and can choose a card that will make him laugh.
Etsy is a great place to check out different card designs, both printable and also a physical copy. Check out the different designs and wording to see which best fits your dad's (or hubby's) personality.
This golf card is something that I might consider gifting to my dad as he used to play golf (a long time ago). Another one that I might consider giving him is this grandpa card from my kids.
Sending a card might be a great way to connect if you are not able to connect in person anytime soon.
5. Customized mask
Depending on where your dad lives, it might or might not be mandatory to wear a mask. Why not get him something that is customized and fits his personality perfectly?
I'm pretty impressed with what is available out there. From masks that prevents fog in the glasses to customized design like this ew, Covid one, there are so many choices.
Check out the different designs and also the material that the masks are made of before purchasing them. You might want to consider whether you want a cloth masks, masks with number of layers, or the ability to put a filter inside. That is totally up to you.
6. Customized Guitar Picks
For the dads who love music and playing their own guitar, a customized guitar pick is a great gift for them.
Choose one of the guitar picks and customize it to how you would like it. Whenever they play the guitar, they can choose the picks that you bought them and it'll remind them of you.
From the design to the font, and also to the material of the picks, you can browse around Etsy to see which one would fit your dad's (or hubby's) personality and style.
7. Personalized Spatula
The weather is getting warmer and it's time to start up that grill.
Get your dad his own personalized spatula. You can add his name, his signature saying, or even a nickname on the spatula.
It is perfect for him every time he wants (or is asked to) grill something for the family.
You can also let him know what is your favorite meat/veggies that he grills the best. It gives him a boost of confidence to enjoy this process of cooking for the family.
8. Wrench Bottle Opener 
For the dads who love a good bottle of wine or another choice of alcohol beverage, this bottle opener is a great Father's day gift idea.
What I like about this gift is that it doubles as a key chain and a bottle opener. It is handy for him to carry it around and use it whenever he needs to.
You can also personalize it to write 'Dad', 'Grandpa', or another name if you would prefer.
Check out this wrench bottle opener here.
9. Double sided beard comb 
The pandemic look is real. Whether the dad always had a beard or started to grow a beard during the pandemic, this is another great Father's day gift idea.
I don't know much about beards. However, based on the description and reviews, this beard comb is designed to help the man groom their beard and keep it nice.
We all need a little self love during this time and getting dad a beard comb is one of the ways you can help him take care of himself well.
Also, this double sided beard comb is pretty compact and easy to carry around whenever he needs it.
10. Vintage Baseball Watch 
Last but not least, another Father's day gift idea you could think about is to gift a watch.
There is something about wearing a watch that makes a person look stylish. However, not everyone can afford a really expensive but good looking watch.
There are so many watches out there. One of the ones I found that was interesting and quite budget friendly is this Vintage Baseball watch. Dad can wear this watch to a ball game or at a family barbeque. It looks pretty good and comes with a story (that you gave it to them for Father's day).
This seller also have other designs that you can check out here.
Dads might not always wear accessories, but a watch is something that they might wear.
I hope that this list of under $25 (USD) Father's day gift ideas help you to find the perfect present for your dad or father-figure in your life.
Related:
Thank you so much for reading my blog post on "10 Unique Father's Day Gift Ideas Under $25". If you like what you read, please pin the image below and share it with others. Thanks!