Whether you are shopping for your own wedding or getting ideas for a friend, it is always good to save money where we can without compromising on quality. In this blog post, I will be sharing 12 dollar store wedding items (with pictures!).
If you missed part 1, here is 7 Wedding Items You can Get from the Dollar Store.
I really like the dollar store, even though not everything is priced at $1. Here in Canada, Dollarama (one of the popular chains) has products ranging from $1 to $4.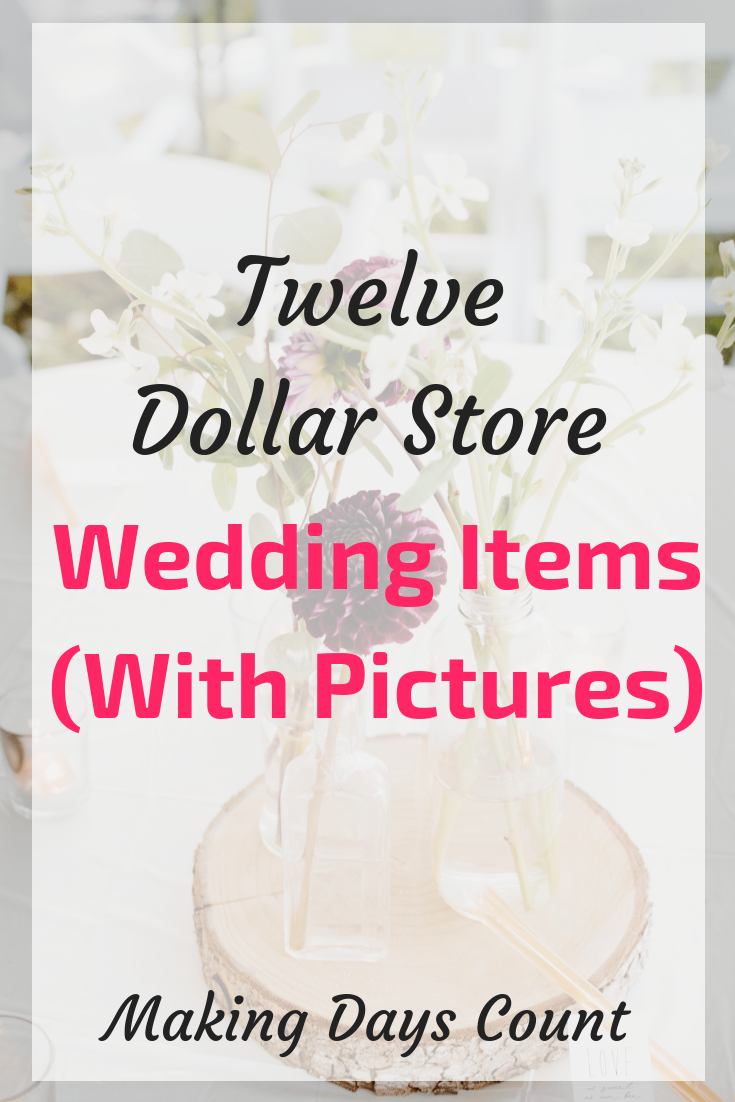 Weddings can be super expensive, but it does not have to be if you can find really good deals like the ones I am about to show you.
You might need to add your personal touch or DIY to make it fit your wedding perfectly.
BY CLICKING THE LINKS AND MAKING A PURCHASE, I MIGHT BE EARNING A SMALL COMMISSION AT NO ADDITIONAL COST TO YOU. PLEASE SEE OUR FULL DISCLOSURE FOR MORE DETAILS.
Here are 12 dollar store wedding items:
Wedding-themed stock paper
You can use the stock paper to decorate your cake table, make your table number signs, or make the DIYs you see on Pinterest.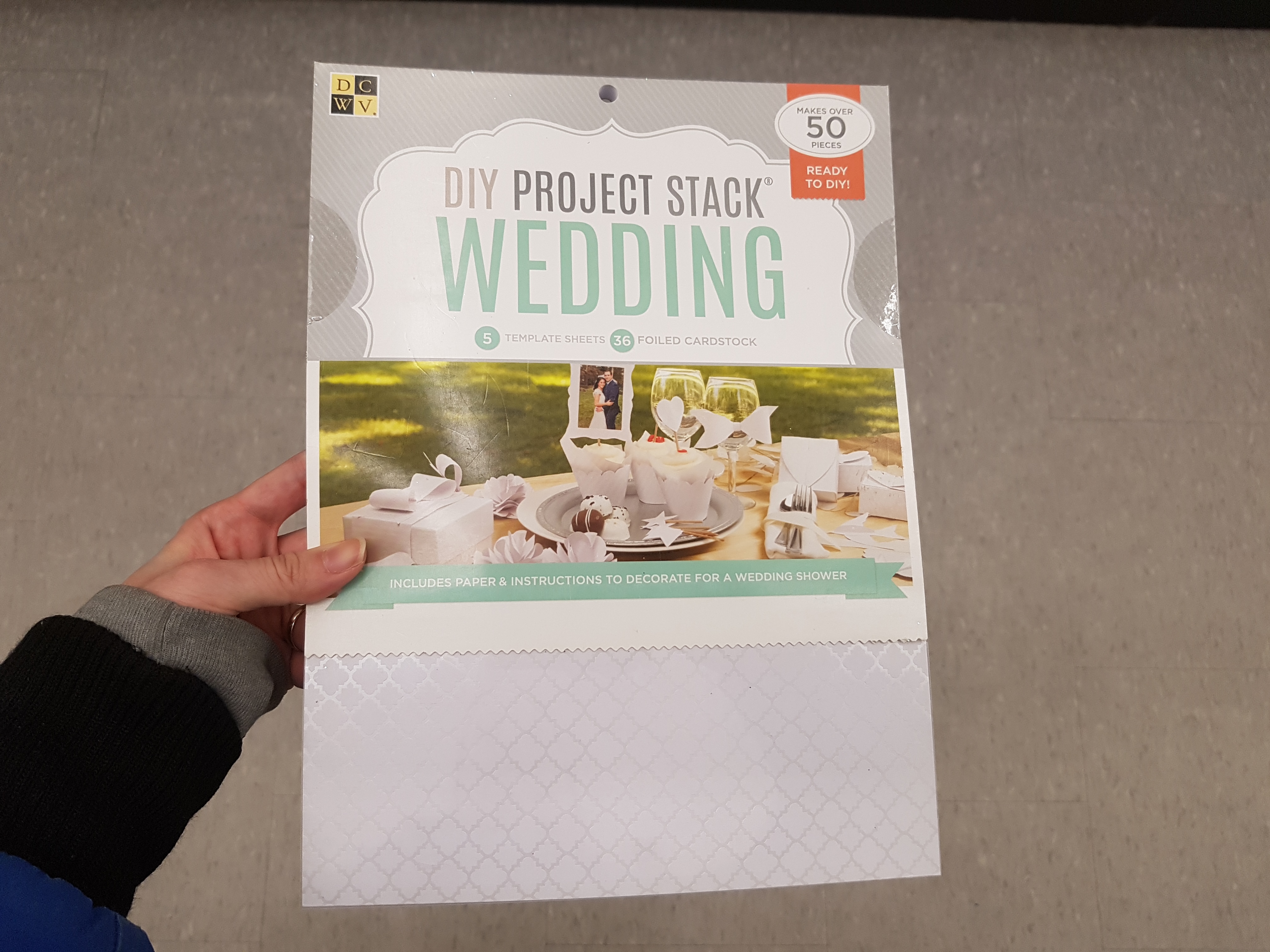 If you are very creative, you can also use it as a part of your seating arrangement plan as place cards.
These stock paper set usually cost $10 at a craft store, so you'll save a lot of money getting this from the dollar store.
Your bridal party can also make really cute DIYs for your bridal shower!
Invitations Set
If you are having a small wedding or do not mind printing it yourself, this set might be a good idea for you. The simple gold frame around it can be elegant when paired with a nice font.
Tip: Create your invitations on Canva or on Microsoft Word for free.
It comes with both the invitation and the rsvp card, which is handy for people to let you know whether they can attend your wedding.
Bonus, it cost you CAD$0.20 per set.
Favour Bags
I mentioned this in the previous blog post, but these pouches are such a good size. I thought that I would mention them here again.
You can fill them up with candy or tea bags, whatever you want to give to your guests.
Remember, you don't have to give out favours if you do not want to. We just bought a few bags of chocolate and filled them up in favour bags similar to these (the bags we bought were much smaller).
Premade Pom Poms
You can buy regular tissue paper at the dollar store to make these pom poms. However, if you rather just get them premade, why not? It will save you a lot of time and money.
Get your bridal party to open them up during one of your get-togethers. Make it a fun night of celebration and also work.
If the dollar store does not have your wedding colour tissue paper, Etsy would be a great place to buy them. It's a little pricier. When we got our dusty pink pom poms from Etsy, it was worth it.
Chalkboard Signs
I can't believe that they have this at the dollar store. They look so nice and of good quality. You can use it to write where is the reception versus ceremony, or write directions to the bar or photobooth area.
You can even use them as labels of the different food stations, or where they can sign in to drop off their cards and gifts.
I'm still amazed that they have that at the dollar store.
Photo Lights
When I think about these lights, I picture some young person hanging them up in their room with polaroids.
You can use the same for your wedding, except it's filled with pictures of you and your future spouse. Place them at the sign-in table or nearby where your guests can take a look at your pictures. It's such a nice touch.
When the wedding is over, you can then use it to decorate your house. You can add pictures that you took with your guests too (if there is enough room).
Candle Centerpiece
I have seen these a few times at the dollar store. If you are going for a candlelight dinner vibe, these candle centerpieces might work well for you.
Another idea is to mix these centerpieces with taller and thin ones to make it more interesting.
These candles run on batteries, so you do not need to worry about an open flame situation or kids around the table.
Paper Tassel Garlands
These garlands can be used as part of your decor for your cake table or your sign in table.
You can also get multiple garlands and string them together as your head table backdrop.
It's $2 for twelve paper tassels. A good idea would be to keep them and reuse them for another event.
Framed Magnetic Board
These magnetic boards are so pretty for a wedding. If you know someone who has pretty nice handwriting, you can use the board as signs telling your guests where to give their cards or the dessert station.
Another way you can use this magnetic board is to print your pictures and put them on the board.
You can leave it blank and place it in the photo booth props table and your guests can write messages and take a picture with the board.
Once the wedding is over, you can put the board on your fridge for important messages, appointments, or meal planning.
Burlap Garland
Depending on your wedding theme, these burlaps will save you a lot of money.
Whether as a part of your invitations, centerpieces, or favours, getting these burlap garlands will help bring your cost down.
One centerpiece idea is to wrap the burlap around a dollar store glass vase, securing it with a ribbon, and filling it with baby breath.
Photobooth Party Glasses
These are just fun party glasses. You can include them as part of your photobooth setup or give them to kids for fun.
Frameless Photo Frame
Some ideas I thought of when looking at these photo frames are table numbers, dessert station signs, and "Sign here" at the reception table.
What I find is that you can be creative with dollar store items as long as you think outside the box.
Your guests might not even know that you got these items at the dollar store and you saved money doing so.
Be sure to check for the quality before buying anything, especially for your wedding.
Related:
Pin this!