Toronto is a great place to visit with your baby. Whether it's your first time here or first time with a baby, I have a number of places that are really fun to bring them to visit.
Of course, I am biased since I live in the Greater Toronto Area.
However, these places are a great place to start exploring, especially when you have a little one with you.
What I would highly suggest is that if you are able to rent a car, it would be a lot easier to go from one place to the other. However, if you prefer to take public transportation, most of these places are accessible by bus, subway, and/or the streetcar.
Pin this for later!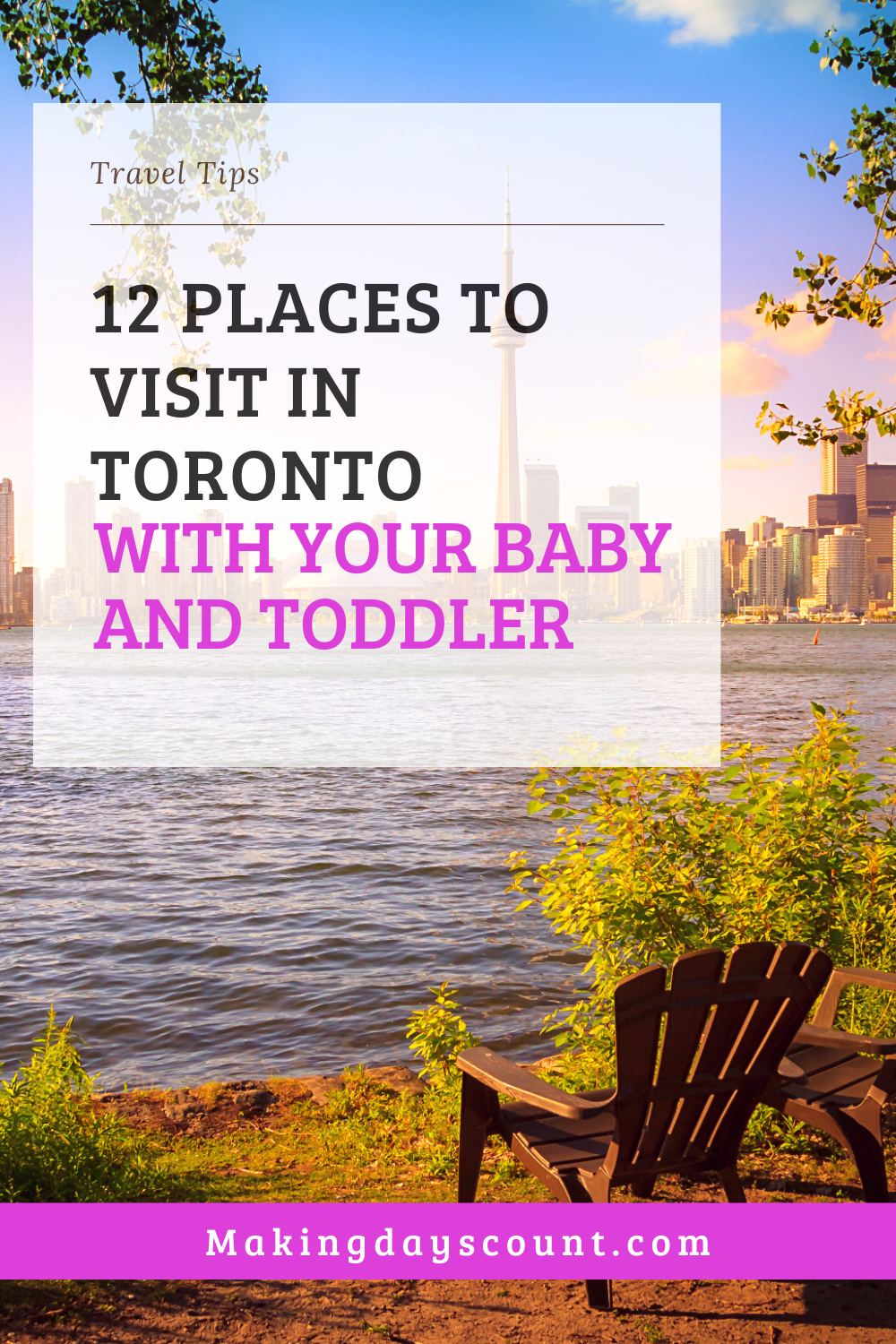 Here are 12 places you can visit with your baby in Toronto
BY CLICKING THE LINKS AND MAKING A PURCHASE, I MIGHT BE EARNING A SMALL COMMISSION AT NO ADDITIONAL COST TO YOU. PLEASE SEE OUR FULL DISCLOSURE FOR MORE DETAILS.
1. Toronto Zoo
The Toronto Zoo is at the top of my list to bring your baby.
Last year, we went with our daughter, K, who was not even a year old and had lots of fun.
Read more about our adventure here: Visiting Toronto Zoo with a baby.
It's a great place to take your baby and even young children. You can bring your own food or eat at the restaurants available in the Zoo.
With the Zoo reopening again after closure due to COVID-19, you can visit them now with safety measures in place.
I highly recommend that you bring a baby carrier so that it's easier on your back and a better vantage point for your baby.
2. Toronto Islands
Another great place to take your baby or young toddler is to the Toronto Islands.
There are so many fun and some free things to do there with your children. The water park / splash pad is really fun and absolutely free to anyone to play at. Be sure to bring additional clothes and towels for everyone.
There are also some animals around the Toronto Islands that you can visit for free. I don't think you can pet them but we enjoyed watching them being fed.
If you're more interested in getting on rides, there is quite a number that are really fun for young children as well.
Read more about my tips on bringing a baby to the Toronto Islands here: Visiting Toronto Islands with a baby.
A quick note is that you can bring your own food for yourself and baby if you would prefer. There are not too many kid friendly choices that I remember, so it's probably best to bring your own snacks and food for your baby or young toddler.
3. Ripley's Aquarium
The Ripley's Aquarium is a great place to take your little ones when you visit Toronto.
Located in downtown Toronto, it's very accessible and right beside the CN Tower where you can check out views of the City. I'll share more about this in a later point.
Watching the different species swimming or crawling around, it's pretty fascinating for young children and adults alike.
I have not brought my daughter to Ripley's Aquarium, but I did bring her to S.E.A Aquarium in Singapore and she enjoyed it. However, I did have the opportunity to visit the Ripley's Aquarium before I had my daughter.
Go at an earlier time before the crowd comes and also check out their website to see when the interactive dive shows are happening. They are currently open for guests, so be sure to look online for more information before you go.
4. High Park
High Park is more than just to see the Cherry Blossoms.
If you are visiting Toronto during the Cherry Blossoms season, that's great timing. However, if you are not, there are other things to do with your baby and young toddler as well.
There is a zoo at High Park. Though not as big as the Toronto Zoo, they have some animals and is completely free to visit.
So, if you want to take your kids to see some animals for free, High Park is a good option as well.
It's quite nice if you want to bring a picnic blanket and have lunch at the park. Let your baby or young toddler crawl around while you enjoy relaxing at the park.
5. Kids Play Place
Sometimes, kids just need some place to release their energy and they can do that at a play place.
Do your own research to see which ones are closest to where you'll be staying and the reviews online.
If you are unsure, you can always call them to ask about their cleaning practices and how many kids are allowed per time frame.
There are some play places that allow babies under a certain age to play for free.
So, do your research prior to checking out those play places for your kids.
6. Nathan Phillips Square and Eaton Centre
Nathan Phillips Square and Eaton Centre is a place you can take your baby and young toddler to visit in Toronto.
Eaton Centre is a really big mall in downtown Toronto and they have lots of shops you can visit.
Nathan Phillips Square has different events throughout the year that you can check out.
However, due to the global pandemic, they have stopped the events but you can still walk around.
When the events resume, they have different festivals, farmer markets, and a variety of shows that you can check out. In the winter, there is a free and open skating rink right in the middle of Nathan Phillips Square. You can feel free to rent skates if you do not have your own.
7. Canadian National Exhibition (CNE)
The CNE is a really fun place for both children and adults alike.
Usually, they would have a really huge event from end of the summer to early fall. However, due to the current pandemic, they have decided not to have it and postponed it to 2021.
If you're preparing for a visit in 2021 or beyond, this is great news!
There are so many things to do at the CNE during this big event. From rides to trying different food, everyone can find something that they enjoy.
You can check out their website to plan what you want to do prior to going there. It'll definitely help avoid the overwhelm, especially with the crowd size every year. They even have a section on their website for kids, so check that out to make sure you can find something for your little ones to enjoy too!
8. CN Tower
The CN Tower is an iconic place to visit in Toronto.
Whether you have a baby or not, it's a must-see when you come to Toronto.
Upon entry, you'll take an elevator all the way to the top and get amazing views.
There is also a glass floor, which I would not suggest for those who are afraid of heights. Kids are very brave though, they'll jump on them while the adults slowly walk across.
Check out their website to get entry timed tickets as they take certain precautions during this time.
If you are bringing a baby, I would highly suggest for you to bring them in a baby carrier (here is the one I have and highly recommend).
9. Ontario Science Centre
The Ontario Science Centre is family friendly place to visit.
Children 2 years old and under are free, so you'll just need to pay for the adult fee.
As of this writing, the Ontario Science Centre plans to open its doors to the public so be sure to check out their website before you go.
Some of the activities are more suitable for older children, but there are some that can be really fun for younger children.
Browse around the website to see if your child (or you) might be interested in any of these prior to your visit.
10. Harbourfront
Enjoying the waters is a relaxing thing to do while you're visiting Toronto.
Go on a Harbour Tour is a great way to get a glimpse of the beautiful city skyline and also learn more about Toronto.
If you prefer to stay on land, you can just walk by the harbour and enjoy your stroll.
You can check out the Harbourfront Centre's website to see if there are any shows that interests you and your family.
11. Museums
There are a number of museums available around Toronto for you and your family to visit.
Some of the popular ones include Museum of Illusions, Art Gallery of Ontario, and the Hockey Hall of Fame.
Do a quick search online to see the other museums available in Toronto. There's also Casa Loma which is a castle open for visitors and for events as well.
If you prefer visiting a place where the kids can also have fun, check out Legoland. You can only go in with a kid except for adult nights.
12. Free Library Activities
Last, but not least, definitely check out the libraries in Toronto for free programming for your baby and young children.
As of this writing, the libraries in Toronto are not opened except for drop off and pick up.
However, when they do open up the programs, check out their website for more information about these family programs.
The programs include singing and storytelling which will be fun for babies and young kids.
Definitely check it out if you need a short period of time for rest while entertaining at the same time.
So depending on what you like to do, be sure to check out these awesome places with your baby and young toddler. Please take a picture and tag me on Instagram at @makingdayscount if you are visiting Toronto.
Also, if you're looking for a place to stay, check out the Airbnbs in the area and don't forget to sign up to get CAD $45 off your first stay.
Related:
Thanks for reading this post on "13 Places to visit in Toronto With Your Baby". If you like what you read, please pin the image below and share with others. Don't forget to check out the other posts above.