Summer is finally here. The weather is looking a lot better. Now it's the time for us to take our babies out and about to explore what is around us. What is also lovely is that we do not have to wear so many layers or dress our babies like a marshmallow anymore.
Sounds great and all, but isn't doing summer activities going to add up to be costly?
Nope.
I'm going to share with you budget summer activities I have found that are $10 and under. If you have more than one child, multiply the cost by each child. These are some ideas to get you started on having an amazing, fun-filled summer.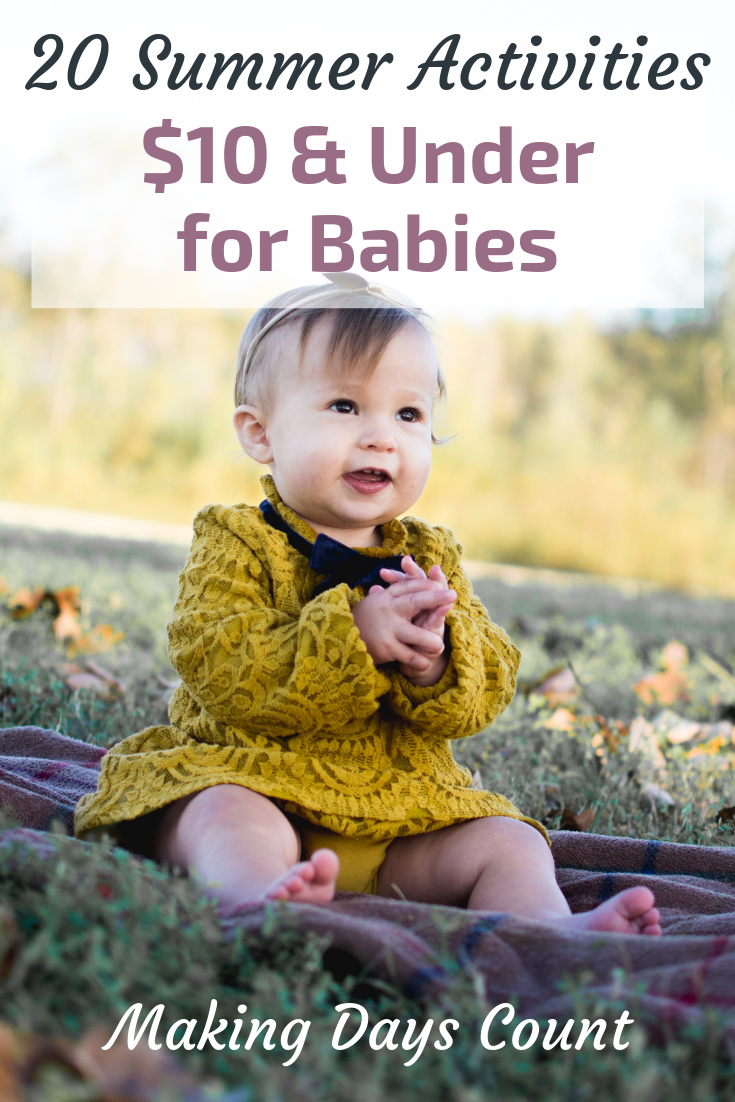 Here are 20 summer activities you must try with your baby (all are $10 and under):
BY CLICKING THE LINKS AND MAKING A PURCHASE, I MIGHT BE EARNING A SMALL COMMISSION AT NO ADDITIONAL COST TO YOU. PLEASE SEE OUR FULL DISCLOSURE FOR MORE DETAILS.
1. Go to the park or playground
Now that the weather is warm, you can take your baby or children out to the park and playground and enjoy the sunshine.
When I took Baby K to the playground, she was so calm and mesmerized by everything in the playground. I love watching her take in the sights and sounds around her.
2. Visit your local library
Another budget summer activity you can do is to visit your local library. Pick a book or two to check out.
One of the libraries in my area has a section dedicated to kids and adult can only go to this section if they have a kid with them.
It's free to borrow these books, DVDs, or magazines. You just need to remember to return them.
Another fun thing about libraries are their programs. Check with the front desk or look at the bulletin board for the free program or classes they have at your local library.
3. Take a stroll or hike
If you live near a hiking trail, go for a hike. You can bring your baby on a carrier (this one is similar to mine) or one of those jogging strollers.
You will get some exercise and both will get some fresh air. It's healthy and you can decide the pace and route you will take.
4.Window Shop at a toy store or mall
This is a hard one if you love to shop. Skip this if you know you're going to have a hard time to say no to purchasing something.
Take your little one to just browse at a toy store. Let them test out the different toys and see what they like. You can note it down and buy it for them for a special occasion.
You can also compare prices with Amazon to see which is cheaper.
5. Arrange a play date with friends
Call up your friends and family members who have babies that are around the same age as yours. Arrange a play date so that the babies get to know each other and the parents get to chat.
I'm also amazed to watch the other babies grow up a little more every time we have a play date with my friends and their babies.
6. Attend a community program
Look online to see what is available for you and your baby. Whether in community centres or something provided by your State or Province, you can usually find the information you need online.
For us, there is an EarlyOn program that is free. We have to look at the specific location we want to attend and find out their schedule for programs with babies.
The best part is that it's completely free.
7. Fun at the beach
Since it is the summer, take the kids to the beach. Put sunscreen, swimsuit (this is the swim diaper we bought for Baby K), and a hat on them and you are good to go.
It would be interesting to see if the baby likes the texture of sand and cold ocean water underneath their feet.
You can also bring food and have a picnic at the beach.
8. Water activities at the pool
Another water-related activity is to spend some time at a pool. If you have your own pool or a pool in the community, this will be fun for the whole family.
If you prefer an inflatable pool just for the kids, you can get one on Amazon. Take it out every summer and put it away when the weather cools down.
9. Check out an outdoor festival
There are a lot more festivals and outdoor events in the summer. From food festivals to music competitions, check out what is happening on the weekend in your city. This is one of the exciting budget summer activities that you can enjoy with the whole family.
What I love about these are that you can come and go as you please. So, if your baby starts to get fussy due to overstimulation, you can go to a quieter place or go home.
The only downside is that the food might be expensive, so be sure to bring snacks and keep your budget low for food.
10. Visit a museum or art gallery
Some museums and art galleries are free or pay-what-you-want. Research before going to see what are on display and decide if it is something you want to see.
Some cities have interactive museums for children and they might be cheaper during the weekdays as compared to weekends.
Check out what is available in your city and have fun exploring.
11. Go to a petting zoo
Petting zoos are really fun for children of all ages. They can see animals and get an opportunity to interact with them as well.
We have one here in Toronto, located at High Park. It is free for you to visit their zoo.
12. Explore a nearby garden
Another free activity that you can do is to explore a garden. Similarly to going to a park, these gardens are available to the public.
We have Edwards Gardens and the Toronto Botanical Garden here in Toronto. Enjoy the walk and smell the fresh and beautiful flowers all around you.
13. Seasonal fruit picking
In the Greater Toronto area, you can visit different farms for fruit picking. Know the season and go for the ones you know you will enjoy.
The cost is dependent on how much you pick and it will be interesting to see if the baby likes that particular fruit. These hands-on budget summer activities is fun for both adults and kids.
14. Free summer music trial class
Many music classes offer the first class for free. It is to give you an idea of what it is like and to see if you find it a good fit.
Do your search online and register before they get full. If you like it, you can decide to join the class for the rest of the summer.
15. Check out the Dollar Tree
Hi, if you are new to my blog. I talk about going to the Dollar Tree or Dollar Store once in a while.
Here are the latest ones:
The dollar store or Dollar Tree is an affordable place to check out with your baby. You might be able to find a toy or two as well.
You might be able to find things that will surprise you.
16. Go to a play gym
The play gym is a fun place to take your kids to as one of the budget summer activities. They can climb around the different play structures and be active while being in a safe space with you.
I found one in Toronto that only cost $10 per child for the whole day. Adults are free. If your child has lots of energy, this would be an exciting option for them.
17. Take public transportation around the city
Sightseeing in your city can be expensive, but one way to do it cheaply is to take public transportation.
If you're familiar with the different trains and buses, you can take your baby around to visit several places in the city.
18. Join a free walking tour
Another affordable way to see your city is to join a free walking tour. All you need is to tip your guide at the end.
Wear a good pair of running shoes and bring lots of water to stay hydrated. Take the opportunity for washroom break to change and feed your baby.
I would recommend this for adventurous parents because you need to organize this during baby wake times, feeding times, and changing their diapers.
19. Explore local farmer's markets
On certain weekends and weekdays, your local Farmer's Market is a good place to visit. You can buy fresh produce and chat with the farmers.
It's also great to buy local and support the farmers. Sometimes, it might be cheaper than the grocery store.
20. Visit Cultural Centres
Last but not least, visit the cultural centres around the area.
We have a place called Black Creek Pioneer Village where you can learn about how people lived in the past. They have actors who can demonstrate what it means to live without electricity or cars. On Tuesdays after 2 p.m., it is free to visit.
Be sure to check out what you have in your area for budget summer activities to do with your baby.
Related:
Thank you for reading. If you like this post, please pin and share it with others you know. Thanks.