Raise your hand if you are so excited for spring to come! When the weather gets warmer and the snow melts, no more shovelling for you, hooray! You can pull out your gardening boots or rain boots (whichever is more your style) and enjoy the weather just a bit more.
It is also time to find new and fun date ideas to go on with your special someone. If you're more of cuddling by the fire type, no judgement from me, but I'm going to offer some new date ideas that you can maybe try out.
Maybe it's time to get exploring and leave the house, once in a while.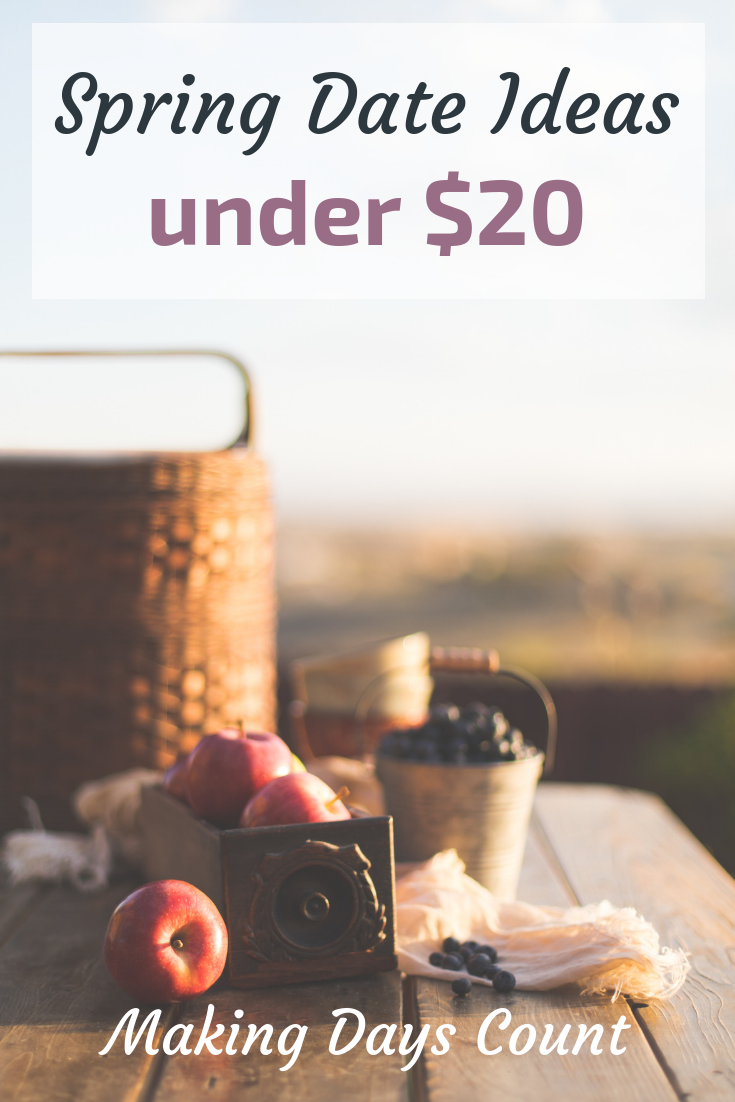 If you haven't had the chance to, I wrote 20+ date ideas for winter (some of them you can still do anytime in the year). I think I might repeat one or two ideas in this blog post.
These date ideas that I am going to share with you are under $20 each. Go through it and see which one you like best. Also, you can let me know in the comments below if you have some awesome date ideas to add. I would love to hear from you.
Here are 20 date ideas for spring under $20:
BY CLICKING THE LINKS AND MAKING A PURCHASE, I MIGHT BE EARNING A SMALL COMMISSION AT NO ADDITIONAL COST TO YOU. PLEASE SEE OUR FULL DISCLOSURE FOR MORE DETAILS.
Visit the nursery to look at plants (maybe get a cute succulent that doesn't die easily?)
Picnic at the park
Breakfast date
Hike nearby trails
Dessert date
Coffee Shop Date
Continue working on your puzzle (from the winter date)
Visit a spring festival
Go to your local farmers' market
Do a spring photoshoot (of each other and together). If you need ideas, Pinterest has tons. Don't forget to follow me. I'm on Pinterest (shameless plug)
Buy dollar store canvas, brush, and paint to paint a portrait of each other (it'll be a fun memory unless one of you are a professional artist or perfectionist)
Take a bath and light some candles
Go bowling on a group date
Watch a movie on half-price days or rent a movie on Google Play (not sponsored, but if they want to, I don't mind haha)
Play Twister
Visit the Thrift shop and each has only $10 to spend
Drive around neighbourhood competing in flower competitions (it's a thing!)
Get happy hour drinks
Go to the dollar store and find one or two activities you can play (Check out one of my post on dollar store activities)
Play sit down games like Connect 4 or Card games.
Whether you're on a tight budget or just like a good deal, there are both indoor and outdoor date ideas you can do. If you are the type that prefers to just relax and connect with one another, I would recommend the food and drinks date ideas such as breakfast, dessert, picnic at the park or getting happy hour drinks. These are simple date ideas that you can just enjoy each other's company while eating, or taking a relaxing bath.
Some people like going out because staying at home bores them. I would then suggest visiting the nursery, going bowling with a group of friends, hunting bargains at the thrift shop or driving around neighbourhoods looking at houses and their lush front yards. Hiking is another good date idea if you are an outdoorsy type of person. It gets the adrenaline going and you can take the dogs out for a walk at the same time if you have one. While you're at the park, you can do a spontaneous photoshoot of each other or together.
More of the indoor type but want to be active, games and activities can be fun too even with two people. Sit down games such as Connect 4 or physical games such as Twister can be fun. Test each other's flexibility and strategy skills. A little competition makes things more interesting and you can determine what the winner gets, like a shoulder massage or a delicious home-cooked meal.
Browse through the list and see what you prefer and you can try out different ones each week!
The most important thing is that you are together and it's a good time to connect and learn more about each other.
Just a side note, you can spend more than $20 on some of these ideas such as breakfast or visiting the nursery. It really depends on where you go and how much you want to spend in each place. Some people really love plants. Good for you! I had to plant sit once and got the orchids blooming. It was such a huge accomplishment for me. Is that sad? Maybe a little. Oh well, enough about me.
Here are some related date ideas posts:
If you enjoyed reading this, I would love for you to share this post. Please pin this: