Ipoh is such an interesting place to visit. A place known for their good food, it is definitely a place worth to visit if you get a chance.
We visited Ipoh in the beginning of last year and had fun going around this place. When we flew from Singapore directly there, we took a grab (their version of Uber) to the place where we were staying. The driver was a part time private investigator and told us a story where he had to learn how to play golf. Sounds like a fancy and dream job for him.
My aunt took us around as she was familiar with the place and we got to try different food, visit places, and just enjoyed what the place has to offer.
I would love to share with you what I love about our experience there.
Before we continue, if you are interested to read more about our Asia trip last year, here are some posts:
Pin this for later!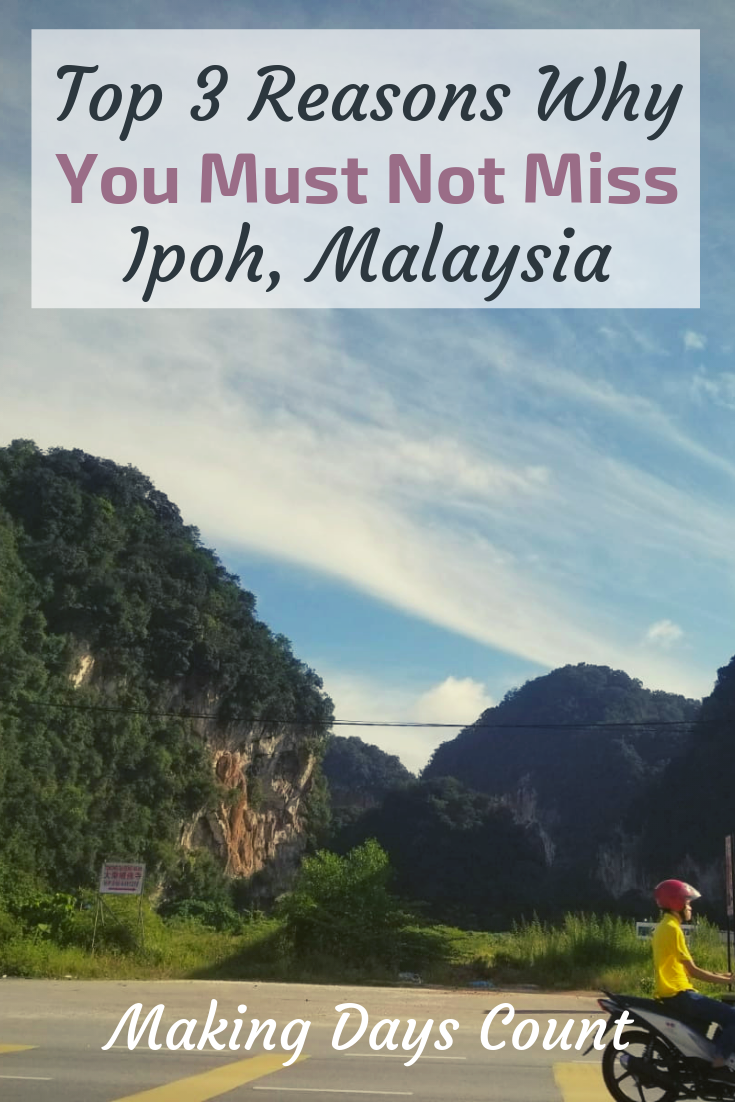 Here are the top 3 reasons why I loved visiting Ipoh, Malaysia:
BY CLICKING THE LINKS AND MAKING A PURCHASE, I MIGHT BE EARNING A SMALL COMMISSION AT NO ADDITIONAL COST TO YOU. PLEASE SEE OUR FULL DISCLOSURE FOR MORE DETAILS.
One: Food
The food in Ipoh is really good. Because Malaysia (the country) is multicultural, you get different flavours from the cultures and people that live there. What is best is that the people in Ipoh have their own take on food and coffee. Have you heard of White Coffee?
I will share some pictures of the food we ate and try to include the name of the restaurant, if I remember (sorry, too busy eating, not enough pictures).
Ayam Garam Aun Kheng Lim
The salted chicken that they sell is pretty good. They would sell you a whole chicken and you can take it with you to eat at home or at your hotel. You can tell that they took many hours to cook these chicken and people are just lining up to buy them in the middle of the day.
Look at how juicy and delicious the chicken is. Be sure to check them out if you get a chance to.
Funny Mountain Soya Beancurd
We were in the car and driving by this soy beancurd restaurant. My aunt asked me to wind down my window and she started calling one of the waiters from inside the car. The guy came, got our order, brought out the food to us in actual bowls, and then we paid him and left.
I did not even leave the car. It was funny, but it seemed so normal for them that any awkwardness you might feel will diminish quickly. The bean curd was yummy and very silky.
If you are interested to try that out, be sure to look at the menu before you go so you can order right away. Definitely don't want to be the one who is indecisive and make other people in their cars wait for you.
Sun Yeong Wai
Be sure to order the duck if you do get a chance to visit this restaurant. It was very juicy and memorable indeed. The portions are a good size to share with others that you are travelling with.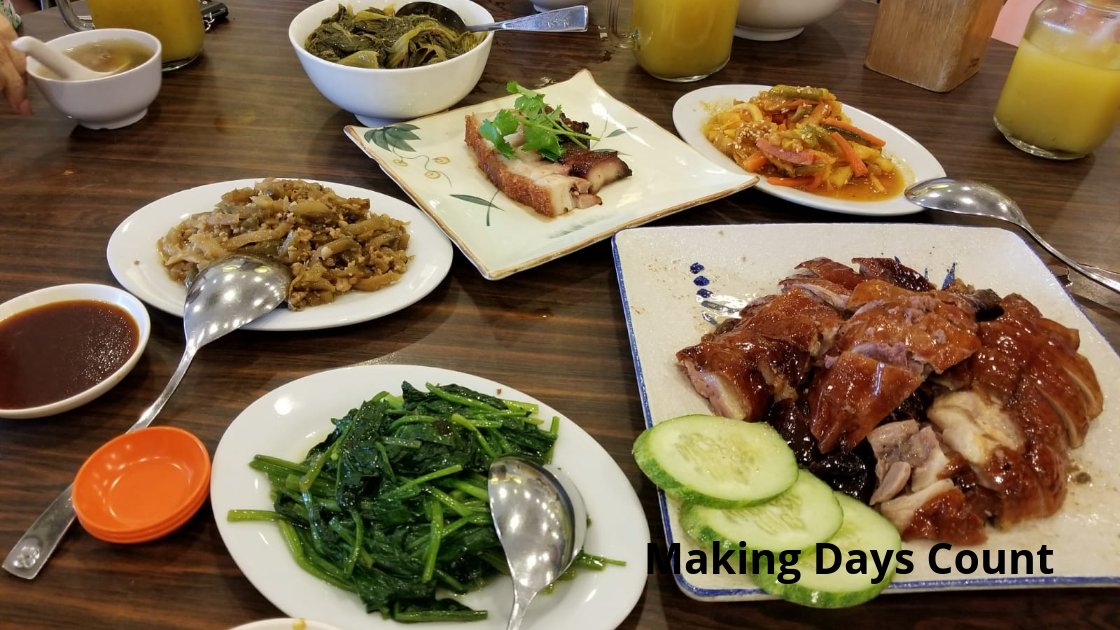 When we went, there were 5 of us and we were able to finish everything that we ordered. It was also indoors and very comfortable to have lunch there.
These are three honorable mentions from our trip. We got to visit other places as well but I don't remember the restaurants name. Please enjoy some other pictures of food from our trip to Ipoh.
Suggestions of where to eat in Ipoh:
I got to say that the hours of operation confuses me a little. In Canada, I am aware that some are breakfast restaurants such as Cora or Sunset Grill. These open from 7 a.m. to 3 p.m. Otherwise, restaurants are usually open from 11 a.m. to closing maybe at 9 p.m.
In Ipoh, some restaurants operate only for breakfast, lunch, or dinner. Then, they are closed for the remainder of the day. Sometimes, they decide that they are closed that day. We went to a restaurant to only find no one there. I am unsure if you can call them to check their hours or if they are opened that day. I doubt that many of them even have a website. It is amazing how through word of mouth that these businesses are doing well.
Two: Tradition / Nature
According to my aunt, Ipoh is rich in tradition. Many of the people who are living there have been there for many years.
We even got the opportunity to see how certain buns were made using the traditional method. It was delicious.
Also, Ipoh is surrounded by these little hills. It's so different for me as I live in the suburbs or city most of my life.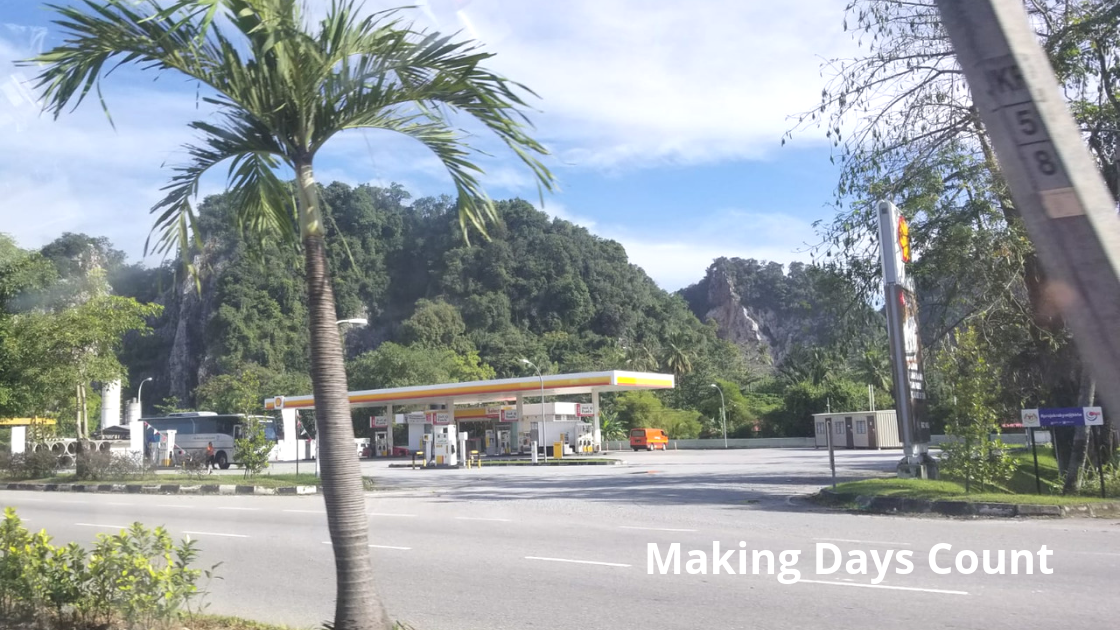 If you're interested in waterfalls and caves, Ipoh has that too. With our limited time there, we did not have a chance to check it out.
If you are thinking about where to stay and are considering Airbnb, click here to save CAD $45 on your first home rental experience.
Three: Touristy Spots
There are a few touristy spots that you can check out and some of them are definitely Instagram worthy. I think it is a good mix to do both local and touristy activities to get a feel of the city of Ipoh.
Concubine Lane
Concubine Lane is a place where the rich men (miner's maybe?) would house their concubines and children back in the day.The story is that they would come visit them, do their business, and then leave and return to their own families.
It's not the most exciting story, but the architecture is interesting to me.
It is so hard to see this kind of building preserved in such good condition. Now, they have shops underneath that are opened for tourists. Be sure to try the Rainbow Grilled Cheese. Taste wise, it is like Grilled Cheese, but it's more of the experience of pulling it apart and for pictures.
Murals on Walls
You can find so many murals painted on the walls around Ipoh. Do a quick Google search for Ipoh murals. They will tell you the location of different building spots.
The best time to go to these places are in the morning and in the evening before the sunset. It gets really warm in the afternoon and that humidity does not look pretty on anyone.
See if there are a few close to each other and try to hit up the different spots at a time. This way, you can spend more time finding good food around the city instead of just taking pictures for Instagram.
By the way, please add me on Instagram @makingdayscount. I would love to see your pictures!
Movie Animation Park Studios
We did not get an opportunity to visit this theme park due to the limited time that we had in Ipoh. However, it looked like a lot of fun and if you have an extra day, check this place out. Also, be sure to check their website for more information such as hours of operation and also how the ticketing system works.
Thanks for reading. If you enjoyed this post, please check out my other travel posts here:
If you like what you read, please pin the image below and share it with others. Don't forget to save CAD$45 on your first Airbnb home rental. Thank you so much for stopping by.