When you visit a new city that you're not familiar with, you often want to find places that have Wi-Fi so that you can find where you're going, keep up with your emails, and let the family know that you're safe, or just browse online for the popular restaurants in the area.
Whether you have limited or no data access, here are 6 places you can find Wi-Fi (most of them are free) in Toronto since I live and work here. See how that applies to you where you are located or be going to.
Here's the story: So silly me, used up all of my data allowances in 2 days because I pressed some button that allowed all my videos and photos to be backed up with my data instead of just waiting for Wi-Fi. I didn't know it would do that, but I did remember playing around with some buttons as it was a new phone for me.
So what do I do without a whole month of data? #firstworldproblems
I had to figure out ways to be creative and find places for Wi-Fi whenever I'm out and not at home.
It was definitely a challenge to not have data, but I realized that it's not really a big issue especially when you have these places you can go to for free.
Pin this for later!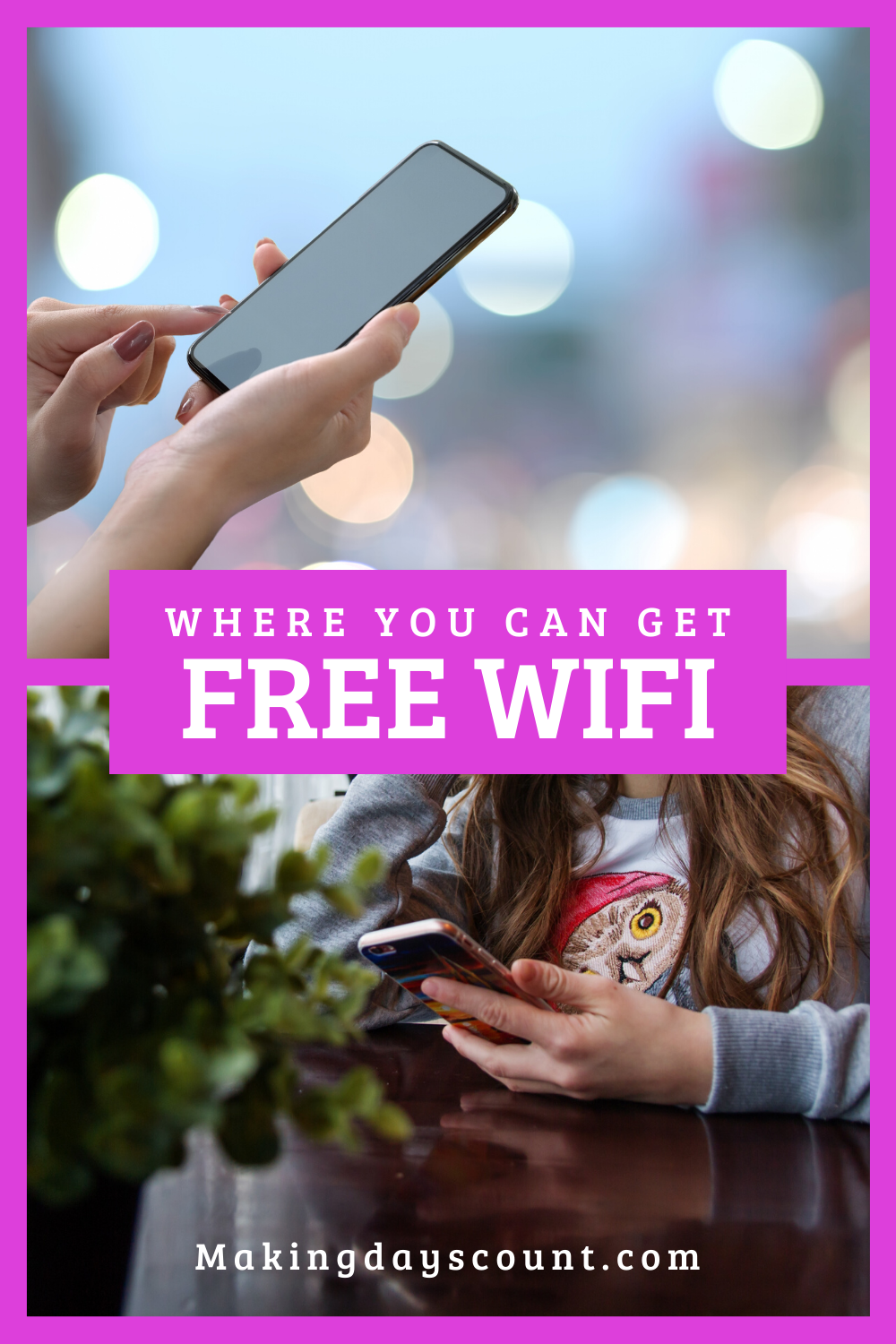 If you are visiting Toronto and need to find free Wi-Fi, here are some places I suggest:
BY CLICKING THE LINKS AND MAKING A PURCHASE, I MIGHT BE EARNING A SMALL COMMISSION AT NO ADDITIONAL COST TO YOU. PLEASE SEE OUR FULL DISCLOSURE FOR MORE DETAILS.
Malls
At the Eaton Centre, you can connect to their free Wi-Fi. I think it works best in the hallways instead of in the shops. This might be really useful for you when you're trying to figure out where to go next.
I'm not quite sure about the other malls in Toronto, but when you turn on your Wi-Fi, you can usually see if you can find the name of the mall with the word "guests". What they might require you to do is to log in and put your email or just to open your browser.
Coffee shops
This one might be obvious to you, Starbucks usually have free Wi-Fi. Enjoy your coffee while surfing the internet and be connected to the online world. There isn't a limit so take your time with your coffee.
If you are unsure or need a password at local coffee shops, be sure to ask the cashier if they have free Wi-Fi and if there is a password to log in. They'll be more than happy to help unless the internet is only for their credit card payment machine.
Restaurants
Similar to coffee shops, many restaurants also offer free Wi-Fi. I realize that many Chinese restaurants use their phone number as their password. I'm not too sure about the password of other restaurants. The best way is to ask the waiter or waitress after they take your order.
Train stations
Recently, I learned that the GO train stations have free Wi-Fi. It's not the best connection but it does work at times. It's good to use while waiting for the GO train, but not on the GO train.
The TTC also has free Wi-Fi in certain stops such as Yonge-Bloor. You can be connected while waiting for your train. Usually, the train comes every few minutes so by the time I am connected, I have to leave.
If you have time and need to use the internet at these places, take your time to figure out where you need to go.
Hardware Store 
Stores such as Home Depot have free Wi-fi when you're walking around in the store. They do not require you to put in any password so you can go online while walking around the store. This also helps when you're trying to compare prices with other stores if you're looking for something specific.
6. Hotels
This one only works if you are staying at a hotel. Many hotels in Toronto provide complimentary Wi-Fi to their guest in their lobbies. Sometimes, they provide free Wi-Fi all around the hotel, you just need to give your room number and last name.
If you are planning a stay at a hotel, I highly recommend for you to book with Booking.com. However, if you prefer to stay at an Airbnb, here is the link to get CAD $45 off your first stay.
If you have read all this way to the end, some additional ones that I've come across after writing this post were libraries (ask the counter for the password if it requires one), and government buildings such as City Hall.
It's easy to get free Wi-Fi as long as you know where to look. If you do come across other ideas of how to get free Wi-Fi, please tell us in the comments section below.
Related posts:
Thank you so much for reading this post on how to get free Wi-Fi in Toronto. If you like what you read, please pin the image below and share it with others.