Having a baby on a budget does not have to be overwhelming nor feeling like you are not giving your best.
It is about making intentional decisions so that you can say yes to your priorities and spend your money that contributes to your current and future goals.
In the blog post below, I will share some tips to help you save money, especially during this new stage of life.
Yes, things for the baby can add up and be really expensive. However, these tips will help lessen the costs and be easier on the wallet.
Whether it is your first or 3rd child, these tips are helpful for you to save some and spend less money within your budget.
Pin this for later!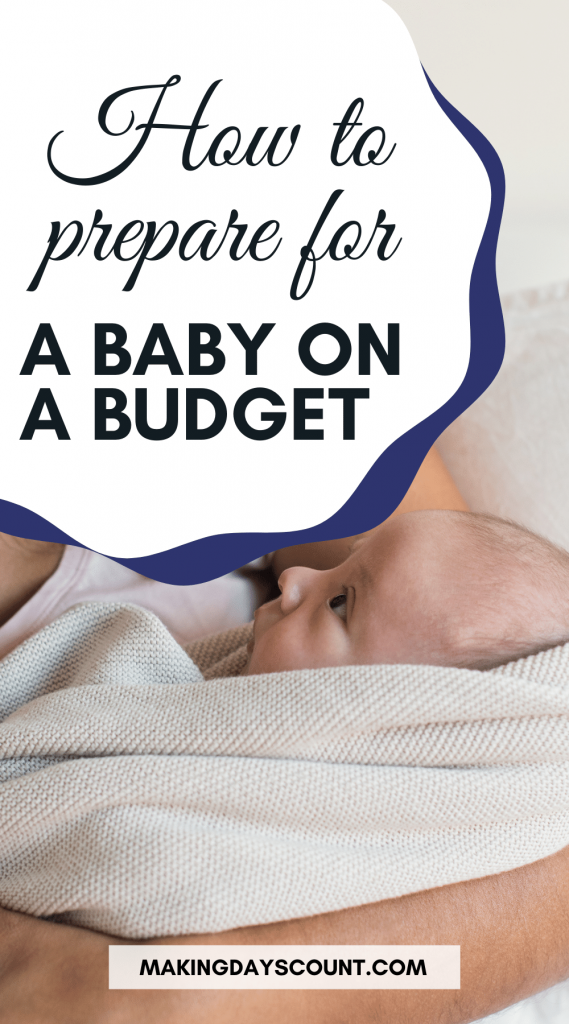 Here are my 7 Tips on How to Prepare for a baby on a budget:
Disclaimer:

BY CLICKING THE LINKS AND MAKING A PURCHASE, I MIGHT BE EARNING A SMALL COMMISSION AT NO ADDITIONAL COST TO YOU. PLEASE SEE OUR FULL DISCLOSURE FOR MORE DETAILS.
1. Amazon Warehouse
Am I the only person guilty of buying way too much stuff from Amazon? Maybe. It feels like we bought a lot more during the pandemic than before. My toddler even knew that we needed to wipe down our packages before opening them. She was 2 at that time.
A tip that you might not know is that you can buy things that are cheaper on Amazon – that is from Amazon Warehouse. These are items that might have a bit of imperfections or maybe a returned item.
There are different conditions such as used like new or used good. You can read the description to see whether it is worth buying or not.
Some of the items that you can buy for baby (that I do) include:
Diapers (it can range from a few dollars to 9 dollars cheaper than brand new)
Toys (I only buy 'like new' toys)
You can get wipes, clothing, or even play mat on Amazon warehouse for a cheaper price.
The cost of diapers and other baby essentials can really add up, so this is a great way for us to save some money.
Check out Amazon Warehouse here.
2. Hand Me Downs and Buy Nothing Group
Another way to have a baby on a budget is to join buy nothing Facebook groups and accept hand me downs from others.
If you look online or on Facebook, you can find these buy nothing group where people post items that they want to give away for free. Many of the items include baby clothing and toys.
Join the groups and let others know what you are looking for. Sometimes, someone will post something that you like and you can let them know that you're interested in what they are offering.
Another way to save on baby items is to accept hand me downs from family and friends. You can always give away items that are in poor condition or that you do not want.
If you do not mind second hand items, you can also wash and wipe down the items after receiving them.
3. Focusing on Essentials
The third way to have a baby on a budget is to only focus on the essentials.
Focus on what you actually need for a newborn and you can always add to it later.
Here are some essentials:
A safe place for the baby to sleep (crib, bassinet, or co-sleeping in your bed)
Diapers (cloth or disposable)
Wipes
Clothing for baby (onesies and sleepers)
Car Seat if you are driving baby home and around (this is similar to the one we have)
Bath essentials (this is the baby bathtub we used and will be using)
I mentioned these previously in my blog post, "5 Maternity Leave Tips Moms Must Know'.
For newborns, you do not need toys right away as they are just busy sleeping, eating, and filling up their diapers. You can always get toys from the buy nothing group (as mentioned in my previous point) when the baby gets a little older.
When you've saved up a bit more money, then you can buy the nice-to-have items you would like for your baby.
4. Signing Up for Coupons and Freebies
Did you know that you can sign up for coupons and get freebies from companies? Go and do a quick search on free baby items and coupons. You would need to give them your address, email address, and also your due date. This way, they will send you stuff closer to the birth of the baby.
Some companies that I signed up for freebies include Toysrus Canada, Pampers, Similac, and Nestle. See below for the free packages they sent me in the mail.
It's really great as it saves me a lot of money not needing to buy these items that they sent to me. Some of these items are great, and some could be better. However, let's all appreciate what we can get for free.
5. Downloading and Using Cashback Apps
There are different cashback apps and also credit card programs out there. I am familiar with Rakuten.ca as I often use it to get some cash back when I buy from the shops online.
If this is your first time, you can get $5 extra for the first $25 you spent buying clothes on top of the cashback on Rakuten.
Do check out other cashback apps or sites that would be beneficial for you. Whether it is buying baby items online or your regular shopping, using a cashback app or credit card program will help you spend a little less. This means more money for other purposes or future savings for the baby.
6. Buy Open Ended Toys
Having a baby on a budget does not mean that you cannot have toys. Of course, if you want to buy toys for your baby, go for it.
Here are some questions that you might want to consider:
How long can my baby play with this toy?
Does it require batteries or an additional component?
Does this toy teach my child a skill?
Think about the quality and the duration of the toy. If it requires batteries and you are fine with replacing or charging it up each time, then buy the toy and let your child enjoy it.
One type of toy that you might want to get is open ended toys. Some examples include:
Balls
Blocks
Plush Animals
I talked more about multipurpose toys for toddlers in this blog post, but I think it can be beneficial for babies as well.
Having open ended toys will allow your child to use their imagination and also can play with them, even when they grow up to be toddlers.
7. Use Multipurpose or Non baby specific items
Another way to save money while having a baby is to use multipurpose items for your baby.
What this means is that you want to be intentional about some of the items you get.
For example, you might want to get a Smart Home system such as a Google Mini Home or Amazon Echo instead of a sound machine. This way, the baby can use it even when he or she gets older. It is also not limited to just sounds but you can choose your own music to play for the baby at night.
Another example is to get a receiving blanket such as this one. You can use it as a swaddle to wrap the baby, as a blanket to put the baby on for tummy time, and as a burp cloth over your shoulder if needed.
Be intentional about what you buy so that you can save money in the long run as well.
Related:
Thank you so much for reading my blog post on "How to Prepare for a Baby on a Budget: 7 Tips". If you like what you read, please pin the image below and share it with others. Thanks!