7 Mistakes to avoid in Punta Cana
M and I went to Punta Cana late last October. It was his first time to an all-inclusive resort so it was an interesting experience, for sure. We had a lot of fun just sitting by the poolside enjoying the sun and walking by the beach feeling the sand beneath our toes. It was really relaxing and a lot of fun.
Pin this for later!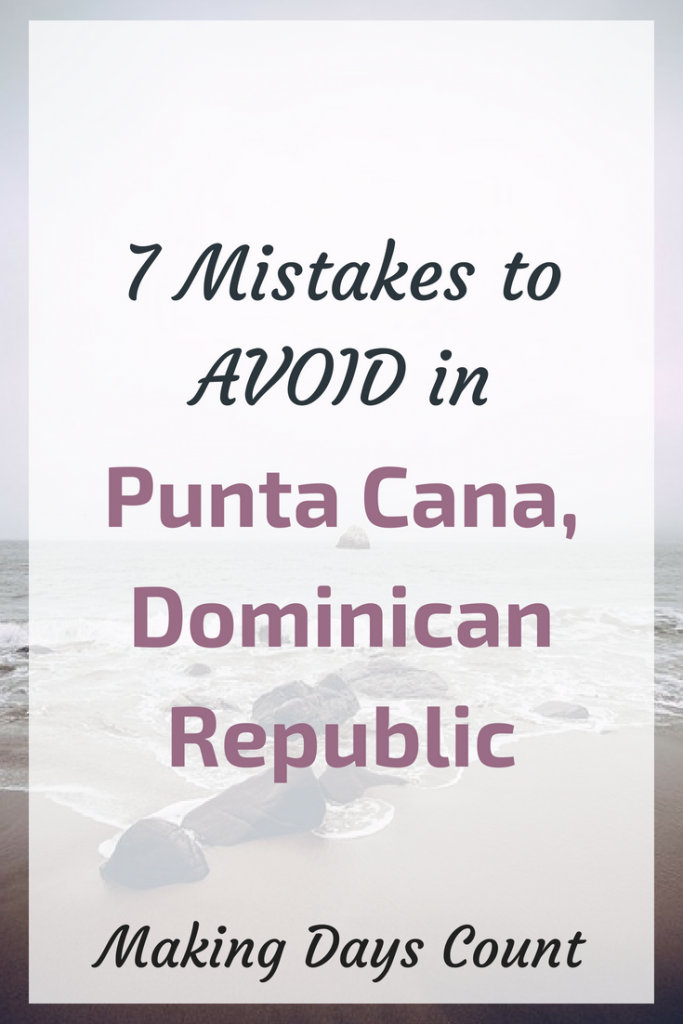 Here are 7 mistakes you should avoid making when travelling to Punta Cana:
BY CLICKING THE LINKS AND MAKING A PURCHASE, I MIGHT BE EARNING A SMALL COMMISSION AT NO ADDITIONAL COST TO YOU. PLEASE SEE OUR FULL DISCLOSURE FOR MORE DETAILS.
$10 Tourist Card
We were given this tourist card on the plane and it was worth $10. We read about it online and were prepared to pay for it. While we were lining up, we saw that everyone was following one way while there was a shorter line. I told M that we should go to the shorter line and just pay for the tourist card.
Guess what? After we paid $20 USD, we realized that the people in the long line had to just give the card to the person at the front and walked in for free. Apparently, I just gave $20 USD for no reason. At least I kept the cards as a souvenir. Expensive lesson learned.
So, if you receive this card on the plane given out by the air stewardess, just follow the line and you don't need to pay extra. No, you don't get to keep the card if you give it in.
 Watch your money at the beach
I know that you can pay for premium drinks and service while lounging at the beach. Usually, drinks are included in the all-inclusive, so you can choose to pay tips. The beach in Punta Cana was super windy when we went so if you're not careful, things can start flying everywhere.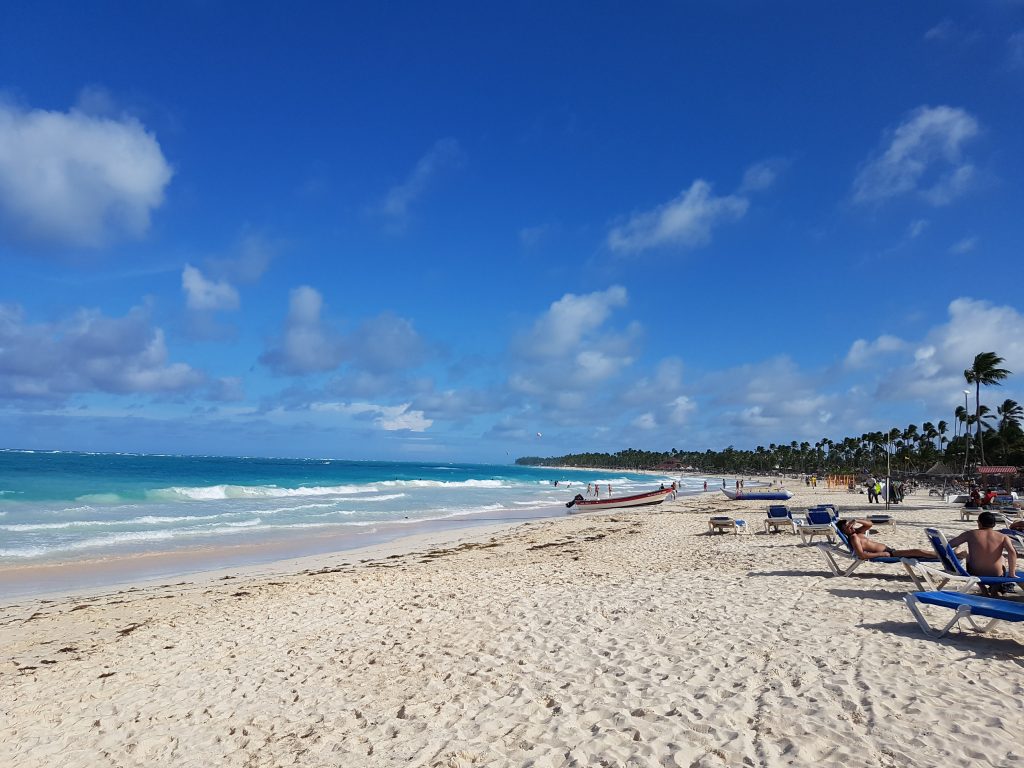 I found a $20 USD bill on the sand at the beach. Even though I was happy that I got back the money I unnecessarily spent on the tourist cards, I feel bad for whoever that dropped it.
It's very hard to find something if you lose it in a public place. The beach is part of the resort but it is not exclusive to the people who stay at the resort.
At Gift Shops
When we first arrived at the resort, we walked by a gift stall and the vendor was really pressuring M to buy something for me. He even made me a free bracelet and saying all the sweet things. I was thinking about it and looking around to see if there's anything we can get for our family.
I was really surprised that a gift shop vendor in the resort would sell the products in a way that if you don't buy, you might feel bad. At that time I was really hungry and didn't want to decide what to buy, but rather what I can eat in the resort that is open that late in the afternoon.
I think I would regret it if I bought anything because it felt so rushed. When you want to get souvenirs and can compare prices with other shops you might be visiting, just take a look and try not to be pressured into buying something, especially for a loved one.
Not bringing medication
When we were eating at the buffet restaurant, M ate something that didn't sit well with his stomach. I was perfectly fine. I forgot what he ate that caused a lot of trips to the washroom. It was a good thing that we brought medication that helped.
I can't imagine if we didn't have the medication, or if it didn't work. When deciding whether or not to bring medication, I suggest that you bring it just in case if someone does not feel well or if the food doesn't sit well with you or the people you're travelling with.
Beware Beach Vendors
I'm not kidding when I say beware. They come after you quite persistently. You can say no to them and they'll leave you alone until the next day. I think there was one guy who I recognized because I saw him every day at the beach going up to people.
I'm not sure how trustworthy these vendors are, but you can always trust your gut and online reviews. We just wanted a relaxing trip with no excursions and we did exactly that. If you want to go on an excursion, you can always ask the resort front desk and I'm sure they can give you some recommendations.
Wi-fi in the lobby
Funny story: M and I were in the lobby probably checking our Facebook pages and chatting with family about how we were enjoying the trip. He looks up and sees a staff holding something in the air and both him and a lady customer was looking up at it.
The first thought that came to mind was that they were taking a selfie. Wrong! He was actually holding up the credit card wireless payment machine and was trying to get the Wi-Fi connection.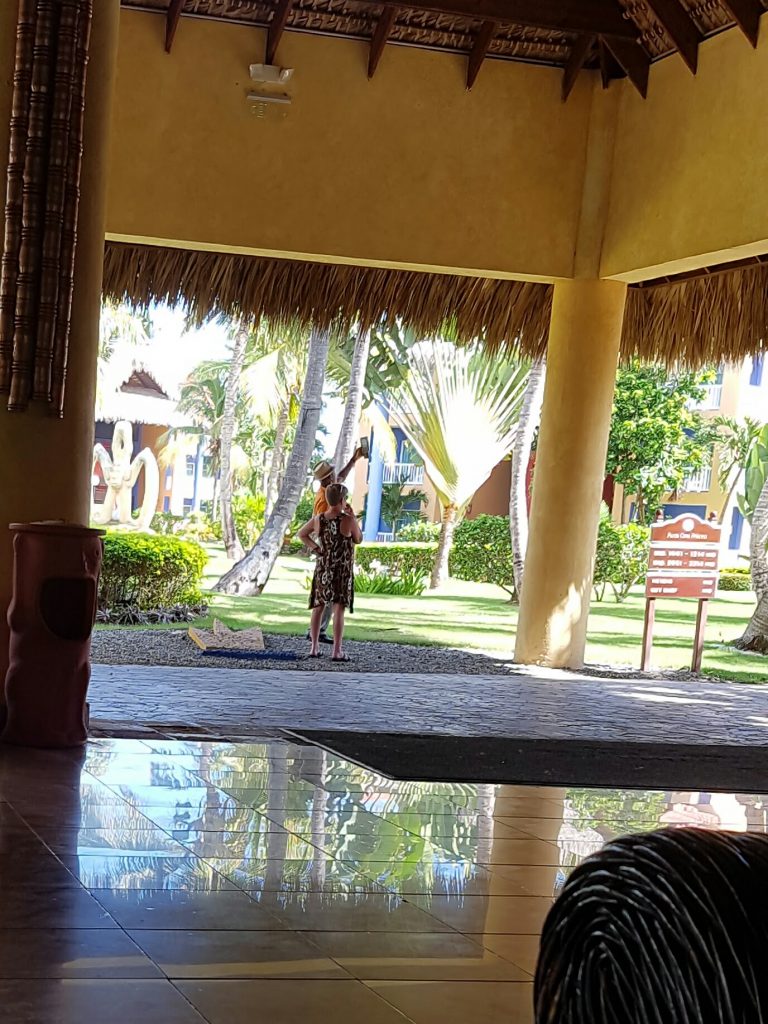 How funny was that!
This really tells us that even though the resort tells you that the Wi-Fi is available, it doesn't mean that it's really strong and you can be connected at all times. After all, you're there to relax not constantly be connected and online. If you need internet, check with staff if they have a business centre where the internet connection might be much better than in the lobby.
Not exploring the resort
We learned that there was a sister resort right next door so we decided to check it out. They had a theatre for live performances, mini golf, spa, different pools that we can use, and also a variety of restaurants such as the Brazilian one we went to.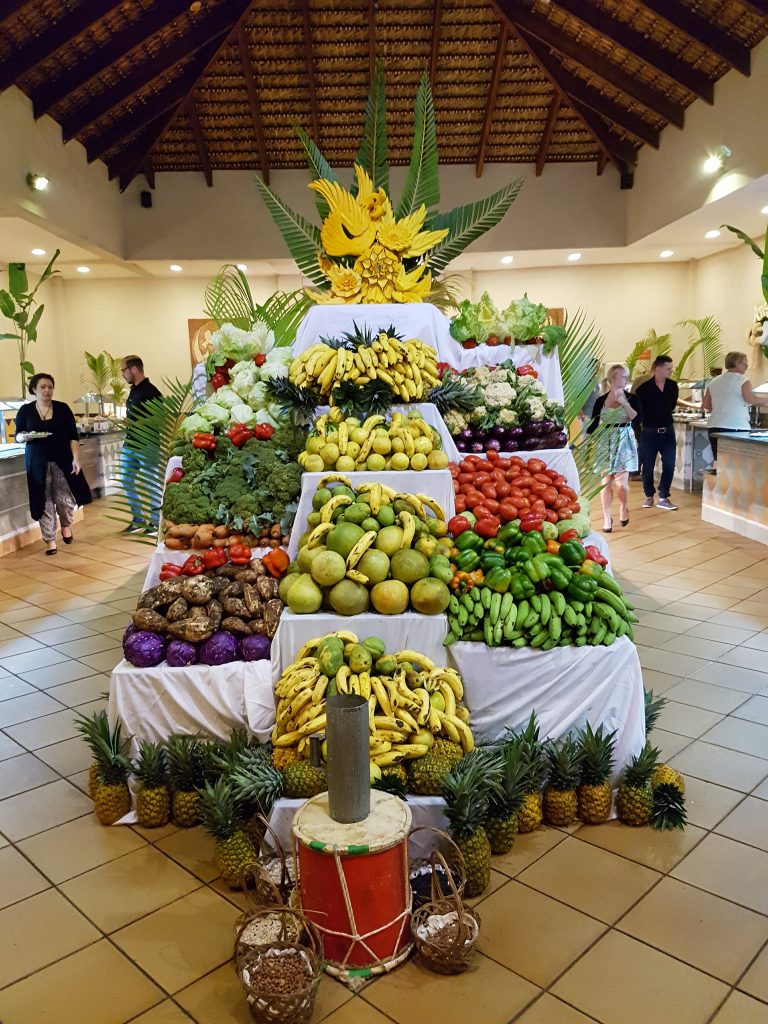 Lion King was on the schedule for the theatre performance and it was a mixture of live acting and video.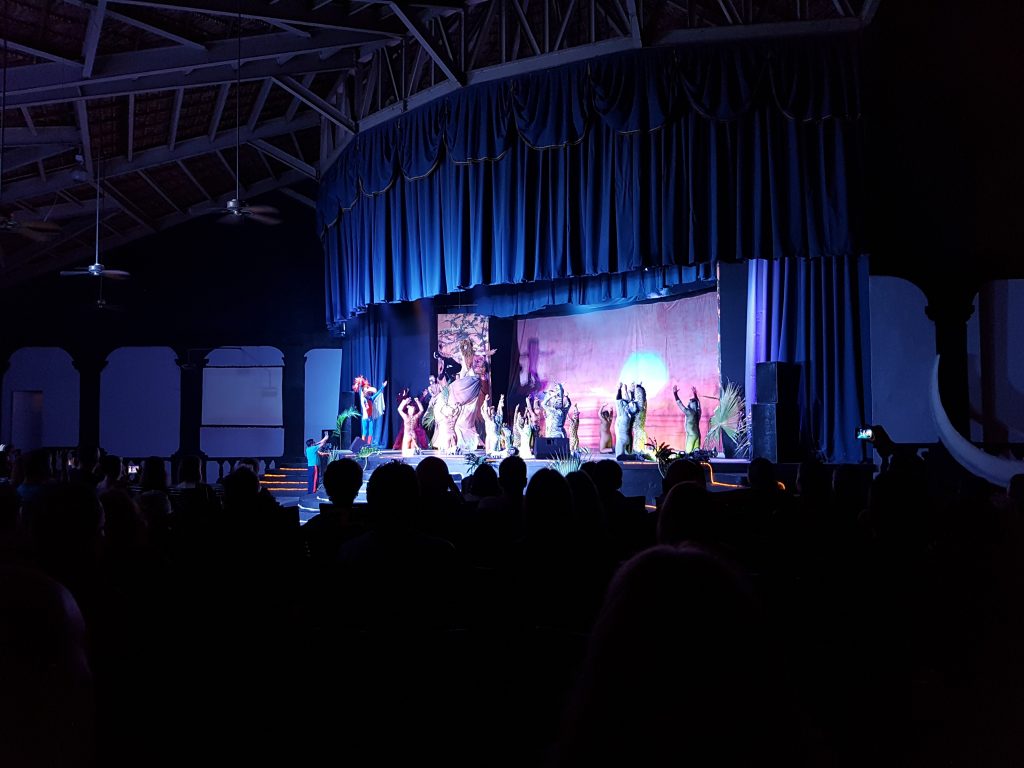 The resort provided a golf cart ride that would stop at different places throughout the resort and the sister resort. This way we were able to get a ride back to the front entrance of our resort after the Lion King show. It was definitely necessary and helpful as it was raining that night.
Overall, we enjoyed our relaxing vacation in Punta Cana by hanging out at the pool and the beach, walking around the sister resort, and eating at different restaurants in the all-inclusive resort.
Thank you so much for reading. If you are interested in our other travels, please feel free to check the following posts:
Please pin the image below and share it with others. Thanks for stopping by!