These babies grow up so fast. First, they were newborns that rely on you for everything. But now, they're toddlers running around and doing their own thing. For my daughter K, it is also time for daycare. It was time for us to prepare our toddler for daycare.
Update June 2020: This post has been updated to include some precautions that you might want to take after the pandemic.
Preparing your toddler for daycare can be easy when it comes to the physical items. I will share on what to pack and how to label their items below. However, after COVID-19, there might be some additional items we need to prepare before we send them to daycare.
In addition, it can take some time to prepare emotionally to send your child to daycare. If this is your first time being away from your child for a long period of time, they can be hesitant to change. I will share some tips that was useful for us and hopefully for you too.
Pin this for later!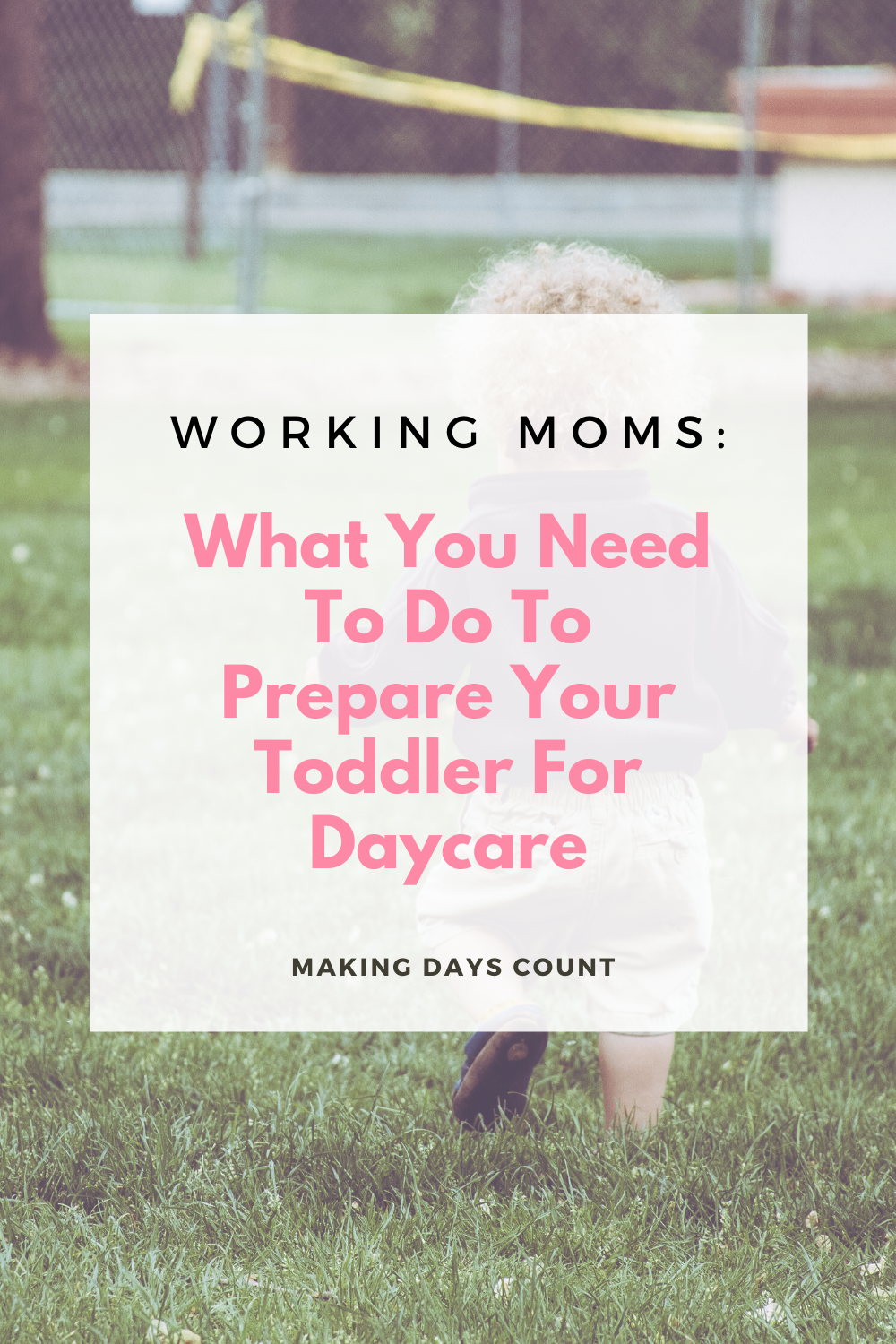 Here is how to prepare your toddler for daycare:
BY CLICKING THE LINKS AND MAKING A PURCHASE, I MIGHT BE EARNING A SMALL COMMISSION AT NO ADDITIONAL COST TO YOU. PLEASE SEE OUR FULL DISCLOSURE FOR MORE DETAILS.
1. Set a morning and night routine
It is so important to have schedules for babies and toddlers. Whether it is when to play, sleep, or eat, it'll help them to know and expect what is happening.
Set a morning and night routine, if you haven't already. Have a rough time of when they should wake up, what are they expected to do, and the same for the night time when they should be going to bed.
Let me know if you want me to share our morning and night routine with a toddler.
How do you decide when they should wake up?
Well, if you look at when you want to drop them off (because you need to catch a certain train or leave for work at a certain time), you can estimate how much time you'll need to get ready and eat breakfast in the morning.
The night routine is basically a routine that you do at night with your toddler before going to bed. It could be a bath, brushing their teeth, story time, and a song. It's really up to you.
It might take some trial and error, but eventually you'll figure it out.
Practice the morning and night routines a week or two before you send them to daycare. It'll give them enough time to process and adapt to this new routine.
When these routines are set, it will make it easier to wake up in the morning to go to daycare. Also, they'll know what to expect at night so that (hopefully) everyone can rest well during the night for the next day.
2. Pack their items for daycare
Every daycare will have their own list. If you are unsure, call and ask what you'll need to bring for your toddler.
As I will mention in the next point, be sure to label everything.
Mabel's labels
is a great place to consider when buying online, especially when shipping is included.
Here are the items that we packed:
Diapers
Wipes
Baby Cream and lotion
Two bags of extra clothing
Indoor shoes
Water bottles
Blanket
Do check with your daycare before preparing the items for your toddler. Some might ask you to bring your own bed sheets or hand sanitizers.
Update: Also, check with them if there are any additional things such as masks or what not that the schools or daycare centers would like you to provide or have your child wear upon arrival and departure of the place.
3. Label all their belongings
Things get misplaced. They get mistaken. It is best to label everything.
You can get pretty labels such as these
Mabel's labels
(gifted to me), or just grab a Sharpie and start labeling their stuff.
I shared in the previous point what we packed for our toddler to bring to daycare. Everything has to be labelled, even the socks.
However, when we asked the daycare teacher, she was not concerned about the socks so we did not label those. Everything else was.
I also took a picture of the extra clothes I packed so that I'll know what she should have with her at the daycare.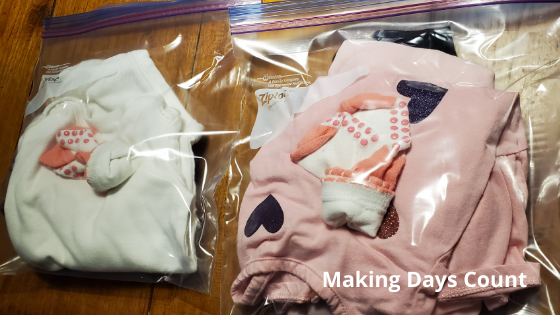 4. Work on your transition period
I'm not sure about your daycare, but ours requested that we do a transition week before putting K in for the full day.
We would bring her to the daycare for 20 minutes the first day and then slowly increase to an hour over the week.
If your daycare does not have that option, you can try putting them in for half a day.
Another option is to drop them off at a relative's house for a few hours.
Going slow (if you are able to) will help prepare your toddler for someone else to take care of them. There might be tears as they'll slowly realize what you're doing, but they'll be okay.
Preparing your toddler for daycare is not easy, especially during the transition period, but we can do this!
5. Tell them what exciting changes are happening
Change can be fun if we prepare them for it. When you tell them ahead of time, it gives them the time to process and expect it.
Also, be excited when you tell them that they're going to daycare. Talk about all the fun things they are going to do.
They will need some hand holding and still resist the change, but it'll be a gradual process for them and for you.
6. Follow the daycare's schedule
Find out what the schedule is at your daycare, when it comes to napping and eating.
Try to follow it at home as much as you can the week or even few weeks before their start date at the daycare.
This will help them adjust to what time they'll expect to eat, when they'll nap, and their play time.
Hopefully this small change in their schedule will prepare your toddler for daycare.
If you're unsure of what the schedule is like, give the daycare a call. Ask for a schedule and their process. My daughter's daycare sent out an email telling us what the new procedure will be upon arrival to the daycare.
For example, parents are not allowed into the classroom and the child's temperature will be taken upon entry.
Be sure to let your child know what will happen so that they can expect it when they go to the daycare.
7. Hope for the best
Even after preparing our toddler and ourselves for this new phase of life, that is going to daycare, we can only hope for the best.
Many parents I've spoken to said that this period of time is hard. Their babies cry and feel like they deserted them, but it's something we all have to go through if we're working moms.
You can hope that they will get used to the daycare soon. They might cry the first few days, but it'll get better.
The daycare centers probably get a lot of calls, but if you are worried, give them a call. Ask your questions and don't be afraid to find out what you need to know.
It can be a difficult time, given our situation in the world, but you know what's best for your family. You've got this!
Related: 
Thanks for reading my blog post on "How to prepare your toddler for daycare". If you like what you read, please pin the image below and share it with others. Thanks!