Congratulations on the arrival of your new bundle of joy! I'll share with you some postpartum tips here that I think would be helpful for you.
It is so important to think about the postpartum period, aka the 4th trimester.
Oftentimes, we are so focused on what we need for the baby that we forget about ourselves.
As I navigate this newborn stage for my baby boy, it gave me an opportunity to reflect and compare my experience with my daughter and now son.
With these in mind, I've made a list of postpartum tips that I found helpful for myself and hopefully for you as well.
Pin this for later!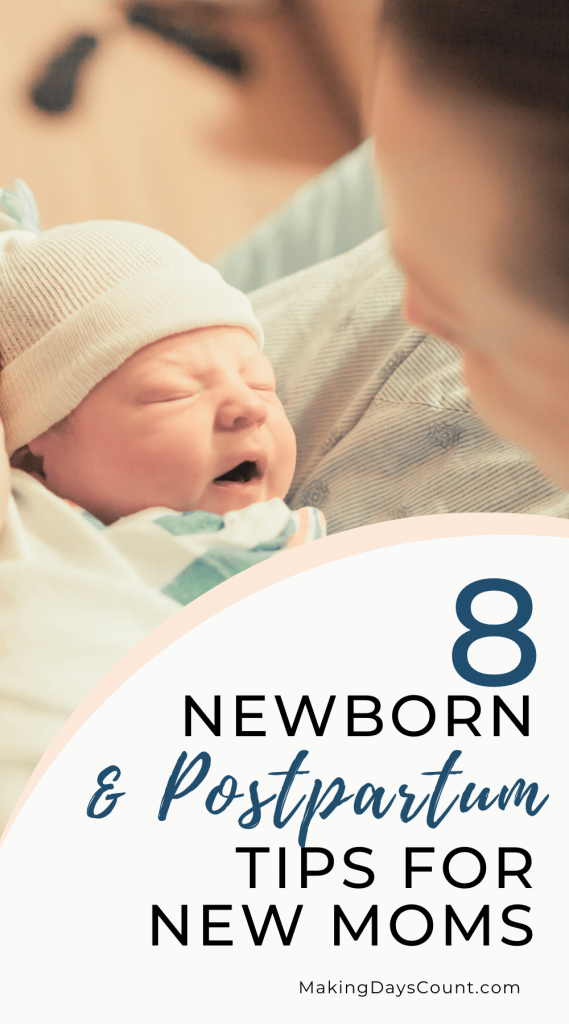 Here are 8 Newborn and Postpartum Tips for Moms:
Disclaimer:

BY CLICKING THE LINKS AND MAKING A PURCHASE, I MIGHT BE EARNING A SMALL COMMISSION AT NO ADDITIONAL COST TO YOU. PLEASE SEE OUR FULL DISCLOSURE FOR MORE DETAILS.
1. Rest: You did just give birth to a baby
I am guilty of not doing this, but also telling myself this that we should rest because our body needs time to heal.
We gave birth to a baby.
Let that sink in for a hot minute!
It is so important for you to rest for your body to recover, to have the energy to wake up multiple times in the middle of the night to feed and change the baby, and for you to slowly get back to your normal routine (whatever the new normal is).
Definitely easier said than done, because there are many things that we could do while our baby is sleeping. If you have other children, it adds another layer of challenge as you want to continue bonding with them during this new phase of life.
However, if you can, please rest. Your emotions, physical health, and family will thank you for a well-rested mama.
2. Drink lots of fluids
Another important postpartum tip is to drink lots of fluids.
It is so easy to forget to stay hydrated when we are busy taking care of a newborn and other family members. A quick tip is to have a bottle of water or your choice of liquid near you as a reminder of how much you'll need to drink.
Keeping yourself hydrated is essential for your energy levels, if you're breastfeeding or pumping, or even just good for your recovery. It might even help you with your bowel movements (a question that the OB or midwife might ask you after your delivery).
I am not a medical professional so I will not tell you exactly what the wonderful effects of staying hydrated is, but I do encourage you to drink more fluids.
3. Be hands-free with a cloth wrap carrier
This postpartum tip is becoming one of my favorites. Get a cloth wrap carrier to carry your baby around and be hands-free at the same time.
When my daughter was born, she needed us to carry her a lot of the times. She would cry when we put her down even after she fell asleep. I decided to get a cloth wrap carrier (similar one here) so that I could do other stuff while carrying her at the same time.
I am so glad that I got it as I could use it again this time around. While it is good for baby to be close to us, I can also eat or walk around while holding my toddler's hand. It is so nice to be able to do that.
When the baby gets a little bigger, I will then transition him to the Ergo baby carrier. This was a staple for us when we traveled to Disney and Asia with my daughter when she was a baby.
To empower yourself and give your arms a bit of a break, I would highly recommend that you get a cloth wrap carrier.
4. Ask if you have any questions or concerns
It is very easy to get overwhelmed by what we need to do as newborn parents. If the baby is crying or sleeping, we might be concerned with this or that. With the lack of sleep, we might not make the best decisions or be the best versions of ourselves.
If you ever have any questions, you want to ask. Be brave and ask.
You can ask your mom friends, your dad friends, your doctor or midwife, online baby forums. Just ask someone.
Even if they do not have the answer to your questions, they might be able to refer you to someone else or be a good listening ear to what you are experiencing.
Every child is different and the solution or answers that someone else has might not work for you. That is okay. Just try different things and see what sticks. Know that you are capable of figuring this out, just take one step at a time.
5. Relax, don't rush to get back to normal
Similarly to my first point of getting rest, take your time to get back to normal, whatever that means for you.
Your body will take time to recover and might not go back to the shape it once was (at least not immediately). It needs to produce milk for your baby and even if you choose to only feed with formula, your body still needs the time to recover and slowly get back to 'normal'.
With scheduling, take it easy. You might need someone else to take your older child or children to their activities while you rest.
If you love to cook all your meals, you might need to start small again to accommodate your newborn feeding schedule and also give you time to rest without being on your feet for a long time.
With a new member in the family, it will be a new normal. You might want to take it easy for a short period of time before heading back to do all the things you once did.
Relax and don't rush to get things back to normal.
6. Get help and support if you can
This postpartum tip is subjective depending on your situation.
If you can afford it, I would highly suggest for you to get some help and support. Whether it is your mom or a part-time housekeeper, it might be helpful for you to get the help that you need.
When it comes to food, if your spouse can help cook while you focus on the baby, it might be helpful for you. Or, if you have meal prep frozen meals prior to having the baby, you can ask someone to put it in the oven for you or follow the cooking instructions you've prepared in advance.
If you need help with your older children, you can enlist a friend or family member to watch them for short periods of time during the day while you focus on the newborn or get some rest. Some people might prefer to hire a nanny, however, it is up to you depending on your financial situation.
When it comes to breastfeeding, if you are struggling or baby does not seem to latch on well, do not think that it is your fault. You can consult your OB or midwife regarding resources that will help you with your breastfeeding process. The hospital near me has a program that help moms with their breastfeeding and have lactation consultants to help if needed. Check out what is around your area to help you.
If it is still a struggle and you prefer to formula feed, that is okay too. As long as your baby is fed, that is all that matters.
7. Capture and enjoy the little moments
This postpartum tip is easier said than done. When we are tired, it is hard to enjoy the little moments.
Take lots of pictures and videos of your little one(s) during this newborn stage. They grow out of it so fast, at least it feels like it.
Especially if you have older children, don't forget to take pictures of all the children. The smiles, the interactions, the naps, and the hugs and kisses are all so precious during this newborn stage.
Your future self will thank you. Your baby will also thank you as they reflect on these pictures and videos when they grow older.
8. Have people over when you are ready
This is something that my sister in law taught me – to have visitors only when  you are ready.
Having a baby is a grand event, not just for you and your immediate family. It is also for your extended family members and friends.
However, you are the parent of this little one.
If you are not up for having visitors, say no or delay the visit until you are ready.
Yes, they might mean well but if it stresses you out, it's perfectly fine to say no.
Your emotional, physical, and mental well being is really important during this postpartum stage. You need to do what is best for you and your baby.
Related:
Thank you so much for reading my blog post on "8 Newborn and Postpartum Tips for Moms". If you like what you read, please pin the image below and share it with others. Thanks!