About Me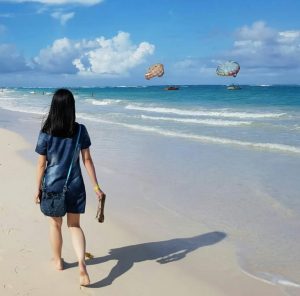 Hi everyone, my name is Becca. A wife to a wonderful husband and mommy to a beautiful baby girl. I love to plan vacation trips, research tips and hacks, and sharing these ideas with you.
I am excited to tell you what I've learned from my travels, my wedding planning, my DIY projects, and life lessons that are inspirational to me.
Thank you for checking out Making Days Count and please enjoy your stay.
What the website is about
Travel
In the travel section, you'll find blog posts of travel itineraries, tips for getting free Wi-Fi, must-go places to check out in Europe and Asia (and some in North America), how to save money while travelling, and mistakes I've made so you don't have to. Check out my travel blog posts here.
Design
In the design section, you'll find out about my DIY projects, thrift finds, furniture and decorating posts, and must-haves as a newly-homeowner. I also write about the different projects we do in our house and the occasional jewellery accessories I love. Check out my design blog posts here.
Lifestyle
In the Lifestyle section, you'll find posts on planning bridal showers, wedding planning, buying and making anniversary gifts, and notes throughout my pregnancy. In this category, we'll figure it out one step at a time. Check out my lifestyle blog posts here.
Disclaimer about Charity Work
There is a reason the blog is called "Making Days Count".
It is because M (my husband) and I feel so blessed in everything that we do have, and want to find a way to give back to the community. We want to make our days count.
And we want to show our daughter that it is important to give, not just to receive.
50% of what we receive here through affiliates and ads at Making Days Count is given to the charity of choice quarterly. Because we are just starting out, I'm not expecting to donate a lot. But, it's a good start.
The charity for this quarter is to be determined.
Thank you once again for your support and making a difference in other people's lives.
Read more about our full disclosure and privacy policies here.