Airbnb can sound pretty scary to someone who is not familiar with how it works. It seems like someone rents their place or room (or couch) to you for one night stay or more. Is it safe? How do even make money from that? Lots of questions, and today I will share some of my experience with Airbnb with you.
I had the opportunity to stay at an Airbnb with a friend in Japan the last time we went. It was a small space with two beds and the kitchen all in the same space. The washroom was divided into two. One for the bath and the other for the toilet. It was a lot cheaper than staying at a hotel and not a bad location.
This time, we are going to Osaka and my friend is going with us as well. She suggested to look into Airbnb and found a few affordable places that were close to one of the train stations. We (M and I) decided to book Airbnb for the first time.
Pin this for later!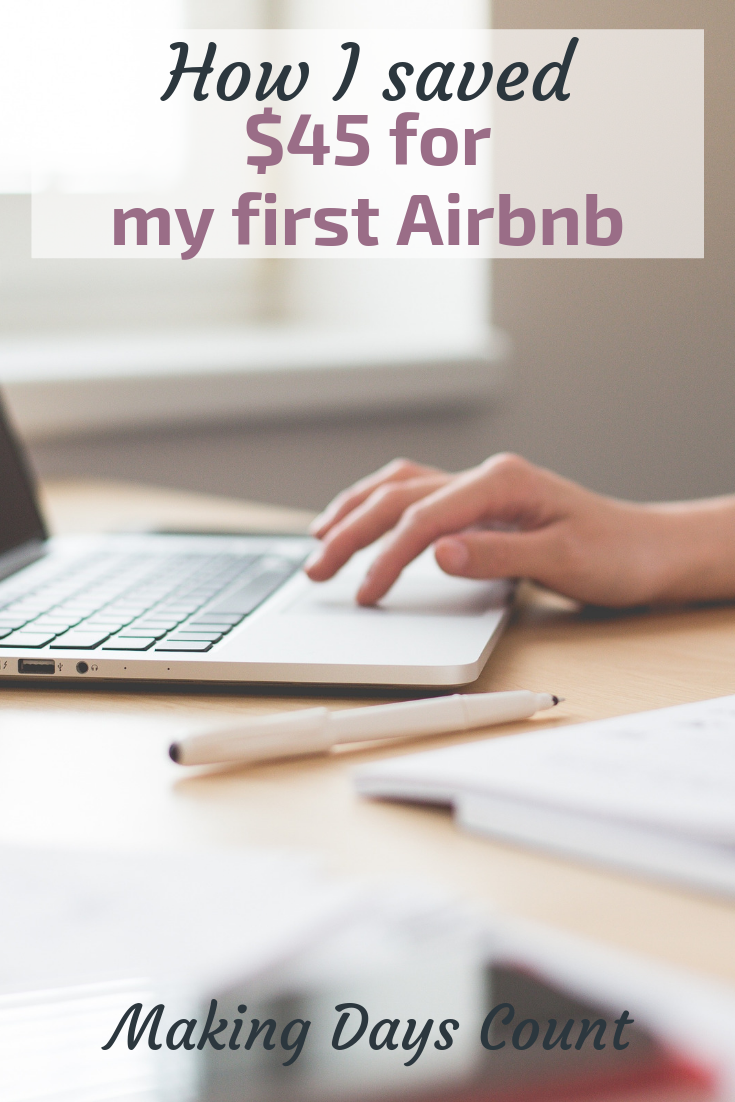 Here is my review of my booking process of Airbnb and also how I saved $45:
BY CLICKING THE LINKS AND MAKING A PURCHASE, I MIGHT BE EARNING A SMALL COMMISSION AT NO ADDITIONAL COST TO YOU. PLEASE SEE OUR FULL DISCLOSURE FOR MORE DETAILS.
Before you start your search process, you can sign up for an account for free. If you click on this link, you will get a CAD $45 off your first CAD $90 home booking. I think you might get an additional but different amount if you book an experience with Airbnb. Please know that this is an affiliate link. I may receive a small commission but at no extra charge to you. Also, the coupon amount might be different if you are in a different country.
Searching Process:
It was pretty easy. You can do it on the Airbnb app or online on your computer or phone.
First, we searched for the place we are visiting (Osaka) and then put in the dates that we are visiting. They will only show you what is available for the dates that you will be there. It makes it so much easier than to find out whether it is available after you have fallen in love (I mean, like) with the place.
Next, we searched for locations that are close to the train station near the main attractions.
Thirdly, what I would highly recommend for everyone to do is to look at the reviews.
The reviews will tell you if the place is clean, the owner is friendly, and even whether the place is close to the train station (or whatever attraction) you want. Some owners would also respond to the reviews. This will tell you more about the host.
Why is that important?
To me, it is important to know that the host is reachable if anything happens. I want to know that they are kind and hospitable if I have a question when I arrive at their place.
After deciding that it is a good fit, you can press on the 'book now' or 'request to book'.
If your listing has a request to book sign, you might want to write to the owner beforehand so that they are aware of your interest. Mine had the request to book sign and I wrote to the host. He quickly approved my booking after I submitted my request along with the payment.
Booking process:
If this is your first time booking, please be sure to click here for CAD $45 off your first rental home booking. It might be a different amount if you are in a different country.
You have a year to use your CAD $45 coupon for both for home and experience booking, which is nice.
With the booking process, I had to give a copy of my government ID and also take a picture of my current self to prove that I am the same person. From what I heard, this might be a new thing this year for renters like you and me.
Please note that it is a lot easier to do this process on your phone if you have the Airbnb app. It can be a pain if you are doing it on your computer since you need to have access to your camera and all that.
I guess they just want to make sure that you are who you say you are.
After providing my ID, I could then request to book for my listing. I put down how many people and confirm the dates that I will be there.
I did not have to pay the full amount at first but will pay the remaining closer to the date I will be staying at the Airbnb. You can choose how much you want to pay now versus later.
It is an easy process overall.
Thank you so much for reading. If you are interested in our travel adventures, please see the following blog posts below:
If you like what you read, please pin the image below and share it with others. Thank you so much for stopping by and don't forget to sign up to get CAD $45 off.