Summer festivals are here with the fun music and the good food. It is so nice to just go out and see what is around the city. This experience with your baby does not have to be an expensive one. You can choose ones that provide free parking and also share your food if the prices are a little higher than your budget.
Last week, we took Baby K to a Rib Festival in another city near Toronto as our friends lived there and invited us. It was late afternoon and the crowds were not too bad. A band was playing music on the stage as we walk around to see the different ribs stalls available.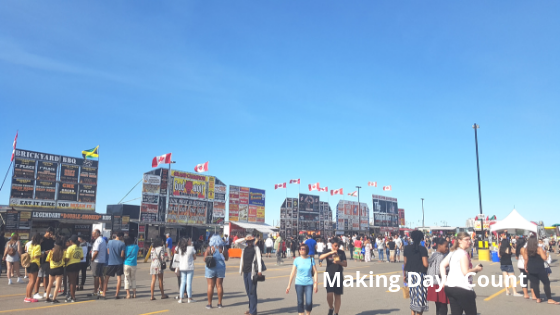 Surprisingly, there were also other types of food such as lamb skewers, potatoes on a stick, and stinky tofu. We decided to try the lamb skewers, one spicy and one not spicy. It was good.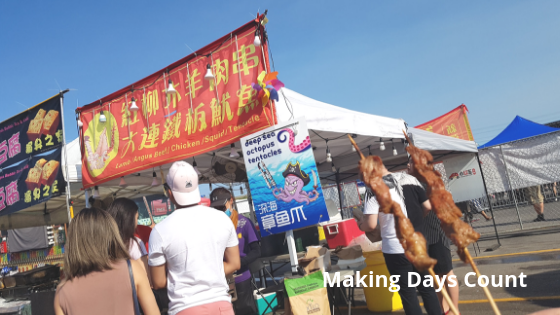 This was Baby K's first summer festival. There were some things that we prepared for her and some things that I wished we did as well prior to this event. I will share with you these baby essentials when attending a summer festival.
If you are interested in other baby-related posts, don't forget to check these out after this blog post:
Pin this for later!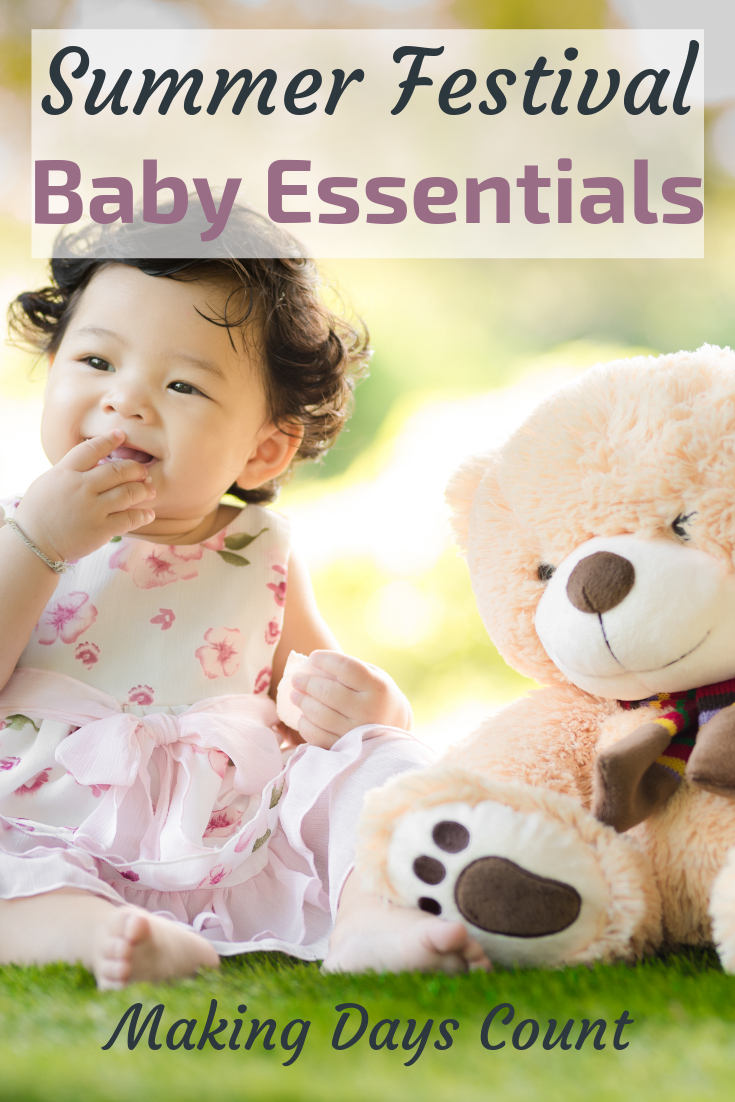 Here are my baby essentials for going to a summer festival:
BY CLICKING THE LINKS AND MAKING A PURCHASE, I MIGHT BE EARNING A SMALL COMMISSION AT NO ADDITIONAL COST TO YOU. PLEASE SEE OUR FULL DISCLOSURE FOR MORE DETAILS.
One: Wearing a hat
We bought Baby K two types of hats before we went on our trip to Disney. It was to match her outfit as one is a cap, and the other a hat. I found that she might prefer the cap over the hat as the straps on the hat might bother her sometimes.
However, I prefer the hat over the cap because it covers more from the front to the back.
I bought her hat from Gap but found something similar on Amazon.
Baby K's hat was able to cover her head and matched the white dress I put her on that day. I was hoping that if she wears white, she would be able to stay cool and she did.
Two: Babywearing in a baby carrier
If you have been following my blog, you will know that I love my Ergobaby 360 carrier. It makes carrying Baby K so much easier and also being hands-free allows me to do other things while she's comfortably sitting in the carrier.
As of writing this post, Amazon has a 41% off on Ergobaby 360 carrier Pearl Grey (that's the same one I have). That is an amazing price, but you can wait until Prime Days which is happening soon to see if the price drops even more.
Carrying Baby K around at the summer festival will let her observe and take in her surroundings and also we can be hands even. M said that carrying her around in the carrier feels lighter. I think this is because the carrier is designed to distribute the weight around.
Please note: I will share my review of the Ergobaby 360 and how to fold it in a compact way to fit into my diaper bag later this month. Be sure to come back to find out.
Three: Sunscreen
This was one of the two baby essentials I did not prepare for her and wished I did. We thought that since we were going to the festival in the late afternoon (and closer to the evening), we did not bring sunscreen for Baby K.
It turns out that the festival was happening in a wide open space so there was no shade and we were feeling warm.
I wished we put on sunscreen for her to protect her skin.
Next time, if we are going out to a festival, I will remember to put sunscreen on her.
Four: Water bottle or Sippy Cup
It is so important to stay hydrated throughout the day. When we are at a summer festival and open, warm spaced as I mentioned earlier, we need to drink more water.
A baby might not be able to tell you that they are thirsty, but they can get whiny or cry. We prepared her sippy cup so that she can stay hydrated while we were out. The Munchkin cup we got has a no-spill feature where the water only comes out when she drinks from it.
However, I want to buy the one with the handles so that she can learn how to drink from the cup herself. This is the one that I want to get.
It is so important for us as adults to stay hydrated as well. So, please remember to pack yourself water or buy a drink from the summer festival.
Five: Snacks and Food
Along with drinks, pack some snacks and food for the baby. While waiting in line for delicious food, our babies can get hungry and you will be stuck with a cranky baby if without food or water. It's one of the baby essentials you will need whenever you're out and about with the baby.
The snacks that I would recommend are the ones that are prepackaged ones like soft baby biscuits or easy to access food in containers. These summer festivals might not have a place for you to sit if there are large crowds. Also, if you are in line for food or carnival games, it will be easier to pull out a snack and give it to them quickly there.
Six: Stroller (if possible)
We were not planning to take down the stroller with us, but after seeing another family bring their stroller, we decided to bring the stroller.
What I am happy about this decision is that Baby K can sit in there as long as she wants. If she wants to see more things and not be in the stroller, we have our Ergobaby carrier.
It helps to have the basket under the stroller to store items and also to put the drinks in the cup holder.
However, if it is too bulky, you can always bring an umbrella stroller where it does not take as much room as a regular one.
Seven: Putting on headphones on the baby
Finally, I wished that we have brought our Baby Banz headphones for Baby K. The music at the festival was really loud and we had to move to a quieter spot in the festival so that it is not too loud for her.
These headphones really helped during our flight back from Florida and it is definitely something you might want to get if you are planning to visit summer festivals with loud music.
These are my seven baby essentials for the summer, especially when you are taking them to a festival. They are only so little for so long, so I want to enjoy time with Baby K as much as I can.
Thank you so much for reading. If you are interested in other baby-related posts, here they are:
If you like what you read, please pin the image below and share it with others. Thank you so much!