How early do you start preparing for Christmas? I asked the question on my Instagram and someone said the night before. Are you a last minute decorator or would like to setup earlier and have time to enjoy your Christmas decorations before taking them down? In this blog post, I will share with you 10 Baby Friendly Christmas Decorations tips.
Having a baby around during the Christmas time is so much fun. You get to see them experience the joy of the season through their eyes, buy gifts for them, and have the special family time.
When it comes to decorating, there are some tips that you can follow to ensure that you are still able to decorate and have the festive atmosphere in your home even with a baby.
From having one to now two kids in the house, I will apply these tips to my decorating this year!
Pin this for later!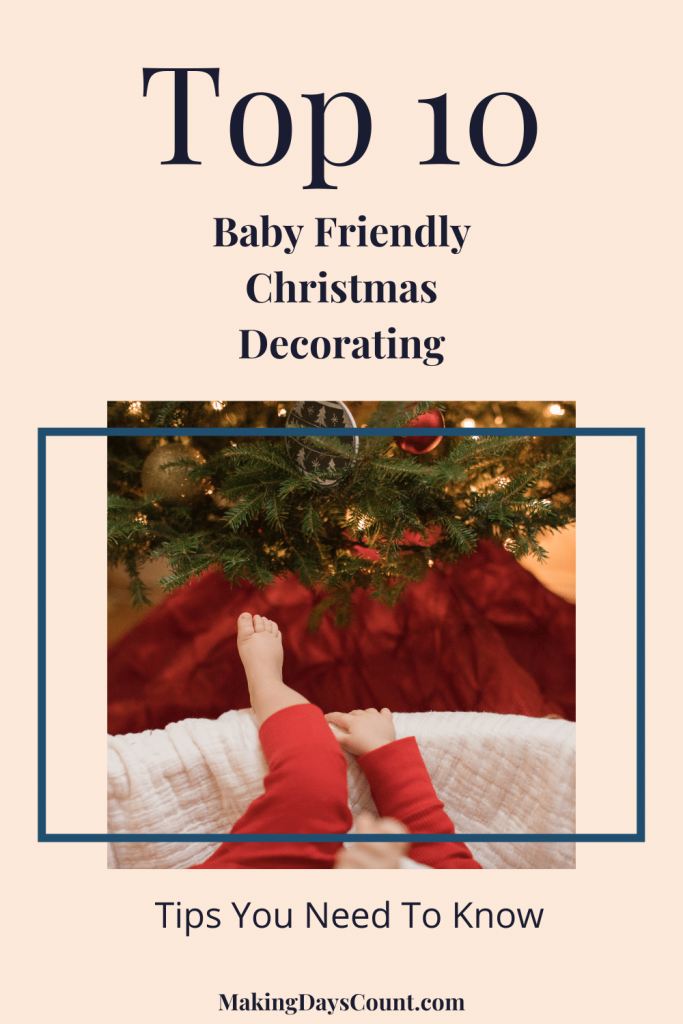 Here are 10 Baby Friendly Christmas Decorations Tips:
Disclaimer:

BY CLICKING THE LINKS AND MAKING A PURCHASE, I MIGHT BE EARNING A SMALL COMMISSION AT NO ADDITIONAL COST TO YOU. PLEASE SEE OUR FULL DISCLOSURE FOR MORE DETAILS.
1. Shatterproof Ornaments
One of the baby friendly Christmas decorations that I highly recommend are shatterproof ornaments.
These are the ones that you can get at the store and it'll say on the label that it's shatterproof.
No need to worry about them falling on the floor as they can be more difficult to break and also usually too big for your baby to put in their mouths.
Depending on the quality of these ornaments, the top part of the ornaments where you hang your ribbon or string on the Christmas tree might break off if thrown too hard. So you will still need to watch out for that.
However, overall shatterproof ornaments are a great decor item when having a baby around.
2. Creating a Barrier with Gift Bags
I did this when my daughter was a baby. Using gift bags, I created a barrier around the tree so that she cannot get access to the tree.
If you have a baby who loves to pull things, having a gift bag barrier will prevent them from getting to the tree.
Another idea that I saw recently was to wrap big heavy boxes and put them around the tree as a barrier. If your baby is into pushing things, this is a great idea too.
It would be good to remind them that they cannot open the gift bags or go to the tree.
3. Ribbon to Hang Ornaments
There are different ways to hang ornaments. Some prefer to hang it with ribbon and some with hooks.
With a baby, it is much safer to use a ribbon to hang your ornaments.
The hooks can be quite dangerous if your baby accidentally get hold of them.
You can check out the dollar store for different designs of ribbons and cut the length that you would like.
4. Felt Ornaments and Felt Trees
A very safe way to have Baby Friendly Christmas Decorations is with felt.
You can buy or make felt ornaments to put on your Christmas tree. You can choose to make snowflakes, shapes, or whatever creative ideas you would like to hang them on the tree.
If you prefer to buy, check out these felt options online.
Another option that I saw on Pinterest is to have a Felt Tree and Felt Ornaments. You can temporarily stick the tree on your wall and let your baby decorate it with the ornaments you've prepared in advance for them.
This is a great way to get your baby or toddler be involved in the decorating process.
5. Crochet and Plush Ornaments
Another great option for ornaments are ones that are crocheted or plush.
It's soft and safe for babies, even if it's accidentally knocked down.
Here are some great options for these ornaments that are made by small businesses.
You can choose the size and design that you like that is perfect for you.
6. Delicate Items on High Places
Sometimes we have nice Christmas and winter items that are delicate and easily breakable.
A tip for that is to put it on hard to reach places (for baby).
Think top of fireplaces, tabletop, hanging over the door, etc. Places where your baby is unable to reach would be a good consideration for these delicate items. If they need to be on the ground or whatnot, try the gift bags barrier tip and see if that would steer them away from these decor items.
7. Fake Tree with Built-in Lights
As much as a real tree seem like a great idea, I would highly recommend fake trees.
One, they don't shed everywhere (that's the hope) so your baby would not be able to put these needles in their mouths.
Another reason why I like fake trees is that you can reuse them every year. Yes, you'll need to store them but a great deal if you only need to buy once and can use them for many years.
If you have not bought a fake tree, try to get one with built-in lights. This is to avoid stringing the lights around the tree (could be a hazard for babies) and less work for you too.
8. Battery Powered Candles
If you love the look of candles during the Christmas season, try battery powered ones instead of using ones with an open flame.
This way it would be safer for your babies if they somehow get in contact with them.
The only downside is that you will have to buy batteries to use these candles instead of the regular ones.
9. Christmas Theme Pillows
Pillows are a great way to add baby friendly Christmas decor to your home.
Find Christmas Theme pillows or pillow covers so that you can add the festivity to your home.
Once the season is over, you can change up your decor for the new year.
Pillows are soft for babies and very comfortable for adults. It's a great option to decorate with these pillows.
10. Items to Avoid
Last but not least, I would like to mention items that you would want to avoid when making a space baby friendly.
Glass ornaments can be dangerous even when placed up high on the tree if your child has access to the tree. Try the gift bag barrier method.
I read that tinsels can shed and be hazardous to a baby who puts anything they find in their mouths.
Tiny objects such as a figure or a bush for your Christmas village can be dangerous for your baby if they are accessible (again they might try to eat it).
Try to look at your decorations from your baby's point of view and see what they can reach, then make a decision to remove or keep the decorations in their place.
Related:
Thank you so much for reading my blog post on Baby Friendly Christmas Decorations Tips. Be sure to sign up for access to the free printable library.
If you like this post, please pin the image below and share it with others who might find it helpful. Follow me on Instagram @makingdayscount for more mom tips and day of a life with 2 young children.