Christmas is coming again this year and what a wonderful time we can have with family and friends. If there is a baby on your gift list, this blog post is for you. I will share with you some of the wonderful gifts that are made by small business owners that you can add to your baby gift ideas list this year.
As a mom of a baby (and a preschooler), I was thinking about what gifts would be good to buy for a baby and came up with these 7 ideas.
Some of the ideas can be passed down to other babies and some just for the baby's own use.
Christmas is a really wonderful time of giving and remember what is the reason for the season.
Check out the different baby gift ideas below and I hope that you're able to be inspired to find the perfect gift for the baby on your list.
Pin this for later!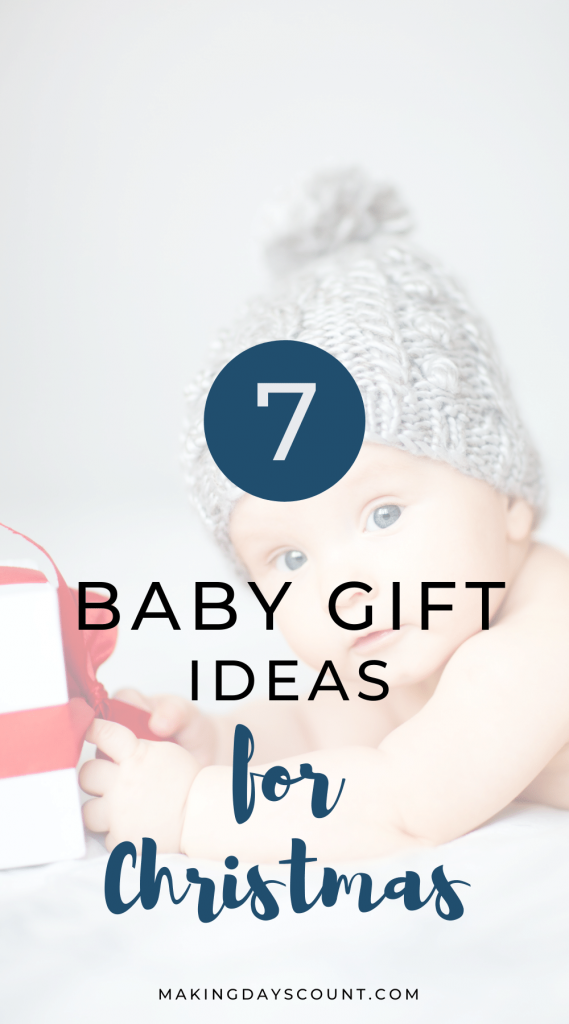 Here are 7 Baby Gift Ideas for Christmas This Year:
Disclaimer:

BY CLICKING THE LINKS AND MAKING A PURCHASE, I MIGHT BE EARNING A SMALL COMMISSION AT NO ADDITIONAL COST TO YOU. PLEASE SEE OUR FULL DISCLOSURE FOR MORE DETAILS.
This rattle and teether is a 2-in-1 gift which is great for a baby. They can use it to play with and also bite on it to make themselves feel a little better from teething pains.
What I like about this gift is that it is handmade and also the teether is made from solid wood. You can choose between the different animals and they're Christmas themed which is really cute.
Check out this Christmas themed rattle and teether here.
If you are buying for a newborn, this swaddle and hat combo is a great gift for them.
What is interesting about this swaddle is that you'll just need to slide the baby in, with no zippers, velcro, or tying involved.
This looks like a great idea for younger babies as they cannot move too much yet. It's also great for photos and daily use.
I do find that using a swaddle, especially in the newborn phase, very helpful. The baby feels snug as if they are still in the womb and can sleep for longer periods of time.
Check out this swaddle set here on Etsy.
Giving the baby their First Christmas Outfit is so fun and what a joy!
You'll get to see them wear this outfit during the Christmas season and their parents (or you) can take pictures of them wearing it to remember their first Christmas.
What I like about this outfit is that you can customize whether short or long sleeves in addition to choosing the size and adding a name.
Check out this First Christmas Outfit here.
This next gift is not necessarily a baby related gift, however, it is a great gift to give to the baby.
Sometimes parents will not let you know the name of the baby until after the baby is born. You can gift them a wooden name puzzle where the parents can put it in the nursery.
When the baby is a little older, they can learn how to read and spell their name. It's also a great activity for the baby to take out the letters and put them back accordingly.
This wooden name puzzle is something that the baby can keep for a long time and has a multipurpose -which is a win-win!
Check out this wooden name puzzle here.
Gifting Christmas or winter theme bibs is a great baby gift idea.
They can wear it during the season and then pass it along to a sibling or another baby once they grow out of it.
In this set, you can choose to buy the individual ones or the whole set.
What I like about these patterns is that though they look like Christmas bibs, the baby can wear them anytime in the year and it'll look good.
Check out these bibs here on Etsy.
A traditional gift you can give to the baby is a plush toy.
This personalized plush elephant is a great gift for the baby to play with. You can choose the color and personalize it according to the baby's name and year.
My daughter did not fully enjoy plush toys when she was a baby, but as she grew older, she learn to really play and appreciate them. My son, on the other hand, would grab them and try to eat them.
Each baby is different. If you know that they do not have a lot of plush toys, then this plush toy would be a great gift.
A non-conventional gift is to gift them this high contrast baby soft activity book.
It's a sensory cloth book that they can interact with and not worrying about them damaging the book at this young age.
What I like about this book is that it is easy to wipe down if the baby drools all over it, it's interesting for the baby to look at, and it's small and easy to carry around (especially when the parents have a lot to carry about with a baby).
Do check out this high contract baby soft activity book here.
These are the 7 gift ideas that I have for you today. I hope that you are inspired to find the perfect gift for the little one.
Related:
Thank you so much for reading my blog post on Baby Gift Ideas for Christmas this year. Be sure to sign up for access to the free printable library. If you have anything to add to the list, please let me know in the comments below or on my Instagram.
If you like this post, please pin the image below and share it with others who might find it helpful. Follow me on Instagram @makingdayscount for more mom tips and day of a life with 2 young children.