When I was still pregnant with Baby K, I wanted to go somewhere for a babymoon. By the time I wanted to do that, I was in my third trimester and cannot fly anywhere. So, we decided to do our babymoon in Toronto.
I asked M to surprise me since we live here anyway.
We had a budget of $300. It included all the meals, activities, and parking as well.
Side note: It was a day trip babymoon, like a staycation. A hotel would be too expensive.
Here is what we did for our babymoon in Toronto:
BY CLICKING THE LINKS AND MAKING A PURCHASE, I MIGHT BE EARNING A SMALL COMMISSION AT NO ADDITIONAL COST TO YOU. PLEASE SEE OUR FULL DISCLOSURE FOR MORE DETAILS.
Breakfast at Panera ($16 for two people)
We started off our day by eating at Panera. Two sandwiches, one coffee, and one decaf tea.
I didn't know what to expect for the whole day as I have asked M to surprise me.
With a full belly, I was ready for my staycation Toronto babymoon.
Drive Downtown Toronto
It was a Saturday and nice drive downtown. You can see the CN Tower from a distance on a clear day.
Park at City Hall parking ($8)
It is a lot cheaper to park downtown Toronto during the weekend than the weekdays. This is because some people might choose to drive and park at work downtown, instead of commuting.
Also, what we found was that it is a lot cheaper to park at City Hall than at Yonge and Dundas square which is where festivals and events take place at the other end of the Toronto Eaton Centre.
Lunch at Bannock (Summerlicious $70 for two people)
We were leaving the parking lot and started to cross the road opposite the Toronto Eaton Centre.
Then I realized that we were heading to Bannock Restaurant, one of the Oliver and Bonacini restaurants.
Fancy, I thought.
I've been to Bannock before with coworkers the year before, so I knew that the quality of food was amazing.
It was during Summerlicious so we could enjoy their predetermined and also affordable menu.
Here is what we had (Sorry, I don't remember the name of the dishes):
Appetizers:
Mains:

Desserts:   
The food was really delicious, and plentiful. Yes, even for a pregnant woman.
I thought that it would be a really expensive meal, but given what we had, it was definitely worth it and not bad from a price point.
If you are in downtown Toronto, I recommend you check out Bannock restaurant (No, I'm not sponsored by them. The food was really good).
Walk around Toronto Eaton Centre
After lunch, we walked around Eaton Centre. It was fun to browse around, enjoying our time together before the baby comes.
I was not sure what was next as we were just casually walking around.
It was a good surprise.
Wicked Musical at the Mirvish Theatre ($160 for two people)
The last time we went to see a Broadway show, we saw Cinderella in New York more than 3 years ago. That was an amazing experience.
When M brought me to the theatre, I was definitely surprised and excited about the show.
The theatre was grand (my first time) and it was really crowded, but I felt that it was part of the theatre experience so I enjoyed it.
The show was good. Even though we were sitting almost at the back row, I was able to hear the music clearly, watch the actors and actress perform beautifully, and enjoy the overall performance.
I would definitely recommend you to watch it if you can get tickets.
Dinner at Pho 88 ($40 for two people)
On the way home, we grabbed dinner and it was a good end to a wonderful day.
The total spent was $294.
I had a lot of fun during my Toronto babymoon. It was under budget, delicious, full of surprises, and yet I can go home to my comfortable bed to sleep at night.
Would you consider doing a staycation for your babymoon?
Pin this!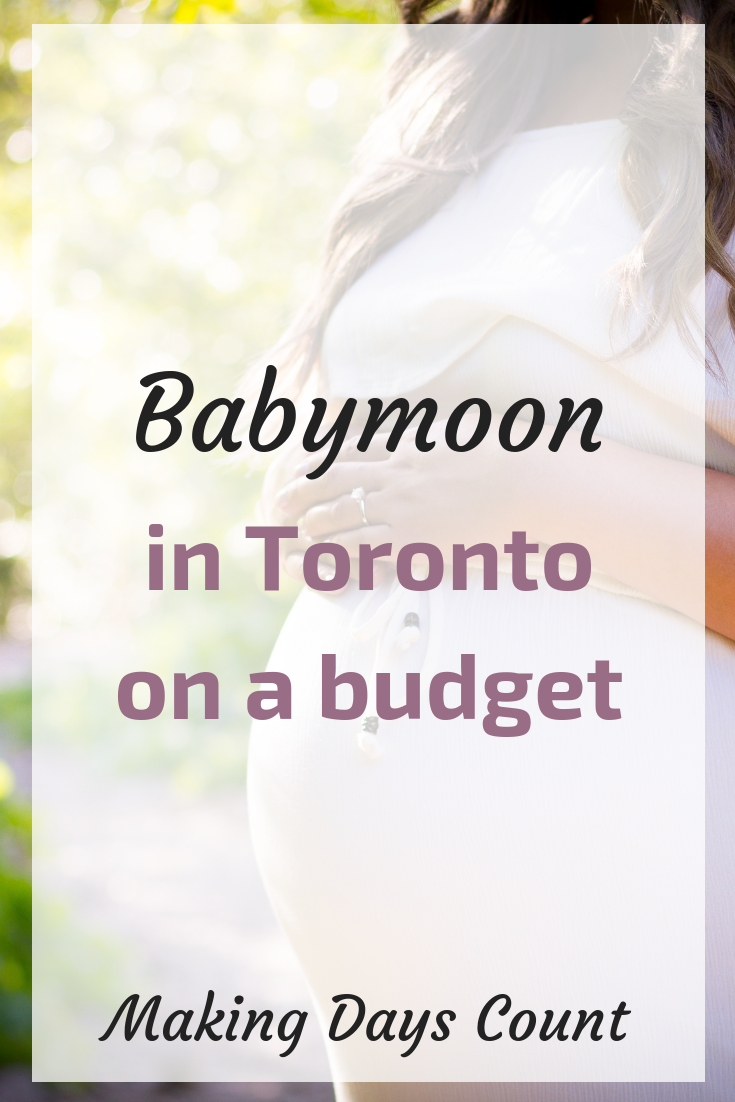 Related: