Raise your hand if you're absolutely terrified of flying with your baby for the first time. I definitely was before we went to Disney World when Baby K was almost 7 months old. Your baby's first flight does not have to be that scary. Trust yourself and your baby that you'll be able to do this together.
When we flew to Orlando, I had to deal with an explosion of poop, flight arrival delays, and a fussy baby. It was not a fun experience, but flying back was so much better. I'll share with you mistakes you can avoid to have a less hectic flight than I did.
It was our baby's first flight and we survived. Now, don't make the same mistakes we made and fly with more confidence.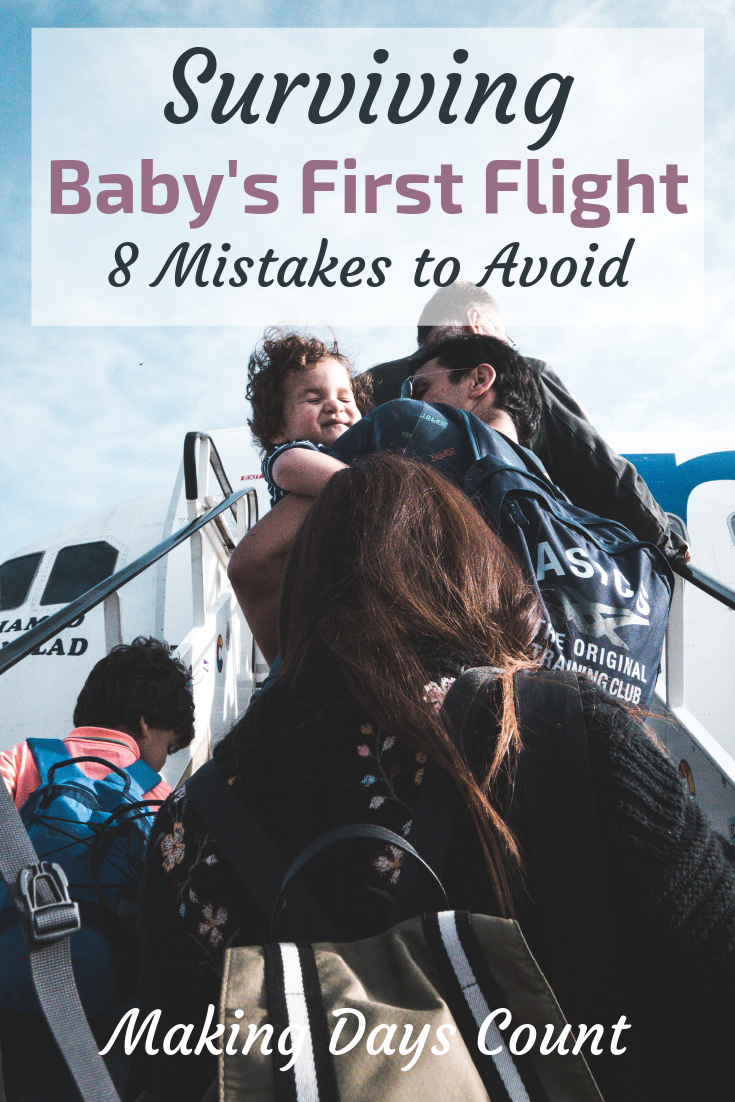 Here are 8 mistakes to avoid on your baby's first flight (in no particular order):
BY CLICKING THE LINKS AND MAKING A PURCHASE, I MIGHT BE EARNING A SMALL COMMISSION AT NO ADDITIONAL COST TO YOU. PLEASE SEE OUR FULL DISCLOSURE FOR MORE DETAILS.
1. Not worrying about changing the baby's diaper before boarding
Oh boy, wait until you hear this story. As she was sitting in my lap and the plane was leaving its gate, I hear the dreaded sound of poop coming from her diaper.
The seatbelt sign was on and the plane was moving. So, I was stuck holding a baby that was pooping right then and there.
I knew that it was going to be bad. Why? It's because I didn't change her diaper before we boarded the plane. It felt full even before the poop came.
Not my greatest moment, but I held onto her tight as I nursed her as we ascend to the skies.
Once the seatbelt sign turned off, I did a mad dash to the washroom to change her diaper. Graphic: the poop was so much that it leaked through her clothing unto my jeans.
Please be smarter than me and change your baby's diaper before boarding. At least, if there is a poopy explosion, hopefully, the diaper can hold it better.
2. Book flight time when the baby is most cranky
It's the most wonderful time of the day for parents (please note my sarcasm). When the baby is fussy and tired, and you know that they're about to nap or sleep at night, what fun. Baby K, if you are reading this in the future, love you!
As a new parent, we take it one day at a time. We will eventually learn when the baby is most cranky and fussy during the day and what that means.
When booking a flight, try to avoid the time period that your baby is most likely to have a meltdown. Unless you have no choice or budget constraints, avoiding that time frame would be best for you and your baby.
Due to the limitations we had, we chose to fly late afternoon and it wasn't the best scenario. Baby K was tired because she didn't want to nap as there were tons to see at the airport. When she did nap on the plane, they were short and not enough. So we had an overtired baby, but you know what, we survived.
Please try to fly at a better time, especially for domestic and shorter flights.
3. Forgetting to pack extra clothing for baby in case of emergency
You are probably a better packer than we are, right? I was the kind who only used carry-on luggage on a 1-week trip and yet forgot to pack pants in the diaper bag. Can I blame it on Mommy's brain?
After her diaper poop explosion on the flight, M got the stuff from the diaper bag for me to take her to the washroom to change her. Sure enough, we couldn't find any pants in the diaper bag. Like, seriously?
I had to hold her in her onesie and covered her legs with my scarf to keep her warm. So please double and triple check that you have more than one set of clothing for the baby's first flight in their diaper bag. Learn from my mistakes.
4. Stay up late the night before
This one is a no-brainer, but with a baby, try to get as much sleep as you can the night before.
For those who love to pack things last minute, make a list beforehand so that the process will be easier for you.
You need all the sleep you can get so that you have the energy for handling your baby's first flight. Also, you'll be happier and less frustrated if things go wrong.
Sleep does wonders. Lack of sleep can ruin your mood and your experience flying with your baby.
5. Let your child be woken up by loud airplane announcements
I don't know about your baby, but mine can get easily startled by loud and sudden noises. She can wake up if I accidentally step on the spot on the floor that creaks. Ugh, it is like gambling and hoping that I will not wake her up on the way to my bed.
These airplane announcements are pretty loud and you really do not know when it will happen and how often. A cranky baby is no fun, especially if you are in a restricted and limited space. The best bet is to get these baby headphones and put them on the baby after they're asleep. I bought them but didn't get a chance to use them on the flight as her naps were so short. On our flight home, I was smarter and definitely used these amazing headphones the minute she fell asleep. She slept all the way home.
6. Assume your baby does not need entertainment
They are a baby and just sleeps, right? Well, it depends on your baby and how old you're planning to take them on the flight.
If your baby is really young and is a good sleeper, good for you. But if your baby is aware of their surroundings and might not sleep when you want them to, you will need to be prepared.
Bring books, toys that are not loud (I'm thinking to get something like this busy book next time), and paper and pen. Their attention span might be shorter or longer than at home, so you want to be prepared before your flight.
We had a book from the Dollar Store, but it was not enough. M ended up showing Baby K his phone and she was okay with that for a good minute. If you have tried everything, maybe we need to put aside the no screen time restrictions aside just for baby's first flight.
7. Leave the baby's snacks at home
We recently introduced solids to Baby K before our trip to Florida. Her diet consists of Mommy's milk, formula, and baby cereal. While we didn't forget her food, I wanted to include it in this list as snacks can satisfy your baby's hunger and also be entertaining.
They will be busy snacking and you can rest for a hot minute. Also, a hangry person, a baby more so, is not fun to handle. So please, do remember the snacks.
8. Choosing the middle seat on the plane
Last but not least, sitting between people while holding a baby is not the best idea unless they are your family members or friends who are travelling with you.
Be sure to check in earlier and choose your seats. Either go for the aisle seat or the window seat. The window seat is great for distracting your baby to look out the window. Alternatively, the aisle seat is great if you need to get up and change the baby or stretch your legs.
Depending on how long your flight is and how many people in your travel party, you will need to decide what is best for you and baby.
Thank you so much for reading. For other travel tips, these might be of interest to you:
If you like what you read, please pin the picture below and share it with others. Thank you.