"Be our guest. Be our guest. Put our service to the test." A popular song from Beauty and the Beast, besides "Tale as old as time", reminds me so much of the Disney movies I watched as a child. Now that we were going to Magic Kingdom at Walt Disney World, it'll be fun to dine at Be Our Guest restaurant.
I didn't know that the food at Disney was such a big thing until I started doing research for our trip.
Before you continue reading, I want to let you know that this is a part of my Disney series where I blog about my experience from beginning to end.
Here's my Disney series blog posts:
Be Our Guest Restaurant Review (this post)
Let's get into the details of our experience with Be Our Guest.
BY CLICKING THE LINKS AND MAKING A PURCHASE, I MIGHT BE EARNING A SMALL COMMISSION AT NO ADDITIONAL COST TO YOU. PLEASE SEE OUR FULL DISCLOSURE FOR MORE DETAILS.
How we got our reservation:
I downloaded the My Disney Experience app and searched for Be Our Guest restaurant directly.
We looked at the menu and decided that we wanted to try their lunch menu preferably. If we couldn't get a reservation for lunch, then we would aim for dinner.
If you have been following our series, I mentioned that we booked this trip about a month prior. So, the tips on booking dining 180 days out did not apply to us. I had 2 weeks at this point.
The other option to find a reservation is to click on the + button on the homepage of the app, and click on Reserve Dining.
Following the instructions of choosing your date and inserting the number of people in your party, they will show restaurants that are available for the selected time. You can always play around with the time to see if new available slots will pop up.
We searched for any available spots and found one at 8 p.m. for dinner. It was not ideal since we want to keep Baby K on her sleep schedule.
However, we booked it anyway and know that other spots will open up. It sure did. A few days later, a lunch spot at 1:35 p.m. on Friday (our second day at Magic Kingdom) opened up and we grabbed it immediately.
The week before our trip, I found a lunch reservation at 12:25 p.m. or so on Tuesday (our first day at Magic Kingdom) for Be Our Guest. It was perfect.
If you're looking to score a reservation at Be Our Guest last minute, it is possible. Maybe you just need to check the app once in a while before your trip.
Arrival and Atmosphere:
Be Our Guest restaurant is located at Fantasyland at Magic Kingdom. When you arrive, there are cast members around to check you in if you have a reservation on the left. Also, a cast member is available at the entrance to help you if you need it.
Unfortunately, you cannot bring your stroller in with you and will need to park it across the restaurant. You will see a wall of strollers, but it shouldn't be too difficult to find a spot.
I highly recommend that you pre order your food on the My Disney Experience app. It'll save you a lot of time.
While we were lining up for the Winnie the Pooh ride prior to lunch, we decided to pre order our food. Since we were in the fastpass line, we were glad that the process to preorder was quick.
After arriving at Be Our Guest restaurant, they scanned my magic band and knew that we preordered.
They gave us a yellow rose, looks more like a hockey putt.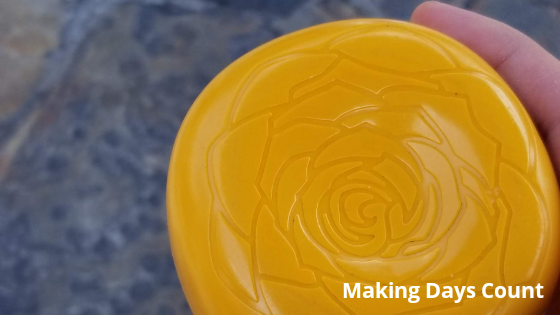 We went in to pay for our meal. While going in, I saw the line for ordering food was pretty long even though they had multiple cashiers. So, preorder your food, especially when you can save time and avoid meltdowns from hungry children or adults.
After paying, you can pick any of the three places to sit: the grand ballroom, the West Wing, and the Rose Gallery.
The ballroom
When you entered the restaurant, the ballroom is in the center. It's huge and can accommodate many people. One of the suggestions I read was that if you sit by the window switch are the far back of the restaurant, you'll be able to see the falling snow.
It's true.
One thing to note is that since the ballroom is in the center, it gets very loud, and a lot of people walking around. There are many tables available here.
The Rose Gallery
This was where we ate. Smaller than the ballroom, it feels more intimate and quieter than the ballroom.
The decor in this space was nice and charming. I definitely felt more relaxed in the Rose Gallery. Despite the size, there were a number of tables available for seating and moderate turnover.
The West Wing
The darkest room of all three where you can hear thunder sounds while you eat. It's a fascinating room, but not suitable for young children if they are easily frightened.
You can take a picture of the rose in the glass display. Very cool.
Food:
Since we ordered our food and paid at the entrance, we went to sit down and somehow they were able to find us. I heard that it's the tracking of the Magic Band that they have a rough idea where you're sitting.
When the cast member came with our food, he was pushing this antique-looking cart. It makes us feel very fancy and to have a wonderful dining experience.
I'll be sharing what we ordered and our thoughts about each one.
Appetizer: French Onion Soup
M loves this. He started drinking he soup and had to give it to me before he finished it.
I thought that it was delicious. It can taste salty, but that is what I found generally at Disney World. It could just be that my regular salt intake is not high.
Overall, delicious and we would recommend this.
Entrées: Braised Pork (Coq Au Vin Style) and French Dip Sandwich
I ordered the Braised Pork and it was yummy. The pork was so tender, the mashed potatoes creamy, and the long beans cooked well. I'm salivating as I'm writing this hahaha. Delicious, but once again, a bit salty.
They have a version without the sauce, which might be less salty, but I enjoyed the sauce.
M ordered the French dip sandwich and it looked good. He enjoyed his sandwich.
Dessert: The Master's cupcake
"Try the grey stuff, it's delicious"
Surprisingly and yet not really, the cupcake is pretty good. It is not too sweet and feels light. After the soup and our entrées, it was nice to end our meal with the Master's cupcake.
If you can get a reservation at Be Our Guest restaurant for lunch, it's worth it. Pre order your food so that you can walk in, choose your swat, and enjoy the delicious food.
Be sure to check out the other posts on my Disney series:
Be Our Guest Restaurant Review (this post)
Like what you read? Please pin it and share with others. Thank you.