Raise your hand if you are home and you are itching to work on home organization and projects! I am definitely raising my hands with you as well. In fact, I have a few budget DIY projects that you can do easily.
During this time when we are all encouraged to stay home (when we can), we are spending a lot of time at home. When we were out and about, we did not notice things about our homes that is now very noticeable.
I feel that these few weeks of being home has helped my husband and M really want to tackle home projects that we used to delay. Not that we don't love to work on our home (finally finishing some rooms after 3.5 years of living here), we're just busy. Yes, great excuses but now we are home and started on doing our own projects to finish our home (slowly).
It has been an interesting process for us to do these home projects with a toddler, but it's fun.
During this time, it is especially important to support the local businesses when we can. In this blog post, I will be sharing DIY projects that you can do on a budget using the tools and materials you can get from artists and small business owners on Etsy. Be sure to check them out!
Pin this for later!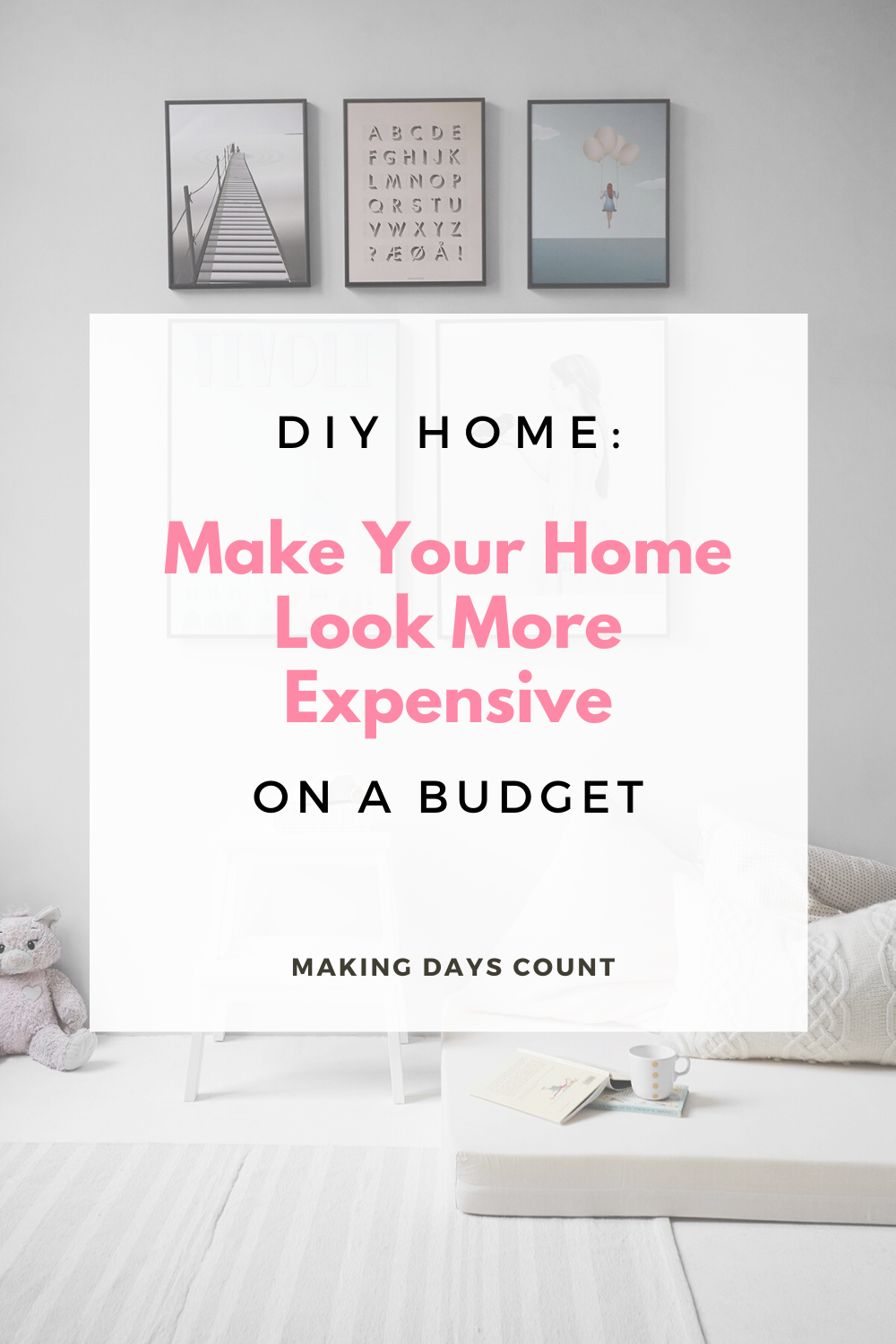 Here is a list of budget DIY Projects you can easily do to make your home look more expensive:
Disclaimer: This post is sponsored by Etsy. However, all opinions are my own.
BY CLICKING THE LINKS AND MAKING A PURCHASE, I MIGHT BE EARNING A SMALL COMMISSION AT NO ADDITIONAL COST TO YOU. PLEASE SEE OUR FULL DISCLOSURE FOR MORE DETAILS.
1. Impress others with your taste of art
Have you ever looked at Pinterest and see all these rooms with beautiful art? You probably think to yourself that they must spend a lot of money on them. That is possible, but there is a way for you to get similar art in your home too.
I'm talking about printable artworks. There are so many to choose from here.
One tip is to choose something that is within your colour palette of your home to create a cohesive look. It does not have to be the exact same colour, but even a shade of the colour would be nice.
You can print from your own printer or send it to a shop and asked for it to be delivered to your home.
Once you've received it, you can frame it up or stick it on with washi tape (I'll talk more about this in a later point).
It's a lovely piece of art that you do not need to spend too much money on and you're supporting the artist who made it. Win-Win!
2. Upgrade your pillows
Another way of making your home look more expensive is by upgrading your pillows.
Take your old pillow covers away and put on more luxurious looking ones like this velvet pillow cover or this faux leather pillow cover.
It will make your room look more put together and well thought out.
I highly recommend for you to check the size of your current pillow to make sure that you are getting a slightly smaller size pillow cover to make it look fuller.
There are so many different pillow covers to choose from Etsy. You can take a look and see which one fits your room the best.
3. Add a touch of design with this rental friendly option
If you are renting, a fun way to put a touch of design into your space is to use washi tape.
Washi tapes come in so many different colours and sizes as well. You can use it to frame your art as I mentioned before or even make a headboard.
Many people use washi tape in their bullet journal as well so you can use it for your planner and also for your home.
I'm actually working on putting my guest bedroom together and using this washi tape to frame my daughter's artworks on the wall. It's a great option if and when I want to change up the artworks on the wall.
You can come up with so many different ways to use washi tape whether it is a solid colour washi tape or a fun print like this hamburgers washi tape. Have fun with it!
4. Paint with a guide
There are so many projects you can do with painting, whether it is your wall, your cabinets, your tiles, etc.
It can be overwhelming of where to start or what to do especially when you want to do those pretty patterns.
Stencils can be your guide. It has the pattern or design that you want and it is easy to use.
From tile stencils to wall stencils, find the perfect stencil design for your upcoming home projects.
5. Display your string art abilities
Did you know that you can make your own string art with these string art templates?
You'll just to print it out, put it on the wood piece that you are using, follow the instruction given, and you're good to know. All you need to choose is your favorite design and also your yarn of choice.
I like this cactus design. It's so cute!
The best part of this is that it looks great, but does not need to cost too much money to make it.
6. Make your own chunky blanket with this yarn
Imagine this: You are sitting on your couch and pulling up on the chunky blanket that you made yourself.
How comfortable does that sound!
If you buy your own chunky blanket, it can be more expensive as compared to making it yourself.
This jumbo chunky knit yarn is perfect for your luxurious blanket project. Also, this yarn is washable and vegan if this is something that matters to you.
7. Exchange your old knobs with these unique ones
Last but not least, you can exchange your old knobs to more modern-looking ones.
This is an easy change that you can change back if you are renting. Just remember to put them in a bag and in a place that you will remember when you move out.
You can find simple knobs such as this brass one or more whimsical knobs such as this cloud one.
Go with what you think will represent you and look best in your home.
Related: Stand with Small: Etsy Editor's Picks
Thanks for reading this blog post. I hope you do check out these Etsy shops and #standwithsmall. If you like what you read, please pin the image below and share it with others.