As parents, we feel like we can be cleaning after our children every single day. The toys on the floor, in boxes, on the couch, on the kitchen counter, etc. It can really feel overwhelming. One way that I keep everything neat is to have budget toy storage and organization.
In this blog post, I will share with you 7 budget toy storage ideas that I personally use.
These storage helped me keep things neat and tidy, for some parts of the day. The toddler's got to play, right?
Here is a quick tip before we get into the storage solutions: Have enough but not all the toys out at once. You can choose certain toys that are well loved and store the rest away. After a period of time, you can rotate the toys so that it seems like they have new toys to play with.
Pin this for later!
Here are 7 budget toy storage and organization ideas:
BY CLICKING THE LINKS AND MAKING A PURCHASE, I MIGHT BE EARNING A SMALL COMMISSION AT NO ADDITIONAL COST TO YOU. PLEASE SEE OUR FULL DISCLOSURE FOR MORE DETAILS.
1. IKEA Lack TV Bench
I was inspired by Kallie (But first, Coffee blog) to buy this IKEA Lack TV Bench. It was CAD $16.
What I liked about this TV Bench is that I can put toys out for display and be intentional about what my toddler plays with.
Also, it is a great height for toddlers to put stuff back when they need to.
I bought two of this TV bench, one for the living room/play area, and the other for her room.
The IKEA Lack TV Bench is a great budget toy organization as it keeps things minimal yet accessible for the toddlers to play with. I also paired it with the Dollar Tree Food Plastic Containers, which I will talk more about later in the blog.
You can add baskets to the top of the bench and put your bigger toys in the basket, or smaller ones in the middle section for little toys like farm animals. It's totally up to you how you want to store your toys.
2. IKEA Eket Cube
Another IKEA product that is a great budget toy storage idea is the Eket Cube. When I bought this, it was a few years ago and the IKEA location near me was clearing it out. I bought two of the cube for CAD $5 each, I believe.
As you can see in my picture above, I use this cube as a library for my toddler and put books inside.
Somehow, it works really well for us. I do have to rotate her books, but will leave the ones that she really enjoys reading in there.
You can use the FYSSE box to put toys in the Eket cube if you like. Unfortunately, the Drona box does not fit into the Cube as it is slightly bigger than the cube.
One good thing about the cube is that you can put it on the floor or hang it up on a wall, or stack them up together. It's quite versatile and budget friendly.
3. IKEA Drona Box
My final IKEA product on this list is the Drona Box (which I have way too many, but they're so useful!)
In my picture (same as above), you can see that I put my toddler's plush toys in the Drona box above the Eket Cube. We also use it to store building blocks.
This box is actually quite big and can fit quite a number of item. I am super impressed.
One suggestion that I would make with this budget toy storage is not to make it a catch-all. Be specific in what you want the box to contain.
Here are some suggestions:
Building Blocks
Plush Animals and Toys
Cars and Vehicles
Musical Instruments
Balls
You can even label them with these Drona Box Stickers, how fun!
Do check out the IKEA products mentioned above. They are not sponsored, but we truly use and found them to be helpful for us. Up next are dollar store budget toy storage and organization ideas.
4. Dollar Tree Locker Bins
You can get these Dollar Tree Locker Bins (they also sell them at Dollarama here in Canada) for $1.25 (CAD). These locker bins have been so useful to store things such as toys and supplies.
I found the design to be quite nice for toy storage. If you have smaller toys that you would like to store or organize together, these locker bins are a great option for you.
Though I do not use these to store my daughter's toys, I used them to store art supplies and the other craft materials that I have. It is very useful.
You can see how I organize my craft closet here with these locker bins.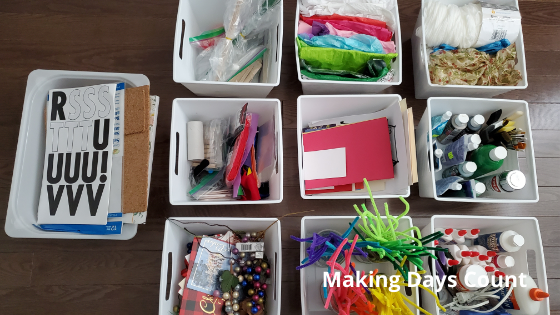 If you would like to order similar locker bins online, you can also check these out.
5. Dollar Tree Food Plastic Containers
Another great budget option for toy storage are food containers.
They come in different sizes at the dollar tree or dollar store near you. You can measure what size you'll need for your space before purchasing them.
I got these dollar tree plastic containers for $1.25 each. For last new year's eve, I put together a new year's sensory box for my toddler using one of these containers. It is a great size and I can just reuse them to organize the other toys.
Depending on your need, you might need a bigger box like the one in the picture below. I found this at Dollarama (dollar store in Canada) for $4. Unfortunately, it was not big enough for the blocks I was hoping to store in them. However, it is a great budget toy storage option.
6. Dollar store cloth baskets/bins
I am so impressed with the amount of storage options available at the dollar store. There are not only bins and containers, but also cloth baskets for budget toy storage.
I found these cloth bins at the dollar store near me a few years ago and thought that they would fit really well in the table compartment that I have. Now, they are used to hold toys so that my daughter could reach them and play with the toys as she wishes.
I have divided the toys into different categories so that it is not a catch-all.
Here are my categories:
Water Play toys
Figures (Animals, Small Figurines, Finger Puppets)
Musical instruments and Others
Categorize your toys based on what you have and how it makes sense for you.
Check out the dollar store near you or even online for these cloth baskets and bins organizers.
7. Diaper Boxes
Last but not least, for the ultimate budget way of storing toys is to use old diaper boxes when you are done with them.
What I like about diaper boxes is that they are pretty sturdy and can fit into different closet spaces as well if you need it.
I also used a diaper box to make a temporary bookshelf. You can read that post here.
If you want to use the diaper box to organize toys such as plush animals in your living room or play space, you can also dress it up by wrapping it with wrapping paper or painting it. I like this simple wrapping paper design.
Diaper boxes are my go-to to put the baby toys away and also toddler toys for rotation.
Feel free to use what you already have in your home, or get one of the budget storage ideas above to organize your kid's toys.
Related:
Thank you so much for reading my blog post on "Budget Toy Storage and Organization Ideas". Be sure to check out my free printables here. If you like what you read, please pin the image below and share it with others.  Thanks!