The holiday season is here, which means that it is time to think about Christmas Gift Ideas. Or "whatever holiday you celebrate" gift ideas. I love giving gifts and cannot wait to share with you these ideas.
As you may or may not know, we just came back from a month long trip to Asia. It was an amazing trip and we can't wait to plan the next one. However, until then, I shall enjoy the pictures and memories we had from our trip.
While I reflect on our trip, I thought about some items that we have or wished that we have would be so helpful for our trip. I want to share them with you and hopefully it will benefit you on your trip or for other family travellers that you might know.
Pin this for later!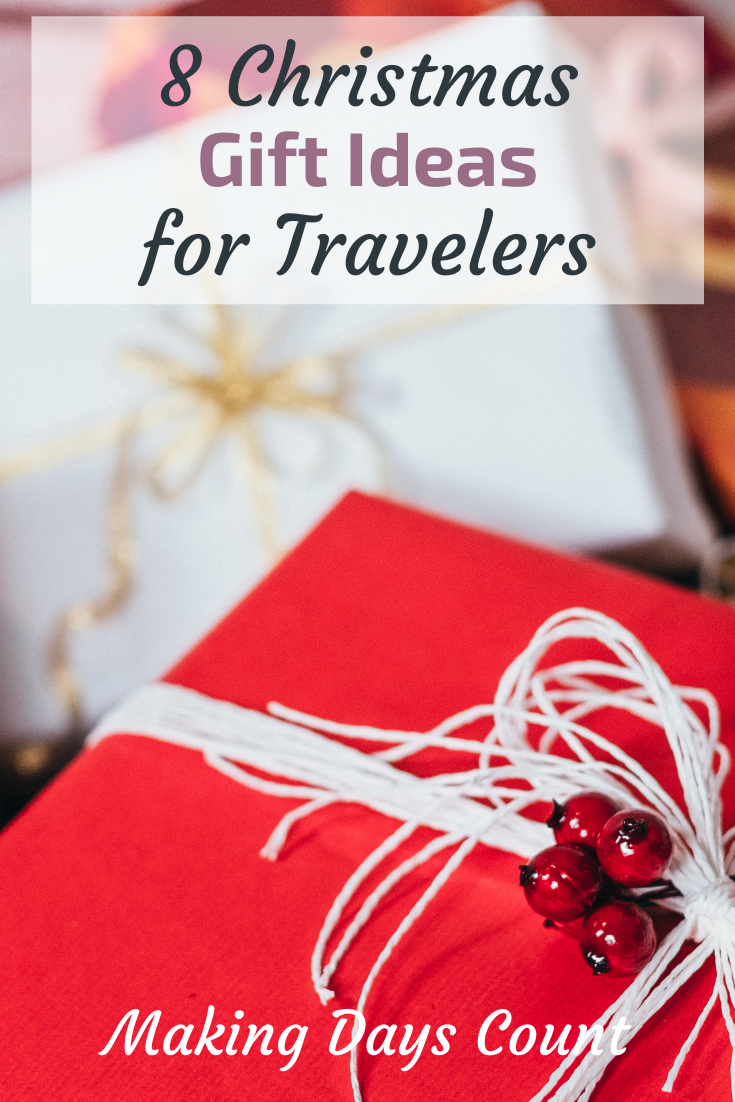 Here are some Christmas Gift Ideas for travelers:
Disclaimer: This post is sponsored by Etsy. However, all opinions are my own.
BY CLICKING THE LINKS AND MAKING A PURCHASE, I MIGHT BE EARNING A SMALL COMMISSION AT NO ADDITIONAL COST TO YOU. PLEASE SEE OUR FULL DISCLOSURE FOR MORE DETAILS.
1. Diapers and Wipes Clutch
When travelling with a little one, diaper changes are necessary. Depending on how frequent you need to change their diaper, you need to be ready at anytime. This portable changing pad and diapers clutch is really cute but functional at the same time.
Whether on the plane or in public washrooms, you can just pull this clutch out without the need to fumble through your bag for extra diapers and wipes. Everything is prepared and you will need to refill when you've used all the wipes or diapers.
It is very convenient for parents to change the baby, especially when you're not sure about the cleanliness of the changing pad the public washrooms provide. Did I mention that they have a pocket for diapers and wipes? You can carry the baby in one arm and hold this clutch with the other hand.
I'm excited to share this as the first on the list because we have a similar concept portable pad. It was very useful during our travels. It's too bad that ours isn't as cute as this one.
You can gift this to parents or parents to be. Of course, if you are the parent, you can gift it to yourself. Haha.
2. World Push Pin Map
Do you know a person or couple who loves to travel? It seems that they're always on the go and on different adventures. Couples could put down where they individually have been and as a couple. This world push pin map is such a great gift as they can pin down where they want to go next too.
Another person you can give this to is a retiree. They are now on their next chapter in life and can decide to travel the world with this new free time. It also encourages them to be adventurous and take this opportunity to go places.
What I like about this world push pin map is that it is customizable and it looks so luxurious.
3. Personalized Travel Mug
Did you know that you cannot bring water bottles through airport security? If you did not know that, it is true. Unless the water is for the baby, adults are not allowed to bring filled water bottles through security. What should people do instead?
You can gift this beautiful travel mug to this traveller. They can bring this empty through security and fill it up after going through security.
Also, it is environmentally friendly to use travel mugs instead of getting the plastic water bottles. We can try to use less plastic this way. You can choose your design and gift it to a girlfriend, mom, or whoever you think will love one.
4. Children's Quiet Book
This is a great gift for your kids and in return, for yourself. When travelling, babies and kids can get bored. It is hard to sit still in the car for 4 hours, or even worse, 13 hours on the plane.
These busy books are really helpful in keeping them occupied for awhile. As parents, we will take any peace and quiet we can get. Yes, we still love them very much but we need to keep them busy while getting to the destination.
Now, with these busy books, we do not hear "Are we there yet?" as often. Hopefully.
Look around to see which designs you prefer. They have options for both boys and girls.
5. Travel Journal
It is so important for us to reflect on our travels and capture moments that stood out to us.
This personalized notebook is great for people who love to jot down things and have to do lists. They could use this notebook and write down what they experienced during the trip.
For me, I got a notebook during the trip and started writing down tips on what I want to share with you guys. I wrote down points relating to travelling with a baby. I found it less distracting as well as compared to writing on my phone. If you know someone who prefers to write things down, this is a wonderful gift.
6. Passport Holder and Wallet
To be honest, I was not sure why M got a passport holder. However, after our trip, I understood how important it was to hold not only the passport but also have pockets to hold other cards. Whether it was our Pasmo cards (for public transportation in Japan) or receipts from our purchases, it came in really handy.
Here is one that you can get that is made out of leather. It looks pretty good and the importance is that it is highly functional to keep many things in one place. If you know a traveller who needs an organization system like this, this passport holder and wallet would help them to find important cards and items like their passport all in one place.
It is definitely one less thing for them to worry about if everything is organized and in one place.
7. Personalized Toiletry Bag
Whether it is travelling in a group or by themselves, a traveller will need a toiletry bag. They could put their toothbrush, toothpaste, or even use it as a make up bag. If they are planning to backpack across the country, they could organize and put all their liquids in this bag.
It is so much easier to just pull out this bag and use what they need before putting it back.
It makes packing and unpacking easier for them as there is a place for everything.
8. Toys and Bottle Leash
This might seem like a funny gift, but trust me, it is useful. Kids or at least babies, like to throw things around. Whether you are paying attention to them or not, they find a way to toss whatever toy or bottle in their hand to the ground. This is a toy or bottle leash. It keeps the toy within a certain distance and should not be on the floor if secured well.
Baby K (my daughter) would be chewing on Sophie the Giraffe for one minute and then I see it dangling beside the stroller the next minute. It helps us from needing to wipe the toy down every second and not loose it when we are travelling. You can attach it to your stroller or even yourself if you need to.
It is a great gift for parents who are travelling with their babies. It'll help them to have one less worry about a missing toy or water bottle. We use this type of leash on a regular basis, not just for travel.
Related: Etsy Holiday Gift Guide
Thank you so much for reading my post on Christmas gift ideas. Please pin the image below and share with others who might be interested in this list!