Congratulations you're pregnant! This is such an exciting time. I'll be sharing with you some creative pregnancy announcement ideas that you can share with your hubby and family.
I remembered that before having my daughter, I would think about all the different ways I could tell my husband, M, and our families.
However, M wanted to find out whether I was pregnant at the same time as me.
So, I did not get to surprise him but we got the opportunity to surprise my family.
Since you're here, I am so excited to tell you some of the pregnancy announcement ideas that are creative that you could totally do.
Pin this for later!
Here are 17 creative pregnancy announcement ideas to your husband and family:
BY CLICKING THE LINKS AND MAKING A PURCHASE, I MIGHT BE EARNING A SMALL COMMISSION AT NO ADDITIONAL COST TO YOU. PLEASE SEE OUR FULL DISCLOSURE FOR MORE DETAILS.
1. Mad Gabs
Mad Gabs is such a fun game. I actually did this with my family to surprise them about my pregnancy with K, my daughter.
In the first round, I did the theme of superheroes. Examples include Kept Ton Eh Marry Car (Captain America) and Soup her mend (Superman).
For the pregnancy announcement round, I wrote: "Owl bee a…" (I'll be a).
Here was my version (but you can be inspired and use your own):
Grad farther (grandfather)
Grad mud her (gradmother)
Ant (Aunt)
Knuckle (Uncle) or None Gull
You can either choose to make your own cards or copy some of the design of the real Mad Gab game. I highly suggest you to check out Canva to create your own free cards that you can print out yourself. If you prefer to use Microsoft Word, you can use the free business card template to make your design.
2. Birthday poem
Birthdays are a wonderful time of celebration. If you are celebrating someone else's birthday and you know that they would love to find out that you're pregnant, this would be a wonderful gift.
Of course, if they would prefer to be the center of the attention, maybe find another time to tell them about your pregnancy.
Here is a poem that you can put on a card:
"Happy birthday to you,
We are thankful for you.
I've got glad tidings too,
In (Month), my baby's (or sibling's) due.
If this is your first baby, you can say "my baby". However, you can also say "my/our sibling" if you're pregnant with your 2nd/3rd/4th and the card is from your child(ren).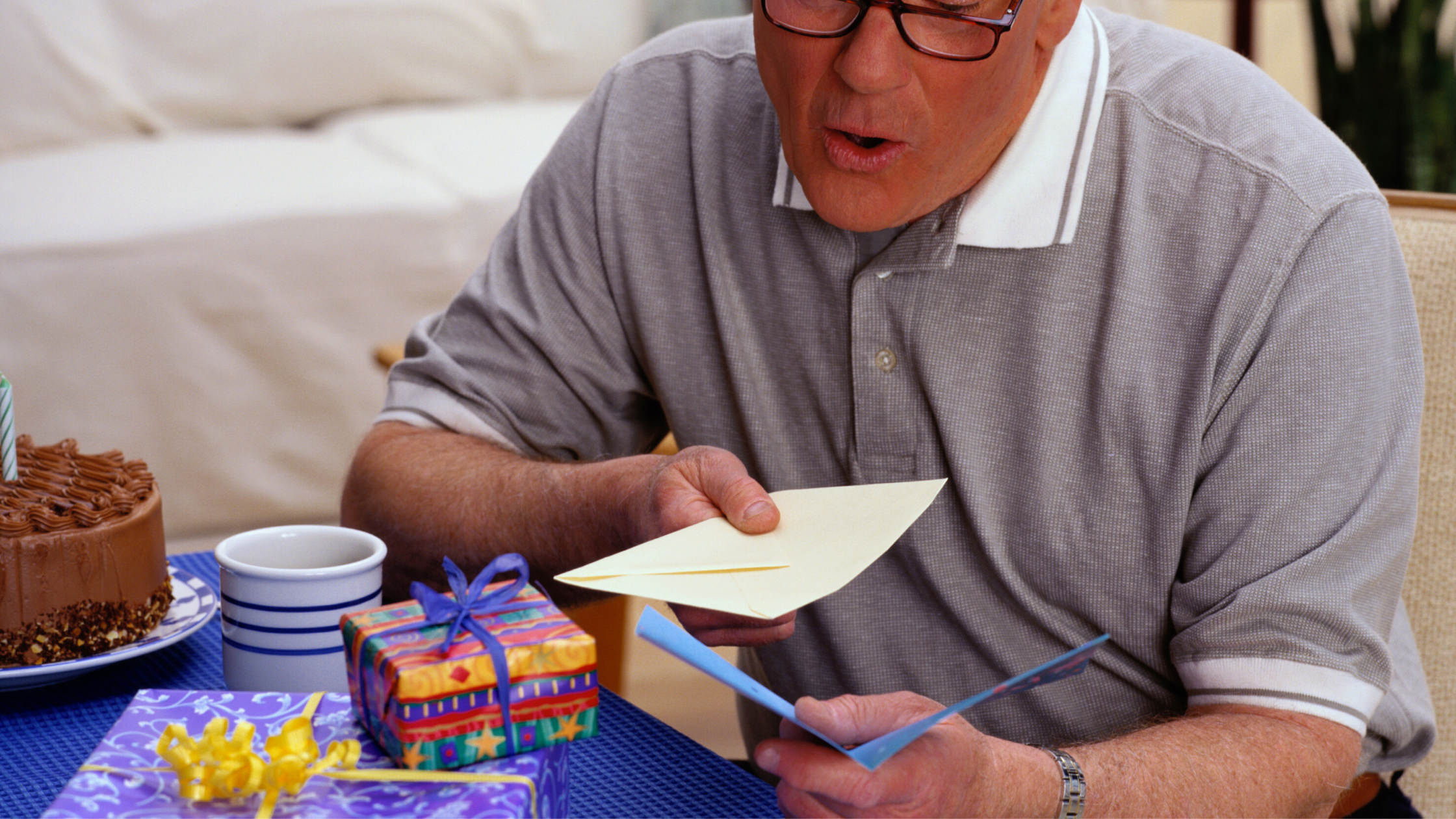 Watch the excitement from their face as they learn that you are pregnant. How exciting!
3. T-shirt announcement
T-shirts are a great way to announce that you are expecting. I'll share with you different ways you can announce with T-shirts.
a. I'm pregnant T-Shirt
These Preggers T-shirt are hard to miss. There are some more straight forward ones and others that are humurous.
For example, this "I miss wine" pregnant t-shirt makes me laugh. Take a look on Etsy and see which one you love. If you get a bigger size, you can also wear it later on in your pregnancy, not just when you announce it to your husband, family, and friends.
b. Big brother/sister shirt
Get your kids involved with announcing your pregnancy. These cute big brother and big sister T-shirts are an easy way to tell others that you are pregnant. Hopefully grandma won't be too busy with your child that they miss the T-shirt design.
c. Different Status T-shirt
Sometimes the best T-shirt announcements is telling them that they are no longer just a mom or dad, but now grandma and grandpa.
This T-shirt tells others that  your mom is now a grandma.
You can also get your siblings and cousins these T-shirts to say that they've elevated their status into aunts and uncles.
Do check out Etsy for different designs of all the T-shirts I've mentioned above.
4. Count the family members
This is a great idea when you have younger kids in your family who are learning to count.
At your family dinner, ask the kids to count how many people are present. After they're done counting, you tell them to count again and this time you count with them.
At the end of your counting, point to your stomach and include that in your tally.
Wait to see if the other family members can guess why.
5. Guess I can't have … for 8 more months
This pregnancy announcement can be in a picture form or a verbal form.
Here are some suggestions (you decide what applies to you):
Wine
Sushi
Cheese
Raw food
If you love wine, you can put a sticky note on it and write, "Hold this for me until due date".
Just for you: Amazon Family has a 30 day free trial that you can sign up for. We've saved time and money by ordering our baby essentials with them. As parents, we get so busy and really tired, so this is really helpful.
6. Scavenger Hunt
You can arrange a scavenger hunt for your husband or your family members around the house. Each clue can have a baby theme or have a letter on the back of the clue that forms the sentence: "I'm pregnant or We're having a baby".
A tip for this is to have clues around the area instead of going back and forth between different floors.
If the clues are just everywhere, it can get tiring to look for them and spoil the fun of the scavenger hunt.
Know who you are making the clues for and plan accordingly.
7. Video announcement
If you've been on a trip or have some pictures you want to share with your hubby or family, put together a video and add a picture of your baby's ultrasound at the end.
I've seen on YouTube where people do a collage of different things that happened to them over the year and end it with the picture of the ultrasound or the sound of a heartbeat.
It could be a simple video and not complicated at all. You can use Google photos to help you put it all together if you have Android or iMovie on your Mac.
8. Blindfold baby food challenge
This could be a really fun challenge for you.
Here is what you'll need:
Blindfold or Cloth
Variety of baby food (jars, pouches, baby carrots, etc.)
The game is to guess what they are trying and they have to tell you the theme.
An alternative of this is the mystery box challenge, where they put their hand into the box and feel what's inside.
Instead of mushy food, you can make them feel a variety of baby items such as bottle, onesie, and your pregnancy test.
Related: Letters to a First-Time Mom
9. Whisper Challenge
Another challenge that can be really fun is the whisper challenge.
How this works is that your husband or family member will listen to really loud music on their headphones while you tell them different phrases to guess.
You might want to tell them simple phrases before you tell them you're pregnant.
When you're announcing your pregnancy, here are some ideas for you:
I am having a baby
You are going to be a dad/grandma/aunt
Allison (your first kid) is having a sibling
Maddie is pregnant
If you need more ideas, you can always check out YouTube to see other ideas on how they announce their pregnancy with the Whisper Challenge.
10. Picture of Shoes / Coffee Cups / Game Consoles
One cute idea that I've seen how people announce their pregnancy is with a picture.
They'll show a picture of matching parents and kids items.
Here are some ideas for you:
Mom, Dad, and baby shoes
Two adult coffee cups and one baby bottle
Two game consoles with a notice that player 3 is entering the game
Mom shoes with purse with matching baby shoes with baby purse
Dad's cap, Mom's hat, and baby's hat
This depends on what your family likes to do. If you like to take walks, the shoes will be a good representation. However if you prefer gaming, the game consoles idea will be fun.
Please note: Amazon Family has a 30 day free trial. You can get an additional discount on baby essentials such as diapers. This is super helpful when we are already busy and tired taking care of our little one.
11. Eviction Notice
Announcing your pregnancy by giving your older kid an eviction notice from the crib.
There are some really funny ones on Pinterest that you can copy. You can write 'Eviction Notice by (due date)'.
I think this will really work if your kid is still a toddler and currently using the crib.
You can send the picture to your family members telling them that you need to get your kid out of that crib ASAP.
See if they figured out why.
12. What's one more?
A fun pregnancy announcement would be to suggest that you're just adding one more kids to the number that you already have.
Why not?
If you're taking this picture, you can ask your kids to be super silly or do silly things with them to get a reaction.
It could also be a picture of all your kids lined up.
This is really up to you how you want to say, the more the merrier.
13. Letter Board
You can also announce your pregnancy with a letter board (you can get one here).
Here are some ideas that you can write on this board:
For this child, I prayed (with ultrasound or baby bump)
Guess who is having a baby?
What's one more?
Our family is growing by one (or two if you have twins)
Mommy and daddy is getting me a human (with your fur baby)
Big sister or brother (with your older child or fur baby)
Baby (last name) come on (due month and year)
You can also choose to include your ultrasound, or just a picture of you and hubby carrying the board.
14. Parent + Parent = Number
This is another picture announcement. One parent stand on the far right, the second in the middle and leave some space on the left.
After you taken the picture, you can add the + and = sign when you edit your picture.
For example, if you have twins, you can put Parent 1 + Parent 2 = 4.
If you have other kids, just leave a space in between each person when taking a picture so you can put the "+" sign in between everyone.
15. Mom To Be Parking Spot
One of the ideas that I was thinking about to tell my husband, if we didn't find out together, was to park at one of those 'mom to be or new parents' parking spots.
You can tell your hubby that you need to go to the store and you want to drive.
Park at the "mom to be" parking spot and watch for their reaction.
If they need a little prompting, you might need to show them your positive pregnancy test.
16. Photo Roulette
This game is where players have to guess what the blown up picture is.
You can tell them that the theme is family, where you take their Facebook pictures and zoom in like crazy. They'll have to guess who and what it is.
At the end of the game, you can show them a really zoomed in picture of something that will announce your pregnancy.
Some examples include:
Your positive pregnancy test
An ultrasound picture
A baby onesie (like this one)
Your baby bump
Baby related items like baby bottles
One of the pregnancy announcement picture ideas in this post
17. Pictionary
Last but not least, you can play Pictionary but with a twist.
Similarly to the other challenges, you might want to play a regular game the first round before announcing your pregnancy.
Here are some ideas that you can draw for your announcement:
A Baby
Crib
Baby Bottles
Pregnant lady
Your family with a baby in your belly
Have lots of fun with this and it'll be one game that you'll remember for awhile.
Here are some of the other blog posts I wrote in Baby K's first birthday series:
1. How to Design a Birthday Invitation for Free
2. 9 Motherhood Lessons: My First Year
3. DIY First Birthday Games: Who Knows Baby Best
4. Cheap Party Decor: $5 Paper Plate Wall
5. How to save money on 1st birthday party
6. My 30 Hour Labor and Delivery Birth Story
Thank you for reading my post on "Creative Pregnancy Announcement Ideas to Husband and Family". If you like what you read, please pin the image below and share this with others. Thank you so much.