Being a new parent is not an easy task. We need to figure out how to bathe the baby without getting the belly button wet, change diapers that can be so full that you wonder when the last time you changed the baby's diaper, or when was the last time the baby or you napped.
It can take up so much of our time that we don't even remember connecting with our spouse. Do we even have the time to after the baby is born?
What if the baby is basically sleeping on you or cries so much when you leave? Can you even think about date night?
I'm going to share with you some realistic date night ideas for new parents. If your baby is an amazing sleeper and can hang out with grandma for 3 hours, please tell me your secret.
Before we continue, if you are interested to read more about our journey as new parents, check out these related posts:
Pin this for later!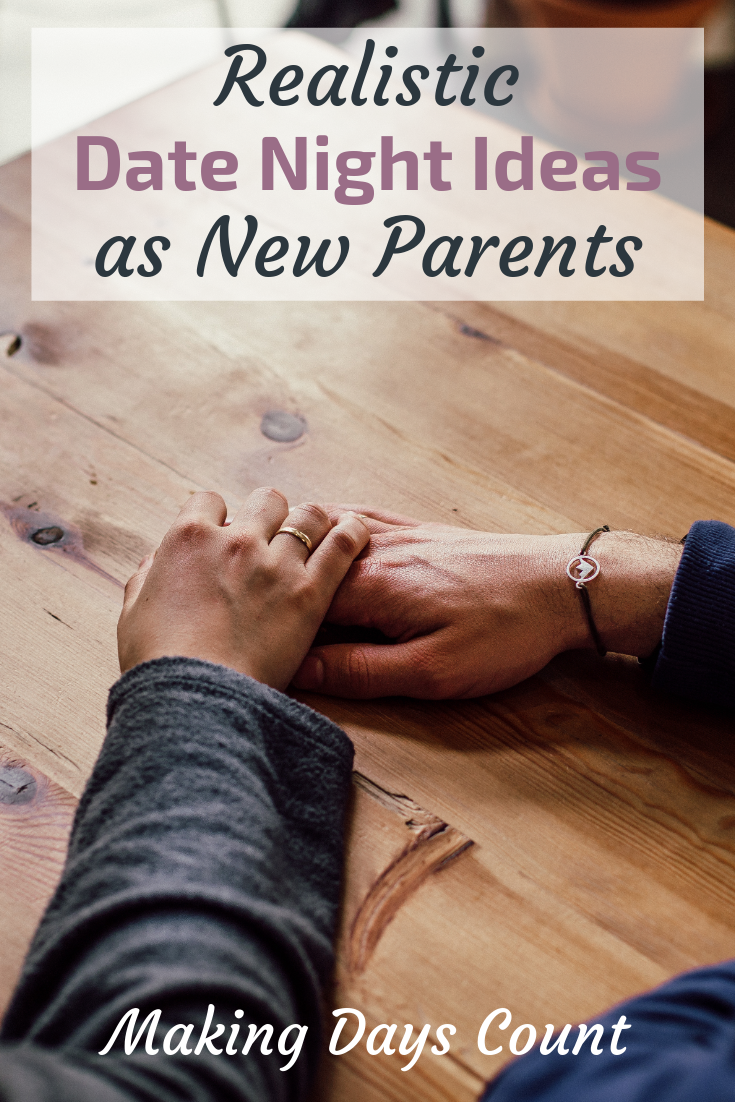 Here are 5 realistic date night ideas for new parents:
BY CLICKING THE LINKS AND MAKING A PURCHASE, I MIGHT BE EARNING A SMALL COMMISSION AT NO ADDITIONAL COST TO YOU. PLEASE SEE OUR FULL DISCLOSURE FOR MORE DETAILS.
One: Movie after dark
After your baby sleeps at night, watch a movie together. You can pull out your IPad or go to the living room and watch a video or movie together.
If your baby can sleep through the night, you might be able to get a baby sitter to just watch your baby while you go to the movies.
But really, we are all exhausted. I rather just sit in bed and watch something together with M. Whether it is a YouTube video or even starting a part of the movie, it feels nice. You might need to get up to hold the baby if they wake up, but at least you got that 10 minutes together.
Or, you can just hold the baby while they sleep on you and watch a movie or video wearing earphones. You can even get the headphone splitter where you both can wear your own headphones while watching the movie together.
Two: Lunch date while baby naps
When Baby K was younger, she would take more naps and one of them would be during lunch time. M and I would put her in her car seat and go for lunch.
She could sleep in her car seat (while we are watching that she is in a proper position) and we could have a lunch date.
I am grateful that she could sleep despite the noise around us in the restaurant. Now as she is older, she would be more curious about everything in the restaurant.
Try it out if your baby can sleep in the car seat with noise around them. If your baby can sleep in the car seat but might be disturbed by the noise, I would highly recommend you to get Baby Banz. It worked so well for us while we were travelling on the plane with Baby K.
Three: Walk around at a mall
Babies love to see new things and will be entertained by things at the mall or a store.
We would push Baby K around at a store or a mall while we connect with each other. We will talk about our future plans, travel plans, or side projects we want to work on.
A great thing about walking around at the mall is that the sights and sounds will be plenty for the baby to look at. It's also fun to see what is interesting to them as a baby.
I like to go to home decor stores to see if there are anything we can add to our current home and if there are really good deals.
Four: Going to the park
I know this post is about date night ideas, but for parents whose babies are really attached, we need to be creative on how we could date while the baby is with us. I will include ideas without the baby in the next point.
While wearing the baby in the carrier (here is ours), we can go to the park and sit on the swing and chat. Baby K gets so calm and quiet when I sit on the swing. She enjoys the breeze and just takes in the environment around her.
Especially when there are other children around, she will just observe what they are doing.
This is a wonderful time to talk to each other and connect. Check in with each other and enjoy each other's company.
Five: Go for a dessert date
If you can get a family member or a friend to watch your baby while they nap or awake, go for a dessert date. Go somewhere close to your house so that it would be quick and you can go home on time for the next feeding.
You can chat about anything, but try not to talk about how much you miss your baby. I feel that it is so easy for us as new parents to just talk about the baby and forget that you are a couple first, before being parents to your child.
Take the opportunity to appreciate each other, even with the new grey hair and slight eye bags from lack of sleep. It will feel much better with something sweet.
These are 5 realistic date night ideas that M and I tried. Please let me know if you have any more to add in the comments below.
Thank you so much for reading. If you are interested in more date ideas, please check these out:
If you like what you read, please pin the image below and share it with others. Thank you so much.