Are you planning a trip to the happiest place on Earth, Walt Disney World? I am so excited for you. It's going to be such a blast! In this blog post, I will be talking all about the do's and don't of Disney World's Fastpass. Knowing these tips, you can plan your trip and enjoy going on rides without unnecessarily waiting in long lines.
We went to Disney World in April right after the Spring Break with our almost 7-month-old. Using the Fastpass, we were able to get on many rides and would not have it any other way. I talked about how we got on at least 5 rides using Disney World's Fastpass system at the Magic Kingdom. It was a blessing, especially when you have a young baby who needs to be entertained.
Before I continue, please know that this blog post is a part of my Disney series when I share my experience from beginning to the end.
If you would like to catch up on my Disney series, check these out:
Disney World Fastpass: A No-nonsense Guide (this post)
I will share 5 things you must do and 5 things you should not do with Disney World's Fastpass. Let us begin.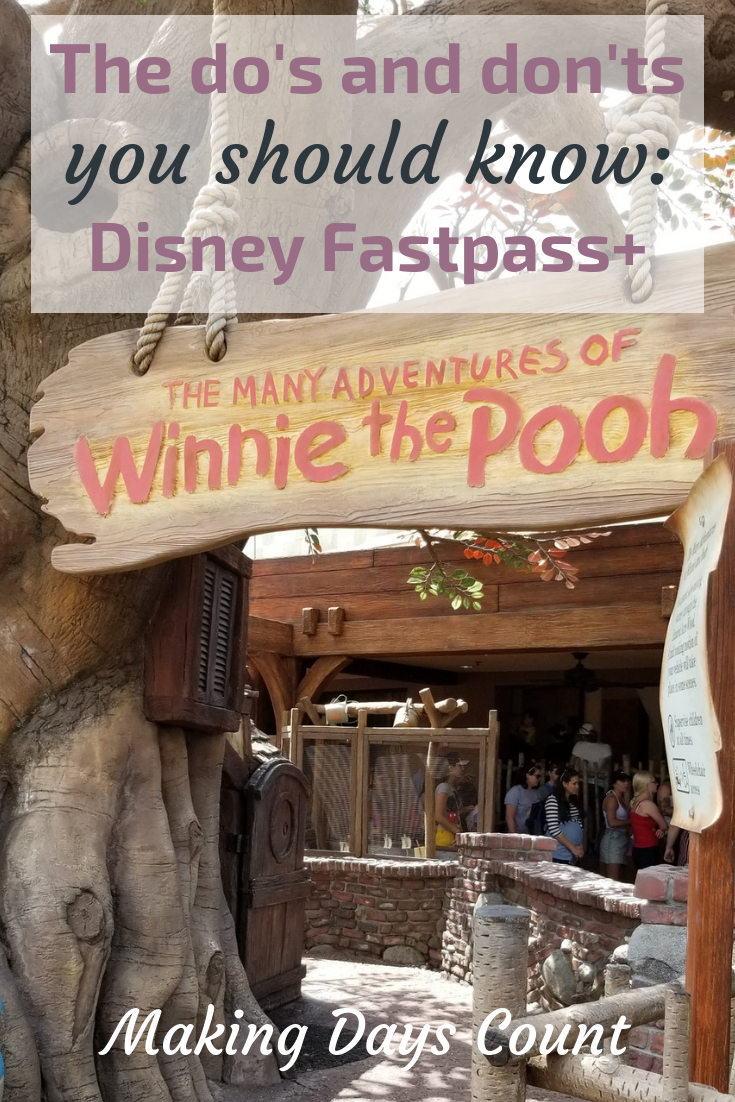 Here is my No-nonsense Guide to Disney World Fastpass:
BY CLICKING THE LINKS AND MAKING A PURCHASE, I MIGHT BE EARNING A SMALL COMMISSION AT NO ADDITIONAL COST TO YOU. PLEASE SEE OUR FULL DISCLOSURE FOR MORE DETAILS.
What is a Disney World Fastpass?
According to Disney's website, Fastpass+ is the ability to choose certain rides, character greetings, or shows and skip the standby line. It is included in your entrance ticket price, so you do not need to pay an additional fee.
All you need to do is to download the My Disney Experience app and choose your Fastpass+. You are entitled to choose up to 3 rides or attractions in one theme park per day.
Here are things you must do:
1. Do book your Fastpass 30 to 60 days ahead
You can book your Fastpass for Disney World 30 days before your planned trip day. If you are staying at a Disney resort as we did at All-Star Sports, you can book up to 60 days in advance.
If you can skip the stand by line and ride your favourite ride or meet Mickey and Minnie, why not book your Fastpass before your trip.
Go on the My Disney Experience app to choose the attraction you want and see what you can book for the day you are planning to go.
Even though we planned our trip a month out, I was able to get the Fastpass for all the popular rides such as Frozen in Epcot and Peter Pan in Magic Kingdom.
Don't wait, go book your Fastpass after reading this blog post. Or, go book them and then come back.
Mouse Hacking has a really detailed explanation of how to book your Fastpass+.
2. Play around with the timing to fit your schedule
Sometimes, we can't get the time we want with these Fastpass. Book the ride or show first, then try to modify the time later.
This way you know that you will have the opportunity to ride or see the show you want. It's just the matter of time. Hopefully someone will cancel or modify their Fastpass time and you can take their spot.
If you are not able to change the timing of the Fastpass, then you can try to be flexible with your schedule. Maybe have an earlier lunch or go to the park later in the day.
3. Remember to book your 4th one after signing in for your 3rd Fastpass
You can book up to 3 Fastpass in one park per day. When you scan for your 3rd one, start looking at the My Disney experience app for your next Fastpass.
After you scan your Magic Band or Card for the 4th one, go ahead and book the next Fastpass.
It's such a simple process and you can head to the next Fastpass ride right away, if time permits. This was how we got on so many rides at Magic Kingdom.
When you book 30 to 60 days in advance, your favourite ride might be unavailable due to its popularity. Be sure to check the app in the next few days or whenever you are free to see if a spot opened up.
Also, check the app on the day you are at the park. Spots do open up for Fastpass. We were able to find Fastpass for character greetings a few minutes before the Fastpass time.
I have also seen Fastpass availability for popular rides like Soarin at Epcot.
5. Do your research on what is worth getting a Fastpass
Whether you love the thrill rides or prefer slow boat rides, there are many websites that will advise you on which Fastpass is worth getting.
A few websites I referred to are:
What you should not be doing:
1. Do not forget to book your Fastpass on the app
Like seriously, it is quick to book them and then you can forget about it until the day you are there at the theme park.
When we went on the Frozen ride at Epcot's Norway Pavilion, the line was so long. I was so glad that I had a Fastpass.
If you are not sure whether you can make it on time for the show or character greeting or ride, just book it first. You can always cancel it later.
2. Do not assume what you want is not available
If you read some of the suggested websites earlier, there are some rides that are really popular like Peter Pan in Magic Kingdom or Frozen in Epcot.
Go ahead and search for their availability even if it's popular. Unless the ride you want doesn't require a Fastpass, I would highly recommend that you try booking Fastpass for the rides you want.
3. Do not be discouraged even if you cannot book the ride you want at first
Like I mentioned earlier, the ride might be out of Fastpasses due to popularity. However, try again at a later time to see if something pops up.
If you really cannot find a Fastpass for the ride you want, be sure to leave ample time to line up. The My Disney Experience app tells you roughly how long wait times can be.
4. Do not ignore the fact that Disney World Fastpass is free
It is included in your admission fee. No need to pay anything extra for it. I think you can only use this system for Disney World.
For other parks, like Disney Sea in Tokyo, I remember that we could only book one Fastpass at a time.
5. Do not waste your time lining up for 3 hours if the Fastpass option is available
Some rides have interactive features in the stand by line, which helps pass the time. If you're interested in that experience, go line up for sure.
If you have a young baby as we do, sometimes it is easier and better to get a Fastpass. We can go on the ride or see the characters, and then move on to the next item on our agenda.
Disney World is a huge place. It is not possible to see everything and try all the food available in a day. With the Fastpass+, it will help with fewer lines and more time to do what you want.
Thanks for reading. I would love for you to read the other blog posts on my Disney series. Check these out:
Disney World Fastpass: A No-nonsense Guide (this post)
Thank you so much for reading my fourteen hundred-plus words blog post. If you like what you read, please pin the image below and share with others.