Raise your hand if you want your home to look luxurious and beautiful without a heavy price tag? Me too! Today I will be sharing with you how I made this Anthropologie Inspired Decor on a budget.
During this time of quarantine, I had a little bit more time on my hands to think about how to decorate my home. Maybe it is because I am basically at home for this past month and a half by the time this post comes out.
I wanted to finish decorating my home. It's been a process but it's better now than never.
Before we continue, here is a list of other home projects blog posts I've written:
Minimalist Front Entry for under $40 (this has been updated, but I haven't written about it yet)
Guest Bedroom Wall Decor on a Budget
Tips on Decorating Your Home on a Tight Budget
DIY Anthropologie Inspired Living Room Decor (this post)
Pin this for later!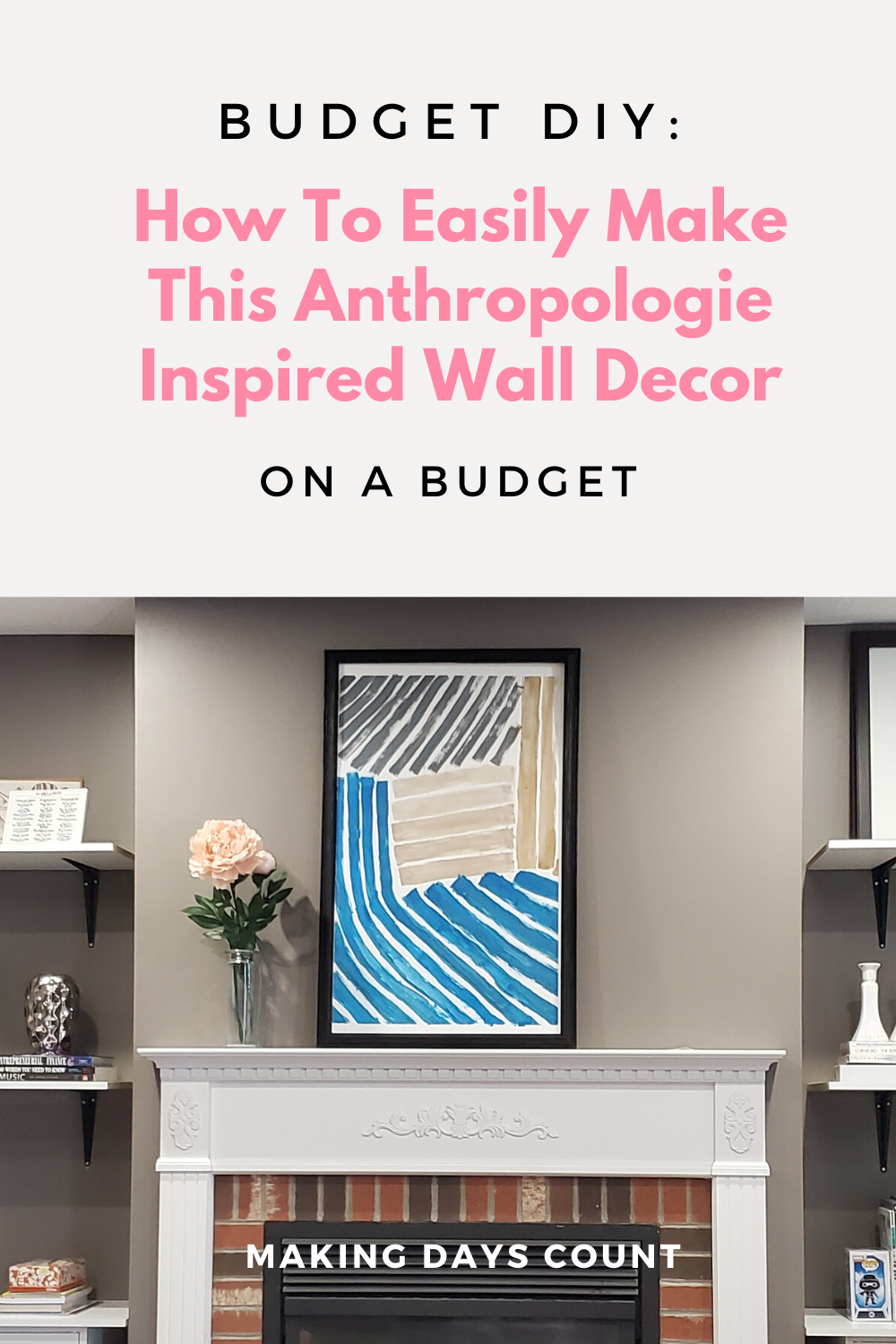 Here is how to make this Anthropologie Inspired Wall Art Piece:
BY CLICKING THE LINKS AND MAKING A PURCHASE, I MIGHT BE EARNING A SMALL COMMISSION AT NO ADDITIONAL COST TO YOU. PLEASE SEE OUR FULL DISCLOSURE FOR MORE DETAILS.
Here is the picture that I wanted to recreate from Anthropologie:
Isn't it so beautiful? It was $748 USD which is about $1k Canadian Dollars. That is very expensive and so I wanted to create something similar in my home using what I have.
Here is what you need:
An uncut matboard or sturdy paper in the size that you want. Mine was about 2 feet by 3 feet. I got mine from Michaels (not an affiliate).
Acrylic Paints (You can get acrylic paints online here)
A frame that you will put matboard or paper in.
Step One: Prep Your Matboard or Sturdy Paper
I wanted to create a border around my design as I like the look of having a mat around my picture. What I did first was to put painter's tape around the borders of the matboard.
Turns out, it worked in my favor as I had to cut it to fit to size.
Since you are reading this before working on your project, you want to cut your matboard or paper to size first.
Be smarter than me haha.
I did not realize that it was slightly smaller than the size of the frame. When I had to cut it later on, the designs were not cut off since I put a border around it when I was prepping it.
Step Two: Choose Your Design
If you are going for a design from Anthropologie or Pottery Barn or a store of your choice, you want to choose it before you start.
Yes, this is copying their design but with your own take on it. Like I mentioned earlier, it would cost around $1k Canadian Dollars if I bought it. That is a lot of money, so making a copy or an Anthropologie Inspired art is better for my finances and home.
Please know that I am not a professional artist, just a mom with random art supplies.
Step Three: Choose Your Colors
Now you can decide whether you want to follow exactly as the wall art decor or something similar.
I chose to use the acrylic paints that I already had at home (because I did not want to go out to buy).
You can buy them online if you have specific colors in mind.
With this Anthropologie Inspired Wall Decor, I chose to use blue, white, black, and gold acrylic paints.
Step Four: Paint Your Art Masterpiece
This is the most exciting part.
For this design, I decided to do the top half before the bottom half.
Analyzing this art piece, I started with the right long strokes and estimated where it would go until. Next, I worked on the middle strokes and followed by the top left strokes going across to the right.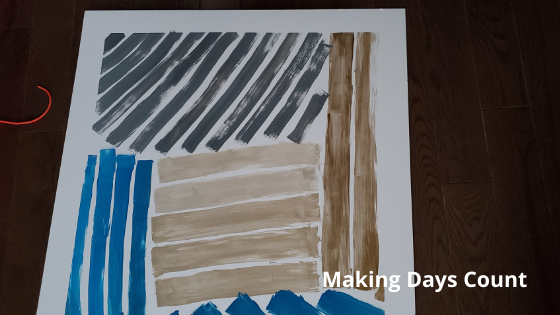 Finally, I worked on the blue strokes at the bottom.
With the paint, I decided to first use gold for the top right long strokes.
Next, I mixed it with some white paint to paint the middle part.
Third, I mixed white and black paint to paint the grey portion.
Finally, I painted the bottom with my blue paint roughly following the strokes on the original art.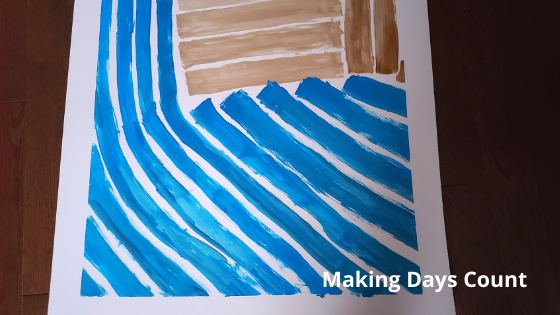 What I realized was that it does not have to be perfect since it is a hand painted piece. I really like it!
I would love to see yours. Do tag me on Instagram @makingdayscount if you make your own.
Step Five: Prep Your Frame
If your frame is brand new, remove the current matting and anything else in the frame.
Mine was a thrift one that I used for my calendar previously. Now that I bought myself a planner, I did not need to use the wall calendar anymore.
I decided to paint mine black to match the other frames in the family living room where I'll be placing it.
Step Six: Insert Your Matboard
When your painting is dry, you can put your matboard into the frame.
It depends how long you want to wait, whether a few hours or overnight.
This is when you can see everything coming together.
Step Seven: Enjoy Your DIY Anthropologie Inspired Art
Now it is time to hang it up in the space where you want to put it and enjoy it.
You can now enjoy this beautiful piece of art work and save a lot of money by doing it yourself.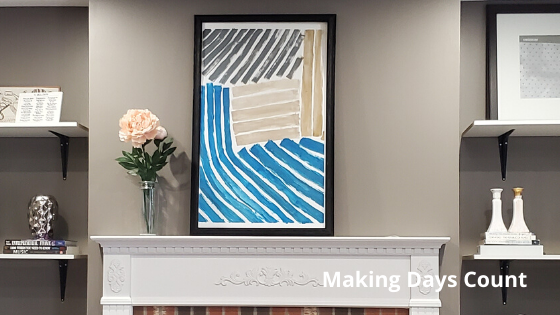 I am so happy how it turned out and would love to see yours. Please tag me on Instagram @makingdayscount and I would love to repost it on my stories.
Here are some other home decorating projects you can check out:
Minimalist Front Entry for under $40 (this has been updated since, but I haven't written about it yet)
Tips on Decorating Your Home on a Tight Budget
DIY Anthropologie Inspired Living Room Decor (this post)
Thank you for reading this post. If you like what you read, please pin the image below and share it with others. Thank you!