Do you have a stack of your kid's books just lying around in different spots around the house? Or it's hard to see the covers because they're just stacked on top of each other?
That's how I felt with my toddler's books.
I wanted to find a solution that is on a budget.
Looking around, I realized that I had these diaper boxes that could be the answer!
In this blog post, I will share with you how I used my toddler's diaper box and made it into a bookshelf.
You can do it too!
Please know that this DIY cardboard bookshelf is meant for baby books and not super heavy books. If you want to put heavier books, I'll share with you what you need to add later on in the post.
Pin this for later!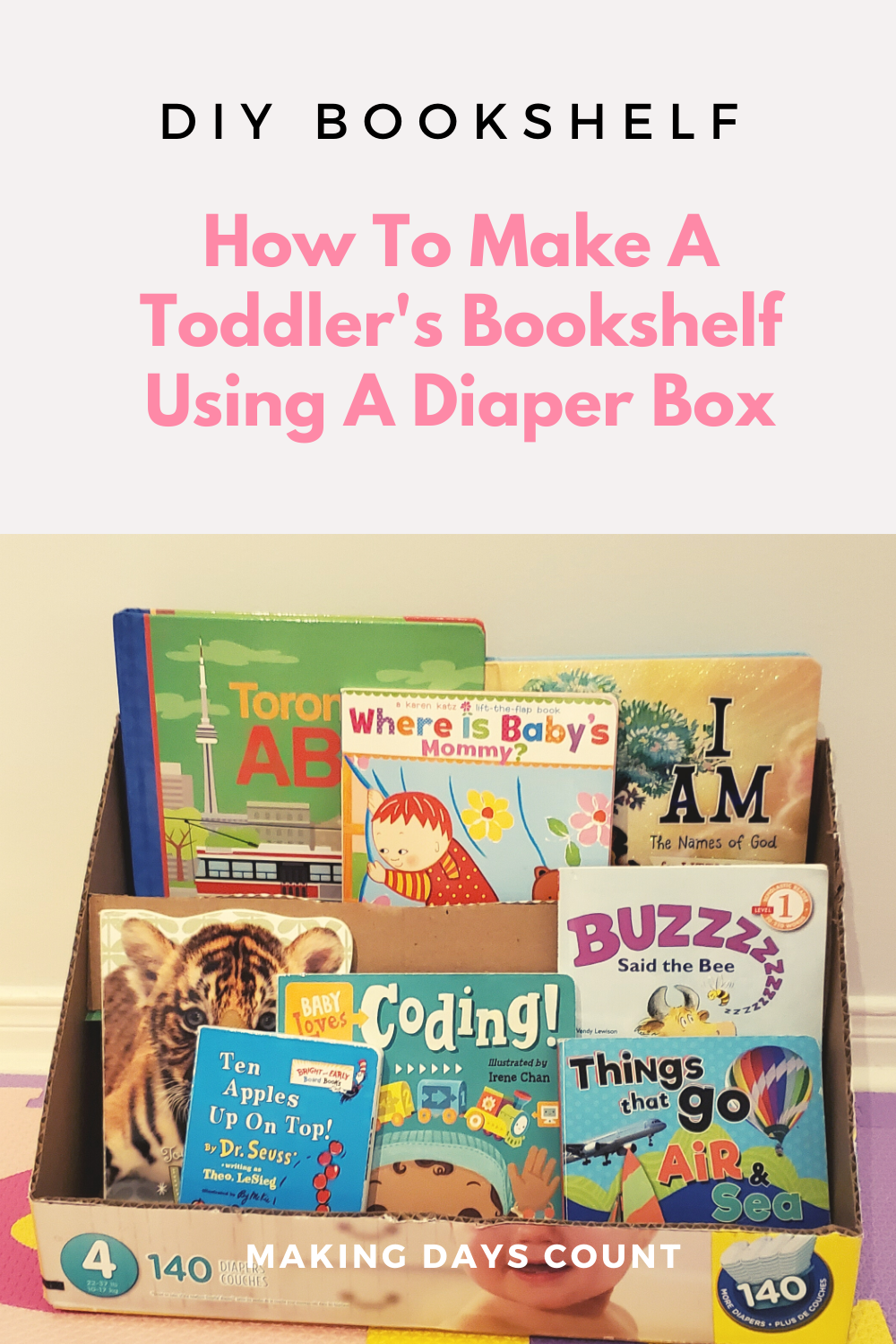 Here is how I made my DIY Cardboard bookshelf with my diaper box:
BY CLICKING THE LINKS AND MAKING A PURCHASE, I MIGHT BE EARNING A SMALL COMMISSION AT NO ADDITIONAL COST TO YOU. PLEASE SEE OUR FULL DISCLOSURE FOR MORE DETAILS.
What you will need:
A Cardboard box (I used an empty diaper box)
A Utility Knife (Similar one here)
A pen or marker (I used a Sharpie)
Ruler
Tape (I used painter's tape, similar one here)
Hot Glue (optional if you want it to be secured better than painter's tape, you can get the glue gun and stick here)
Air Pillow Packaging (optional)
Acrylic Paint (optional)
Step 1: Measure and mark down your box
Please know that this measurement is only for my diaper box. If you are using a different size box, you will need to adjust your measurements.
The diaper box I used is this one.
Before I begin marking, I gave some thought about how I wanted the bookshelf to look like.
Here are some questions you can ask yourself:
How many levels do you want your bookshelf to have?
How many books do you want to put in the bookshelf?
Do you need to make more than 1 to accommodate all the books that you have?
I decided that I wanted two levels as the box is pretty small.
Next, I started to mark my box with my sharpie marker and ruler.
I placed the box facing upwards (where the front of the bookshelf will face you) and measured 3″ from the bottom. Then, I draw a line across the box with my sharpie.
This would be the part that stops the bottom level books from sliding out.
After that, I drew a line from the opposite top of the box (and not the flaps) diagonally downwards until I meet the 3″ point. Please see the picture below for reference.
Do the same on both sides.
Step 2: Cut your diaper box
Using your utility knife (similar one to mine here), cut the inner and outer flaps off the box.
Now following the line that you marked, cut as straight as you can.
It's okay if it's not totally straight, it's just a DIY cardboard bookshelf made from a diaper box. (That's what I'm telling myself, ha!)
Once you are done, your bookshelf should look like this.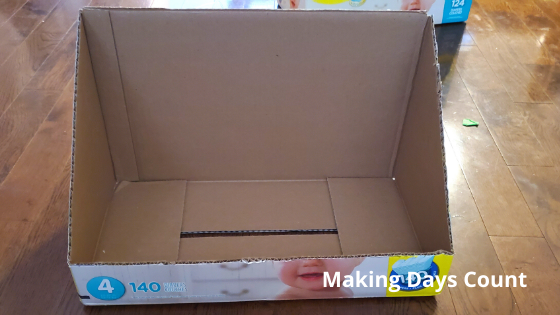 Here is what you have currently:
The base of your bookshelf
Two inner flaps
Two outer flaps
Leftover cardboard from your box
Please keep all of the pieces as you will use them for your bookshelf.
Step 3: Assemble the supporting part of the top shelf
You will need 1 outer flap and 2 inner flaps for the supporting base of the top shelf.
I place the outer flap straight up and put the inner flaps diagonally against the back of the bookshelf. Please see image below.
I'm going to be honest here. I had to redo this.
At first, I put the inner flap of the box diagonally and tape everything to the box with my painter's tape (similar one here).
I mean you can also cut it to size and stick it on vertically (which is probably a smarter idea).
I didn't think of it until the writing of this post. So, it was not stable enough.
The second idea, I put some air pillows from packages I got from Amazon or other places.
This worked a lot better.
But again, I haven't tried cutting it to size and sticking on vertically instead of diagonally.
Maybe I'll do that for the next diaper box bookshelf. We might need one more for Toddler K's room.
If you feel that you need it to be more secure, use hot glue or some strong glue to hold everything down.
The tape works fine as it is a temporary bookshelf.
A note: If you are making two or more levels in addition to the base level, be sure to have a really strong support for each level.
Step 4: Cut out the top stopper
Using the leftover cardboard from the diaper box, I cut out a piece of cardboard measuring the same width as the outer flap and 2.5″ tall.
Again, try to cut as straight as possible so that it'll fit better later on.
Step 5: Add the top shelf
You will need 1 outer flap and the top stopper part that you just cut.
This is probably the most crucial part of the whole bookshelf.
I mean, the top shelf.
Now that the supporting bottom of the shelf is steady, you can do either two things.
One, you can tape or glue the top shelf and stopper together first.
Or, you can put the top shelf on first, then the stopper later.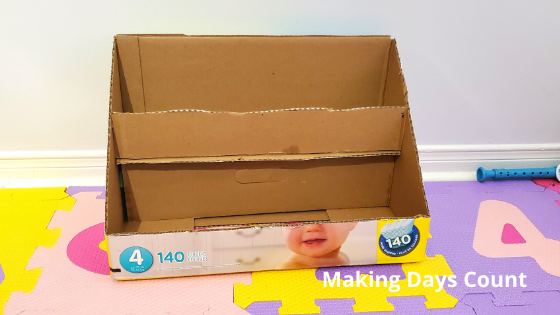 I did the latter, but either works.
Remember how I mentioned that it's important to cut as straight as possible?
As you can see in the picture above, it's not straight but the books are going to cover it.
If you can cut your cardboard really straight without additional tools, please let me know in the comments below how you did it. This is not my strength.
Now, this was how I put the top shelf together:
First, I loop my painter's tape (similar one here) and place on my supporting cardboard at the bottom before putting the remaining outer flap on top of it.
You can also put hot glue to keep them on very securely.
Next, I tape my top stopper on to prevent the books on the top part of the bookshelf from sliding off.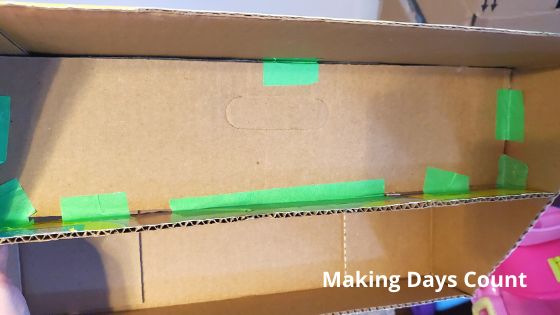 Yes, that is a lot of tape, but it works.
Step 6: Put some books on and see if you need to add more reinforcements
Like I mentioned earlier, there is a weight limit to the top level of the bookshelf.
For me, it's two heavy books and the rest must be lighter and thinner books.
If you have a very secure bottom, you can test out to see how many books you can put on the top shelf.
Just like any projects, you can make changes and add reinforcements if necessary.
For me, I add the air pillows to give that support.
Test it out and see what works best for you and your bookshelf.
Step 7: Paint (optional) and enjoy your DIY cardboard bookshelf
To take it to the next level, you can paint your bookshelf.
I haven't painted cardboard before, but I read that putting Gesso on top of it before adding your acrylic paint would be best. You can also use stencils from Etsy and paint a cool pattern on the front, side, or back of the bookshelf. Try this out and let me know whether it works for you.
Yay! You did it. I would love to see what you made. Please tag me on Instagram @makingdayscount when you make your own DIY cardboard bookshelf.
Related:
Thank you so much for reading my blog post on making your own "DIY Cardboard Bookshelf On A Budget". If you like what you read, please pin the image below and share it with others. Thanks again!