Can you believe that our babies grow up so fast? Their first birthday is coming up and we want to plan the best party for them. Also, it's worth celebrating that we survived as first-time parents. Yay!
In this blog post, I will share with you how I made my own 'Who Knows Baby Best' quiz for Baby K's first birthday party. I am so excited for her and yet so sad that she's almost a toddler now. The time has passed by so quickly and yet not at the same time. I am still waiting for her to sleep through the night (but that's a post for another day).
Before we continue, please know that this blog post is part of Baby K's first birthday series. Here are the other posts:
1. How to Design a Birthday Invitation for Free
2. 9 Motherhood Lessons: My First Year
3. DIY First Birthday Games: Who Knows Baby Best (This post)
Pin this for later!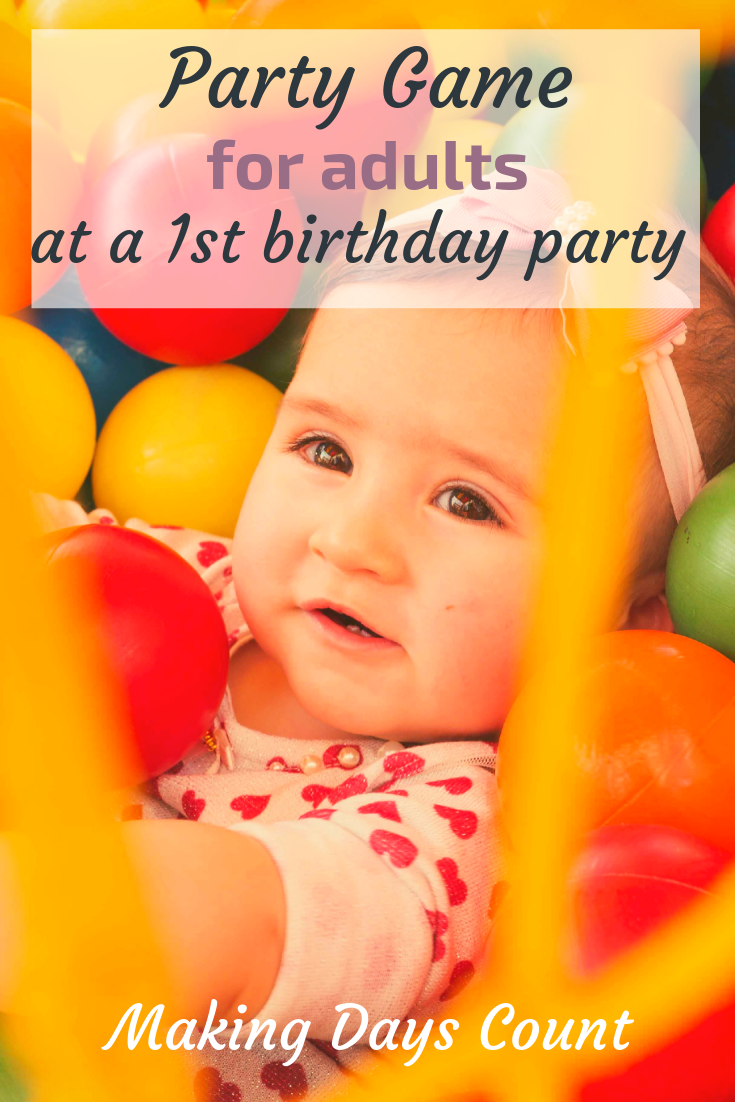 Here is how to DIY your own Who Knows Baby Best Quiz:
BY CLICKING THE LINKS AND MAKING A PURCHASE, I MIGHT BE EARNING A SMALL COMMISSION AT NO ADDITIONAL COST TO YOU. MDC GIVES 50% OF THE COMPENSATION FROM ADS AND AFFILIATES TO CHARITY. PLEASE SEE OUR FULL DISCLOSURE FOR MORE DETAILS.
First, here are the materials that you will need:
A computer or phone where you have access to the internet
Printer and paper
Scissors and Paper Cutter (Optional)
The next step is to see what questions you would like to ask your guests.
It can range from guessing the baby's weight to their favorite color. You can be creative with it and look online to see what other people included in their baby's first birthday game quiz.
Make a list on your phone or write it down on a piece of paper whenever you see a question that you like and want to include.
Third, it is time to design your quiz.
Open a Canva Account (It's Free. I'm not an affiliate, I just really like it.)
It's free for you to open an account. You can sign in through Facebook or an email of your choosing. You will only need to pay if you use their premium images or designs. There are plenty of free images, designs, and templates.
Once you sign in, you will see this page (on your desktop).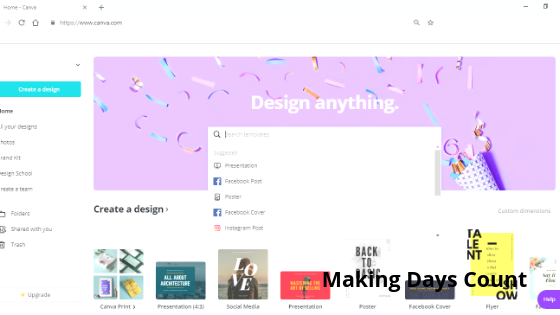 You can either choose a pre-designed template or make one of your own.
I just used the same one as my first birthday invitation as my template to keep the same theme. Mine is 5″ x 7″.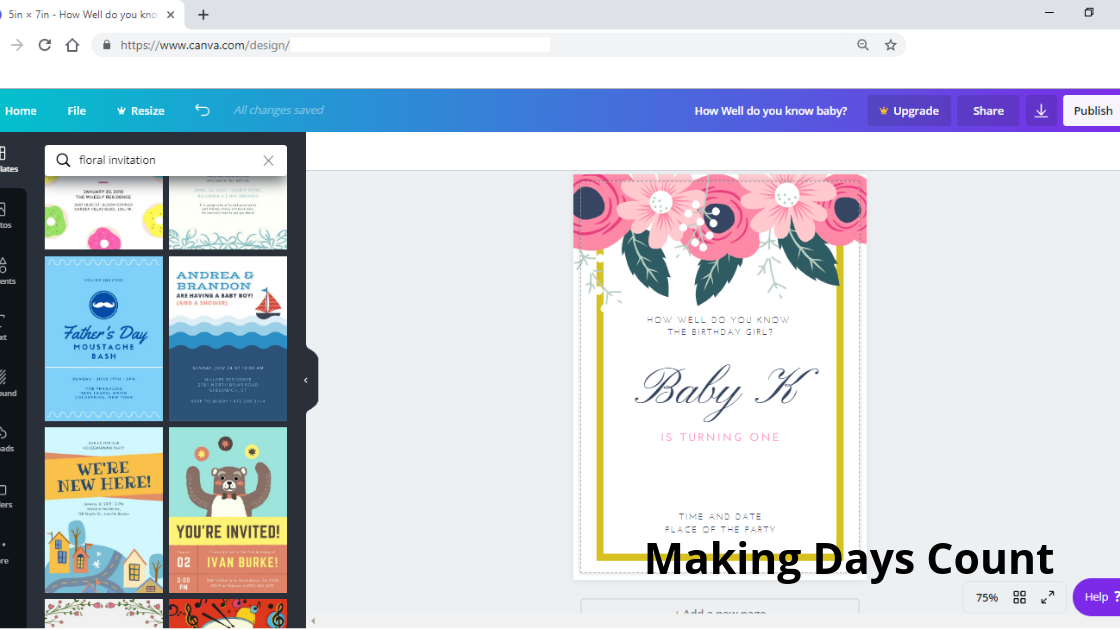 Change the wording in the template
At first, I changed the wording at the top of the template to say 'How well do you know the birthday girl?'. It is right at the top and pretty clear on what I am asking my guests to do. Also, I will be giving verbal instructions along with pencil or crayons (it's a kid's birthday party after all) when I distribute them.
You can choose your own heading, but the main thing is to keep it short and simple to understand. Also, I made sure that the font is simple and of a reasonable size. This way, the grandparents do not need to squint to look at the words on this first birthday quiz.
Insert the questions in the birthday quiz
Remember earlier how I said that you should write down either on your phone or a piece of paper the questions that you want to ask. Now you can pull that out and see what you want to include in this quiz. Be cautious of the space you have and be selective of what you want to ask. It should be rather general and yet interesting at the same time.
Here are the questions I chose:
When did I first roll from my stomach to my back?
What was my first word/sound?
Where was my first trip?
What is my middle name?
What does my daddy call me aside from my name?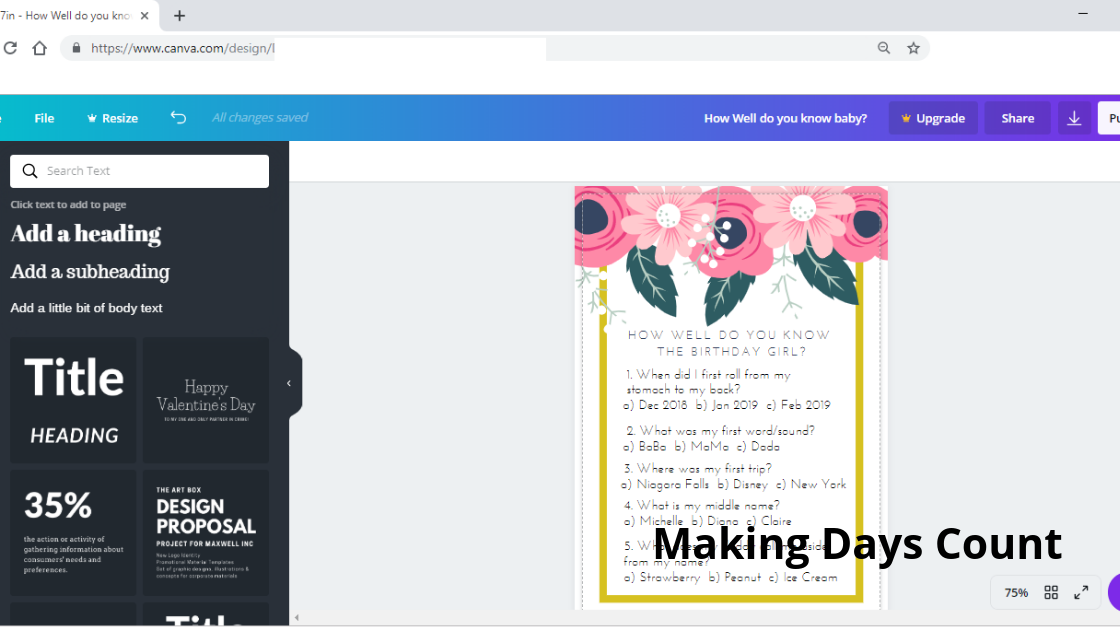 I did not want to include too many questions as to keep things informal and fun. After giving people a few minutes to jot down their guesses, we will take it up as a group. It would be interesting to see what people's guesses are. As most of them are family members, this will be a great bonding time and also to see who have similar answers.
Play around with the questions and see which ones you want to include in your first birthday quiz.
Related Canva Tutorials:
Now that you are happy and done designing the quiz, it is time to print it out.
If you prefer someone else to make this first birthday quiz for you, Etsy is a great place to check out. There are so many talented artists who can make it for you and you can print it out yourself.
Printing your DIY Quiz
Click download on the top right corner of the canva page. Once you have downloaded it, open up Microsoft Word (or something similar).
Change the page layout to landscape and insert your quiz as image.
Due to my size of 5″ x 7″, I was able to put two in a page. This way I can save on printing and also it's a cute size.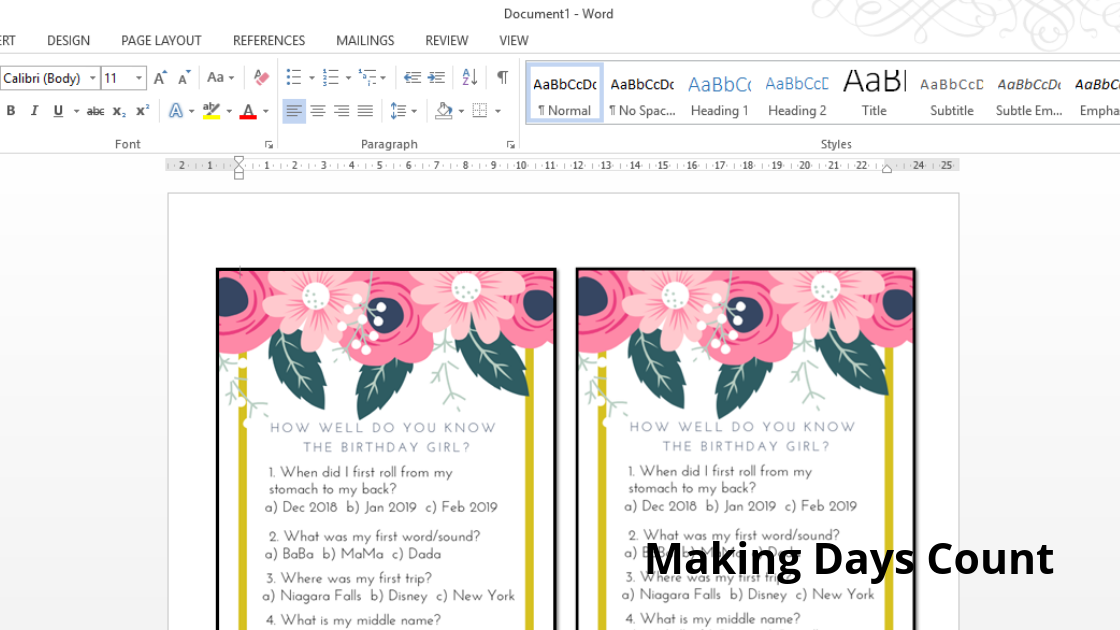 Print it with your own printer or take it to the local shop for printing. I am taking it to my local print shop because my printer can only print in black and white and also I want to use a slightly thicker stock paper for this quiz.
After printing out your first birthday quiz, be sure to cut it to size. If yours is 8.5″ x 11″, then you can skip this step.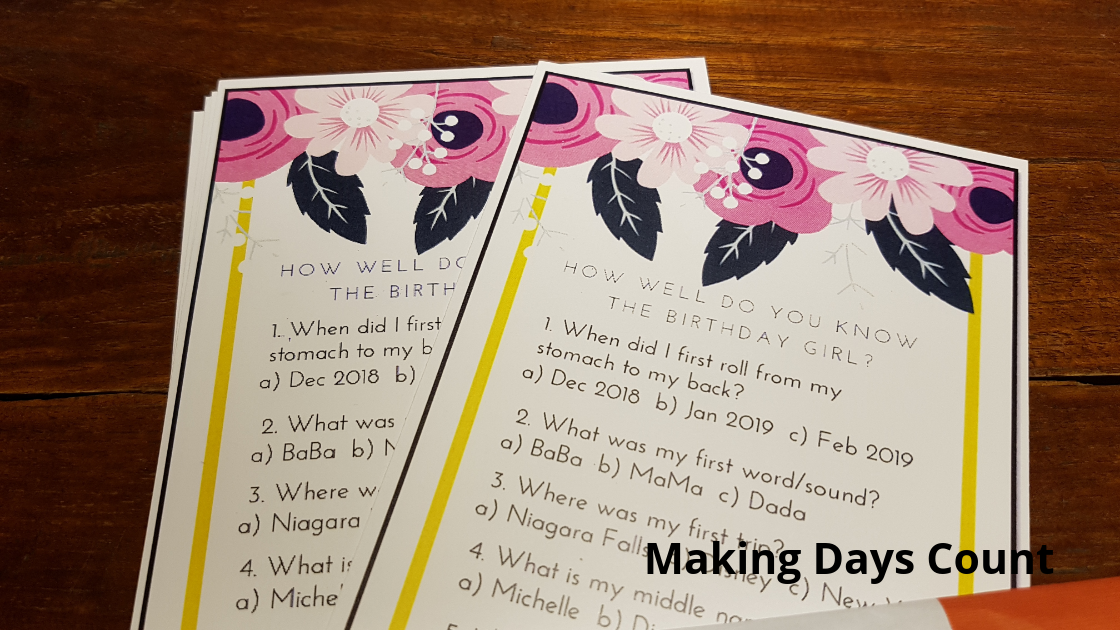 Thanks for reading this DIY First Birthday Quiz post. To see more of Baby K's birthday series, please check these posts below (I will try to update them as I write more):
1. How to Design a Birthday Invitation for Free
2. 9 Motherhood Lessons: My First Year
3. DIY First Birthday Games: Who Knows Baby Best (This post)
If you like what you read, please pin the image below and share this with others. Thank you so much.