You know when you have guests over and the first thing they ask you is for your house Wifi password? It is not that they do not appreciate spending time with you at your house, but it is just that everyone is so connected all the time.
If you are like me, we do not remember the Wi-Fi password all the time as it can be complex. You know, to prevent others from guessing and hacking to use our Wi-Fi for free. Maybe it is just me who does not remember.
Maybe we can make a sign that will tell them what the Wi-Fi password is without asking us all the time. It will be easier for us and they don't have to be embarrassed to ask us for it.
This idea was actually inspired by one of my trips to Bed, Bath, and Beyond here in Toronto. I saw that they were selling a small chalkboard with "Wi-Fi Password is" on top of it and were selling for $20. It might not be a lot of money to you, but I thought that I could try and DIY it for a lot less money.
Pin this for later!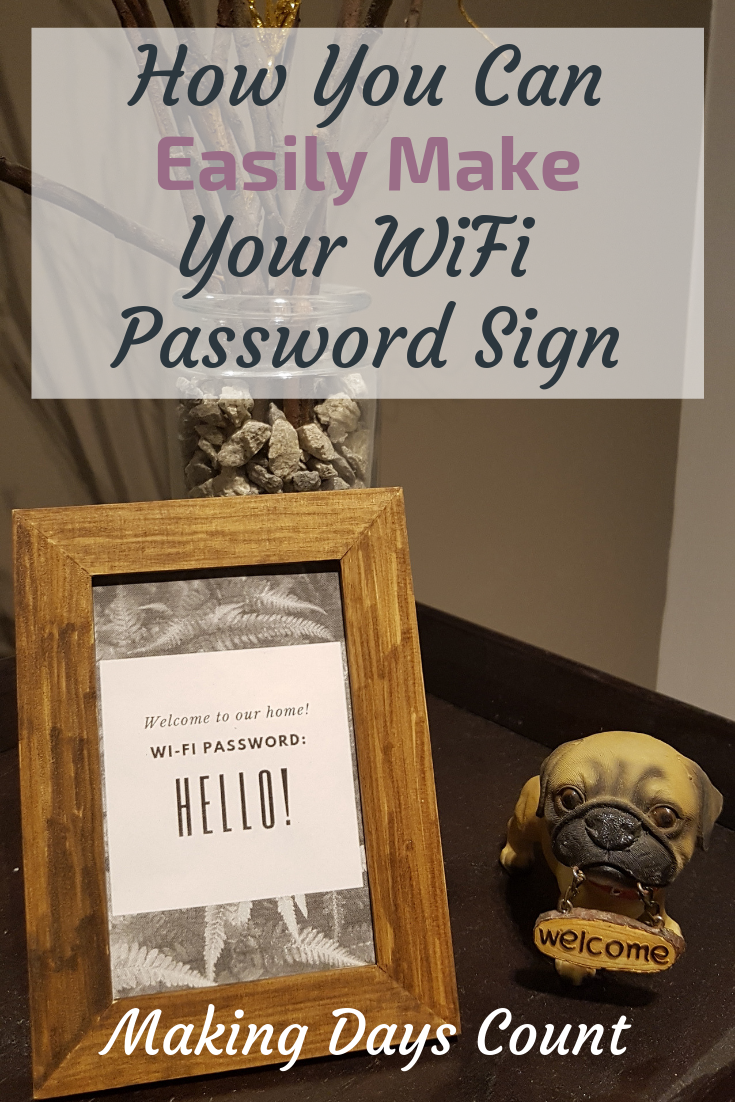 Here is my journey of making my DIY WiFi Password Sign:
BY CLICKING THE LINKS AND MAKING A PURCHASE, I MIGHT BE EARNING A SMALL COMMISSION AT NO ADDITIONAL COST TO YOU. PLEASE SEE OUR FULL DISCLOSURE FOR MORE DETAILS.
What you need:
A Computer with access to the internet
A printer (this is my printer's model)
Scissors
One Frame (I got mine from the Dollar Store. You can also get yours cheaply from IKEA.)
Here are the steps to making your own DIY Wi-Fi Password Sign very easily:
First, open a Canva Account (It's Free. I'm not an affiliate, I just really like it.)
It's free for you to open an account. You can sign in through Facebook or an email of your choosing. You will only need to pay if you use their premium images or designs. There are plenty of free images, designs, and templates.
Once you sign in, you will see this page (on your desktop).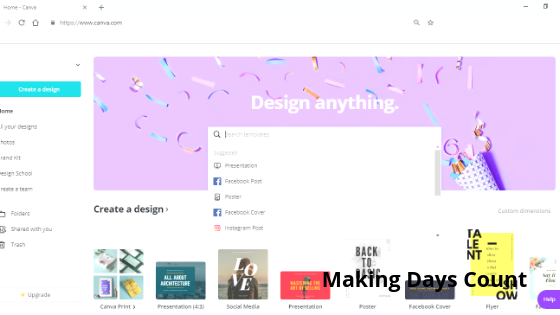 Secondly, put in your custom dimensions.
Please measure the inside portion of your frame to put in the exact dimensions. If you are unsure, they usually have a piece of paper that is inside the frame. Take the piece of paper out and measure that.
It's hard to see in the picture above, but after clicking on the "Custom Dimensions" on the right of the page (under the banner), there will be a pop-up window and you can put your exact measurements in there. I entered 4 x 6 inches.
Third, choose what you want your design to look like.
I'm going to explain the three easy options that you can do for your very own WiFi Password Sign. If you want it to be fancy, you can play around with the features and make it to how you like it.
Option One: Templates
Once you press the "Create own design" button, this page will pop up. You will see that it automatically goes to the templates tab.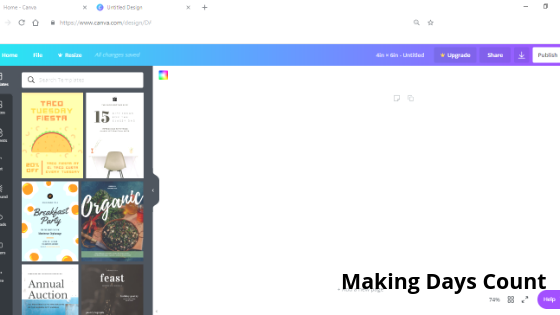 Many of these templates are free to use. They will put a dollar sign or write "FREE" beside the template. Choose a free template.
You can scroll and see which design you would like for your WiFi Password Sign.
As an example, I chose the "be smart. be sober" template and just change the words to fit what I want to showcase in my Wi-Fi Password sign.
Play around and see what fits your aesthetics. If you have a colour that you want to coordinate with the room, you can choose a template that has similar colours.
Option Two: Plain Text
This next option is also pretty simple to do. If you look on the left side of your Canva page, you will be a tab called "Text". It should be one of the tabs under "Templates".
With this option, you can choose one of their premade text design or you can play around with the text yourself.
I decided to use one of their text designs. It is the "Proposal" one that you can see on the left side of my image.
If this is too plain for you, I can't wait to share with you the third option that you can do.
Option Three: Text with Graphic in the Background
This is the fanciest but also easy enough option to make your WiFi Password sign. Choose the background tab and see what you like. Do not worry about the colour as you can change it later. See what speaks to you.
I chose the leafy background because my frame is wood-themed so I wanted to match them.
Due to my computer only being able to print in black and white, I decided to change the filter of the background image to black and it was perfect. You can play around with the filter to see what you like as well.
Next, what I wanted to put a box in the middle so that I can add my text on it.
Click on the "Elements" tab under the "Templates" tab on the left and choose your shape. It could be a circle or box. It's up to you. I chose a box because I prefer to keep things simple and somewhat minimalistic.
Now go back to the "Text" tab which I believe is under the "Elements" tab. Choose your own text or a premade text design. Change the words to say "Wi-Fi Password is…" and add your own password in there.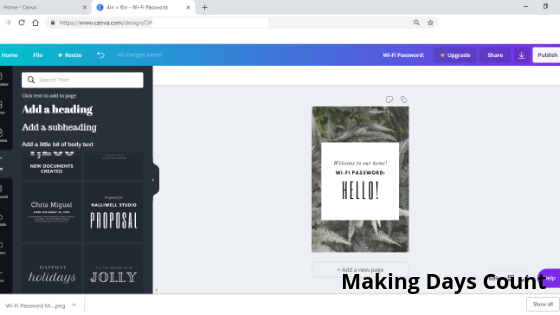 Fourth, download and add it to a Word document.
Click on the publish button on the top right corner and save it on your computer. Open Microsoft Word or something similar and insert the picture.
Fifth, print and cut it out to size.
You can choose to print your document at home or at a local print shop nearby. After printing, use a pair of scissors to cut out your sign.
Finally, add it to your frame and display for your guests.
Now you can stop worrying about your guests asking you for the password or being shy about using your home Wi-Fi.
Thank you so much for reading. If you like this DIY, please check out my other DIY posts:
If you like what you read, please pin the image below and share it with others.