Raise your hands if you love the Dollar Tree! There aren't many stores here in the Greater Toronto area but I get excited whenever I get to go to one.
This time we were going to a place that has a Dollar Tree nearby so I couldn't help myself and needed to stop by. Yes, I might have a problem. I'm joking.
If you are new here,  hi, I love the Dollar Tree as I wrote a few posts about it. Here are some:
In this blog post, I'm going to share what I bought for my baby at the Dollar Tree.
Pin this for later!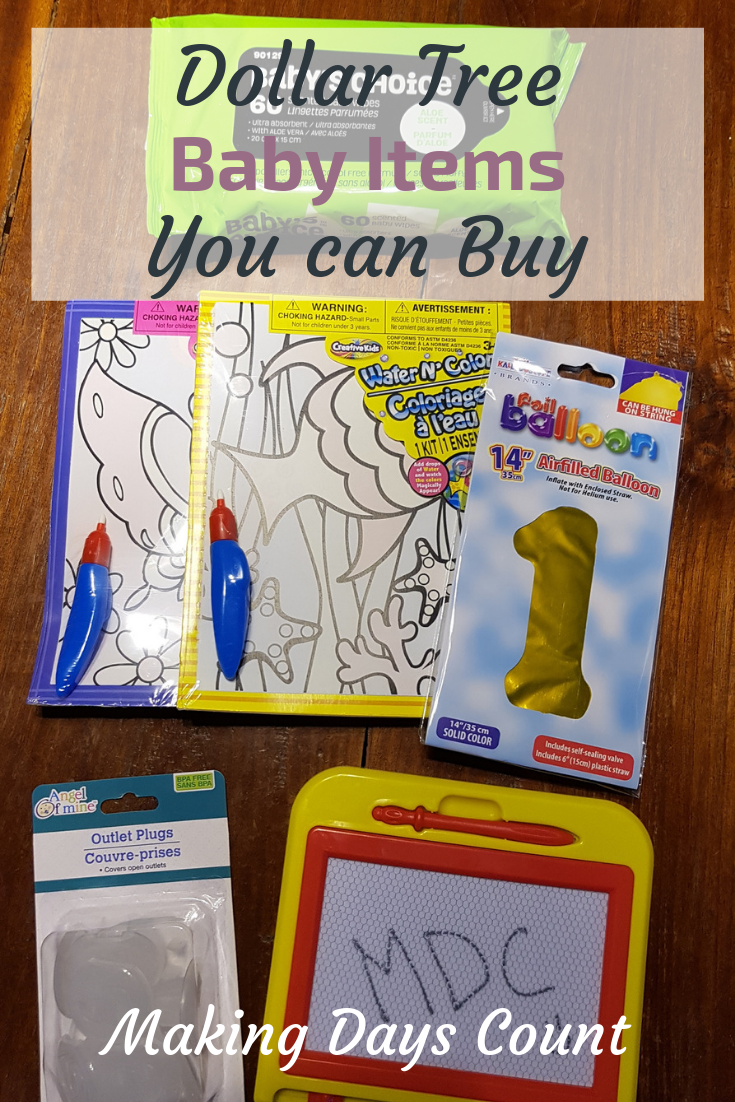 Here are 6 Dollar Tree items I bought for my baby:
BY CLICKING THE LINKS AND MAKING A PURCHASE, I MIGHT BE EARNING A SMALL COMMISSION AT NO ADDITIONAL COST TO YOU. PLEASE SEE OUR FULL DISCLOSURE FOR MORE DETAILS.
One: Board book
I like to walk by the books section whenever we are at a store. Whether it is Costco, Shoppers Drug Mart, or the Dollar Tree, it's really exciting for me to see what is available and on sale.
The awesome thing about Dollar Tree is that everything is $1.25 (in Canada). So the books are a great deal.
I wanted to see if they had any board books and they had plenty. We picked this one so that baby K can learn about things that are in the sky and on water.
It is not the best quality but it works. Now, excuse me while I repair the other books she accidentally tore. Please keep reading.
Two: Water coloring kits
As we are planning for our next trip, I am looking out for ideas to entertain Baby K that doesn't require much effort.
When I saw these coloring kits that only require water and is reusable, I was more than happy to get two different sets.
She can play with them while being in one spot either on the plane or in a restaurant.
One change I am thinking to make is to get an extra brush as she might not know how to use the water dropper yet.
Three: Outlet plugs
Baby K has started crawling and wants to touch everything. We bought outlet plugs from another store, but it's cheaper here at the Dollar Tree.
I put them in my cart right away as I can already see that I need to cover more outlets around the house.
If you have a mobile baby, be sure to get these outlet plugs for the unused outlets around the house.
Four: Balloon for her 1-year-old party
Time is flying by so quickly as my baby is turning 1 in a few months. Even though I have a rough idea of what I want to do for her birthday, I am not fully set on the decor.
When I saw this balloon at the Dollar Tree, I wanted to get it for her birthday. It would make such a cute photo op.
The best part is that it is self sealing, definitely makes things easier for us. My baby is growing up so fast.
Five: Magnetic sketch board
We were thinking to get Baby K a drawing board that was very similar to this magnetic sketch board.
However, after opening it up, I can see that it is not a good idea for her at the moment. The pen is a bit sharp and she might put it in her mouth.
I would hold on to this until she is a little older. Next year, we can try again.
Six: Baby wipes
Recently, M and I bought a portable changing pad that can hold wipes and diapers. I'll link to something similar here on Amazon.
The problem we encountered was that the wipes we have are too big for the portable changing pad.
I'm so glad that the Dollar Tree has a smaller pack of wipes. We'll try it out and see how the quality is.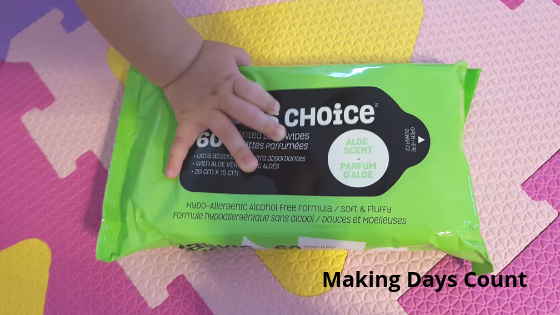 The Dollar Tree has so many things that we could get but we limited ourselves this time to these items. Who knows what we will get next?
Thanks for reading. If you're interested to read other Dollar store related posts, check these out:
If you like what you read, please pin the image below and share it with others. Thank you.