The Dollar Tree is such a wonderful place to go and find good deals. Especially when you are thinking to redecorate your place or get some fall related items, the Dollar Tree is the place for you.
Also, in Canada, it's only $1.25 for everything unless otherwise stated. It's a pretty affordable place to shop for seasonal items. Be sure to read this list before going to the Dollar Tree.
If you are new here,  hi, I love the Dollar Tree as I wrote a few posts about it. Here are some:
In this blog post, I'm going to share what I found at the Dollar Tree for the Fall.
Pin this for later!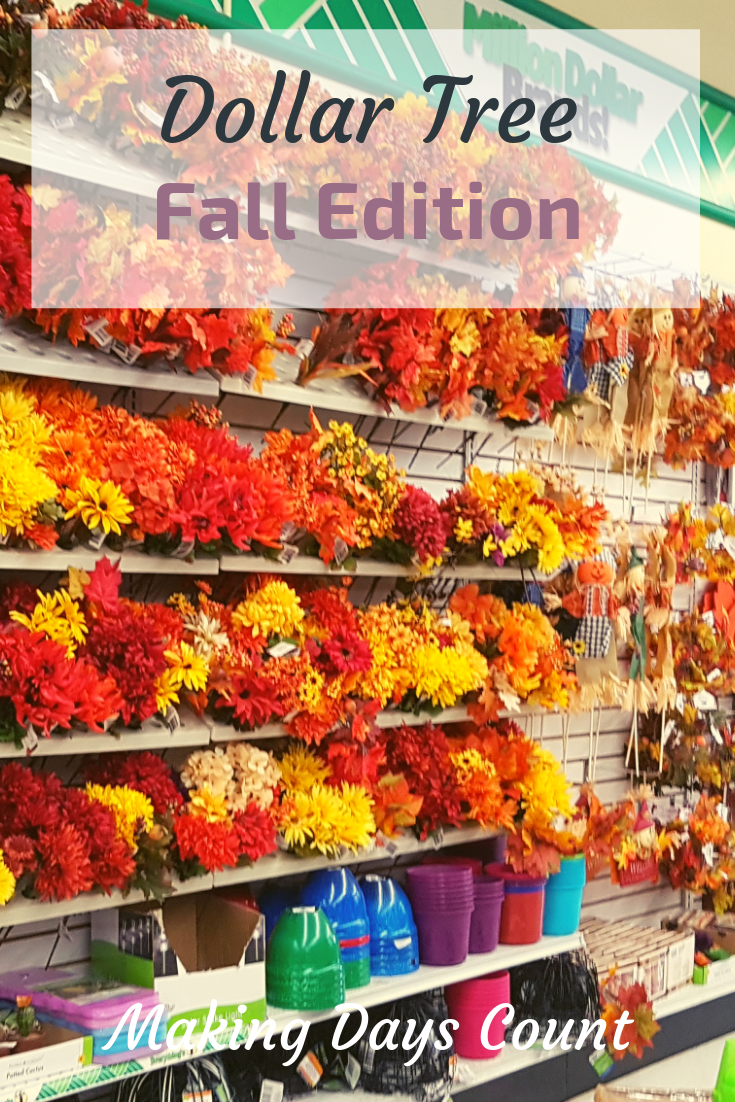 BY CLICKING THE LINKS AND MAKING A PURCHASE, I MIGHT BE EARNING A SMALL COMMISSION AT NO ADDITIONAL COST TO YOU. PLEASE SEE OUR FULL DISCLOSURE FOR MORE DETAILS.
1. Fall Colored Flowers
The easiest way to update a space is by bringing in flowers. These fall flowers are just so rich in color that will transform your space to feel warm and cozy.
You can get a few bunches and decorate your dining table, your entry way, and even your bathroom for the cohesive look.
To be creative, you can have some bouquets in tall vase, and others in shorter but longer plant holders.
If you need some tips on how to quickly put together a beautiful bouquet, please check out this post I wrote a while back.
2. Autumn Decorations
It is in the details that make such a difference in the space. You can add these little autumn decorations to spice up your space. Hahaha just like pumpkin spice. Sorry, excuse me while I calm myself from laughing.
Yes, so corny. (LOL)
Anyway, enough with the fall jokes.
These autumn decorations are just so cute and best part is that it's so cheap! Definitely such a great deal if you ask me.
3. Kitchen Dish Towels
While you bake your grandma's secret recipe apple pie, these dish towels are a great touch to your kitchen. The Dollar Tree has not ceased to amaze me with their seasonal products available.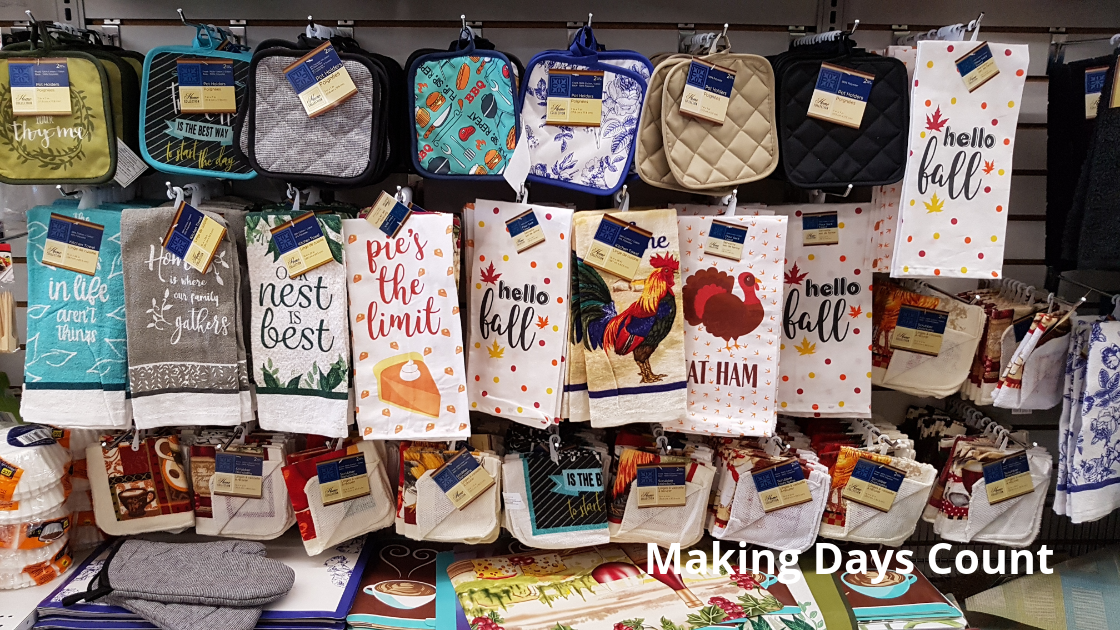 How cute are these!
It has a multipurpose of practicality and also beautiful in your kitchen. I really like items that has a dual purpose, a practical use and also it looks pretty. You can always keep them in good condition for the following year. This way you are actually using the dish towels and not just using it once.
4. Fall Scented Candles
Who here likes the smell of caramel or pumpkin spice? If you do, definitely check out their scented candles collection.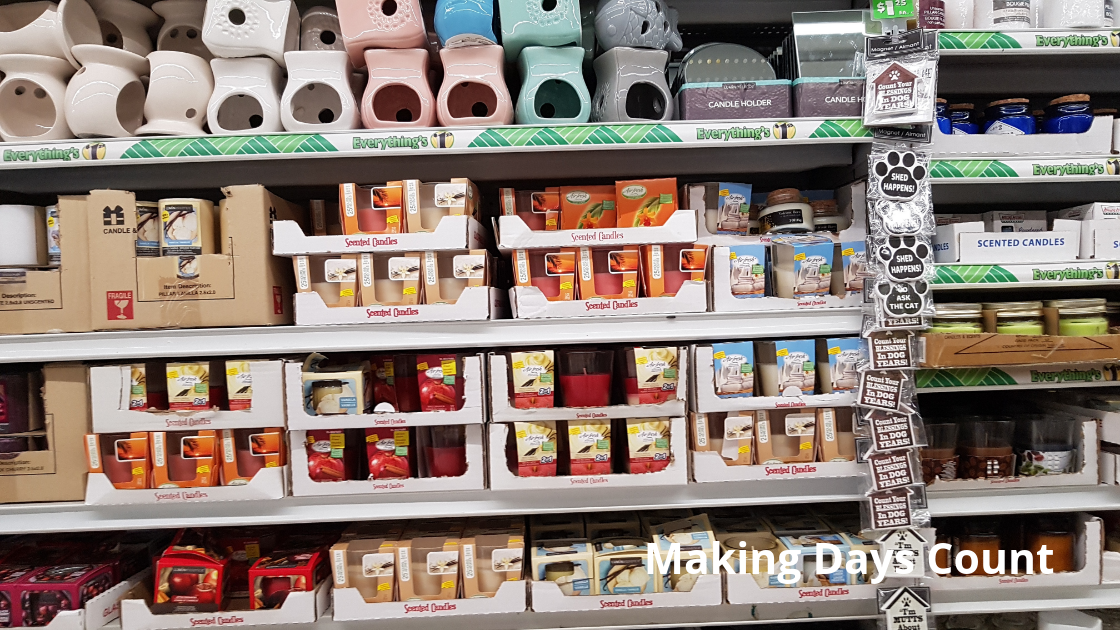 There are so many different kinds for you to choose from. Unfortunately for me, my nose is a little sensitive to strong smells and can get a headache.
However, if strong scented candles does not bother me, I would definitely pick up one of these as they smell pretty nice.
They also have these cute candle holder at the top as you can see in the picture. So adorable at such an amazing price!
5. Plates, Cups, and Napkins
I visited another store the other day and there are similar plates and cups at a much higher price. These plates and cups are pretty nice for the fall season and you can reuse them again the next year.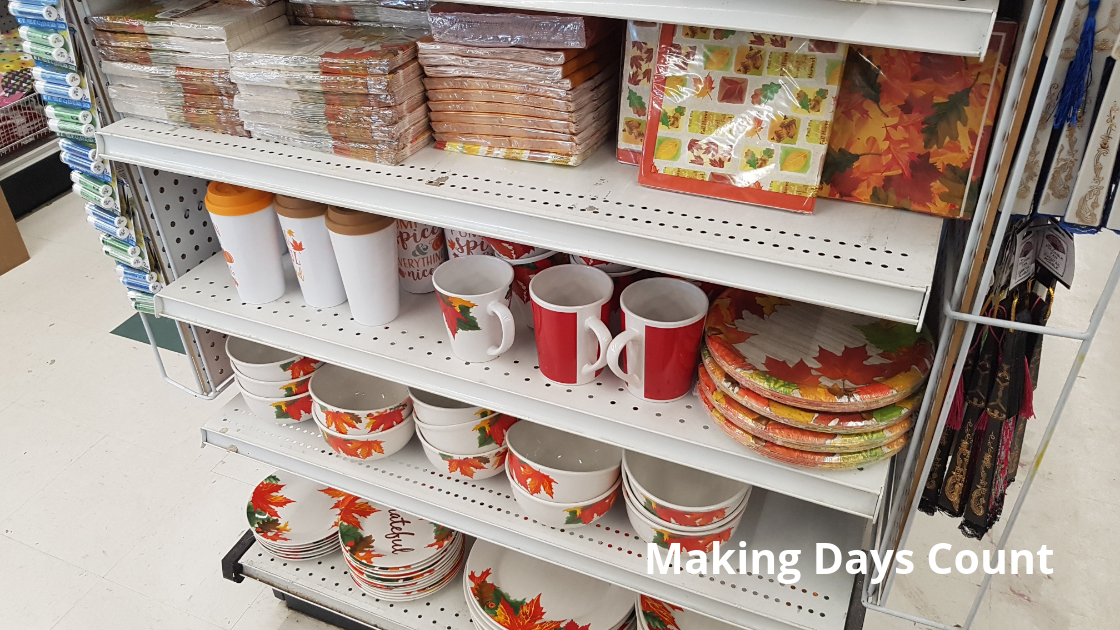 It is such a bargain. The Dollar Tree comes up with these pretty designs and I get really excited about it.
Do go yourself to see what you can find at the store near you.
6. Table Covers and Table Decor
When thanksgiving comes or whenever you have family gathering, it would be nice to dress up your table. The table covers and table cover are a quick way to do that.
The Dollar Tree has tons of options where you can just browse around to see different ideas on how to decorate. If the table cover gets dirty from the sauces, you can toss it out knowing that it's only from the Dollar Tree. We all know that kids can get really messy and adults too.
7. Thanksgiving Cards
If you need some thanksgiving cards or fall related cards, Dollar Tree is the place to go. Some cards are only a dollar and they have really nice designs as well. Browse through the card section to see what catches your idea without breaking the bank.
As you can see the cards are categorized into one section, so it will be easy to spot from far away if you are on a pinch for time.
If you cannot go to the Dollar Tree and want some personalized Thanksgiving cards, be sure to check out Etsy. They have a huge collection of cards by different artists at an affordable price. Here are some of the ones I like:
Thanks for reading. If you're interested to read other Dollar store related posts, check these out:
If you like what you read, please pin the image below and share it with others. Thank you.