Christmas is less than a month away! Throws paper confetti! This is such an exciting time as Christmas is a wonderful time of giving, making easy Christmas decor, and also enjoying time with one another (whether in person or virtually).
As you may or may not know, I decided to put up my Christmas tree the week of Remembrance Day as we usually do it mid November to fully enjoy it. You can follow me on Instagram here @makingdayscount to find out more.
I find that putting together Christmas decorations is really fun and I hope that is why you are here!
In this blog post, I'm going to share with you how to make your own Poinsettias out of paper or another material that you prefer. I'm so excited to share with you this DIY as it makes my heart happy to make it.
Pin this for later!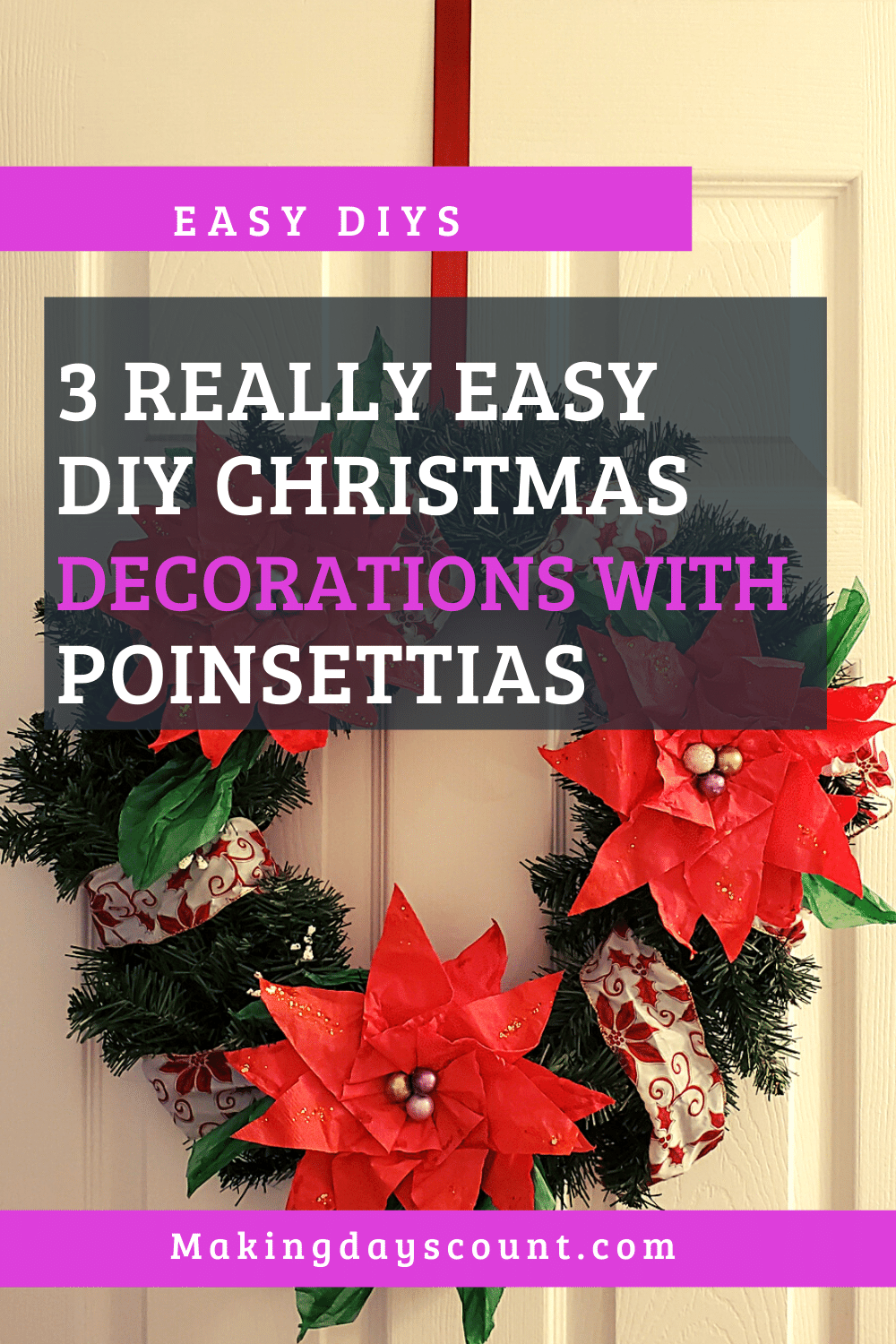 Here are a few easy Poinsettia Christmas Decor DIY projects:
BY CLICKING THE LINKS AND MAKING A PURCHASE, I MIGHT BE EARNING A SMALL COMMISSION AT NO ADDITIONAL COST TO YOU. PLEASE SEE OUR FULL DISCLOSURE FOR MORE DETAILS.
Instructions of making the Poinsettia:
What you need:
Steps:
First, using the instructions of the template and paper size recommendation, cut out 7 strips of "trapezoids" (which is the template shape) and 7 triangles.
Next, let's make the base of the flower which uses the trapezoid strips. With the longer part facing up, take the top two ends, turn it outward making the bottom ends face each other. Stack them on top of the other and glue them together. It should look like a cone of some sort. Do the same for the rest of the trapezoids.
Place the 7 pieces together side by side to see the base of your Poinsettias. Then, glue the sides together to stick them together. Let it dry.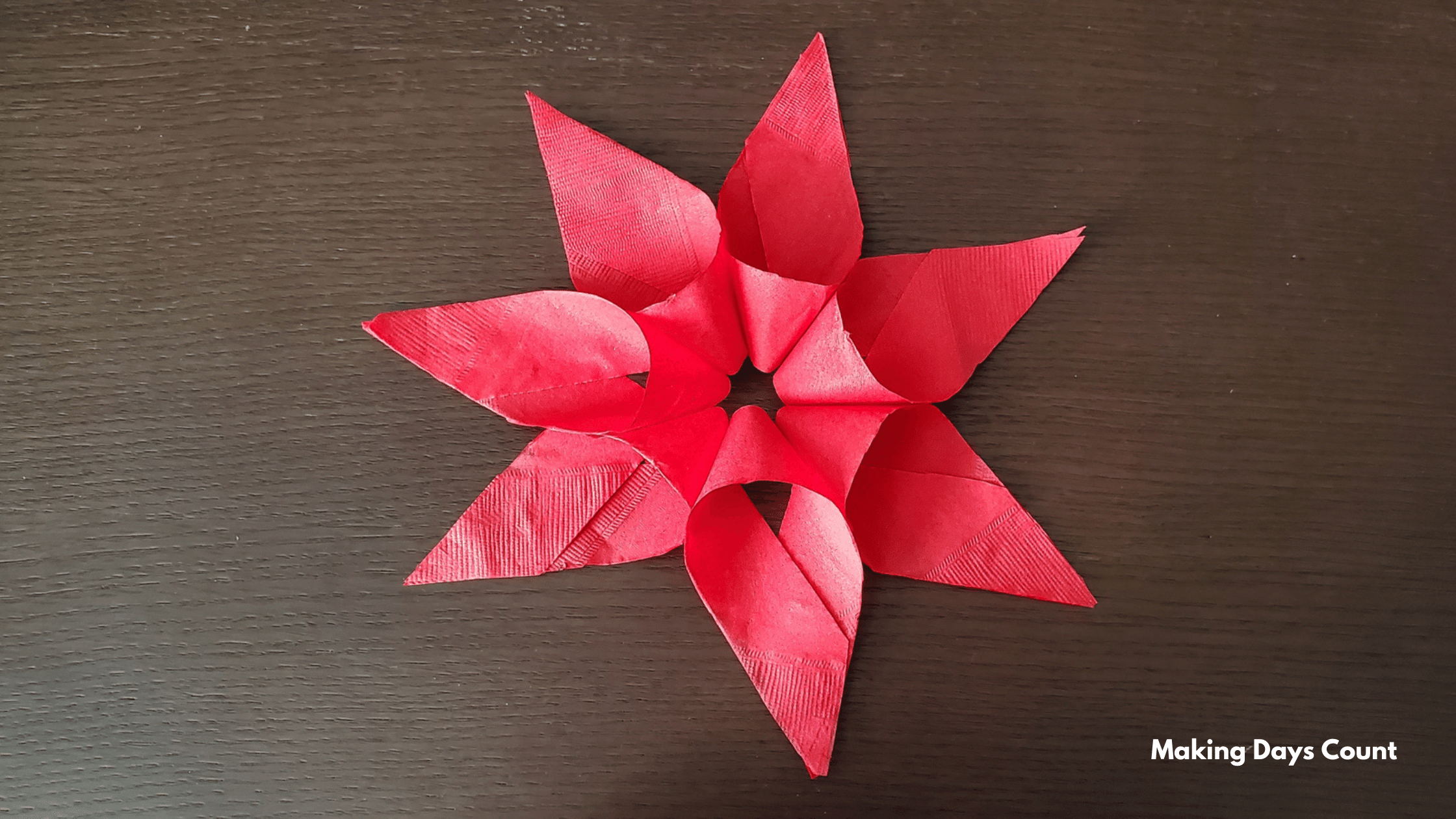 Then, we'll make the top of the flower with the triangles. Place your triangles to face the right, like a play button.
Now put some glue on the bottom tip of the triangle (maybe 1.5 inches). Bring the tip on the right to the middle of the triangle and take the bottom tip of the triangle and wrap it around making this triangle now look like a cone.
Since there is glue on the bottom tip of the triangle, it will secure the cone. If you need more glue to hold the cone together, feel free to add more. Repeat for the other triangles.
Similarly to the trapezoids, you want to place them side by side for the top half of your Poinsettia and glue them together.
Let them dry.
Once they are dry, you are going to stack the triangles on top of the trapezoids part of the Poinsettia. You'll want to stack them whereby the bottom 'flower petals' can be seen in between the top 'flower petals'. Put glue on the middle and put some pressure to get them to stick together.
Also, add the felt at the bottom with glue. I used regular glue but you might want to add hot glue depending on the paper you use.
Finally, put hot glue in the middle of the Poinsettia and place your beads or ball picks. Press them down to secure them.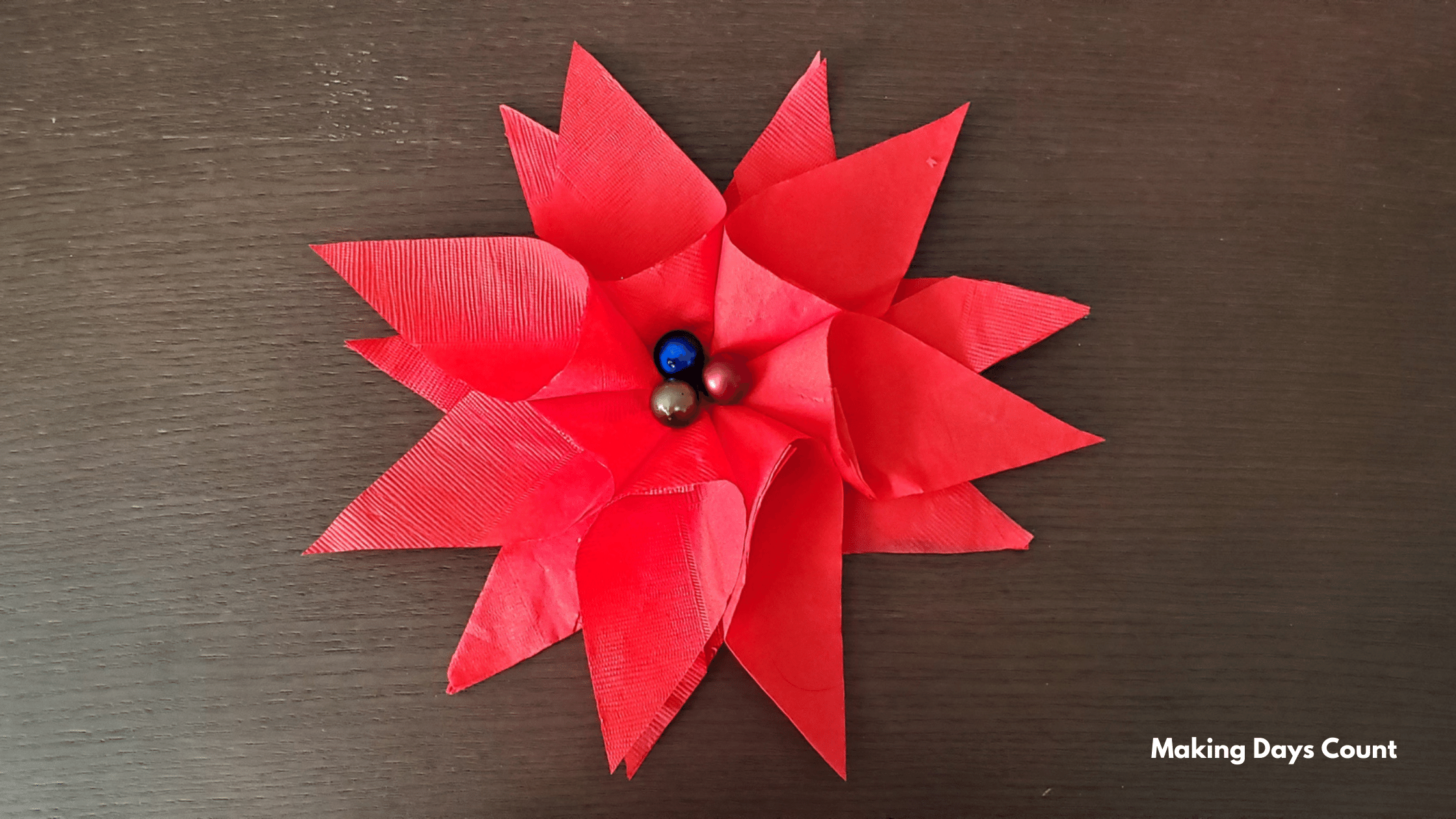 We did it! Enjoy your beautiful Poinsettia flower.
If you would like the full version of how to make these Poinsettia flowers along with the pictures, check out my Flower Templates here (now 15% off until December 3, 2020). You'll access to the hard copy templates as well as learn how to make other flowers.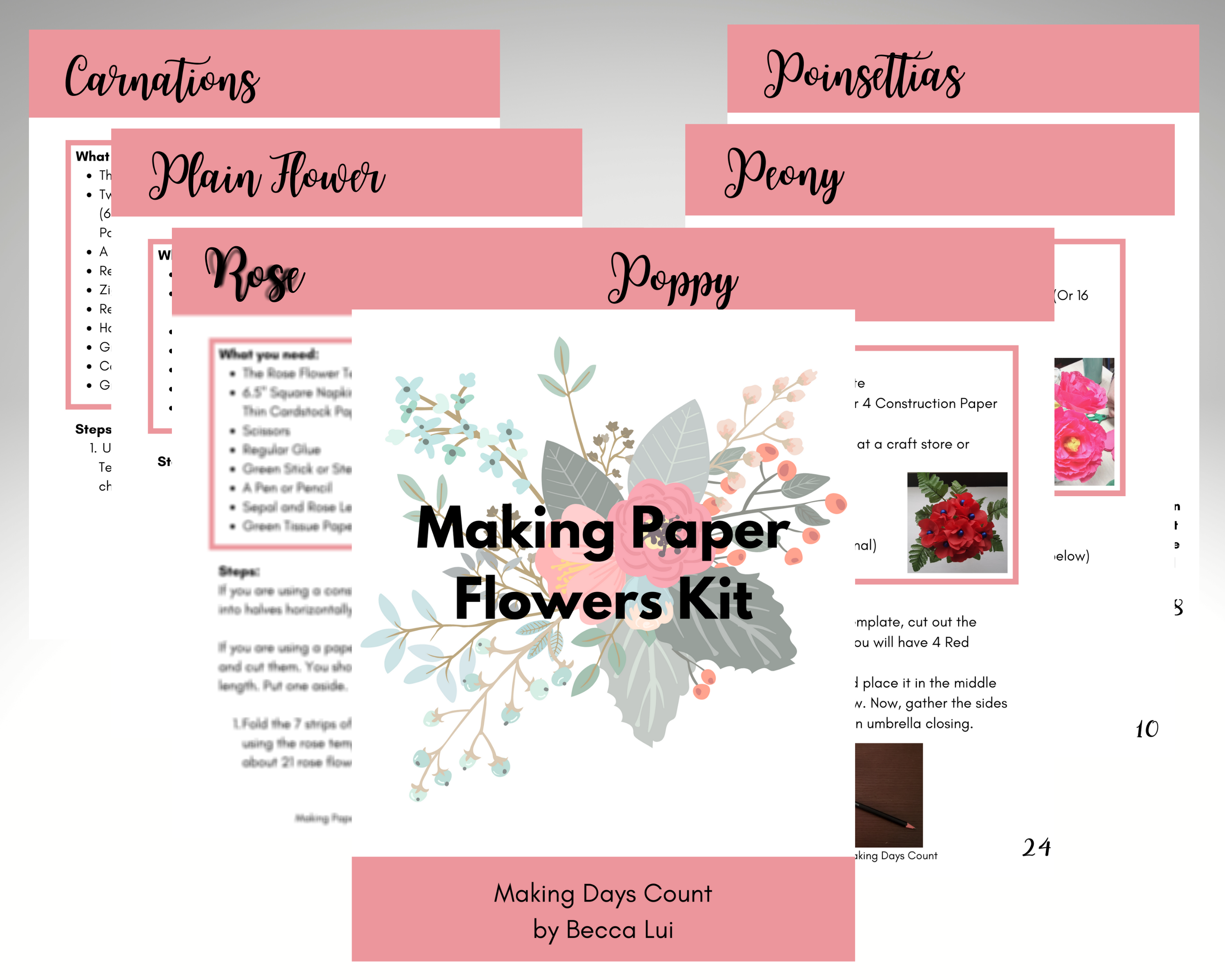 Now onto what we can put together with these beautiful Poinsettias.
1. Poinsettia Christmas Tree Ornament
An easy Christmas decoration that you can make is the Poinsettia Christmas Tree Ornament.
What you want to do is to punch a hole maybe an inch away from one of the bottom flower petals and use a string (I recommend fishing wire or a sewing thread) to tie it up like an ornament.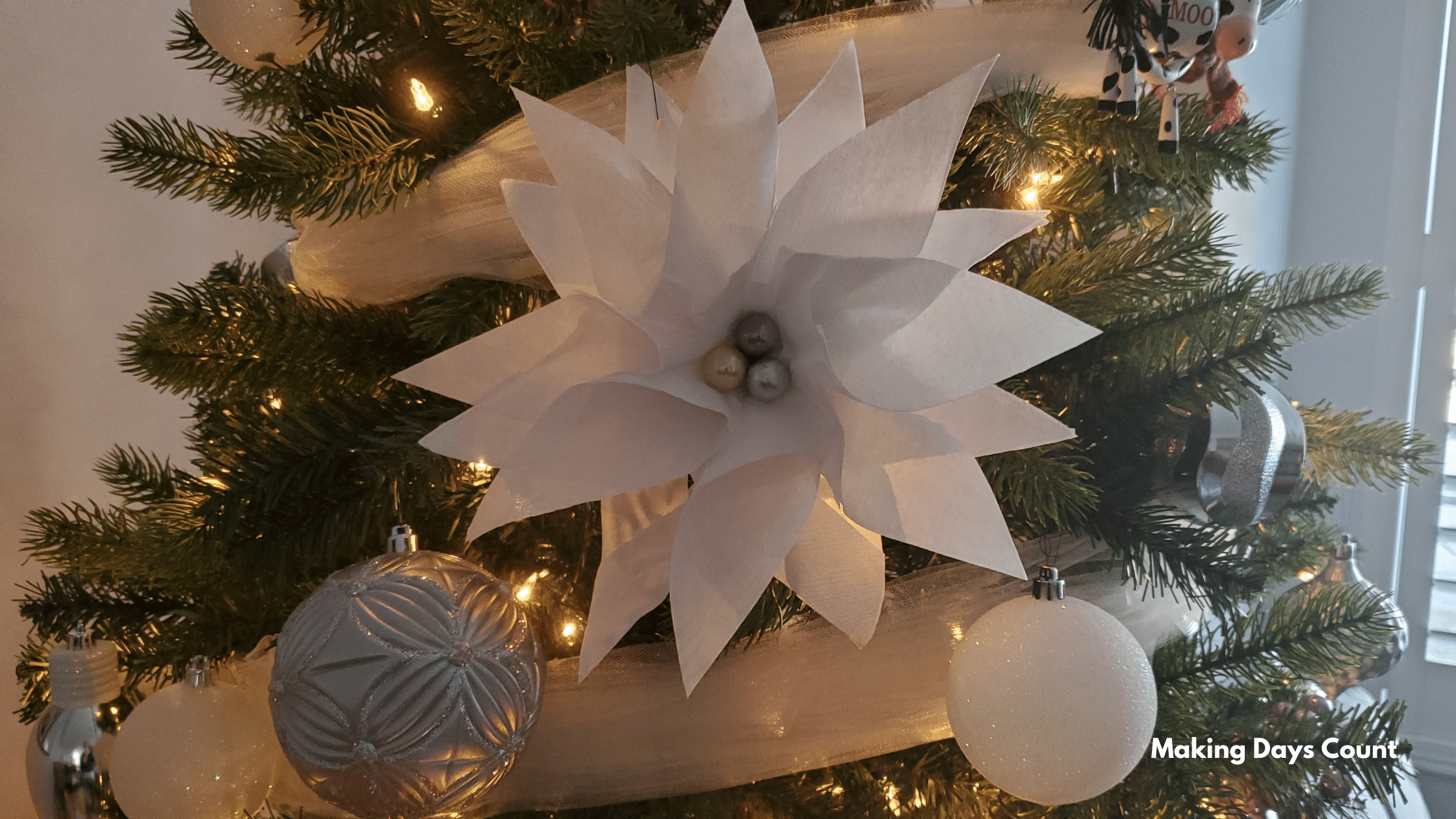 What I love about this idea is that the Poinsettia takes up quite a bit of room and makes a grand statement to the Christmas tree when placed throughout the tree. Also, when you place these handmade Poinsettias, you can tell others about how you personalize your Christmas tree to how you like it to be.
A fun idea is that you can use old books or magazines pages to make these Poinsettias. They can serve both as an aesthetic piece and also a great memory for you every Christmas.
2. Christmas Wreath with Poinsettias
This next easy Christmas decor with Poinsettias is a very simple one.
Using a wreath, which I got on sale at Michaels (or you can get a wreath online here), you can add Poinsettias to make it really festive.
In this wreath, I added ribbon that I had leftover from my craft closet (see how I organize my craft closet here).
You can also get ribbon from the craft or dollar store (or online here).
Wrap the ribbon around the wreath like the picture below.
Now add 3 Poinsettias around the wreath. I also added leaves (instructions included in the template), but it's not necessary if you don't want to. You can secure them by placing a little hot glue on at the back of the flower, or use the wreath branches to intertwine with the back petals to secure the flowers on the wreath.
In the picture below, I hung it up with my Dollar Tree wreath hanger. It's quite simple yet makes a beautiful and festive Christmas decoration.
3. A pot of Poinsettia Flowers
There's nothing more classic about Christmas decorations than pots of Poinsettia flowers.
Using the instructions above before adding the beads, you'll want to poke a hole through the felt to add the stem. Usually, I'll use the wire from a hanger as my stem and wrap the wire with green tissue paper. You can use a wooden dowel or a stick as the stem.
Just remember to cover it with green tissue paper and glue to make it look more realistic. Green craft sticks is fine as well as long as it is able to hold the Poinsettia flower up.
After poking a hole through the felt to the front. Insert the stem to stick out a little in the front. Then, you'll glue the beads on to the flower and stem.
It will secure the stem, flower, and beads altogether.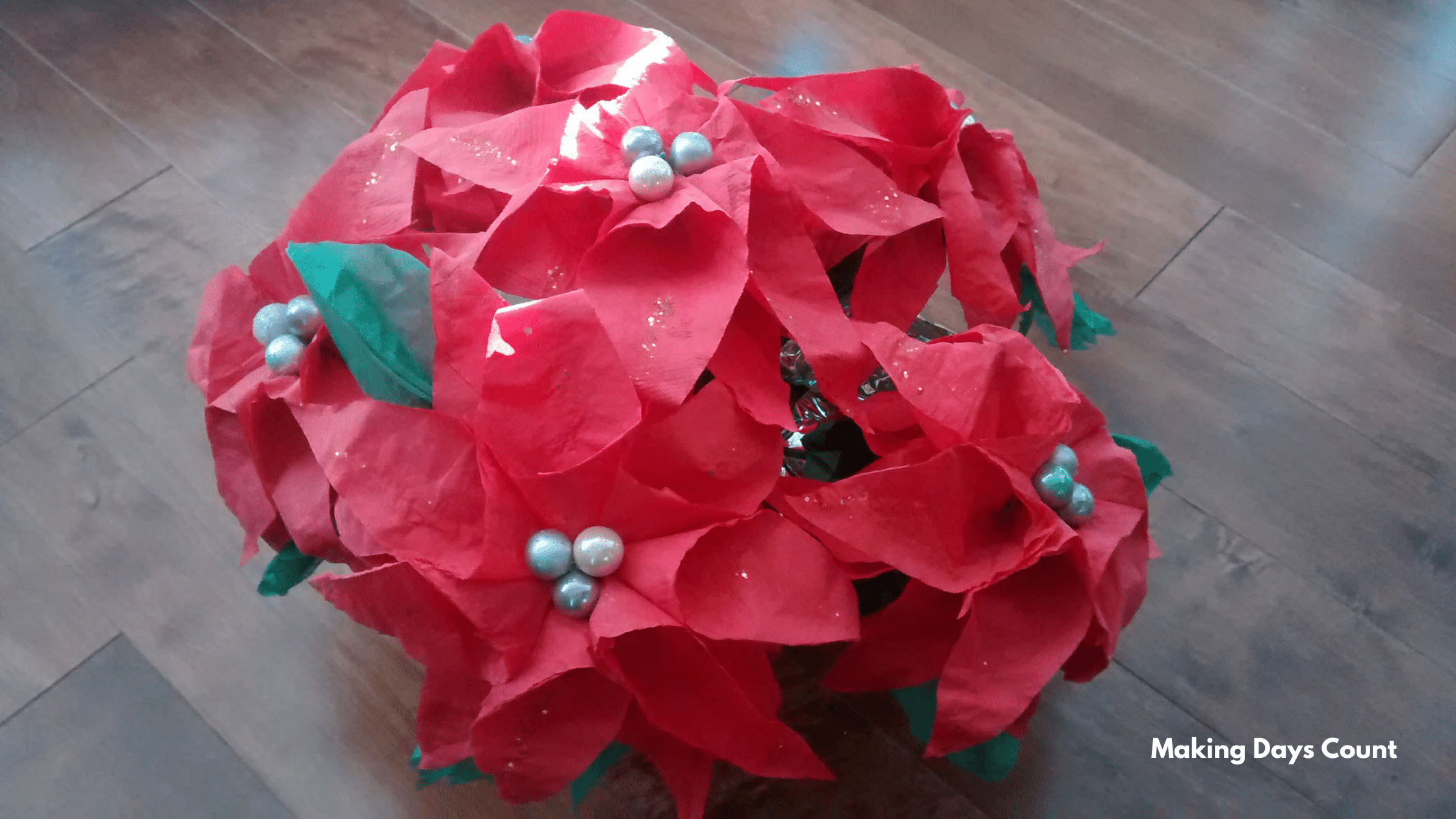 Once they are dried, add leaves (included in the template). Make a few Poinsettia flowers with the stem and leaves, and you'll have your very own Poinsettia flower pot as part of your Christmas decorations.
These are three easy DIYs you can make with these paper Poinsettias.
Related:
This flower kit also includes other flowers such as carnations and roses that you can make as well. These will also make really great gifts for those who are interested to craft flowers. Happy DIYing!
Thank you so much for reading my blog post on "Easy Christmas Decor DIY: Poinsettias". If you like what you read, please pin the image below and share it with others. Thanks!