Always in a rush and have no clothes to wear? We have tons of clothing but sometimes we do not remember what we wore yesterday or a few days ago, and we don't want to repeat the same outfit again. An easy solution is to make your own DIY clothing organization label.
It can be made easily for free, or under a tight budget (if you want it to look really pretty).
Since I am on maternity leave, I made these for M who has to go to work and have different dress shirts. The problem was that he would ask me what he wore the day before or a few days before that, and I honestly have no recollection. So, I decided to come up with a solution.
I mean, you can always take a picture of what you wore each day.
Sometimes, it's still hard to remember so preplanning goes a long way.
With the DIY clothing organization label, you can organize the day before or even the week before so you save your brain cells on making more important decisions for the day (like what you're going to eat for lunch or how to get your baby to sleep longer – maybe that's just me).
Related:
I'm going to show you how to make your DIY clothing organization label so that you can preplan what you are wearing Sunday to Saturday and not worry about repeating your outfits or wearing things that do not match.
These labels you are about to make are very simple and you just add them to your hanger to identify what you will be wearing.
Here is how to easily make your DIY clothing organization label on a tight budget:
BY CLICKING THE LINKS AND MAKING A PURCHASE, I MIGHT BE EARNING A SMALL COMMISSION AT NO ADDITIONAL COST TO YOU. PLEASE SEE OUR FULL DISCLOSURE FOR MORE DETAILS.
What you need:
If you have most of these items at home, you can make this for free.
Start with your paper and paper cutter or scissors, if you can cut straight.
Step One: Cut your paper into three equal pieces
I would suggest that you cut them so that they are three vertically equal pieces.
Using my paper cutter, I cut my gold cardstock into 3 equal pieces. You will have a total of 9 pieces and only need 7. The two extras could be used if you make a mistake or need a replacement.
Here is what it will look like after cutting all the papers:
Step Two: Use your pencil and tape to draw a circle close to the top of each piece.
You'll want to leave some space between the edge of the paper and your circle. Please see the pencil-drawn circle below for reference.
When you are finished drawing the circles on each of the pieces, it will look something like this:
Step Three: Cut the circles out
Now, they will start to look like those hotel signs you put outside your door. This makes it easier to put it on your hanger interchangeably.
Finally, add your letters or stick your letters on the bottom of each of the piece.
This is to identify which is for what day. You can also write numbers if it is better for you. This is an opportunity to be creative and do what works for you.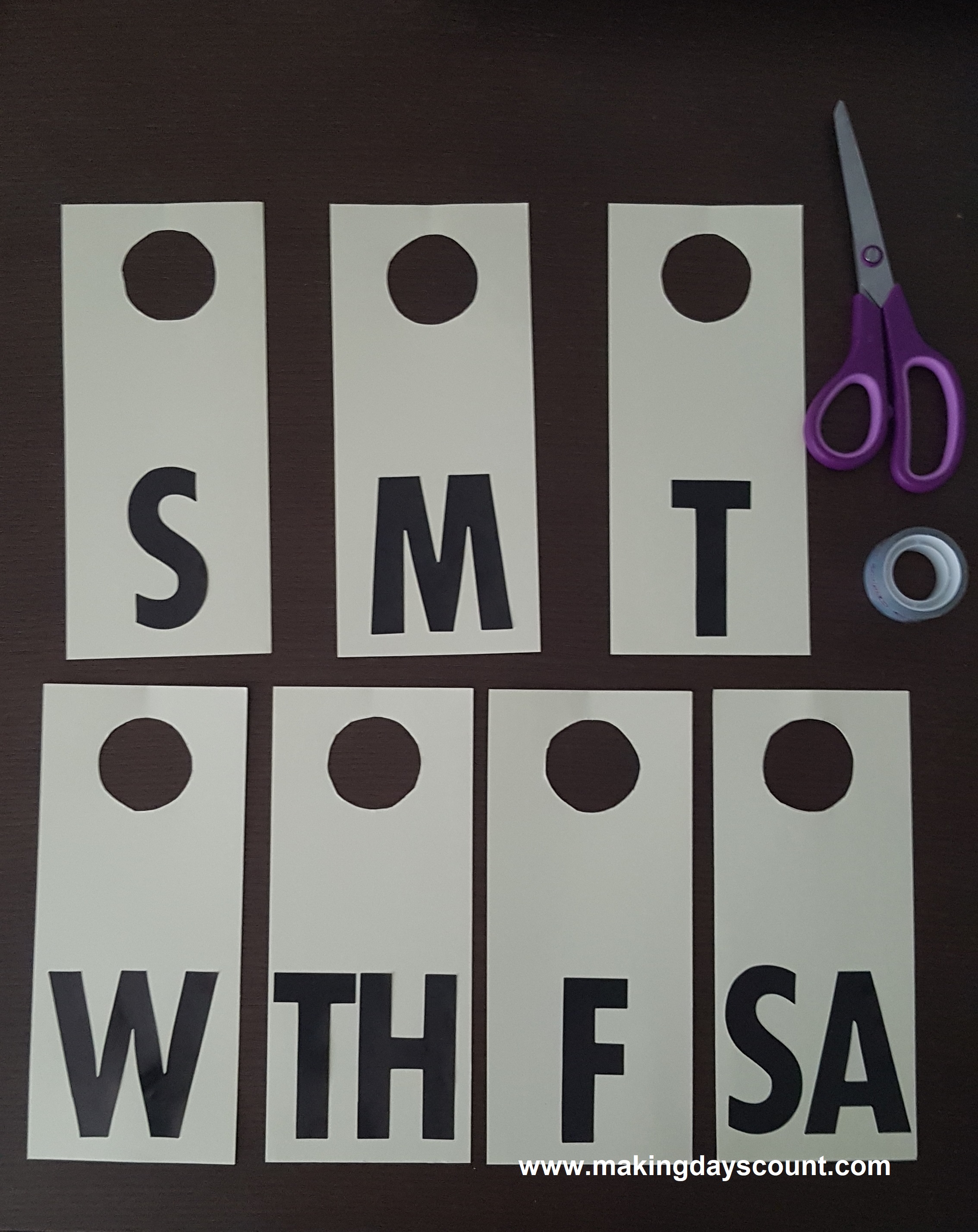 I got these stickers from Walmart, but you can find similar ones online here.
Now you're done. M puts it on the hanger after he wore the outfit for the day so that he does not wear the same shirt that week. Play around and see what works for you whether preplanning your week or putting it on after you wore the outfit.
I would love to see what you created. Please tag me at @makingdayscount on Instagram if you have made your own DIY clothing organization label.
Pin this!