Disney World can be expensive with the theme park tickets, hotels, and food prices when added up altogether. But, did you know that there are free things you can do at Disney? Yes, even at Disney, beyond the free ice water you can ask at any restaurant or food court, there are things you can do for little to no money at all.
Whether you are driving to Walt Disney World or flying there, you want to take advantage of all the perks and the full magical experience being at Disney World. If some of the Disney experience is free, that is even better, am I right?
Before I continue, please know that this blog post is a part of my Disney series when I share my experience from beginning to the end.
If you would like to catch up on my Disney series, check these out:
Free Disney Non-Park Things to Do (this post)
Pin this for later!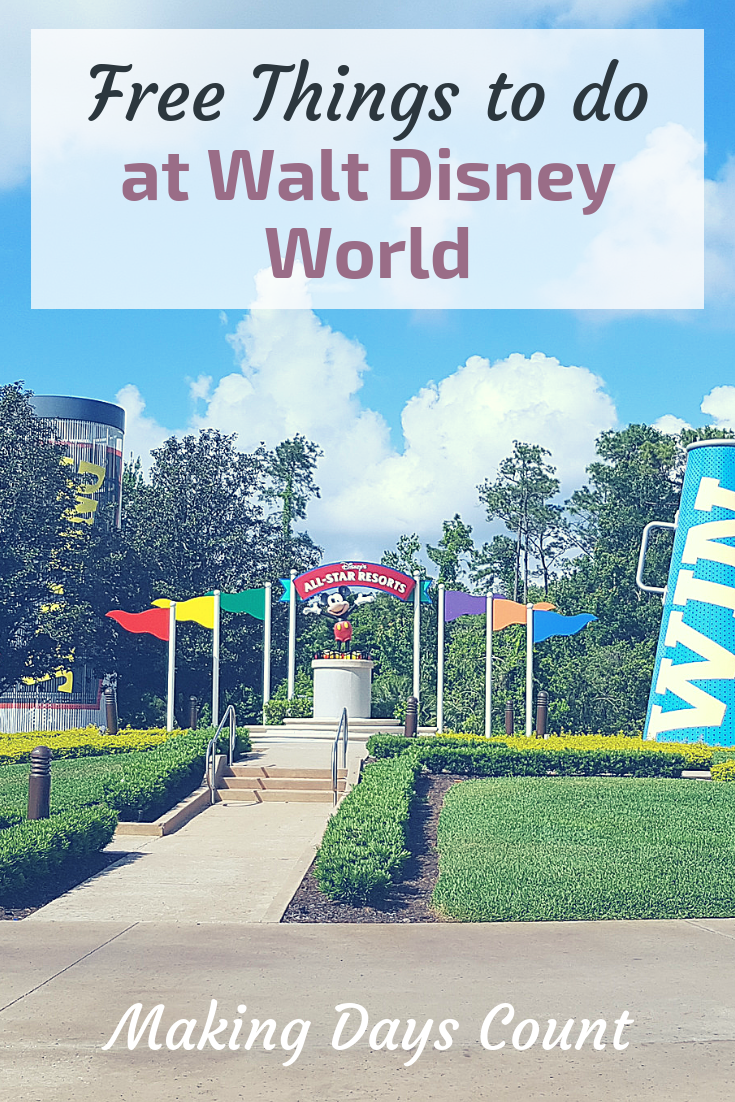 Without further ado, let's dive into the free things you can do at Walt Disney World on a non-park day.
Here are 3 main free things you can do at Disney when you are not at the parks:
BY CLICKING THE LINKS AND MAKING A PURCHASE, I MIGHT BE EARNING A SMALL COMMISSION AT NO ADDITIONAL COST TO YOU. PLEASE SEE OUR FULL DISCLOSURE FOR MORE DETAILS.
1. Explore Your Own Resort
Start at your own resort where you are staying at Disney. We stayed at the Walt Disney World All-Star Sports Resort and it was such a fun experience. You can click on the link to open a different tab where I blogged about our experience there, especially with a young baby.
Your resort is a great place to start experience free Disney Non-Park things to do.
Free Items
If this is your first time to Disney, you can go to the front desk or concierge and ask them for a First Visit button completely for free. Also, be sure to let them know if it is your birthday. You can get a button and also balloons (that is what I saw for a teenage girl who told them it was her birthday).
You can also get a map of your resort at the front desk to see what complimentary activities you can do around your resort. Try to get this at the beginning of your trip or look online to preplan what you can do on your non-park day.
Swimming Pool
The swimming pool is a great place to hang out and relax when you are not hitting up the rides and getting from a character greeting to another. At the resort where we stayed, there were two pools. We chose to go to the one with fewer people and also at a time when others will be busy in the parks or at mealtime.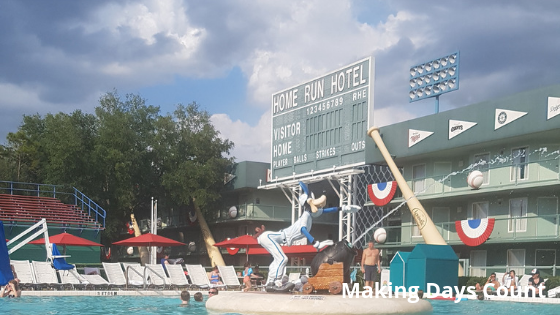 Depending on what you prefer, the morning is when it is most quiet and later the day becomes more crowded with guests. The swimming pool is a great place to just relax and is part of your free Disney resort experience.
Hiking Trails and Activities
When you first checked in, the cast member might tell you what activities they have available at the resort throughout the week. Whether it is walking trails or activities such as drawing class (at Art of Animation Resort), you might want to check them out during your non-park day.
The concierge cast members are more than happy to explain to you what is happening during the week if you do not remember. They can also suggest ideas for you to do while you are there at the resort or activities at another resort and how to get to the other resort.
Photography Moments
Disney is amazing with the details throughout the resort. Walk around your resort to the different themed areas and take pictures while you take a stroll around the property.
At the All-Star Sports Resort where we stayed at, they have oversized sports-themed buildings.
We just walked around and started taking a ton of pictures. They were a lot of fun to pose with as well. You can be as creative as you want. The best time to take pictures is in the morning as people are usually headed for the parks and you can have the place all to yourself (sort of) for picture taking.
2. Resort Hop and Activities
Did you know that the buses at Disney are free? You can go from your resort to a theme park and then from the theme park to another resort for free.
There's always Disney's version of Uber, the Minnie Van which costs extra but save you some time from one resort to another.
Check out the other resorts for their free activities, design, and also free water if you don't plan to eat there.
Free Disney drawing classes
Not every resort has these drawing classes like the Art of Animation Resort at Disney, but they might have a free tour of the resort. Be sure to check with your front desk and also online for free activities to do at the different resorts.
There are many blogs out there that talk about what is available for free at the different Disney resorts. You can also check out the Disney Mom Panel if you want more information.
More picture taking
We got the opportunity to check out Animal Kingdom Lodge and the Art of Animation Resort at Disney. They were designed so well and also very different from each other.
At Animal Kingdom Lodge, there is a Savannah in the center of the resort where you can see the animals.
While at Art of Animation, we just walked around the resort and took some pictures of the themed buildings.
If you have the time, I highly recommend that you explore the resorts and take lots of pictures.
Try different food (sorry, not for free)
If you are interested in trying various Disney food exclusively available at the resort of choice, check out the Disney Food Blog on YouTube (not an affiliate). We watched many of their videos before deciding where we should go.
This option is not free, but since you are there, why not take part in their specialty food.
3. Disney Springs
Disney Springs is another free Disney place to visit. You can walk around at your own pace and leave without buying anything.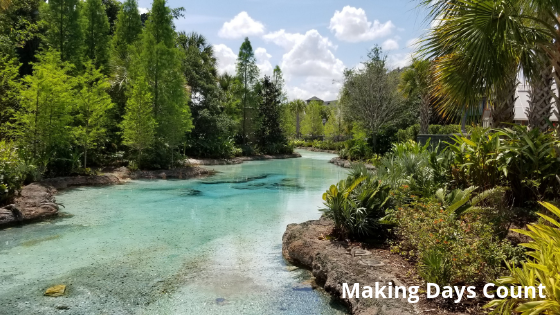 To get to Disney Springs, you can take the free bus from your resort. The My Disney Experience app (free) also tells you roughly when the bus will come and leave your resort. Be sure to show up a few minutes before.
Free Parking
If you're driving to Disney, they have a free parking option (here is more information).
We did not need this option as we took the bus from our resort.
Free Concert
When we went there on a Saturday, there were many performances on the stage at Disney Springs. You are free to sit down and watch the band performances for as long as you wish.
Some of the bands were high school students who really impressed me with their performances. Go watch and support them for free.
Walk Around Different Stores
There are quite a number of stores at Disney springs. Here is their website.
Check out the different stores and get out of the heat. From a huge Disney store to an interactive Lego store, you can easily spend the whole day just exploring the place.
Try food samples
According to the Disney Food Blog, you can get different food samples around Disney Springs. We did not get the chance to try those so I cannot attest to that.
Food samples aside, the food at Disney Springs is pretty good too. You do need to pay for these.
We really enjoyed our meal at the Polite Pig. It was delicious and affordable.
Thanks for reading. I would love for you to check out my other Disney blog posts. Here they are:
Free Disney Non-Park Things to Do (this post)
If you like what you read, please pin the picture below and share with others you know. Thank you so much!