Valentine's Day is coming up and you want to get your special someone a gift. But, they have everything they need and want. So how do you go about getting gifts for a person who has everything?
I have the same dilemma. M has everything he needs and wants. If he wants to get something, he would buy it with his own money and not necessarily wait for me to buy for him.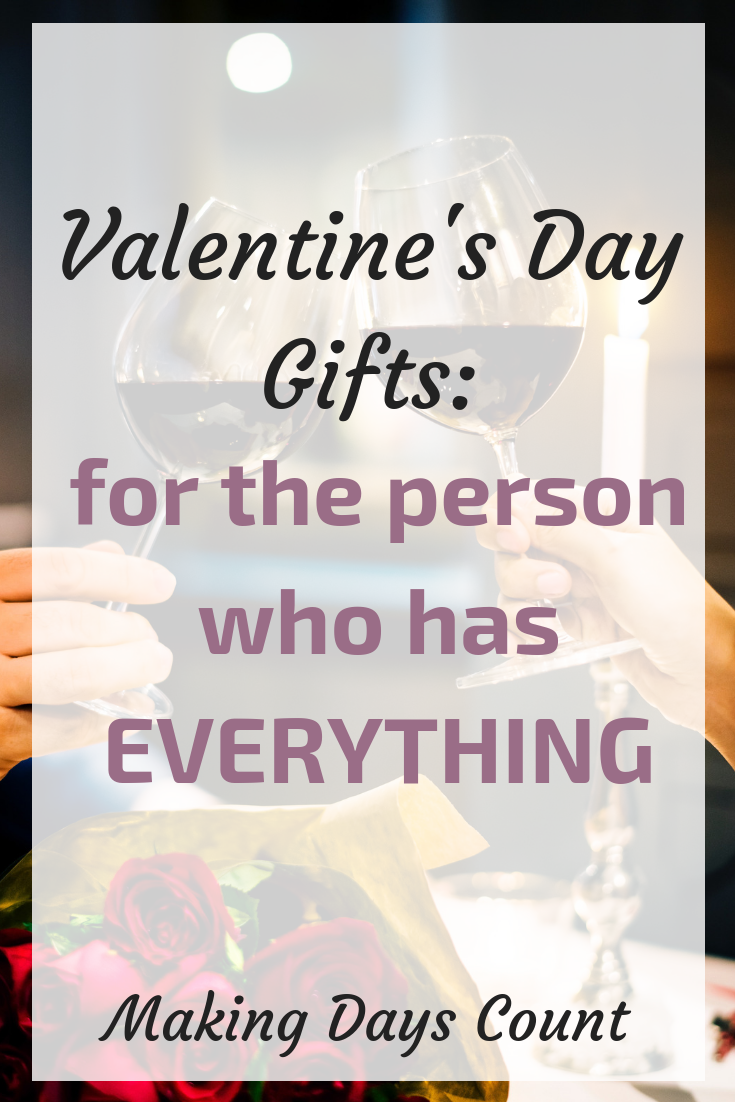 When it comes to gift giving, I need to be creative so I came up with some gift ideas that I can give. Hopefully, this will inspire you too!
BY CLICKING THE LINKS AND MAKING A PURCHASE, I MIGHT BE EARNING A SMALL COMMISSION AT NO ADDITIONAL COST TO YOU. PLEASE SEE OUR FULL DISCLOSURE FOR MORE DETAILS.
Things on this list will include a range of budgets, from spending nothing at all to a higher price range, depending on how much you are willing to spend (I will explain why later).
Here are 8 gifts for a person who has everything:
Your Time
Giving your time, spending time with the person you love will mean more than things you can buy. Whether you just sit at home or at dinner together, putting away the electronics, and just enjoy time with one another, it will be such a nice gift.
Of course, don't say "Your gift is my presence" if you know that your special person expects a gift in addition to spending time together.
You could say, "Let's do something together. What would you like to do?" (Unless you planned something).
For a person who has everything, time together even to cuddle and chat about life is nice.
Alone Time
This is different than giving your time. If you are parents, you can give your significant other some alone time by taking care of the kids, pets, parents, etc.
They can take the time to go shopping, play video games, go for a massage, hang out with friends, or however they want to use the time to do. You might need to insist that they take the time for themselves.
I realized that as a new parent, alone time is hard to come by when all your focus and attention is on your little one.
Giving your special person the gift of alone time might be more appreciated than you know.
A card
Handwritten notes of love can be a lot more meaningful than a text saying "I love you". The time that you take to choose the card, think about what you can say, and write it down before giving to your loved one can be such a thoughtful gift.
You can buy your cards in the store or online at Etsy.
If you are unsure what to write, you can always draw inspiration from online. Appreciation and writing down why you love the person is a good start. Or just a simple note saying "I love you".
A good idea would be for you to buy the card a few days before and not rush the day of. Give yourself some time to choose the card and write down what is on your heart.
Give a massage
A person who has everything can pay for their professional massage, but it is different when you can spend some time in this intimate way.
Note: Please ask them for consent before giving them a massage. Some people do not enjoy it at all.
Look online to see how you can massage and go slow. Take it easy and practice makes perfect.
You can talk about each other's day and connect while you give them a massage.
Make a meal
Your other half needs to eat, so why not make a nice meal?
Look online to see recipes and buy the ingredients. Or if you can't cook, buy and decorate it nicely.
Set up the table, light a candle, and cook something you know they would love to eat.
They'll appreciate the thought and effort you've put into this meal.
Flowers
Buy flowers and surprise them either at home or at their workplace.
Choose a flower they like or you can always go with roses (unless they do not like roses). You know them, you know what they'll like.
If you are getting flowers for Valentine's Day, be sure to order in advance due to the busyness of the florists in the area.
You can always go to Costco to buy flowers in bulk and they always look nice.
Link on how to arrange flowers: One Thing You Must Have to Arrange Flowers
Attend a class or experience something new together
Check out the different events or classes in your area. Share the list with your significant other and see which one they want to try out.
It could be indoor skydiving or decorating a cake.
This is where it could be expensive, depending on your activity.
Find something the both of you enjoy and experience it together.
Make a coupon book
This can be handmade or you can get it online. Here is one that you can download to print.
The ideas can be endless, but you need to do the things you promise in the coupon book.
Related:
Be creative and tag me on Instagram @makingdayscount if you do make your own. I would love to see it!
Pin this!