Baby's first Christmas is a very exciting time of year. Trying to figure out what gifts to get for them can be a fun one.
In this blog post, I'm going to share with you 12 gift ideas that you can get for baby's first Christmas.
There are so many changes that happen in the baby's first year, and definitely a lot more this year due to the pandemic.
However, Christmas is a magical time and getting gifts for baby's first Christmas is one of the joys we can experience.
Pin this for later!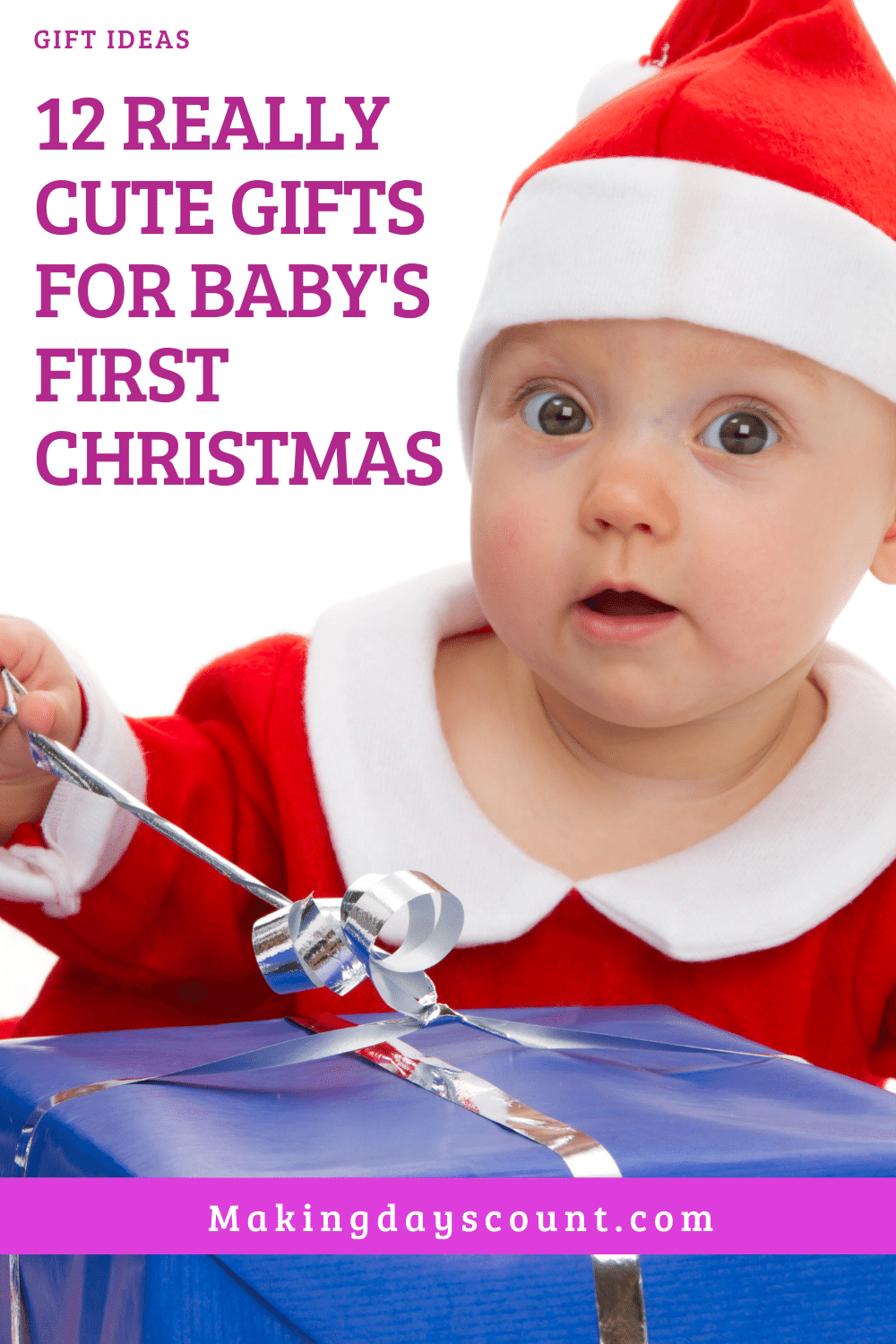 Here are 12 gifts for Baby's first Christmas:
BY CLICKING ON THE ETSY LINKS AND MAKING A PURCHASE, I MIGHT BE EARNING A SMALL COMMISSION AT NO ADDITIONAL COST TO YOU. PLEASE SEE OUR FULL DISCLOSURE FOR MORE DETAILS.
1. Ornaments
There are so many different types of ornaments that are so beautifully handmade you can choose from.
I've chosen 3 examples, but you can definitely check out Etsy for more.
The first gift for baby's first Christmas is the Animal Personalized Wood Ornament.
Isn't it so cute? You can choose which animal you would like on the Ornament as well as the name of the baby.
They can reuse the ornament year after year.
Also, what I like about it is that it's made out of wood so the quality should be quite durable.
Another type of Ornament you can consider to get for baby's first Christmas is the Personalized Christmas Ball Ornament.
What is really fun about this ornament is that you can get one for the parents too.
Customize your ornament size, font color, and also what you would like to write on the ornament.
Some ideas of what to write on the Ornament include:
Name
Year
Title (Baby, Sister, Brother, Mom/ Dad)
Nickname
A short message (Merry & Bright)
Have fun with how you want to customize this ball Ornament. One thing to note is that it's not too big so something simple is probably the best.
The third Christmas Ornament you can consider is the Personalized Photo Ornament.
Using one of the photos of the baby, and also of the family, create a personalized photo ornament.
What I really like about having pictures is that it's a moment frozen in time.
Whenever Christmas comes and it's time to hang up ornaments on the tree, they'll look back at this ornament and remember the good memories of the child being a baby.
These are three examples of Christmas ornaments you can get for baby's first Christmas gift.
2. Baby Christmas Pajamas
There's something about Christmas Pajamas that is very cute for babies.
Maybe it's the adorable pictures you can take of them while in them or just how festive it looks on Christmas day.
Here is one that you can check out: Personalized First Christmas Jammies.
Since this is from Etsy, you can personalize what the pajamas say on it. Quite creative, isn't it?
I'm not a seamstress by any means, so it's a pretty cool gift to get someone else to personalize it for me.
If you're inspired to take a step further, you can also try to find matching pajamas for the parents as well.
3. Christmas Stockings
Aside from the tree, Christmas Stocking is another popular item to decorate the home with.
This makes a nice gift for baby's first Christmas as you can personalize the Stocking as you like.
I'll share two types of design for these Christmas Stockings you can check out.
First, there's the Traditional Buffalo Plaid Stocking.
This classic stocking is a great one to add to the family's collection. Also, since it can also be used every year when the baby becomes older as well. You can also get the other family members a stocking too if they do not have one currently.
You can personalize with their names or even nicknames if that is what they would prefer.
It'll be quite nice hanging by the fireplace or by the Christmas tree if they have one.
The second option is this Snowman / Reindeer Personalized Stocking.
Not as traditional (for the design) as the previous stocking, but can also be quite timeless. It's quite cute and you can customize the name of it as well.
You might want to also think whether you want to put in one or two small gifts to put in the stocking.
It seems that babies are perfectly happy opening the gifts and enjoying the wrapping paper. So, you do not need to spend too much on these small stocking stuffers.
4. Hand and Foot Print
Another gift you can consider for the baby's first Christmas is the Inkless Hand and Foot Print Kit.
How precious it is to remember how small their hands and feet are when they are little!
These print kit are inkless so you do not need to worry too much about putting unfamiliar products on the baby's skin. Also, you can frame it up as a part of the baby's decor after completing it.
Someone actually gifted us a hand and foot molding kit. It's still in the box, sorry!
The problem is that you have to make the mold, then imprint the baby's hand or foot on it. We get tired so it was not a priority on our list. Maybe next kid?
I find with the inkless one that it should be an easier process to do than the molding one. For parents of a baby, anything that we receive that does not require too much of an effort is great! There are lots to do with a baby. #sorrynotsorry
5. Personalized Wall Name Sign
Another nice gift to get a baby for their first Christmas is their own wall name sign. If you are getting it for someone else's baby, do check with the parents on what their preference for design is before gifting it to them.
You do want it to match the decor if possible. Maybe send them some inspiration pictures and see what they like.
If this is for your own baby, there are quite a number of really nice designs out there. I will share two to get you started about thinking which one would be best.
The first design is this Baby Name Wood Cutout.
You can choose to just do their first name, middle name, or even a nickname. There are so many options for this type of design.
What I like about this is that you can choose the length, the color, and sometimes even the font depending on your Etsy seller. They can so creative in making these wood name signs.
The second design is this Mountain Sign Wood Name.
This type of design is quite nice as it incorporates other elements such as the mountain and the baby's name.
Similarly to the previous option, you can choose your font, color, and also size of the sign.
Have fun with exploring the different wall name signs here!
6. Christmas Outfits
Similarly to the Christmas pajamas, you can also get the baby Christmas outfits which are oh so adorable!
What I really like about Etsy is the opportunity to support a local artist or creative and also get something customized at the same time.
I'll share a few Christmas outfit ideas that you can get the baby.
First, you can get them a personalized Christmas Outfit.
How cute is the outfit! You can also add their names to the outfit just for them.
If the family is into dressing up for the holidays, the Christmas outfit is a great gift for the baby.
An accessory that you can add to the Christmas outfit is this Holiday Hair Bow Set for Baby.
These adorable hair bows are the perfect touch to the holiday outfit.
It's best for babies who are used to wearing one or don't mind it. My daughter didn't like it on for a long period of time, so the bows we bought her were not used often.
Another accessory that you can get are these Christmas Baby Bibs.
At the age when the baby is drooling a lot, the bibs not only serve a practical purpose, but also looks pretty festive.
7. Soft Plush Toy
Watching the baby's excitement as they open up their gifts is so much fun, especially when it is a soft plush toy that they can hug.
Each child has a different preference of what they prefer. They might like a plush toy right away, or maybe even later like my toddler.
However, when they start to notice and like their plush toy, it'll be hanging out everything the baby/ toddler goes.
One plush toy you can get them is this personalized bunny.
It can have their name on it or a message if you wish. If you know that they prefer another type of animal, you can check out other types of plush here from a giraffe to a sushi plush. The talent is just so amazing!
8. Wooden Rattle/Teether for Christmas
Wooden toys are another great gift for baby's first Christmas. It's durable and easy to wipe down if necessary.
Babies are drawn to different sights and sounds. A wooden Rattle is a nice to give to the baby.
Here is a Rattle you can check out.
What I like about this rattle is that it is also a teether as well. The baby can play with it
Depending on the baby's development stage, they might be starting to teeth.
They can also bite on the Rattle if that'll make their gums feel better.
Rattles are a great gift as it can occupy the baby's attention whether they are bored, upset, or even during a diaper change.
Parents can just wipe down and sanitize it at the end of the day or play session.
9. Baby Bracelet
Jewelry is an unusual but beautiful gift for baby's first Christmas.
Check out this Gold/Silver Baby/Toddler Bracelet.
This bracelet was designed for little ones to wear on their wrists.
You can personalize it with your choice of name,  fonts, length, and also add a birthstone if you wish.
I think even without the birthstone, it is a very nice bracelet.
This baby's bracelet is a great gift for the baby, just be watchful whenever the baby wears it similarly to any other accessories.
10. Baby Blanket
Baby blankets are the cutest!
They can also be multifunctional so it is a great gift for the baby's first Christmas.
Some uses for Baby Blanket include:
Keeping baby warm as a swaddle
Mini play mat
Peekaboo game
Here is one that you can personalize: Daisy Baby Blanket.
What is special about this type of baby blanket is that you can customize it with the baby's name and font.
One good thing about baby blankets is that they can use it until they become a toddler, so it's quite durable as a gift.
11. Mushybooks
Another really nice gift for the baby's first Christmas are these Babyville Modern Baby Books.
What I like about these books is the minimalist design and also how this book encourages parents to write down different milestones and notes from the different stages of the baby's life.
This is initially more for the parents to write down what they want to record, however, it is a great memory for the baby to have when they are older. When they can read or even later on as a adult, they will have all these memories of themselves when they were a baby.
The parents can choose write down a special note for their baby, or even add a picture in this modern baby book to remember what the baby was like during the stage of their baby's life. This is also a great gift for a baby shower as well.
12. Personalized bedtime storybook
Last but not least, a fun gift for the baby's first Christmas is the Good night Personalized Book.
This book allows you to personalize the storybook with the baby's name. They get very excited when they hear their names being read in a book. How special!
There is a special bond made when a parent, grandparent, or a family friend read to the baby.
It's also a great book to read to the baby as they grow up. They can learn how to recognize their names as the story is read to them at night.
Hope you have found a gift in this list for the baby's first Christmas. It will truly be special because of your thoughtfulness in being a part of the baby's first Christmas.
Related: Check out more gift ideas here at the Etsy Christmas Shop.
Thank you so much for reading my blog post on "Gifts for Baby's First Christmas". If you like what you read, please pin the image below and share it with others. Thanks!