The guest bedroom can feel like a project that you want to take on before you have guest over. Well, we don't usually have guest sleep over, so we didn't really think about working on it.
I had ideas, but either was too lazy or did not have the time to work on it.
To be honest, this was more like a happy accident.
I was giving my 18 months old daughter some art supplies to play with and she painted these art pieces. We loved it and decided to put them in the guest bedroom.
This is a part of my slow decorating series where I slowly take one place in my house and work on it. Even though we've lived in this house for 3.5 years, there were some places that do not feel complete to us.
I guess with the quarantine (this was written in early April 2020), it gives us time to really think and finish the projects we wanted.
I'll update the list as we go on:
Minimalist Front Entry for under $40 (this has been updated, but I haven't written about it yet)
Guest Bedroom Wall Decor on a Budget (this post)
Pin this for later!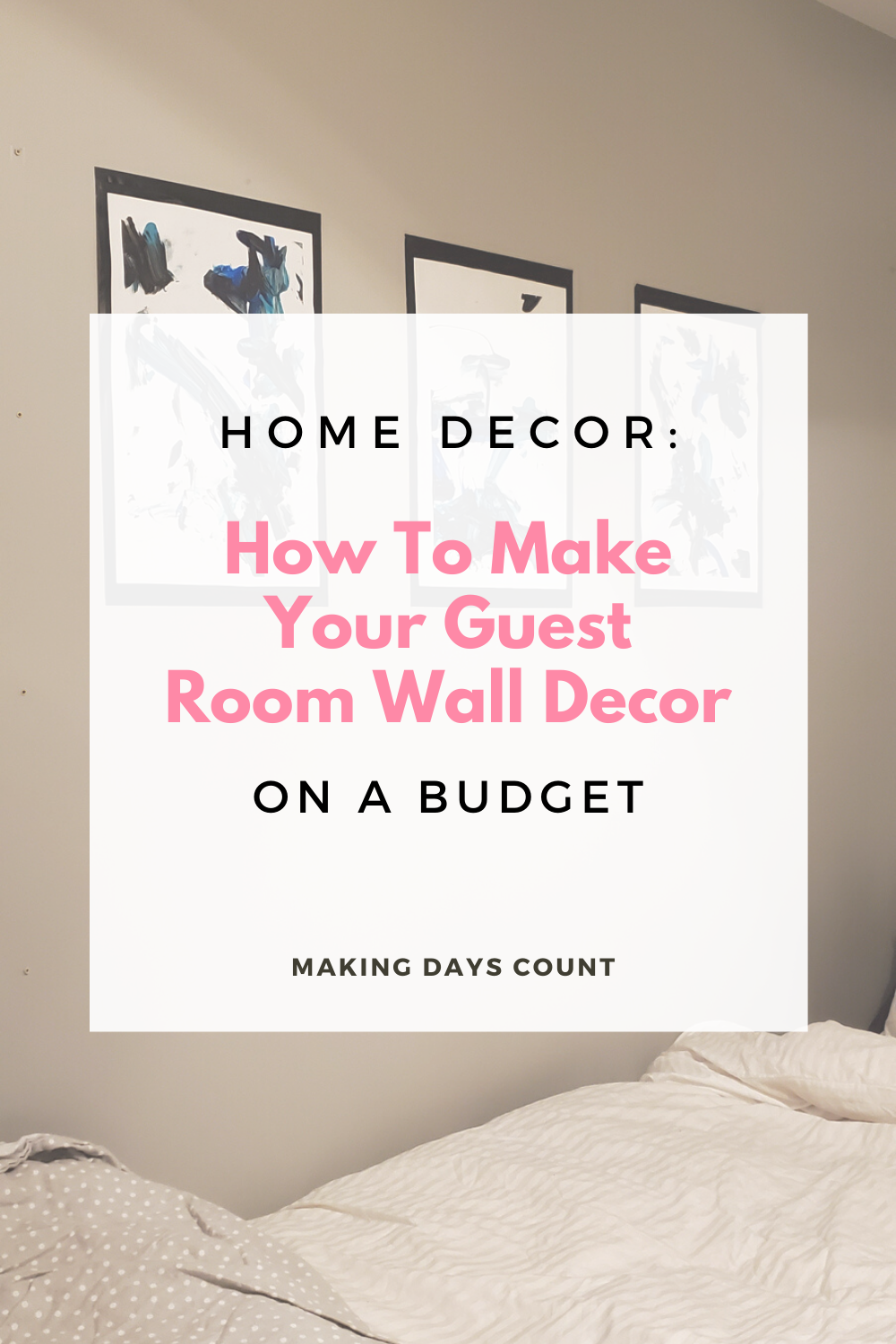 Here is what we did for the guest bedroom wall:
BY CLICKING THE LINKS AND MAKING A PURCHASE, I MIGHT BE EARNING A SMALL COMMISSION AT NO ADDITIONAL COST TO YOU. PLEASE SEE OUR FULL DISCLOSURE FOR MORE DETAILS.
For the materials, we used most of what we already had at home so this was at minimal cost to us. However, you can easily get these items online. I will link them for you.
Materials:
Step 1: Using Painter's Tape, tape down the sides to create a boundary for your art.
You can decide whether you want to tape the paper on the floor, on a table, or a cardboard box. As I mentioned earlier, it was an art project for my toddler. I have to be careful where I put the paper to avoid the paint going everywhere.
What I realized after taking out the painter's tape is that it actually helps to have a border. It looks more professional (no one needs to know that you didn't buy this art, unless you want them to know).
Step 2: Squeeze out some washable paints on the paper randomly.
This is the fun part. Whether you are painting this yourself or your child is doing it, randomly put the paints on the paper.
Depending on the color palette that you are going for, you can do shades of the same color. It looks really nice when it's blended together.
I'm not an artist so I can't really tell you what the best way is to go about it.
However, in my case, I just put the paints around the paper and added it where my daughter wants me to.
Step 3: use the foam brush and do random strokes.
If your toddler is anything like mine, she'll want to paint but then also want you to clean her hands the second paint gets on her hands.
It's pretty funny.
From my observation, she holds the foam brush and just spread the paint around however she feels like.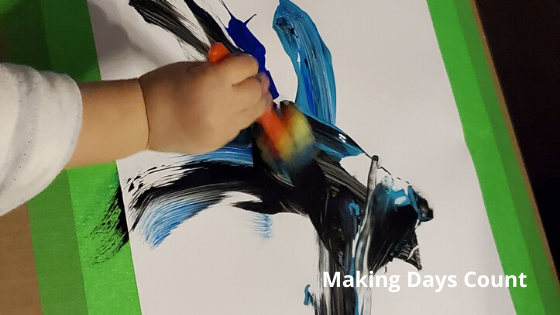 Once she thinks that she is done with that, she'll ask for more paint to be added.
I guess that is the beauty of painting with a toddler.
Step 4: Dry the painting.
Once you think that it looks good, stop painting and put it aside to dry.
You want to give it some time to dry and harden.
The best way is to leave it flat. However, if there isn't any dripping paint, you can dry it hanging up.
Step 5: Decide where you want to place the painting.
This all started as an art project but then M, my husband and I loved it. We wanted to put it in the guest bedroom.
Our guest bedroom is a home office / guest bedroom combo.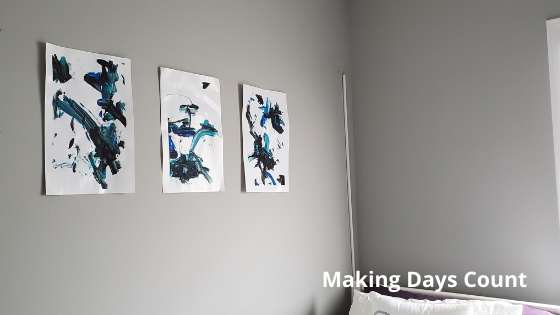 For me, it was easy to decide where to put it since the bed was against one wall.
I put up this 3 part painting on the wall where I want it.
What I need to decide is how high is it going to be from the bed, how far apart from each other, and which side of the painting is the right side up.
Play around to see where you want to put it.
A good idea is to put it up with painter's tape first so that you can see what it looks like and adjust if necessary.
Step 6: Frame your painting(s).
If you have your own frames to put the paintings in, great! I did not want to put frames above the bed as I am worried that it might fall on the bed.
The solution for me is washi tape. I bought this black washi tape from a fellow Canadian on Etsy.
I taped around the paper to make it look like a frame.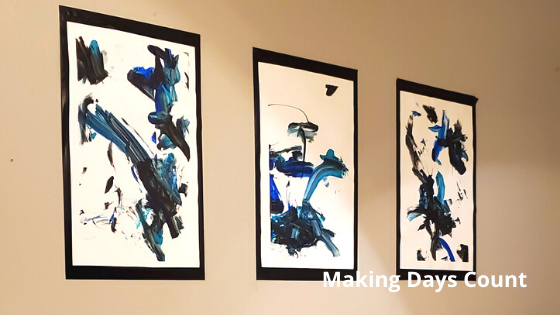 You can decide how thick you want your frame to be. If you need it to be thicker, you can add another layer around so it looks more like a frame.
Step 7: Adjust as necessary and enjoy your new guest bedroom wall decor.
Thank you so much for reading. I hope that this project is simple for you to do when you have time. If you are planning to get your kids to do it for you (just like me), why not? It keeps them busy and it is not wasted.
You can always change it up in the future if you want something else. It's quite affordable and pretty fun to do.
I am actually working on this entire room, but this is the first part. I do want to get curtains for this room, but have not decided where yet. Stay tuned!
Here are my other home decorating projects:
Minimalist Front Entry for under $40 (this has been updated, but I haven't written about it yet)
Guest Bedroom Wall Decor on a Budget (this post)
If you like what you read, please pin the image below and share it with others!