Can you believe that it's February (or insert the month you are reading this) already? Where did January go? I feel like time flies by whether being busy with our families, or our work schedule fills up our days. It can be so easy to forget our resolutions that we made in January and loose the momentum of achieving whatever we set our minds to.
In this blog post, I will share with you how you can be more productive. You can be one step closer to crossing more things on your checklist and being excited about it.
You know what?
We all have the days or weeks where we just don't want to do anything. It could be because of sickness or not being in the mood, and that is okay. Just know that you have another day to make changes and be more productive.
If you are studying for an exam or meeting a deadline, skim this post quickly and get working!
Pin this for later!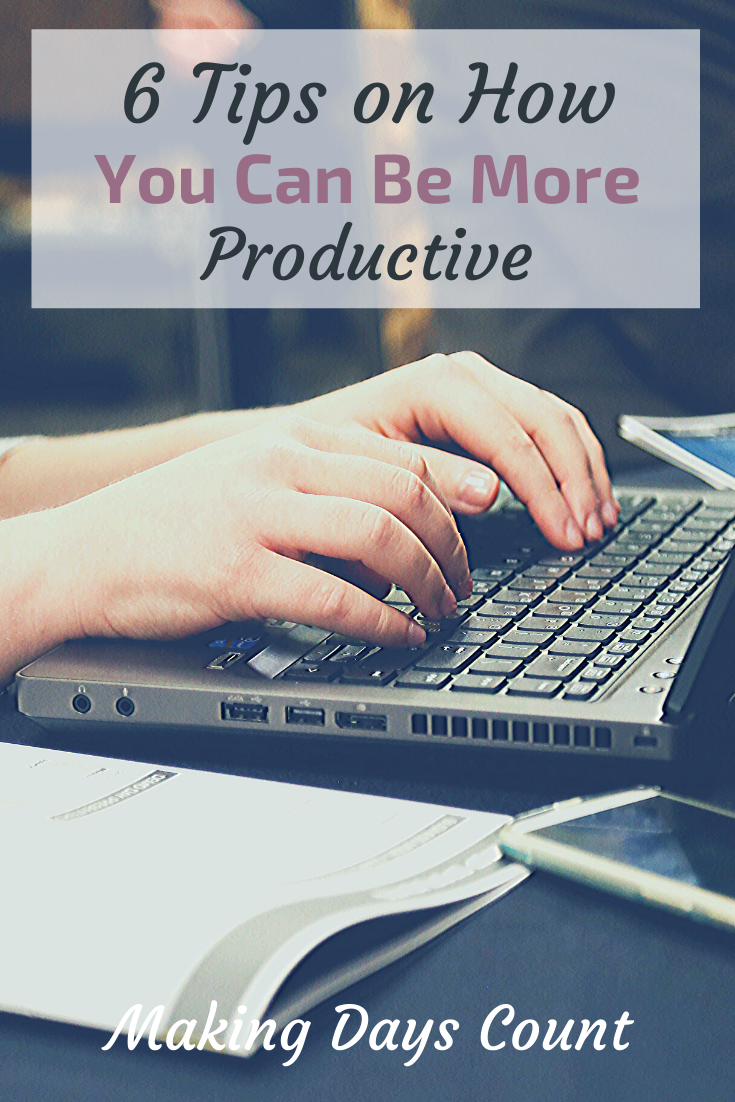 Here are 6 tips on how to be more productive:
BY CLICKING THE LINKS AND MAKING A PURCHASE, I MIGHT BE EARNING A SMALL COMMISSION AT NO ADDITIONAL COST TO YOU. PLEASE SEE OUR FULL DISCLOSURE FOR MORE DETAILS.
Before we begin, you must know your why. Why do you want to be more productive? Some reasons can include to be healthier by exercising and eating healthier, or to finish a project, or you want to not waste your time by watching 5 hours of TV after work. Whatever your reason(s) are, think about it.
Now, write it down.
This will be a visual reminder as we go through this process of how to be more productive.
1. Figure out your reasons for not being about to be productive
We can read and watch videos all about being productive. However, if we do not understand why we are not productive, we will always encounter the same barriers and challenges to our productivity.
Think hard about what is stopping you.
Some examples include perfectionism, priorities, distractions, procrastination, and you don't know where to start.
Is it that your schedules are too full that you do not have the time to bake or that you started watching one YouTube video and the next thing you knew that an hour has passed? Trust me, it happens to me too.
Find out why you think you are not as productive as you would like to be. Write them down.
2. Setup a plan to minimize procrastination and be more productive
This is the step we need to do before start planning and figure out the ways we can be productive.
a. How to stop or minimize the reasons you procrastinate
Now that you know what the reasons are for stopping you to be as productive as you would like to be, think of ways of how to stop them or at least minimize them.
Be specific in your answer. Do not say, I'm going to watch less TV episodes before going to bed. Instead, say, I am going to spend 1 hour at the gym and then I can watch TV to relax before my 11 p.m. bedtime.
The example I gave above helps to specify how I am going to spend less time watching TV.
Another example is cleaning my desk or space tomorrow at lunch so that I can also have a mental clarity of what I need to do.
This involves physical movement of cleaning and also helping you organize your space before you can be truly productive.
If you have kids and need childcare, you can either get a friend or relative to watch them. Or, you can swap where you'll watch over someone's kids one day and they watch over yours another day.
b. Choose a time frame when you are most productive
Some people prefer to work in the morning, and others at night. It depends on your schedule and who you are.
Take note of when you are more eager to work and write it down. This will help when it comes to planning your day or week.
If you are able to, block off the time in your calendar so that you can work when you are most productive.
c. How to minimize phone distractions
Our phones are basically stuck to our hands. Right? Maybe only some of us.
Here are a few ways you can get rid of your phone distracting you:
Put it on silent
Place it in a different room where you can still hear if someone calls
Get apps that help you stay focus such as the Forest App
d. Say No
This is a hard one, however, if you need to work and someone wants to meet, you gotta say no.
Think about it as saying no to the person so that you can be more productive. You are saying yes to other opportunities, yes to finishing that project or work you want to do, and yes to having alone time (for work, self-care, etc.)
3. Get and use a planner
As I mentioned in my blog post How To Plan For 2020 And Make it Count, you must have a planner to stay organized.
Whether a digital planner such as Google Calendar (free), or a paid planner (here are some from Etsy), use one to help you stay on track.
Now you want to create a plan so that you can be productive.
Remember when I mentioned earlier about figuring out when you are most productive?
You can schedule your most important work or work that requires full attention to that time frame. One lesson I learned from Jordan Page is that it is a good time to make time blocks. You work during your work time block. This way, you can remove any distractions and truly focus on what you need to do.
Another part of being productive is to break your task into manageable ones. I talk more about this in the next point. Basically, it is to take your goal or final product or project and make a to-do list of tasks that you need to do to complete what you set to do.
Related: Free Planners to Organize Your Life
One thing you want to remember is that you should work on and schedule work or project based on importance and priority. As Stephen Covey's book 7 Habits of Highly Effective People mentioned, the 4 quadrants of whether things are important, unimportant, urgent, and not urgent are how you can categorize your work.
Do what is urgent and important first, and then slowly organize to work on mostly important and not urgent tasks. You can do this!
4. Start small taking one step at a time
As I mentioned in my Instagram story and my earlier point, it is so important to take one step at a time. Start small.
What I like to do is to look at my to-do list, see what is the easiest one and get it done quickly.
It makes me feel great that I am able to check it off and get excited for the next easiest thing.
Some people prefer doing the biggest thing on the list, however, I think you want to have the small wins first. Be proud of what you have accomplished and know that you can tackle the challenging tasks too.
If you have a big project, you want to break it down into manageable sizes.
For example, if you want to bake a cake.
Here are some tasks you can do:
Find a recipe
See what ingredients that you already have at home
Get the ingredients that you do not own (you might need to go to more than one store for this)
Decide when you are going to bake
Follow recipe and bake (This might take the longest time depending on  your recipe)
Enjoy the cake and share it with others (Sharing is caring, right?)
When you can see what you need to do to slowly piece together this big project, it becomes a little easier to do the necessary tasks.
5. Make changes to your plan as you go along
What you planned is good, however as you continue to work on your set tasks, you might need to tweak it.
See what works and what does not. Note it down.
Make changes to the plan, whether adding or removing something from it, to help you be more productive and efficient.
You can consider the first plan you make as a draft and as you make more plans, you can see how your preferences are and how the plan will work even better for you.
Forgive yourself if you are not able to follow your plan (we can be so hard on ourselves). Just make a new one that excites you.
6. Reward yourself
When you have accomplished what you have set in your plans, reward yourself. It could be as simple as a 5 minute break to watch a YouTube Video or a special meal to celebrate your accomplishment.
Write down in your planner how you would like to reward yourself so it is something you look forward to.
If you are thinking to reward yourself along the way, write down smaller rewards and the biggest one at the end. This way, you are happy with your progress and are more excited to reach your end goal.
Related:
Thank you so much for reading. Don't forget to check out our Freebies page for your Free Planners. If you like what you read, please pin the image below and share with others.