Baby K's first birthday is coming up soon and I want to design her birthday invitation card to invite some baby friends over along with family members to our place.
It's such an important milestone as we celebrate how M and I survived sleepless nights, growth spurts, and figuring out how to keep a baby happy and healthy.
This is the first blog post of Baby K's 1st birthday series. Please stay tuned to read how we're preparing for her birthday party and my thoughts as a mother for this past year.
Here are the other related posts:
2. 9 Motherhood Lessons: My First Year
3. DIY First Birthday Games: Who Knows Baby Best
4. Cheap Party Decor: $5 Paper Plate Wall
5. How to save money on 1st birthday party
6. My 30 Hour Labor and Delivery Story
This blog post will show you two ways of how to create and design a 1st birthday invitation for free.
Pin this for later!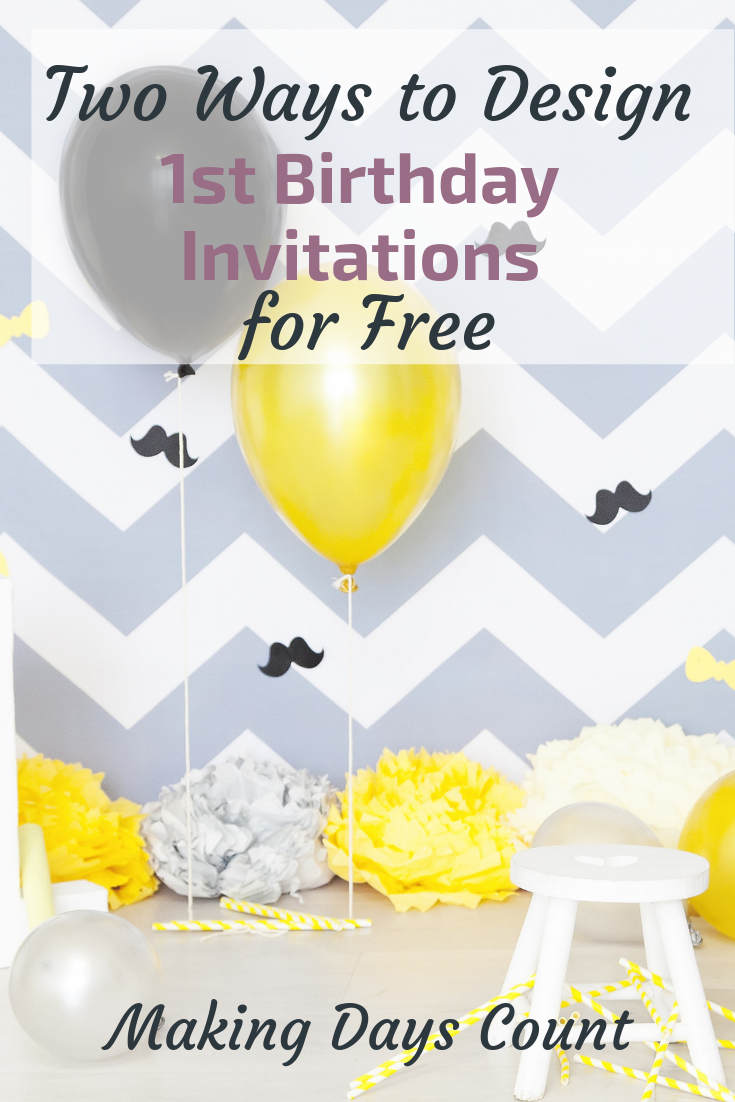 Here are two ways that you can easily design your child's 1st birthday card for free:
BY CLICKING THE LINKS AND MAKING A PURCHASE, I MIGHT BE EARNING A SMALL COMMISSION AT NO ADDITIONAL COST TO YOU. PLEASE SEE OUR FULL DISCLOSURE FOR MORE DETAILS.
Before you start, first, open a Canva Account (It's Free. I'm not an affiliate, I just really like it.)
It's free for you to open an account. You can sign in through Facebook or an email of your choosing. You will only need to pay if you use their premium images or designs. There are plenty of free images, designs, and templates.
Once you sign in, you will see this page (on your desktop).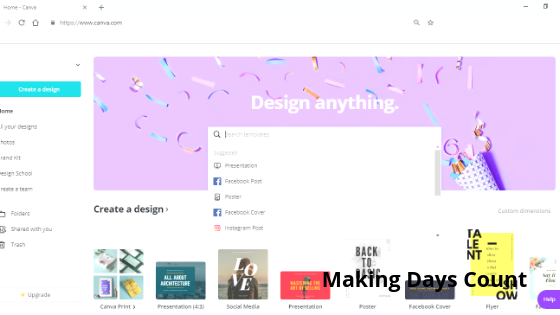 First Option: Using a pre-made birthday invitation template
Type in the search bar for Birthday Invitation. Once you type that in, the following menu will pop down for you to choose a pre-made birthday invitation template.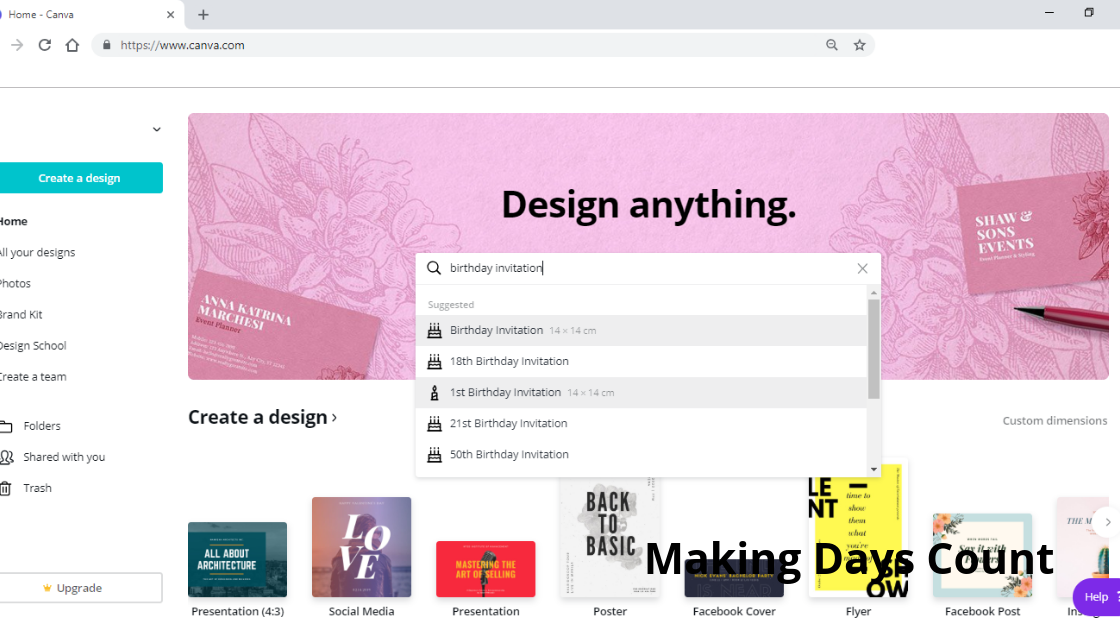 Depending on your preference, you can choose a regular birthday invitation or a 1st birthday invitation template. If you choose one that says 1st birthday invitation, they will show you ones that are more baby-like and some with cartoon characters.
There are also some invitations where you can personalize with your baby's picture as part of the birthday invitation. Please see below for some options Canva provides.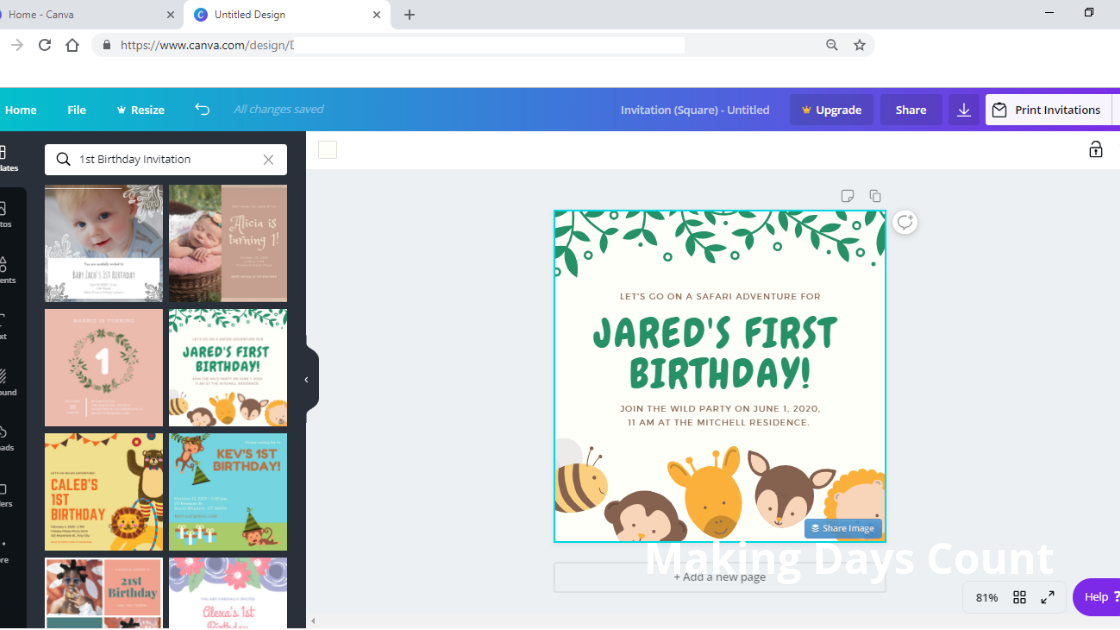 The options they have are so cute and plentiful. It is so easy to 'design' your own birthday invitation with their pre-made ones. All you need to do is to change the name, address, time, and other information that you might want to include for your guests.
The only downside to the pre-made birthday invitation is the limitation of size. They only have 14 cm x 14 cm which is about 5.5 inches by 5.5 inches. If you do not mind the square size invitation, then this would work perfectly for you.
Also, if you want to have a specific colour for your wording, just click on your text and there is a colour square at the top where you can modify the colours to the one that you want.
Two: Create your own size and use an invitation template
Going back to the main page of Canva, insert your custom dimensions. In the picture below, I put 5 x 7 inches. This way, if I print it, I can print two invitations per page. You can choose whatever size you want. It can be square or rectangular.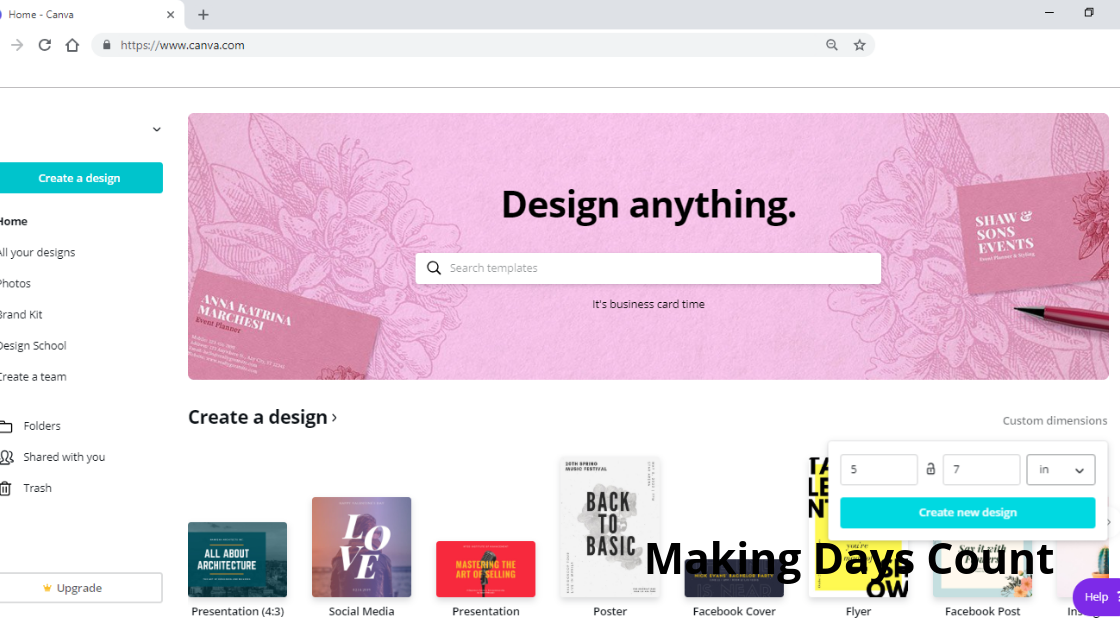 After you enter your custom dimensions, a new page will pop up with a blank page similar to the one below. In the search button, you can look up birthday invitations. This will give you different templates that you can use with the custom dimensions you have entered.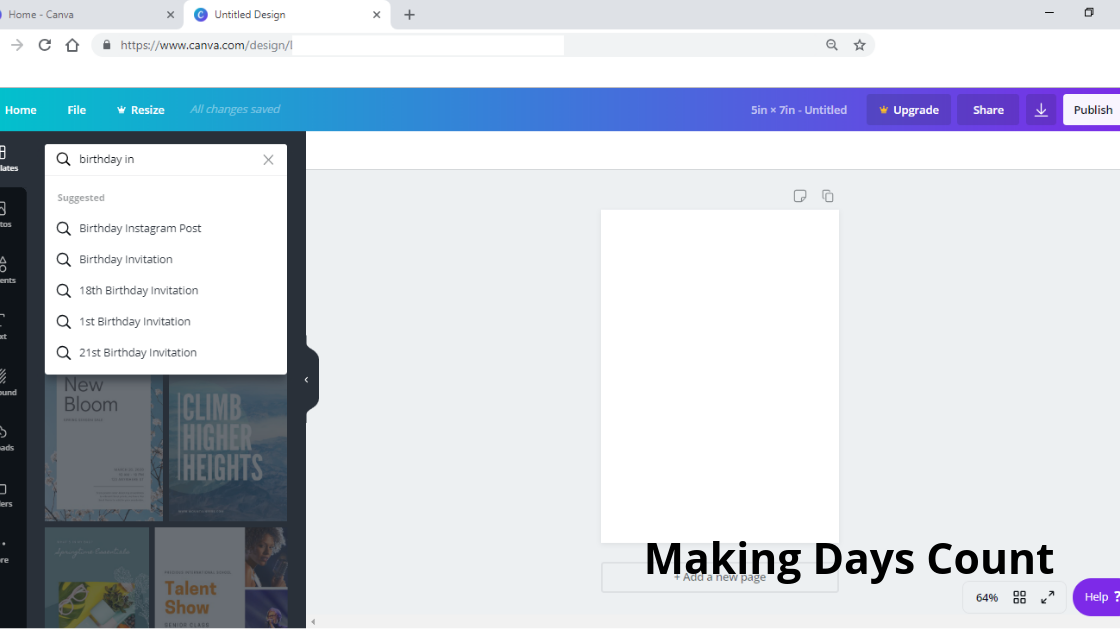 Browse around to see which of the templates that you like. You are not limited to the 1st birthday invitations only. Look at the general ones and the other age groups as it might fit what you are looking for better.
What you can do once you find a template that you like is to change the wording. You can change from "Twenty-One" to "One" like I did in the image below. What I like about Canva is that even though they have the pre-made templates, you can still decide on the wording and if you don't like something in the template, just click on the element and delete it. It is simple as that.
If you are still browsing and don't see something that you like in the birthday invitation section, try looking for invitations or if you have a theme, such as flowers, you can search for it as well. Even though it might say that it is for someone's retirement or engagement, just change the wording to fit your event.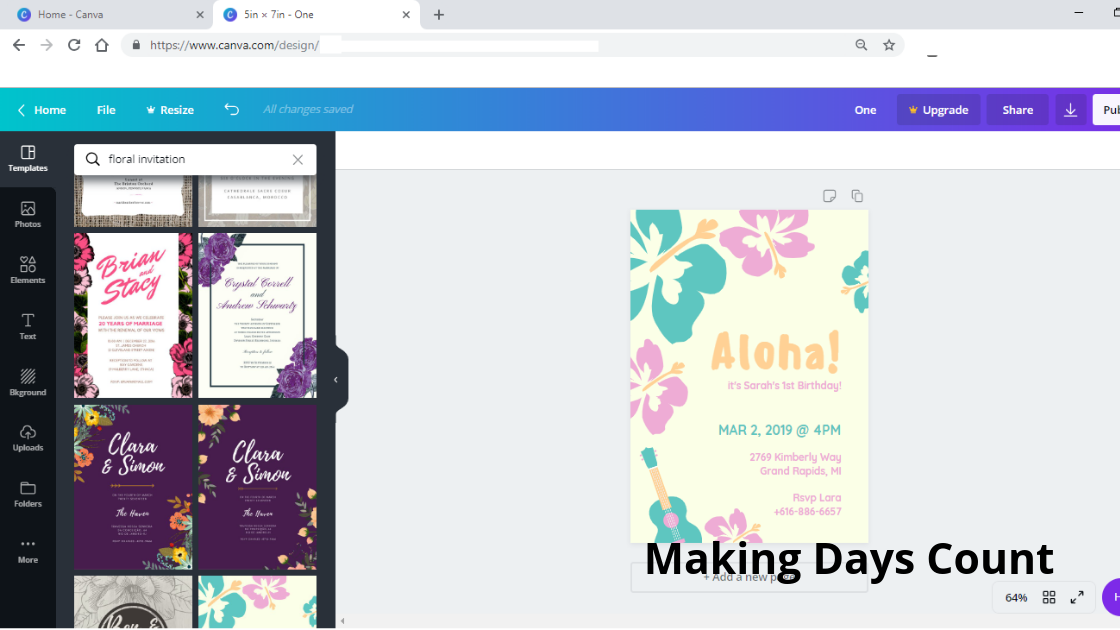 Finally: Download your image and Distribute to family and friends
Once you are happy with what you created, press download and you can either print it out or send it to family and friends through WhatsApp or Facebook Messenger.
If you are printing it out, be sure to open Word Document, insert the image in the document before printing. If your invitation is 5 x 7 inches, you can put two on each page. You can save money on printing this way.
If you're reading this and think that it would be better and easier for someone to design for you, I highly recommend Etsy as they have many creative and artistic designs (just like the picture below) for you to choose from.
Thanks for reading. If you are interested in other Canva tutorials, please check the following blog post:
Before you go, please know that this blog post is part of Baby K's first birthday series. Here are the other posts:
2.  9 Motherhood Lessons: My First Year
3. DIY First Birthday Games: Who Knows Baby Best
4. Cheap Party Decor: $5 Paper Plate Wall
5. How to save money on 1st birthday party
6. My 30 Hour Labor and Delivery Story
If you like what you read, please pin the image below and share this with others. Thank you so much.