Are you interested in going to the Toronto zoo? I did a calculation and it was around $70 for two adults (babies are free) plus parking. That is expensive. It is slightly cheaper now that it is past October 15.
I looked for ways to save money such as looking online for coupons. There is one that gives 10% off, but I found one way to get free Toronto zoo tickets.
Completely free.
It is free for two adults and two children from the ages of 3 to 12. That's a pretty good deal. You can save almost $100.
Be sure to read to the end for the step by step process of how we got these tickets for free.
Pin this for later!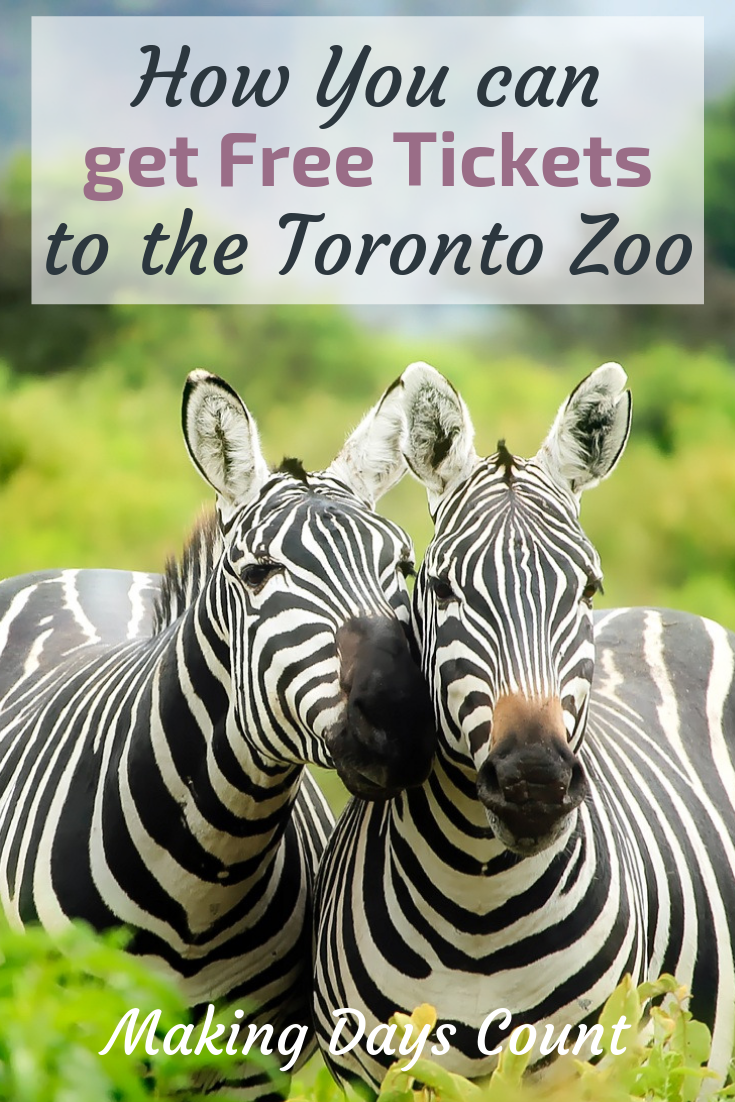 Here was how we got Free tickets to the Toronto zoo:
BY CLICKING THE LINKS AND MAKING A PURCHASE, I MIGHT BE EARNING A SMALL COMMISSION AT NO ADDITIONAL COST TO YOU. PLEASE SEE OUR FULL DISCLOSURE FOR MORE DETAILS.
Also, please note that parking is not included. You will need to pay for parking if you drive to the zoo.
1. Get a free Toronto library card
If you live in Toronto, you can go up to any branch with proof of your residency and get a library card. This could include drivers license and other official documents.
If you do not live in Toronto but work in Toronto, you'll need to show your pay stub. It is really nice for those who work in Toronto to get the opportunity to participate in programs like this.
It is a quick and easy process to get your library card. The only thing is that you need to go in person and cannot apply online (based on what I remember).
2. Check the library website for locations
The next two points go hand in hand. Look up the library website to see the locations where they give out these free Toronto zoo tickets.
It's part of the Map Pass program, which I will talk more about it later.
Check the time, day, and how it'll be given. Is it first come first serve? Or is it a draw where everyone puts their name in and wait?
Be sure to check the cut off time if you're going for a draw.
3. Learn about the Map Pass
The Map Pass is a program where anyone who has a Toronto library card can participate to get free tickets. Whether it is to the zoo or a museum or Science center, it is free.
This is made possible by donations.
Not every city has this opportunity, so I'm very grateful that Toronto has this.
For more information, please click here: https://www.torontopubliclibrary.ca/museum-arts-passes/ 
4. Arrive to your chosen location on time
Once you know which location is giving out free Toronto zoo tickets, be sure to go on time.
For the location we went to, they were accepting library card numbers between 9 a.m. to 9:50 a.m.. The draw was happening at 10 a.m. We got there around 9:30 a.m.
Unfortunately they told us that we needed to put our stroller away as it would block others.
At that time, there were not many people but more and more started coming in as it got closer to 10 a.m.. M decided to put the stroller back in the car and it was such a good decision. It was so packed at 10 a.m. during the draw.
If you have a lot to carry like the diaper bag, it'll be good to bring out the baby carrier.
5. Wait for the draw and hope for the best
This is the most exciting part, the draw. I know, getting tickets are not guaranteed this way. However, it only takes less than an hour of your time so might be worth it.
The librarian called everyone to the front desk for the draw. She then called out the last 5 digits of the library card.
We waited as she called out at least 5 people before she called out M's library card number. I'm sure both M and I were praying for one of our numbers to be called. I read that there are only 3 passes available for the zoo. I was anxious to see if we got it.
We did.
Thank God. Now we can to the zoo for free! Yay!
6. Have other options if the Toronto zoo tickets are gone
One thing to note is that we were prepared to have another option if the Toronto zoo tickets were not available. I thought to get the Ontario Science Center tickets as our second option.
However, those tickets ran out around the same time as the Toronto zoo tickets. I am so grateful to get our first choice.
I wish you all the best and that you can get these Free Toronto zoo tickets. If you did not get them, please know that there are other free zoos around Toronto such as the one in High Park and Toronto Islands (weather permitting, of course).
Please let me know if you did get your free Toronto zoo tickets or another ticket from the Map Pass program.
If you're interested in other baby related posts, here are some:
Thank you so much for reading. If you like what you read, please pin the image below and share it with others.