How to plan a bridal shower on a budget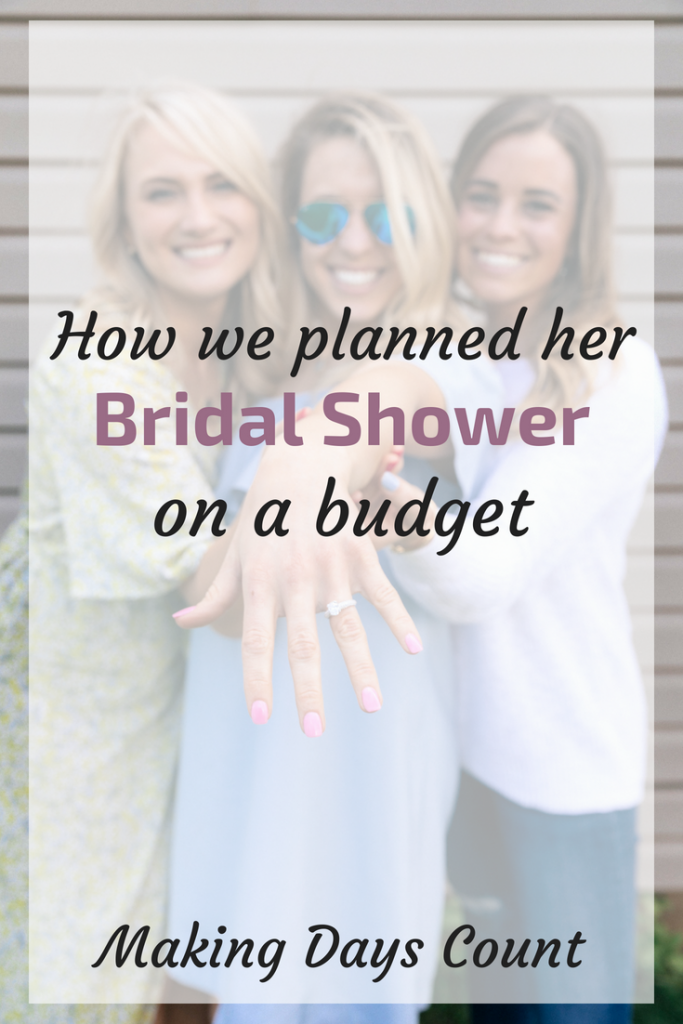 Yay! She finally got engaged and now you have to plan her bridal shower. How exciting and overwhelming at the same time! You can choose to do something very simple or something completely extravagant. It's basically planning a mini-wedding.
BY CLICKING THE LINKS AND MAKING A PURCHASE, I MIGHT BE EARNING A SMALL COMMISSION AT NO ADDITIONAL COST TO YOU. PLEASE SEE OUR FULL DISCLOSURE FOR MORE DETAILS.
Here is the breakdown:
Location
Decoration
Food
Games
Gifts / Favours
Guest List
Guest List
Who are you inviting to this bridal shower? Do you have the list of guests who are invited to the wedding? Have you considered coordinating with the groom? Work with the other bridesmaids/maid of honour to decide who will be invited to this? If you want to ask the bride directly, ask her for a list but don't share other details if you want it to be a surprise bridal shower.
Once you have the guest list, invite them through mail, email, or give them a call. Let them know the date, time, location, theme, and other necessary information.
I prefer to send a FREE electronic invite and used evite (free, not an affiliate) for one of my good friend's bridal shower. There were so many cute designs. We went with the Floral Tea Cup Shower design for a teapot bridal shower luncheon.
Location
Where are you going to have this bridal shower? Is it going to at someone's house, a restaurant, a private condo party room, or in someone's backyard garden?
Be sure to check for space capacity. It is always better to expect a higher number of attendees than less. You also want to check for convenience. Do you find the location accessible? Is it easy to get to and for those who are parking at the location, where can they park?
What time do you want to host the bridal shower? You might need to do a survey with the participants and especially check the bride's schedule (secretly, of course).
Decoration
Depending on the location of choice, you can then decide on the decoration that will go with the place. Check with the manager or owner whether you can put some decorations up. If they say that you can't, then it is less work for you and you don't have to worry about it.
If you can decorate the place, choose a theme. It could be colour theme, princess theme, or whatever you feel that the bride would love.
For the bridal shower I helped decorated, we did an enchanted forest theme.
This is the process how I decided how to decorate:
Is there going to be a photo booth wall? If yes, I need to decorate the wall to be a backdrop. You can use balloons or streamers. I decided to create trees for the enchanted forest theme. We added the "Bride to Be" sign in the middle to complete the look.
If it's an enchanted forest, do we want to do anything to the ceiling? Because it's someone's house, we are able to decorate over a couple days. We hung yarn from one side to the other with dollar store leaves and branches taped across the yarn. I also added real baby breath throughout. We used Command strips (Affiliate) to hang the yan.  The trick is to tie it really tightly. I actually decided that I want to hang them higher and closer to the ceiling. M had to take it down and put it even higher. He was so amazed by how smooth it was to remove the sticky backing and to put it up again. We got it from Walmart.
We decided to forego balloons because it might be too much and I was glad we did that.
I also hung some pom poms (see picture above) on the ceiling and some flowers on the wall in a heart shape.
If you are interested in how to make the pom poms, check out our post on how to make the pom poms.
Food
Are you doing a potluck or catering if you're doing it someplace other than a restaurant?
If you're having it at a restaurant, you want to find something that most people will enjoy eating. Also, please consider the participants' budget when choosing a restaurant.
For this friend's bridal shower, we catered some wraps and asked for others to bring something for the potluck.  People brought chicken, drinks, dessert, crepe cakes, and potato salads. It was more than enough that everyone who came could bring something home for an afternoon snack and more.
Please ask if anyone is allergic to certain food. This is vital. I know that most adults will know to refrain from eating something that makes them have allergy symptoms. But, you want to be cautious and kind to ask in advance to avoid a visit to the hospital.
Games
This is where you can get creative. There are so many games you can find on the internet.
We played two games.
One was Bridal Pictionary.
With the Bridal Pictionary, I printed a bunch of words related to weddings such as groom, maid of honour, wedding dress, aisle, and champagne.
I put them in a cup and divided the bridal shower guests into two groups. They then competed with each other – friendly competition of course. It was hilarious when the bride got "groom" as it was her turn to draw. She drew a stick man with a bow. I would probably do the same thing.
The other was Who do you think is it?
I gave everyone a piece of paper with a list of questions like "Who is always late?" to "Who has a cleaner car?". It's so interesting to see what everyone thought and I compared them to the answers both the bride and groom gave. (I've asked the groom to fill up the questionnaire before the bridal shower).
You can decide what games you want to play and whether you need a lot of resources for your games. Also, if you can play the game(s) at the location of your choosing.
Gifts/Favours
Are you planning to give out favours? If you are, what kind of favours do you want to give to the guests? They can be a simple way to thank people for coming to the bridal shower and make the bride feel loved and supported.
I've been to two bridal showers where they gave out favours. One gave out plant seeds in a burlap bag with soil to represent the message "Let love grow". At another one, they gave out tea bags in a paper teapot (Sorry, I don't remember where I got the free template for the paper teapot).
If your guests are bringing gifts, you want to make sure that there is a place for gifts that the bride can bring them home. It's up to the bride if she feels comfortable to open the gifts in front of everyone. Some guests might not feel comfortable for her to open their gift so check with the bride the day of.
Here is a picture:
Please let me know if you have anything to add in the comments section below. Happy Planning!