Keeping a toddler busy with indoor activities is not an easy thing to do. I know because I have a two year old, and from the second she wakes up, she is full of energy until she takes her nap or falls asleep at night.
I have no clue how they get so much energy and retain the same amount of alertness and energy throughout the day.
If you are feeling the same way that I did, don't worry, I have come up with some ideas that can help you entertain your toddler during the colder months or when you have to be indoors.
Especially during this pandemic, it can be a quite stressful period for us all. Whether we choose to be indoors, or it is really the weather (winter is coming, we had snow in November!), these 15 ideas will help you get started on what to do.
Some general ideas that you can also do in addition to these is to look at what celebrations are coming up, to do activities related to that. Some examples include Thanksgiving, Christmas, New Year, Valentine's Day, etc.
I'm excited for you to check out these 15 activities that your toddler can do. These activities that I'm sharing with you does not requite too much effort on your part, but some of them do require you to be with your toddler when they're doing these activities.
Pin this for later!
Here are 15 indoor toddler activities that you can try out:
BY CLICKING THE LINKS AND MAKING A PURCHASE, I MIGHT BE EARNING A SMALL COMMISSION AT NO ADDITIONAL COST TO YOU. PLEASE SEE OUR FULL DISCLOSURE FOR MORE DETAILS.
1. Indoor Bowling/Soccer
Indoor bowling and soccer is a fun activity for toddlers and also for pre-school children. These are very simple games and yet can occupy at least 10 minutes of their time.
There are a few ways to do this. I will share with you the frugal way and also a link where you can buy the actual pieces for these games.
The frugal way for bowling is that you can take a bunch of paper cups and arrange them like bowling pins, and using a regular lightweight ball to roll them over. Another fun way to play with this is that you can stack the cups up like a pyramid formation and 'bowl' your ball towards them hitting them on the ground.
If you prefer for your toddler to have the full experience, you can get your bowling set here. This is the one I got and the only downside for mine is that the light in the bowling ball didn't last very long. The quality of the pins are pretty good even after being tossed, and hit from many different angles.
The frugal way to play soccer is quite simple, you can just get a soccer ball or a regular ball and kick it around the house. You can also create an obstacle course by placing cups in different spots and they have to kick around it.
Again, if you prefer to get the full experience, you can buy a soccer ball, and this game set where it has other games as well as the game pieces you will need for all of them.
Indoor bowling and soccer for toddlers can be really fun. You might need to show them how to do it at first, but they are quick learners and will be able to enjoy these games by themselves soon.
2. Water Play (with or without food coloring)
I'm not sure what it is but water play is something that toddlers love. Whether it is playing in the bath tub or just with random items, they have such a blast.
Water play is an indoor toddler activity that I love to do in our home.
Yes, it can be pretty messy as they can get themselves wet and the ground all over them. But, if it occupies them for at least 5 minutes while I finish up an email, it really helps and worth it to clean afterwards.
Here are a few ways that you can have water play:
In the bath tub (here is the duck bathtub that we have) with water toys
Water and some toys in a big container (be sure to put a huge cloth underneath to absorb the water that gets pour onto the floor)
Take out containers with water in them. You can add a different food coloring for each container.
Water play table (this is similar to the one we have)
Each of these ways have their own pros and cons. The easiest to clean up would be in the bath tub since it's meant for water.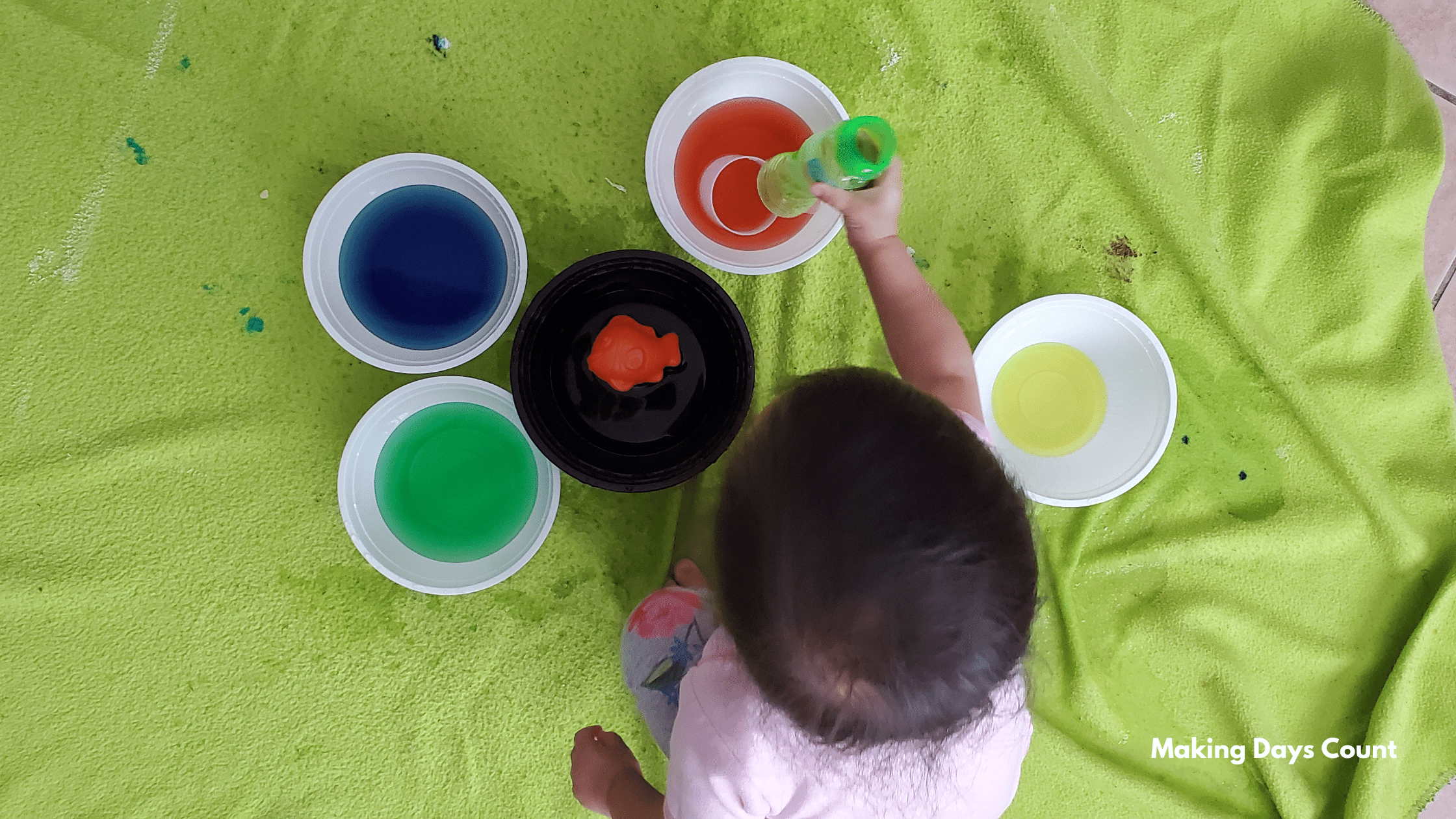 The best is for you to experiment and see what works for your child and you. If you don't mind the mess, maybe pick one of the later options. However, if there's already enough for you to clean, maybe the first option would be the best.
3. Farm Animals
Toddlers love animals, especially farm animals for some reason.
It could be because of the Old MacDonald song or they like the sounds that these animals make.
I bought a few farm animals from the dollar store (but you can get farm animals online here). There are a few ways to play with farm animals.
Here are some songs you can sing:
Old MacDonald had a farm
B-I-N-G-O (if you have a dog)
See the little bunny sleeping (if you have a bunny)
Five little ducks
Some activities you can do include:
Organize the animals from shortest to tallest
Organize the animals from smallest to biggest (depending on the animals you have)
Count the number of farm animals you have
Learning the colors of the animals
Play pretend of the farm animals talking to each other
These are just some ideas to get started. Let your toddler tell you how they want to play with the farm animals after you show them some ideas that they can explore. You might be surprised by what they can come up with.
4. Coloring on cardboard boxes
I learned this from my sister in law. A quick way to get kids' attention is by asking them to draw and color on cardboard boxes.
You know how you've been buying stuff from Amazon? No, just me?
Well, the cardboard boxes that come with these things that we buy can be reused as the toddler's coloring 'book'.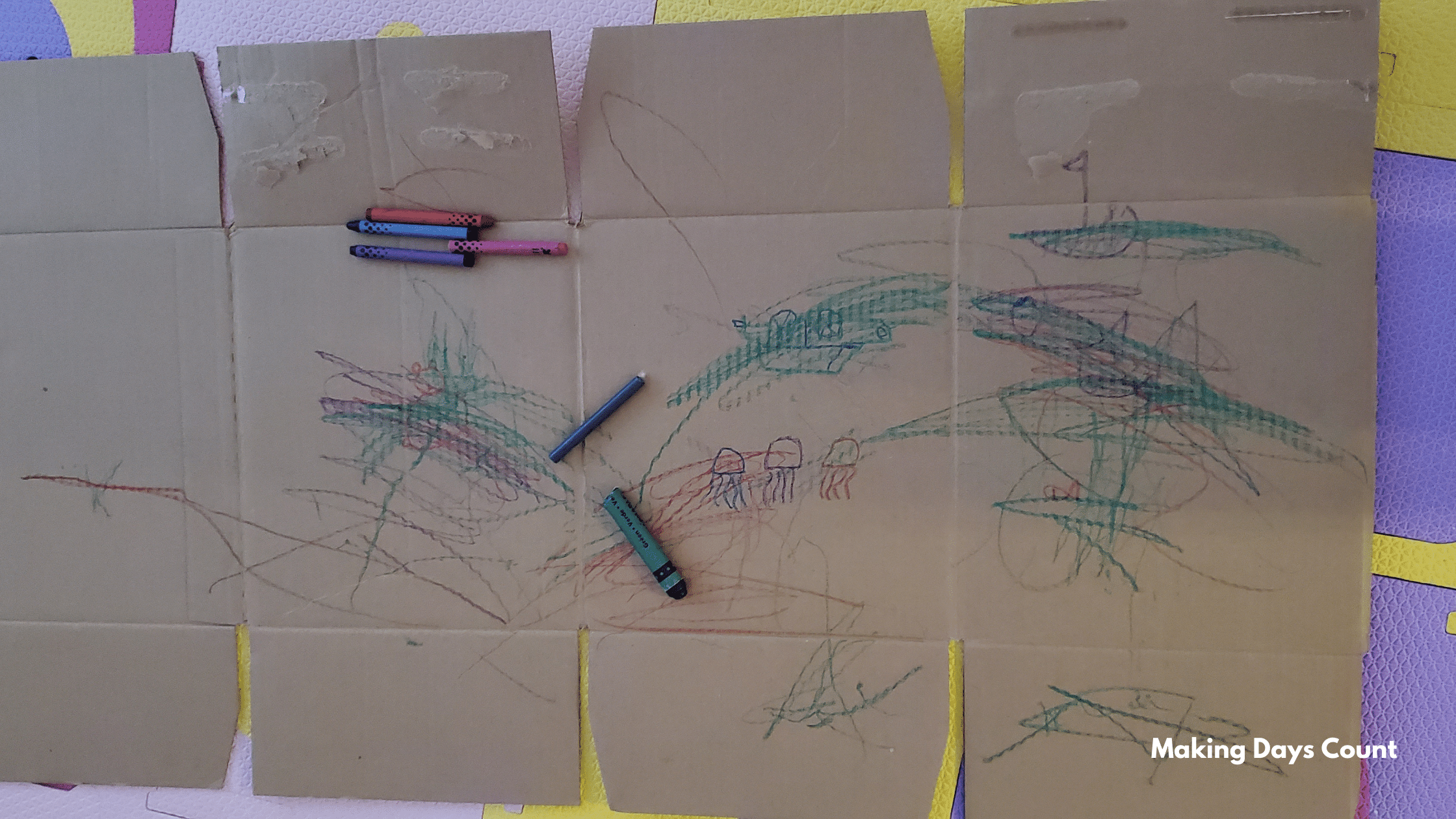 Markers would probably work the best, but crayons are probably safer and easier to clean in case it gets anywhere else in the house.
You can even draw some animals on there, or encourage them to draw whatever they are obsessed with at the moment. Another idea is to tell them that you are drawing the ocean. Ask them what can they find in an ocean. You can then draw the fish, shark, crab, jellyfish, and anything else that they know or you want to teach them about.
Once you are done with drawing on that cardboard, you can just recycle it and that 'clutter' is out of your home.
5. Painting with leaves
This is a one of the really fun indoor toddler activities for the fall, spring, or summer. Painting with leaves is a great way for the toddler to learn their colors and also seeing the different shapes of leaves.
Painting is a great way to keep your toddler entertained. I would recommend for you to use washable paint like this one. It's just easier to wash their hands (and face, if needed) after they are done.
There are two steps to this activity and hopefully your toddler will enjoy them.
First, it is to collect the leaves.
When we first did this activity, it was during the fall where the leaves are falling to the ground. We just picked up whatever leaves we found to be nice.
You can also either choose leaves from the ground or on your own tree. It's up to you. If you rather have faux leaves, then you can always get them at the dollar store.
Second, paint on the leaves and stamp on paper.
Using your washable paint, put paint on the leaves with a foam brush (you can get either at the dollar store or online). Then, stamp it on a piece of paper.
Your toddler might prefer to paint the paper itself and not use the leaves. That is perfectly fine.
This just gives them a variety of ways to paint and to learn about the patterns of the leaves.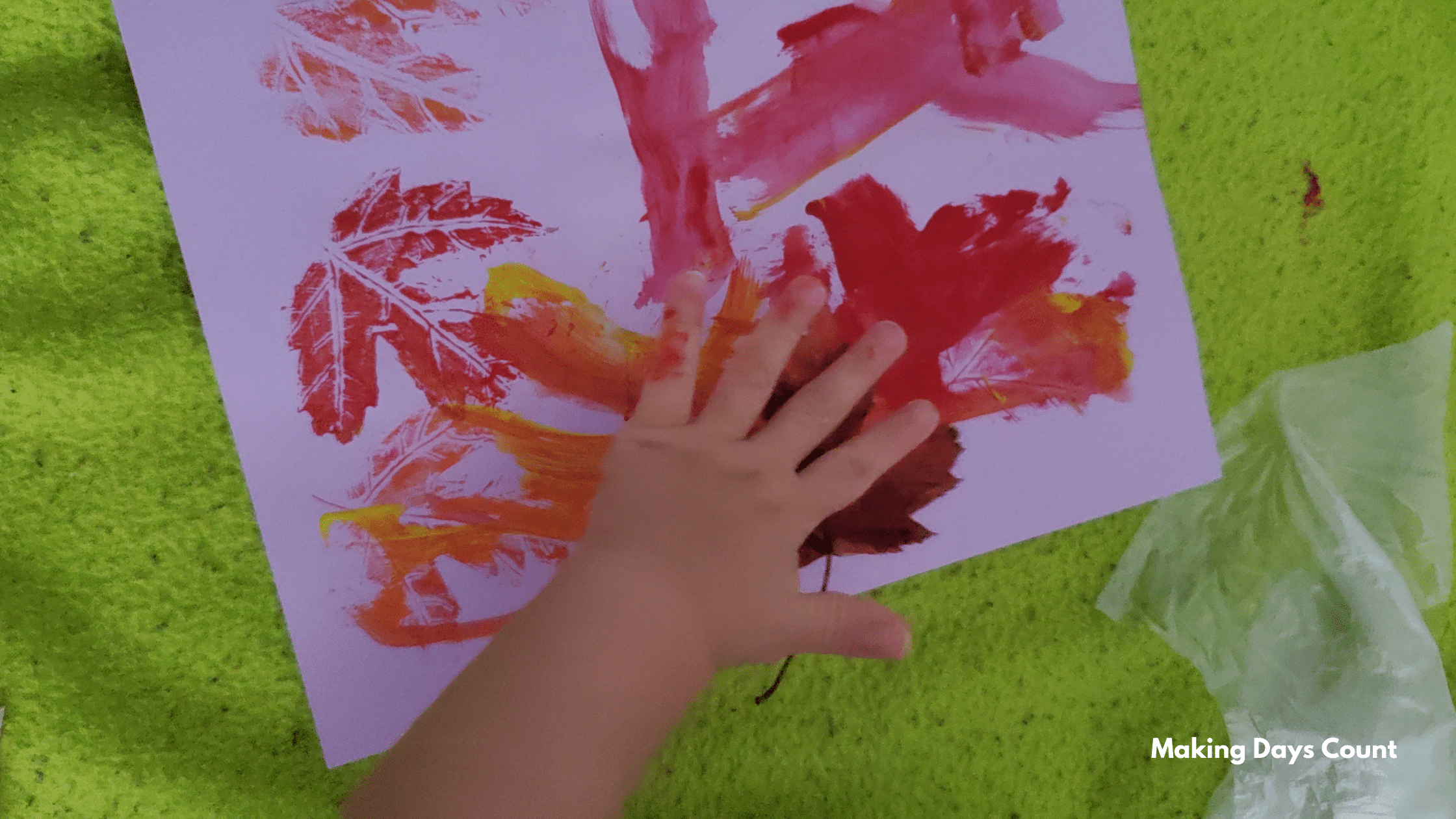 As you can see in this picture, it looks pretty nice as decoration for your home.
6. Pretend Play (cooking, tea party, doctor)
Pretend play is one of the indoor toddler activities that can be short or long depending on the interest of the child.
You can use what you already have to play pretend, or buy some toys to help enhance the experience.
Here are some pretend play that they can do:
There are so many situations you can create with your toddler that mimics the real world. You can explore different occupations, going to the 'zoo', or make forts to pretend you are outside under the stars.
If you are very creative, you can do a theme for the week.
For example, if you want to do a food theme, you can:
Go to the supermarket (take your food toys and arrange them nicely in your play space)
Visit the bakery (you can take turns to be the customer or baker or cashier)
Work on a 'farm', maybe planting food seeds or harvesting fruits
Start with something small and simple, then slowly expand what you can do with pretend play. Pinterest is a great place to check out more ideas.
7. Cars and Trucks
Looking at and playing with cars and trucks is one of the really fun indoor toddler activities.
As a parent, I try to get my daughter to test out different toys to see what she is interested in and not just limit her to specific set of toys.
I find that with cars, trucks, and buses is a fun concept for her.
Though she is not really interested in playing with them at the moment, she likes looking at them outside. Whenever a truck or a bus goes by, she points them out. This is always a great learning point to ask her what color is the truck, car, or bus.
You can try showing your toddler the cars, buses, trucks, or other types of transportation outside your home. See if they are interested in learning about them.
If you have a few cars and toy trucks at home, there are a few ways that your toddler can play with them:
Free play
Line them up to see how long the line gets
Line them up according to height, or length, or a category of your choosing
Pretend that the cars, buses and trucks are coming from different directions and your child is the traffic controller
Create a racing track and see which one is the fastest
Here is a picture of my daughter sitting on one of the vehicles:
Why did she do that? I have no clue, but it was pretty funny as she was treating it as a moving chair of some sort.
8. Dress up
Toddlers love to choose what they want to wear. I don't know when it starts for you, but for my toddler, she started to have preference on which top and bottom she wants to wear for that day.
As for dressing up, similarly to pretend play, is a really fun toddler activity.
Playing dressing up does not have to be very expensive. All you really need is your imagination and a little bit of creativity.
Here are some ideas to get you started:
Using a towel as a cape (could be any superhero)
Cutting cardboard out to be a sword, flat pan for pizza, conductor baton etc.
Making a paper or foam crown
Using parent's shirt as a dress or costume for some role playing
But, if you prefer to buy outfits for your toddler, look out for deals on Amazon and also at party stores for the best deals.
9. Play dough
There is something about play dough that is so much fun. It's a really great sensory item that can be played with for a long time. You can also add accessories to it to make it more interesting for your toddler to play with.
There are two ways you can get play dough.
The frugal way (and some might argue healthier) is to make it yourself.
I made it for my daughter using this recipe. We don't play with play dough every single day, but it is still in a pretty good shape. If you do try it out, take a picture, tag Erika on her social media and me at @makingdayscount.
Some people prefer to make it themselves so that they know the ingredients in the play dough and are not too worried in case their child decides to put it in their mouth.
To make things more interesting, I've also added random items such as different plastic tubes, leftover bubble wands, and other things I can find in my home.
The second way is to buy play dough online.
You can get play dough at different online stores or in the store, depending on your preference.
There are play dough sets that you can get with the different accessories, and also themed ones if you prefer that as well.
10. Puzzles
Puzzles are such a fun activity for toddlers. Whether it is a simple one as a few pieces (like these ones), or a more complicated one, it's a great way to get them to think about how things fit together.
Depending on your toddler interest, you can also get themed puzzles such as transportation or animals.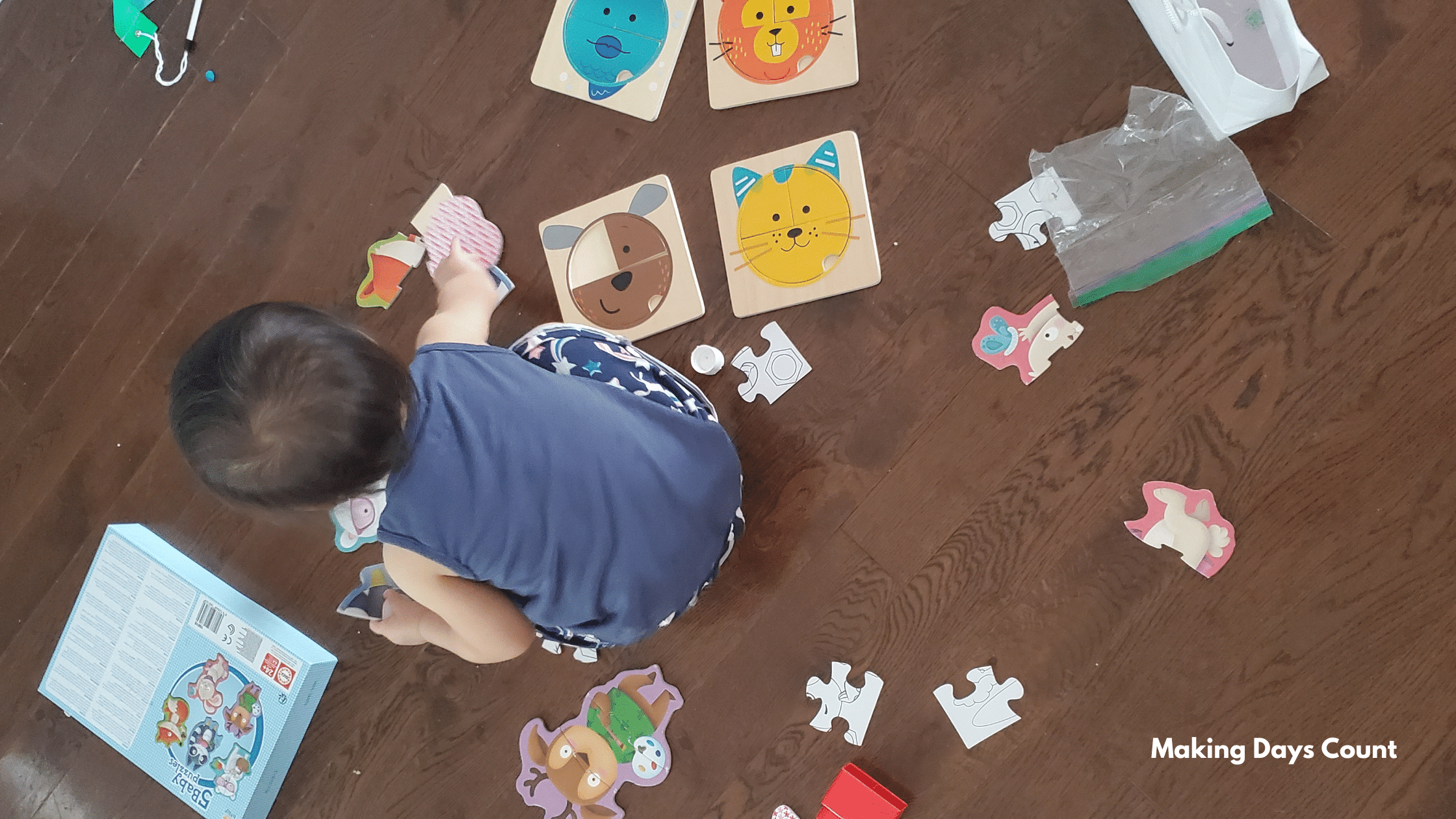 It might be a little challenging at first, but they will figure it out over time and want to show off their skills. Start with something easy and slowly move up the complexity.
There are so many kinds of puzzles from slotting pieces to fit into their spots such as this one, or actually putting pieces together like this one. You'll be sure to find something that your toddler will enjoy.
11. House Chores
House chores might not be your favorite thing to do, but a toddler loves to help out around the house.
These chores are great indoor toddler activities to get your toddler involved with and also help you tidy your house a little more. Of course you want to assign simple task to them that they can do without getting too frustrated.
You can start with putting away their toys, sweeping or vacuuming the floor, or even wiping things down with a microfiber cloth.
When they do these house chores, they feel like they are helping you out and feel pretty good about it.
There are toy cleaning supplies you can get them if you are interested, but I believe that if they can actually help you at home with these chores, why not?
12. Cups and a ball (tossing between, stacking and throwing at it, or rolling from table)
There are so many ways to play with some cups and a ball.
As I mentioned earlier, you can do something like bowling where the cups could be the bowling pins.
When my daughter was a baby, she found it fun just transferring a ball from one cup to another, back and forth.
As they get a little older and need more challenges as a toddler, you can be quite creative with what you can do with cups and a ball.
Here are some ideas:
Tape some cups to the end of the table and roll the ball from the other end (check out the picture below)
Throwing the ball from a distance to knock down the cup
Aiming to throw the ball into the cups (no drinks involved, of course)
Tossing the ball at you to try and catch it with a cup in your hand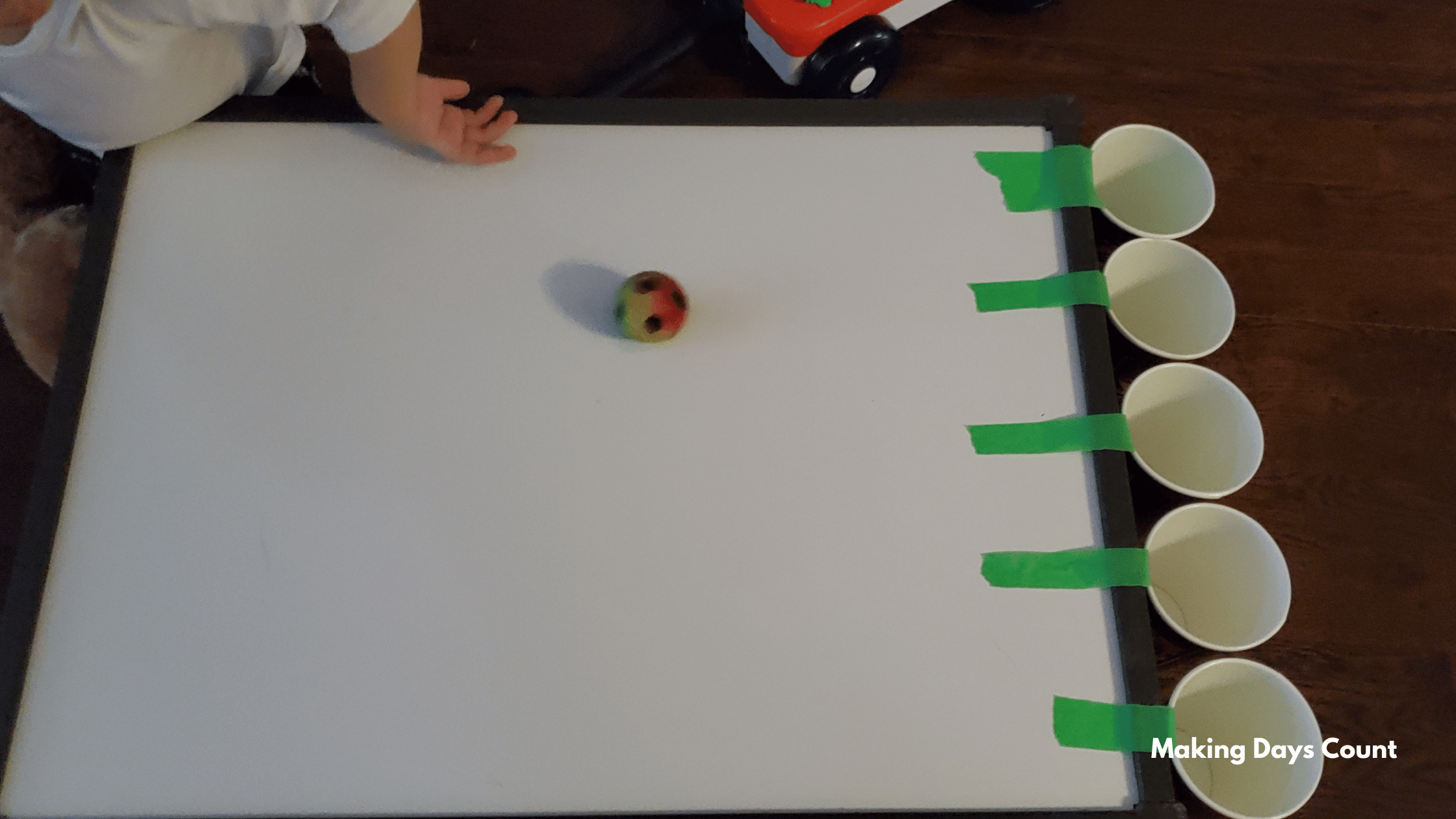 Start with a few ideas and then let your toddler be wild with their imagination of how they would like to play with the cups and balls.
13. Build an indoor fort or tent
Using cardboard boxes or blankets and chairs, build an indoor fort in your living room.
This is so much fun for your toddler to sit inside and play pretend.
What I like about this activity for toddlers is that it can be simple or complicated as you guys like it to be.
The indoor fort or tent may not be up for a very long time, but they can spend a lot of time in it while it is still up.
They can imagine that it is night up and they are looking at the stars, or pretend to go camping, or have a sleepover with their siblings/or you. It can be a safe space for them. They can set certain rules or say that it is a restaurant for that day.
Of course, you want to set some boundaries for safe play and also to keep an eye on your toddler at all times.
14. Pipe cleaner fun!
Pipe cleaners can be so much fun to play with. If you are creative, you can bend them into different shapes and create different things with it.
However, I'm going to share with you different ways you can encourage your toddler to play with pipe cleaners safely.
You can bend the ends so that they will not poke themselves with the sharp ends.
Here are some ideas that I've tried with pipe cleaners (you can get them online here):
Poke holes at the bottom of the used tissue box using a screwdriver. Then, put pipe cleaners (4 to 5 inches long) in each hole. The toddler can practice putting in and pulling out the pipe cleaners.
Another similar idea is to punch holes into the used toilet paper roll. For this one, you will need longer pipe cleaners to get from one side of the toilet paper roll to the other.
Color sorting. Put a variety of pipe cleaners in a box and asking my toddler to give me a certain color pipe cleaner. Sometimes she'll play along, and sometimes she wants to be silly and purposely gives me another color with a grin on her face.
Try some of these indoor toddler activities ideas out and also look at Pinterest for more pipe cleaner ideas as well.
15. Songs and Dance
Last but not least, songs and dance are great activities for your toddler.
There are so many children songs with actions that you can do with your toddler. This will help them with their vocabulary and also keep them active.
I find that my toddler will start singing a random song in the car because she finds it very catch and likes the action that goes with it.
Here are some of my daughter's favorite songs and dance:
Wheels on the Bus
Sleeping Bunnies
Baby Shark
Head and Shoulders, Knees and Toes
Roly Poly (Mother Goose)
You know your child best and see what they are interested in doing. I hope that you find this list of 15 indoor toddler activities helpful for you to get started. Let me know if you have any other ideas for indoor toddler activities in the comments below or email me at becca@makingdayscount.com.
Related:
Thank you for reading this blog post on "Indoor Toddler Activities". If you like this post, please pin the image below and share it with others. Don't forget to read the other posts if you're interested!