Welcome to my first ever income report. If this is your first time here at Making Days Count, hi, I'm Becca.
I talk about lifestyle as a parent, travel mistakes to avoid, and occasional home projects.
My reasoning of writing this income report is to share with others what they can do too with a lifestyle and travel blog. Please know that I am only at the beginning stages though I started the blog awhile back.
Thank you so much for coming by. I hope you enjoy your stay and please let me know in the comments below if you have any questions.
Background of my blog
I started this blog back in July 2018. Yes, it was 1 year and a half ago. When I started the blog, it was more of to share my ideas and experiences with others.
In this blog, I talk about travelling, DIY projects, and my journey as a parent.
In July 2018, I was pregnant with my kid Baby K. If you are pregnant and thinking of starting a blog, my suggestion is to pre-write many blog posts before your intended due date and also schedule and automate many parts of your blog if possible.
Or, you can go slow like I did.
I did write blog posts and schedule them but that was pretty much it.
My blog had ads and affiliates, but I was not really doing  much because I was busy with my baby. (Hats off to moms who work their butts off starting businesses while having a baby to take care of).
Slowly, but surely, my blog views started to rise.
Fast forward to December 2019. I was at 877 readers a month with about 931 sessions.
I thought, you know what, I need to do something different.
Though it is exciting to watch my numbers grow month by month, I wanted to see if I could increase my viewership a little more. I did and it went to 1,602 readers in January 2020. I will talk more about what I did later in the post.
Pin this for later!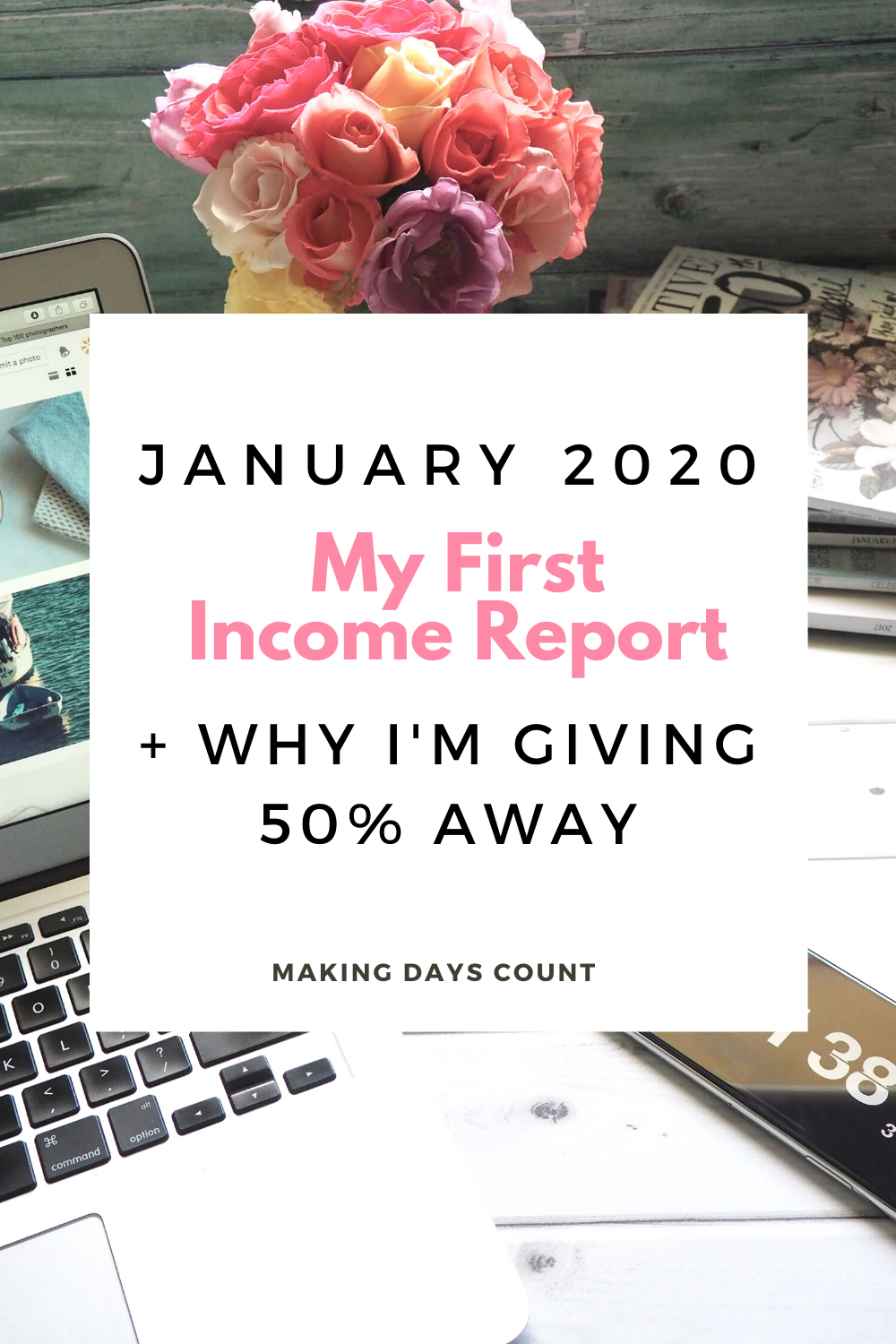 BY CLICKING THE LINKS AND MAKING A PURCHASE, I MIGHT BE EARNING A SMALL COMMISSION AT NO ADDITIONAL COST TO YOU. PLEASE SEE OUR FULL DISCLOSURE FOR MORE DETAILS.
Why I am giving 50% away?
I've decided that 50% of the money I make from the ads or affiliates from this blog (after taxes) will be given to charity.
For the months of January 2020 to March 2020, I will be giving 50% to the WWF Australia. As you may or may not know, Australia is going through a bush fire emergency and will need all the help and support they can get. Australia is also where some of my family members and friends are living. My thoughts and prayers are with them.
I am so blessed to have food, shelter, and a loving family. This is a way for me to give back and bless others.
The numbers
So here is what you've been waiting for the numbers. I always get so excited when I read other people's income reports. It gives me a sense of hope to be able to achieve what they attain some day.
Here are my numbers in January:
Blog readers: 1,602 (increased from 877)
Ad revenue: $7.47 CAD (increased from CAD $1.17)
Awin affiliate: $2.71 (increased from $0)
What did I do different from December 2020?
As I mentioned earlier, I wanted to increased my readership on the blog. I tried a few things that I will go into details below.
Pinning more often
Before January 2020, I would just pin after writing a blog post and call it a day. I will pin other people's posts on my boards when I get a chance to do so. I'm not sure if this is laziness or just scared to start.
Yes, having a baby is a reason I use sometimes to why I'm not pinning or feel motivated to pin more often. (Hey, I'm being honest!)
Now that she's a toddler, parenthood doesn't get easier but I wanted to do something different to gain more viewership.
I downloaded the Pinterest app on my phone and started pinning at random times during the day.
This works.
It increased the opportunities for my pins to show up on people's feeds.
There are so many courses out there for getting more Pinterest views. I have not had a chance to check those out yet. If you have any ideas, please let me know in the comments below.
In February, I plan to use Tailwind to see if it will help. If you click on this link, we both get $15 of Tailwind Plus which is one month free.
Using automation for my Instagram account
I love Instagram. The beautiful pictures and the meaningful captions are something that I enjoy looking at and reading.
As I was trying to figure out how to post there more often to draw people to the blog, to notify others when I have a new post, it was so tiring. It was inconsistent and frustrating for me.
So I decided to test out Tailwind for Instagram. They were able to tell me which hashtags to use and the best time of when to post. Yeah, I decided to use Tailwind for Instagram before Pinterest (shocking, but it's true).
By using Tailwind, I was able to post everyday in January and increased my followers to 75 people (from 59 people).
I made a plan of what I wanted to post everyday and the pictures alongside with it. Please feel free to check out my account and follow me if you like.
You can try out Tailwind for free and then decide if you want to upgrade to their paid plan or not.
Sending out emails to my email list
The third thing I did differently in January is to send out emails to my email list.
During the holidays in December 2019, I made 3 FREE Planners for my blog readers. One is for travel, another for decorating the home, and the third to plan a stress free event. Click here to check them out.
I've been collecting emails and sending out more freebies such as cards for the month and also some lifestyle tips (with the occasional joke LOL). Okay, maybe funny to me only.
This was the third thing that I did differently in January to encourage my subscribers to read posts of their choosing.
Resources
Here are the resources that I use and can recommend to you:
My hosting plan and where I get my domain name is with Siteground. It's easy to use and I get an email account with it as well. The loading time seems pretty good and I have no complains at the moment. If you are thinking about a hosting plan, I highly recommend Siteground because I'm using it too!
For ads, I am using the Google Adsense program. It's simple and also you can choose how many ads and where you want them to be. Be sure to apply for Google Adsense when you have a brand new blog.
One affiliate program I mentioned to you earlier is Awin, where I earned $2.71. It may not seem like much, but it's a good start. It does cost you $5 to join, but they will put it back into your account after accepting you as an Awin affiliate.
Other affiliate programs I am a part of include Amazon, Share A Sale, Rakuten, and Airbnb (Get CAD$45 off your first stay).
As mentioned earlier, I am currently using Tailwind. It's been giving me results, so I think I will continue using it for awhile.
Please know that the links above are affiliate links. I might get a small commission at no extra cost to you and will donate 50% (after tax) to the WWF Australia for the months of January 2020 to March 2020.
Here are January's blog posts:
Thank you
Thank you so much for reading all the way to the end of this really long post. I am excited that I was able to increase my readership and also donate some money as a part of my revenue for the blog Making Days Count.
If you like what you read and want to follow me to hear my random thoughts, check out my Instagram. My Instagram stories can be pretty random, but they do tell you my thoughts during the day. Also, please pin the image below to share with others that they too can make their days meaningful and count!