Are you planning a trip to Singapore soon? Or perhaps you are thinking to go to Asia with your kids and are not sure where you should take them. A few months ago, M and I took our daughter K to Singapore. As a one-year-old, she had a lot of fun. This is really because we found Singapore to be really fun for her and the rest of the family. In this blog post, I will share a number of kid-friendly places in Singapore that you should definitely check out.
This was our first time going to Singapore with a baby. From having accessible elevators for strollers (and people in wheelchairs) to nursing rooms, we found that Singapore is a great place to visit when you have children.
Before you continue, please know that this is part of my huge Asia series. Please read the other posts here (will update as I continue to write):
Kid-Friendly Places to Visit in Singapore (this post)
Pin this for later!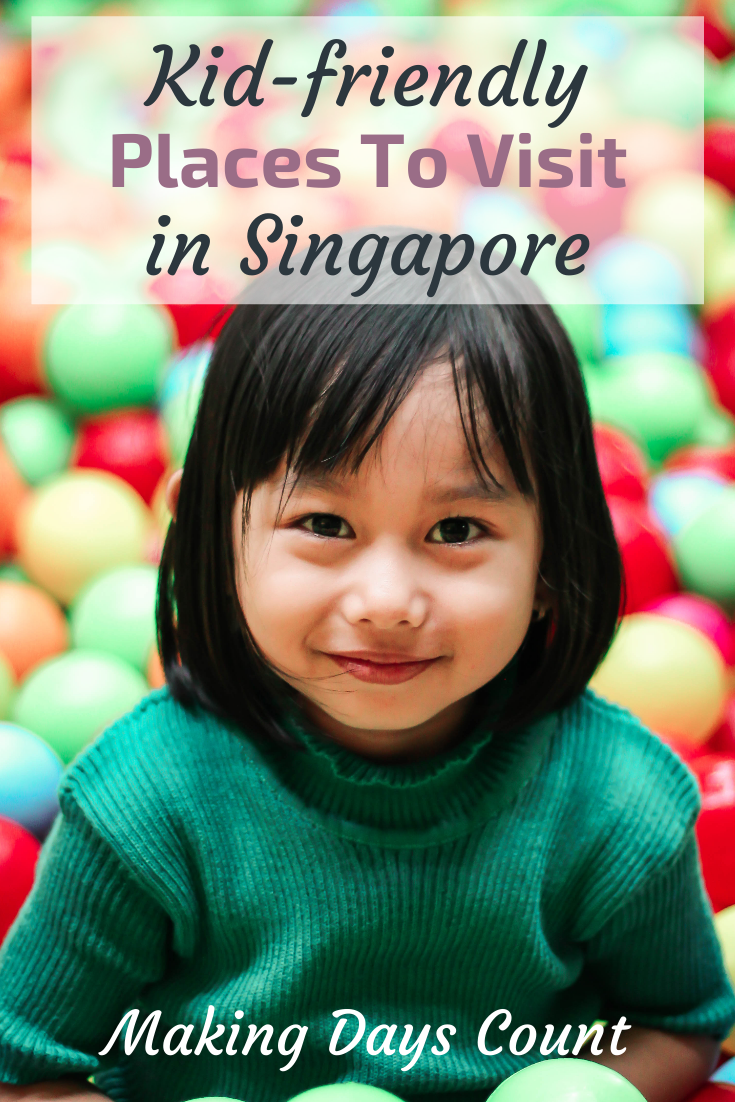 Here is a huge list of kid-friendly places to visit in Singapore:
BY CLICKING THE LINKS AND MAKING A PURCHASE, I MIGHT BE EARNING A SMALL COMMISSION AT NO ADDITIONAL COST TO YOU. PLEASE SEE OUR FULL DISCLOSURE FOR MORE DETAILS.
1. Play Places
There are many play places in Singapore, including free ones as well. The ones that I will be mentioning to you below are indoor options as Singapore can get really humid depending on time of the day.
a) Free Play Places
Here are a few suggestions for play places that are free:
The Artground
IKEA
Public Library near you
Depending on where you will be staying, you can choose to visit one of these where your kids can run around and play with others. Please do check their website and see their opening hours and if they have any special programs for your kid's age group.
We met a few friends at The Artground for a play date. Even though it is a little further from the train station and had to get there by bus, we used Google maps and it was able to direct us to the right place. We got there and it was pretty packed for a Friday morning. It was quite fun for Baby K to explore the area and the different installations.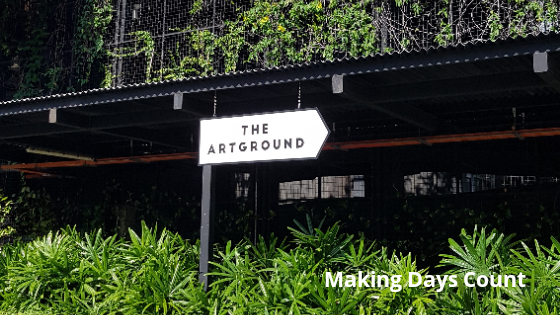 I will give a full review in a later post (stay tuned!). If you are checking out The Artground, it's a great place to hang out with other parents while watching your kids. It's free and indoors, so why not?
b) Paid Play Places
Here are a few paid play places in Singapore:
Cool de Sac at Suntec City
Pororo Park Singapore
Amazonia Singapore
There are many play places in Singapore that you can take your kids to, I'm just mentioning a few during our research.
We brought Baby K to Cool de Sac as we were near Suntec City. When we were there before lunch time, it was not crowded at all, however, more people came after lunch time. There was a separate space for babies and young toddlers. There are also tables where you can eat and feed them as well. I will share more about this place in a later post as well. I will definitely take her back there if we do get a chance as it is pretty convenient to get to and the pricing is not bad at all.
Take a look at the play places online and see what you think your kid(s) will enjoy the best. The reviews online will help paint a better picture and then you can make your decision from there. Also, see where you are staying or where you will be going. These factors will help you find play places that are nearby for convenience.
2. Attractions
There are many attractions in Singapore. I will highlight the ones that I think are suitable for babies and kids. Please let me know in the comments below if there are other kid-friendly attractions as well. We can all learn from each other.
a) Botanic Gardens
The Botanic Gardens is a great place to take your kids. The best time to take them there is the morning when you will get a nice breeze and a smaller crowd. This is an outdoor activity with your kids that will involve a lot of walking. One suggestion if you have a baby or toddler is to bring a stroller.
If you prefer to carry them, we used our baby carrier (similar to this) and it was nice to be hands free.
It's a huge garden. Grab a map or download one online and plan out where you want to go. They have a children's garden where you can go in for free if you have a child with you. Inside the garden, there are some activities for children and parents too. I totally tried bouncing in the trampoline (shout out to the parents who are still kids-at-heart!).
If your kids like to see wild animals, they have that around as well. We saw chickens and other types of birds.
The Botanic Gardens is free for everyone, except for the Orchid garden. If you do get a chance, please tag me in your pictures on Instagram @makingdayscount. I would love to see it as we did not get a chance.
After visiting the Children's Garden, we called a Grab to pick us up to go for lunch. Grab is the Singaporean version of Uber. One thing to note (not sponsored) is that if you have a baby or kid, you might need to call for Grab family as they will have car seats or Grab Taxi where you can hold them in your arms. This is what we were told.
b) Singapore Zoo
When I was a kid, my parents and aunt took me to the Singapore Zoo. Picture a four-year-old looking at a giant polar bear swimming in front of her. That was me. I still have a picture, but I won't show it because I'm embarrassed haha.
Singapore Zoo is a fun place to take your kids to explore and see the different animals.
We decided not to take Baby K to Singapore zoo this time when we went to Singapore. The reason was because we just took her to the Toronto Zoo (more about how we got the tickets for free here).
If you have a day to check out the Singapore zoo, it would be nice for both you and the kids.
c) Sentosa Island + Universal Studios
We went to Sentosa Island with Baby K. When we went, I was a little concerned whether we were able to find things that she enjoyed. To my surprise, there were so many things to do at Sentosa for the whole family.
For babies, you can bring them to SEA Aquarium, the Merlion (don't forget the path behind as well), the beaches, Cable Car, and Madame Tussaud. I'm not sure if I would recommend Madame Tussaud as it is really high up and if the escalators don't work (like that day that we went), you would have to carry your stroller up.
For older children, there are many more choices with Kidzania and Surfing Waves. Please check the website for the minimum age and other requirements that they might have.
Also, if you look on their website, they might have promotions for the tokens that you can buy to gain access into these attractions. If you prefer just to walk around and enjoy the beaches, those are absolutely free. Another way to save money is to walk into the Island instead of taking the monorail. It's fully covered and free.
As for Universal Studios, I read that it would be better if your kid is a little older (than a toddler) so that they can fully enjoy the rides and the shows there. If you have a day or two for Sentosa Island and Universal Studios, definitely check out their website for promotions especially when you get them online.
d) Gardens by the Bay
Gardens by the Bay is an outdoor attraction where you can just walk around and take pictures. If you are able to come later during the evening, you might be able to catch a light show.
Being parents of a 1 year old, we chose not to sleep late and went during the day. It can be pretty hot so be prepared and stay hydrated.
The place is actually huge and you can visit the different mini gardens around the Super trees. There is also a free outdoor Children's water play area that you can take your kids too. It looked like a lot of fun though we did not get to take Baby K there (she was asleep in the stroller).
Also, you can check out the Flower Dome and Cloud Dome. These do require an admission fee, but it is so nice to enjoy nature while being at a comfortable temperature indoors.
e) Art & Science Museum
If you get a chance to check out the Art & Science Museum, I would highly recommend it for young kids. An interactive space where you can see your drawing come to life or play around in an area with glowing giant balls, it's pretty fun.
When we brought Baby K there, she had fun playing with the balls and also looking at the light installation. There was a fruit ninja slide as well if your kids are interested in that.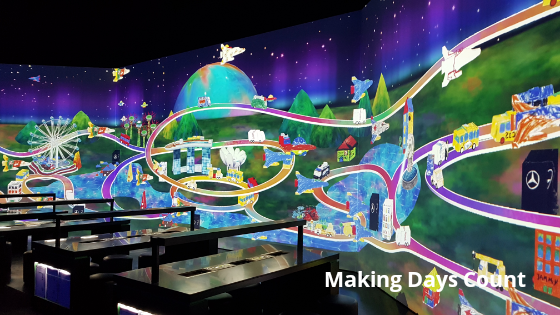 It can be a little pricey, but be sure to go early in the morning or later in the evening to explore all the different areas in the museum when there is less of a crowd. We went right when it was opened and was able to push our stroller in as well.
Related: 55 Fun Places to Bring Kids in Singapore
3. Malls
This one is an unexpected one for me as I did not expect malls to be so much fun for kids.
a) Free Play Area
Some malls have a free playground or water play area such as Waterway Point Playground and Kidzplay at NEX. Anyone can go there and have their kids play around while they watch them on the benches on the side.
We wanted to find a play area for Baby K and found the Kidzplay at NEX. It was not too far from where we were staying so we wanted to check it out. It started to rain soon after we arrive, and there was a security person who made sure that everyone was safe and dry. That was nice.
b) Paid Play Area
I talked about some play places in the beginning of the post. There are also some play areas for older kids such as the Super Park in Suntec City Mall. They have basketball, race track, and other fun activities. We did not check this place out but it looked like a lot of fun from the outside.
Do some research to see what your kids might enjoy and see if there is a mall you want to go to that has a theme park like Super Park.

4. Changi Airport (Jewel)
No one goes to the airport for fun, right? Wrong! Not in Singapore.
We felt like we were at a mall instead of being at the airport. You have such a variety of shops to visit and restaurants to eat at. Side note: We were told that the restaurants at the airport charges the same price as their counterparts in the city center. It's a nice place to hangout with your kids.
They can eat while watching the water fountain or even go up to it and touch the glass.
For older kids, you can check out the Canopy Park at Jewel. I am very impressed that Singapore thinks about how to make kids feel welcomed from the airport all the way to the city center. It truly is a kid-friendly destination.
If you are planning a vacation soon, I would highly recommend for you to check out my FREE Travel Planner here.
Thanks for reading my blog post on where are the kid-friendly places to visit in Singapore. To see more on our adventure to Asia, please read the posts below (will update as I write them):
Kid-Friendly Places to Visit in Singapore (this post)
If you like what you read, please pin the image below and share this with others. Thank you so much.