Does this sound familiar? Many of us who want to stay within budget need last minute gift ideas are scrambling to find ideas on the internet. Maybe this is you. Well, you've come to the right place.
If you haven't checked out my Dollar Tree gift ideas (also around $10), click here to be inspired.
I was part of a group of family and friends who were exchanging gifts to one another. The maximum dollar value spent must be $10 or less. Baby K got someone who was a 7-year-old and I got someone's name who was in her twenties. M got his gift separately.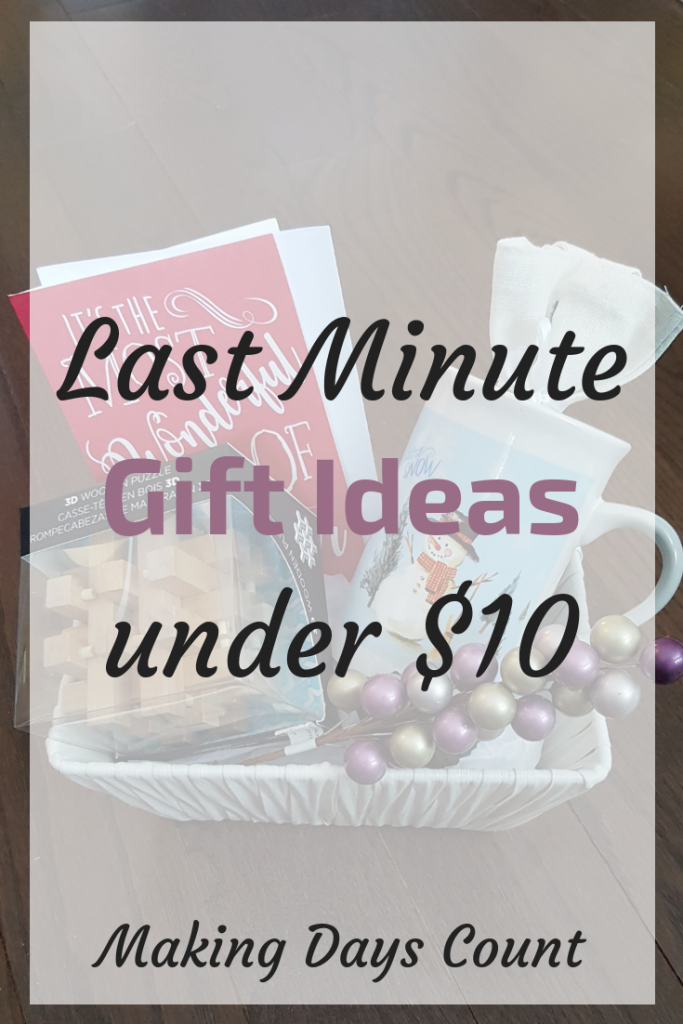 So, let's start with Baby K's gift:
BY CLICKING THE LINKS AND MAKING A PURCHASE, I MIGHT BE EARNING A SMALL COMMISSION AT NO ADDITIONAL COST TO YOU. PLEASE SEE OUR FULL DISCLOSURE FOR MORE DETAILS.
I wanted to be creative with the gift so that it would actually be practical for the receiver.
From the dollar store I got:
Christmas Cup (From Dollar Tree $1.25)
Mind Puzzle (Dollarama)
Canvas Bag (Dollarama)
Stones (Dollarama)
White Paint (Dollarama)
Card (Dollar Tree (Came in a pack of 12))
Basket (Dollarama)
I saw this idea of a Tic-Tac-Toe bag and wanted to create it for the 7-year-old as well.
Here are the steps:
I took a marker and drew the grid lines on the canvas bag
Using the white paint and a foam brush, I drew either an O or an X on the stones (5 stones each).
After letting both dry, I put the stones in the bag. I could have added a tag to say that it is Tic-Tac-Toe, but I'm sure the child will figure it out (hopefully).
After putting the gift basket together, I wrapped it with cellophane wrap and finished with a gold bow (similar to the Dollar Tree gift baskets).
Here is a picture of it before I wrapped it:
My mom thought I bought this gift basket. I was so proud to be able to keep to my theme and stay within budget.
For my gift, I went to Miniso and found a few items.
I bought:
An inspirational notebook (Miniso)
A pack of highlighters that were erasable (I thought that was really cool) (Miniso)
Bath Bombs (Miniso)
Card (Dollarama)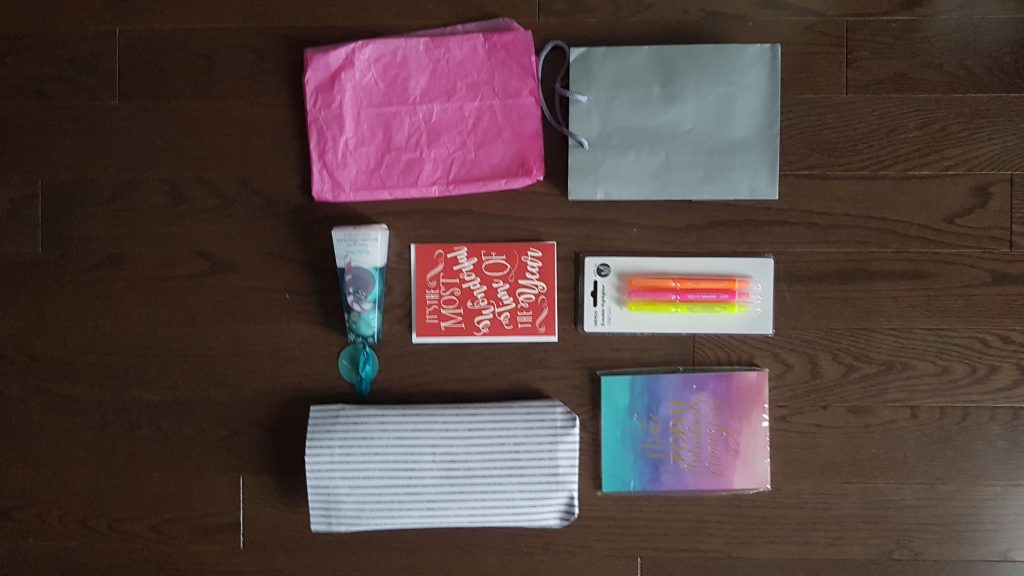 To make it a little more special, I wrapped the notebook and highlighters in one of the 12″ x 12″ stock papers that I had for a while.
Here is the final product: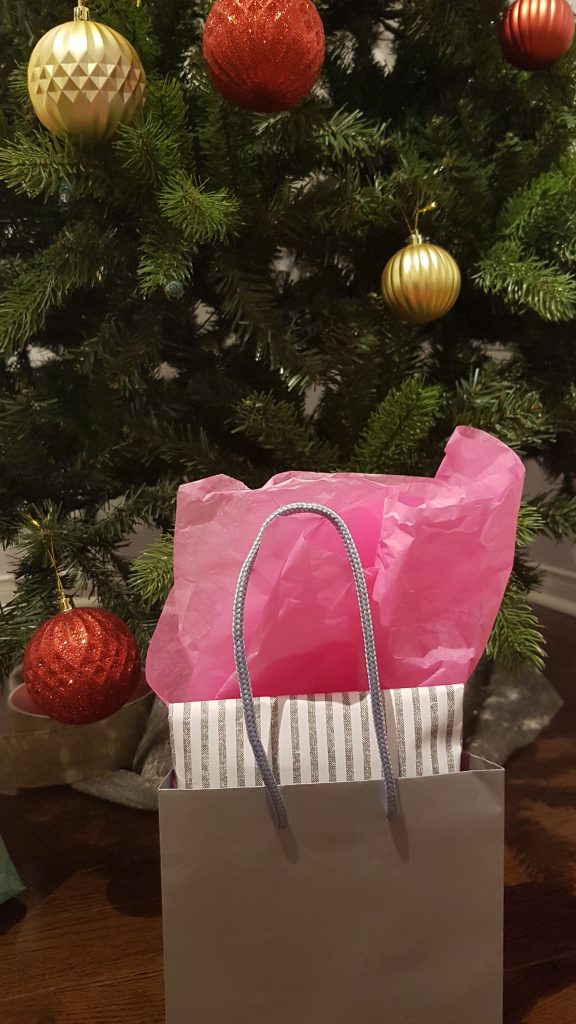 I was really proud of my last minute gift ideas, especially keeping them at around $10 each. Sometimes, it's fun to see how far you can stretch your budget when you get creative with it.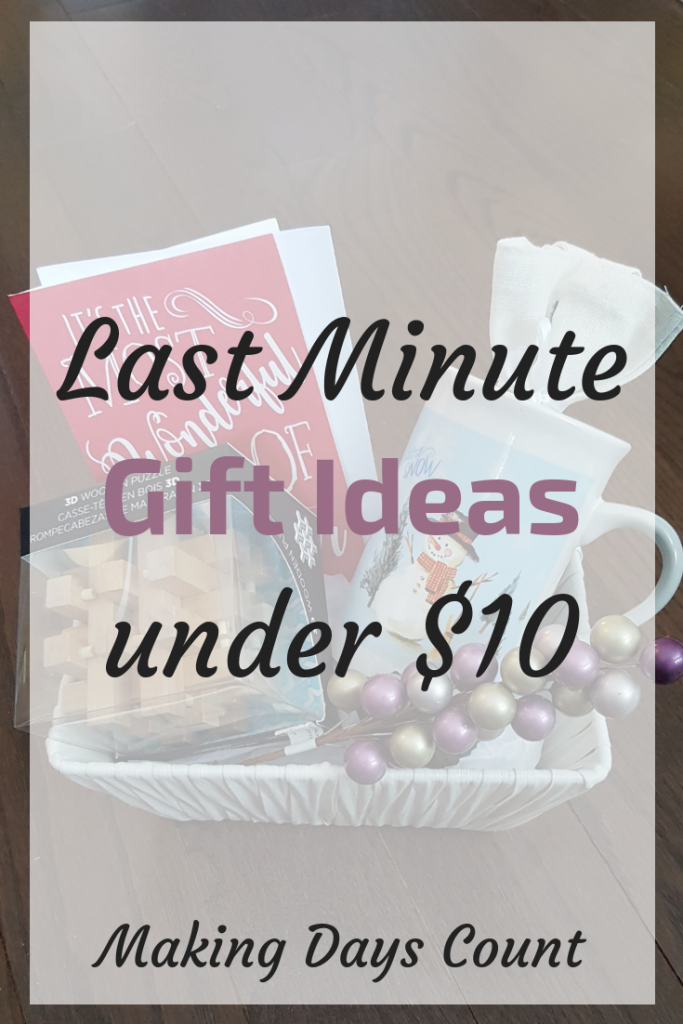 Related:
Please let me know what you guys think of these ideas. Have a Merry Christmas and happy holidays!