There are a ton of information out there for first-time moms. It can be really overwhelming. I remember as a first-time mom, there are so many opinions, books, videos, etc. out there.
Raise your hand if you can relate.
If you are a first-time mom or a pregnant mom, hi, welcome to my blog. I have a toddler who is energetic and eats a lot. She's a cutie!
In this blog post, I want to share with you some of the lessons I have learned from a pregnant mom until now being a toddler mom. Take what applies to you. Don't worry if only one or two works in your situation. As someone told me, all babies are different.
Pin this for later!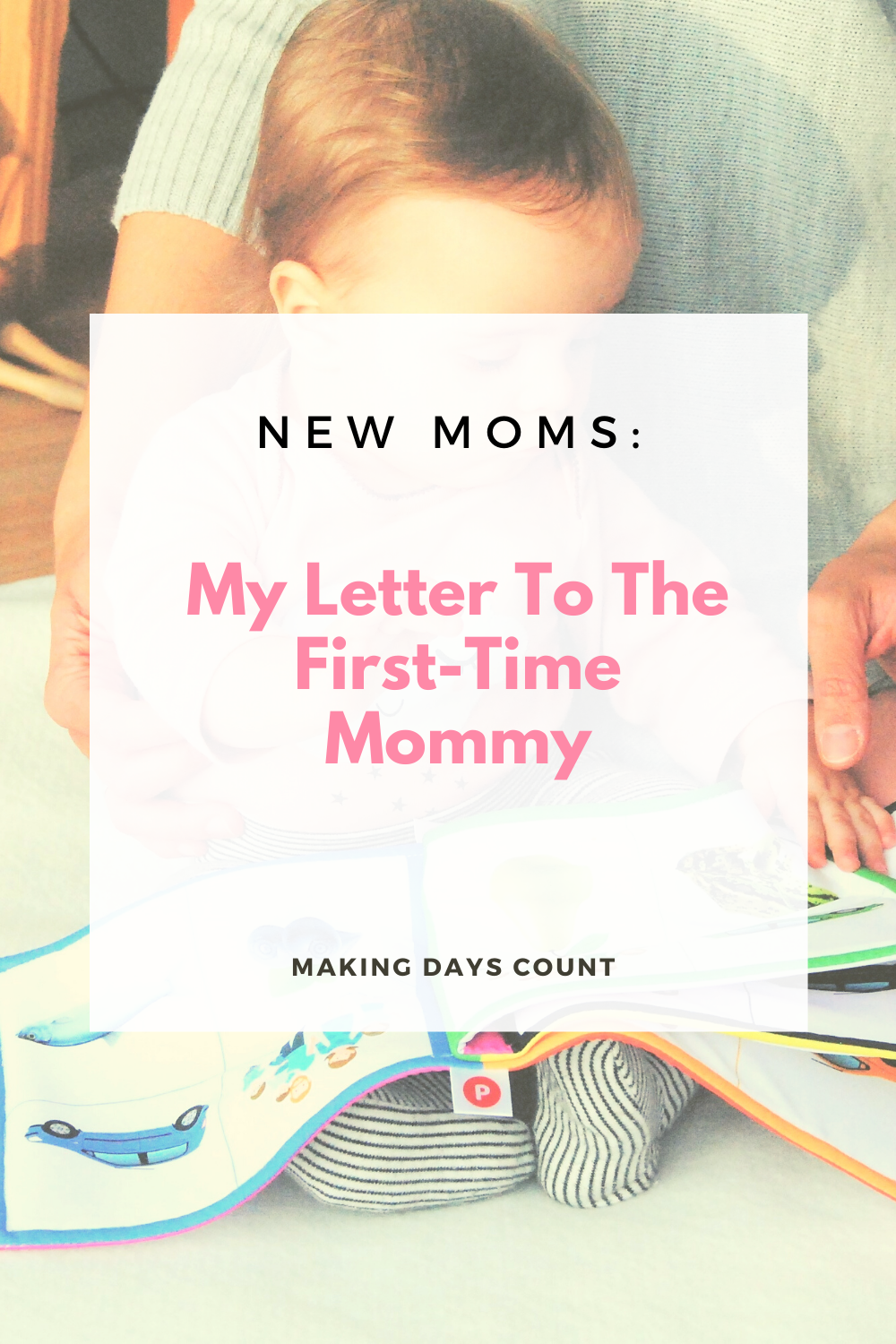 Here are some pointers that I would give to a first-time mom:
BY CLICKING THE LINKS AND MAKING A PURCHASE, I MIGHT BE EARNING A SMALL COMMISSION AT NO ADDITIONAL COST TO YOU. PLEASE SEE OUR FULL DISCLOSURE FOR MORE DETAILS.
For pregnant moms:
1. You cannot accumulate sleep
One guilty thing that I've said before (I really shouldn't) is to tell soon-to-be parents that they should really appreciate their sleep before having the baby.
First of all, you can't accumulate sleep. If you sleep more now, it does not mean you need less later.
The lack of sleep is real for the first few weeks. It's hard.
Sometimes, sleep as a pregnant lady is hard too, so rest when you can.
Someone told me that after you have a baby, you'll have naps and not actual sleep. I feel like it's true.
But it gets better. Look forward to the day when you'll get to sleep more. Make a pact with your spouse to take turns watching over the baby, however it works for you.
I'm not going to lie to you, but you need to sleep when you can. It'll make you a better, more engaged (or at least more awake) parent.
2. The baby will come when they are ready. If not, let your gut tell you what you need to do best.
I think we all hear this: The baby comes when the baby wants to come.
Yes, while I believe that is true, sometimes it does not always work this way.
The baby can come early, later, and sometimes, shockingly on time.
For some moms, they want natural birth and others want medicated birth.
It's up to you how you want to birth your baby. Whether it is naturally or via Cesarean, do what is best for you and your baby.
Yours and your baby's health is all that matters.
3. Know that you have a new normal
I learned this from our hospital class. The teacher said, "know that you will have a new normal".
What this means is that nothing will be the same again. Your routine, your preferred time of rest, and your lifestyle will be different with a baby.
It is something that you have to accept, your new normal.
This does not mean that your new normal will be like that forever. It changes once in a while as your baby grows.
You got this! Just be prepared that change is constant, and you'll be flexible to whatever comes your way.
4. Pack your hospital bag early
It's always good to be prepared. Pack your bags earlier than expected. Like I mentioned earlier, you won't know when the baby decides to come (unless you scheduled a C-section).
If you are interested to see what I packed for the hospital, check out this post.
It was good that I packed the hospital bag early because my daughter came a week earlier than the due date. You can always add or remove stuff as you think of it closer to the due date.
5. Accept help if offered and needed
Sometimes, it can be difficult for us to accept help. We did not need help before we got pregnant with our daily lives. It's different now.
Remember how I mentioned that you have a new normal?
This is part of the new normal. As a new mom, when someone offers help, accept it if you need it. Don't be afraid to say no if it is not something you want.
Know who you can trust with what they offer. Sometimes, people offer out of courtesy and not be genuine. If you have one or two people who you can trust to deliver their promise or offer, accept it. Every little bit helps.
For The New Moms:
1. They are only this little for a short time
The late night and endless feeding and diaper changing can seem like forever.
But, when you sleep and wake up, they are another day older. The next thing you know (at least for me) your newborn is a toddler.
Appreciate the moments that you have with your baby. It can frustrating when they do not want to sleep, but you do. Eventually, they will sleep and you might miss them.
Take pictures and videos on your phone of each moment that is special to you. You can always look back and see how they've grown over the few months.
Each stage of their babyhood has its own challenges. Enjoy them while they are young, before you have to run after them telling them to stop opening all the drawers in the kitchen.
2. Don't be afraid to ask for help
Similarly to the last point for pregnant mothers, don't be afraid to ask for help.
Whenever you have questions, ask your mom friends, online communities, or even family programs in your area. Someone might have the experience as you and be able to share what worked for them.
If you need someone to watch the baby while you take a nap, ask a trusted friend or relative. Ask if they are able to swing by for an hour or two so that you can get the rest you needed.
I know that not everyone has the luxury to have friends and family readily available, but see if you can get some help when you need it.
3. Every night is different
One major thing that I've learned is that when my daughter was a baby, every night was different.
Her sleep schedule is not really set even with a night routine.
Our night routine was developed so that we could all rest really well. Some nights she slept better than others.
If you want to sleep train your child, I heard that it helps them sleep 10 to 12 hours a night.
We tried to, but we could not let her cry too long as she was in the same room as us. Maybe I'll try earlier with our next one.
Even as a toddler, she woke up once or twice a night. This is my new normal. I'm working on getting her to sleep longer stretches as she did before. We are all still learning.
Update May 2020: She eventually learned to sleep through the night even though I need to be in the room with her until she sleeps.
4. It'll be handy to have your diaper bag ready and stocked
There a few instances where we did not have the items we needed in our diaper bag. Whether it was extra pants or diapers, it can be a mess.
Please learn from me and my mistakes. Have your diaper bag stocked and ready for anything that may happen. Make a list of the things you need and bring extra clothing.
The portable changing pad is a great one to have in your diaper bag. You'll know exactly how many diapers you have left after changing the baby and also if you need to buy more wipes.
If your baby is a little older, remember to pack snacks and drinks.
Like I said, don't forget the extra pants. If not, it'll be like the poop explosion on the airplane story. Yes, it happened to us.
5. Swaddling your baby can mimic the womb
One of the reasons why Baby K did not want to sleep unless carried was that she wanted to be held. We figured that swaddling her helps her sleep a little longer.
It is supposed to mimic the womb being tight and snugly.
You can try swaddling to see if it works well for your baby. There are different types of materials you can use to swaddle your baby.
The one we had was one with a Velcro (similar one here). We liked it, but had to transition out of it as she managed to get out of the swaddle. More on that in the next point.
Another great item that I talk about all the time is our baby carrier (or Amazon here). This was one of the best purchase we made to use both locally and also for travel.
6. Be impressed by how they can get out of the swaddle
Babies are amazingly creative. They will find a way to do what they want to do.
When it comes to swaddling them, they will figure a way to get their hands free even if they'll startle themselves awake.
Just like how they figure out how to crawl and eventually walk, babies are great learners.
They will pick things up very quickly.
My toddler learned that if she opens the fridge, she will get access to her cheese. It's a good thing that she cannot open the fridge door yet. I'm sure she will have the strength to do it one day.
7. Go out and mix with other new moms
It is very easy to stay home because you are worried about the child's immune system, the seasonal flu, and the huge diaper bag you'll need to bring.
If it is safe for you to do so, I would highly encourage you to go out. Meet new moms in your area, or in play groups. If there are not any, take a walk in the park.
Have some fresh air. I find that it helps every time after a play date or a quick walk around the block in my neighborhood.
Try it out and let me know how you feel.
8. You've got this
No matter what happens, you've got this mama!
Life with a baby can be challenging, even more so if they have allergies or other issues, but you've got this.
Do what is best for you and your baby. Surround yourself with people who support you and can cheer you on as you navigate through this parenthood journey.
This is a short snippet of what I would say to a friend who is becoming a first-time mom. At the end of the day, you know yourself, your family, and especially your baby best. No one should tell you what you need to do exactly as all babies are different.
We are still figuring out one day at a time, even with a toddler.
Related:
Thank you for reading my blog post on "Letters To A First-Time Mom". If you like what you read, please pin the image below and share it with others. Thanks for dropping by.