Busy books are something to keep the babies or children busy while you are travelling or need to have some quiet time. There are many busy books ideas out there. If you are interested to make one successfully and not make the same mistakes I did, continue reading.
Yes, I like to share my mistakes with you so you don't have to. Why waste your time when you can learn from my mistakes?
Backstory: We were going to Asia and I was trying to prepare as much as I could for our baby's first international flight. The flight to Orlando for Disney was a nightmare (read about poop explosion here). I had prepared toys and books, but this time, she was older.
I want to make sure that she has enough to occupy herself without bringing too many toys. One solution that I found was busy books.
Now, I could buy busy books (lots of options here). Some people are just so talented. If you rather just buy a busy book, definitely check these out from Etsy.
But nope, I wanted to dabble in making my own busy book. It should not be that hard, right?
Well, many of the tutorials on Pinterest are sewing tutorials. Guess what? I don't know how to sew. So, I decided to hot glue my busy book together. This is a glimpse of the mistakes I made. I will share more with you later in the post.
Before you continue, please know that this is part of my huge Asia series. Please read the other posts here (will update as I continue to write):
Mistakes to Avoid When Making A Busy Book (This post)
Pin this for later!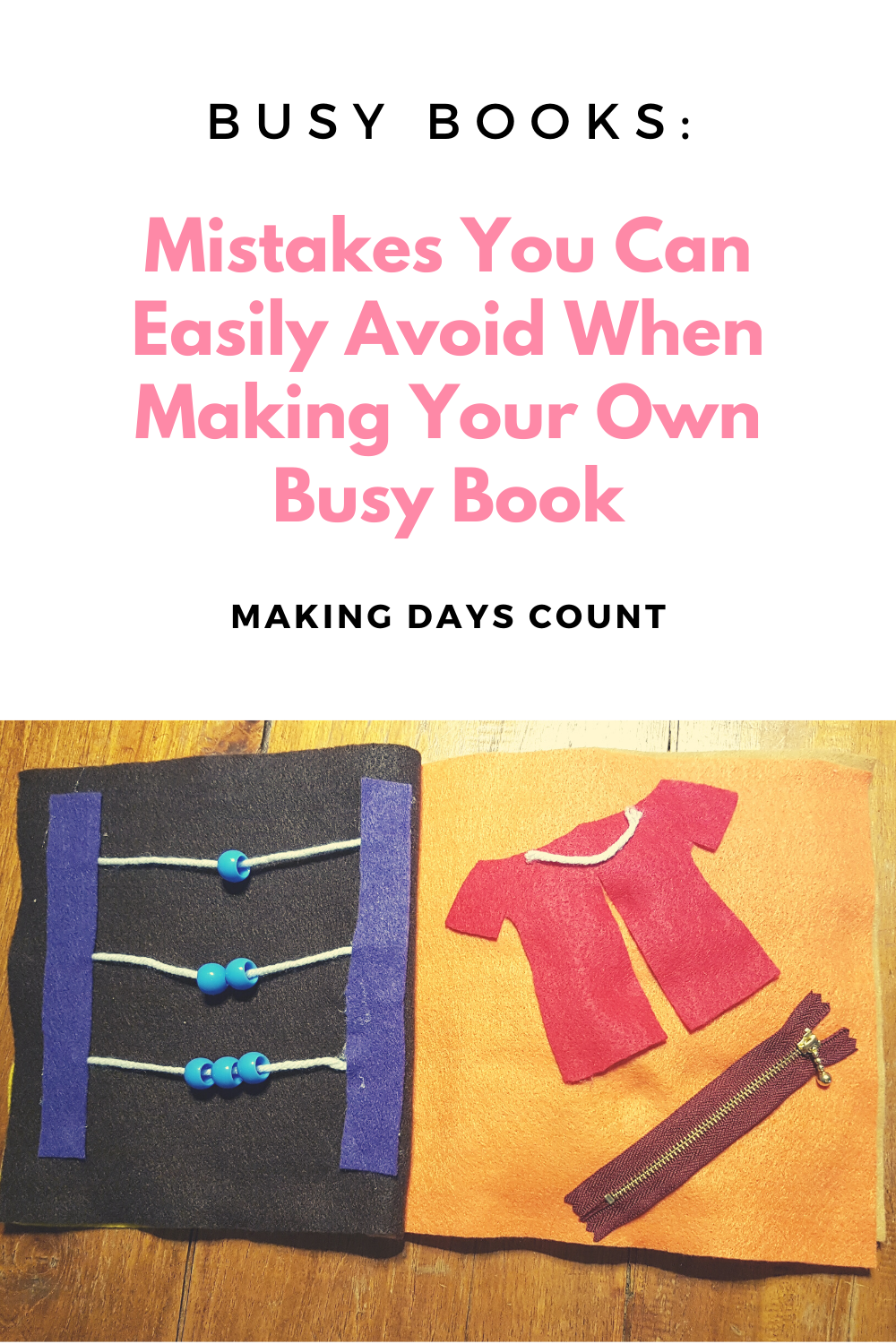 Here are 6 mistakes you must avoid when making a busy book:
BY CLICKING THE LINKS AND MAKING A PURCHASE, I MIGHT BE EARNING A SMALL COMMISSION AT NO ADDITIONAL COST TO YOU. PLEASE SEE OUR FULL DISCLOSURE FOR MORE DETAILS.
1. Making The Busy Book Last Minute
Are you one of those procrastinators that do things the night before something is due? And you get an A or a good job? Well, that has not worked out for me.
I get really stressed when I have to do things last minute and will not do my best work.
When making a busy book, you need the time to make it and not just slap it together in one day. If that works for you, that's good for you.
You need time to think about what you need, get all your supplies, and put it together in the best manner possible. I'll talk more about these later.
Okay, Becca. I am already late in starting to make my busy book. Can I still do this? Yes, of course. You might just need to make quick decisions and stay up a little later. You've got this!
2. Not Making A Plan
Before you delve into making a busy book, please make a plan. Do your research on what you want your book to look like.
Here are some questions to get you started (in no particular order):
How big do I want the busy book to be? (Size)
How many pages do I want to have in my busy book?
What kind of materials do I need?
Is there a theme that I am going for?
Can I put this together myself or I need some help?
If you found a tutorial that you like, great! Follow it and don't be shy to email them if you have a question. They might be able to clarify for you if you have a question.
I made a plan of hot gluing my busy book together. Having a list of themes, I think I could put it together rather quickly but I did not know that I had to go to different stores to find all the materials I need. I should have bought them online at one go.
One good thing about online shopping is that you are able to find everything online. Amazon Prime has a free trial for 30 days. Click on the box below to learn more.
Definitely make a plan before you start. Do your research on what you want and then follow your plan. Once again, don't do this last minute! It's hard to take the time to make a plan if you don't have the time to do so.
3. Maybe I should have learned how to sew
I decided to use hot glue to put my busy book together. At that time, it seemed like a great idea. However, later on, after Baby K played with the book, I realized that the pages were falling out.
I guess it was not as durable as I thought it was. If I want to make it again, I will definitely use the
E6000 glue
or actually learn to sew the book together.
If you are thinking to make a busy book just for one trip, hot glue should be fine. Here is an example of two of my busy book pages. What do you think?
It's not bad when I made it. Too bad that it was not as durable as I hoped for it to be.
4. Buying Supplies Before Checking If You Have Them
Similarly to making a plan, be sure to check for supplies before going out to buy them. I find that often times, I will have random supplies that I can use for my art projects.
Before going to buy the supplies that I might potentially have, I check my craft closet to see if I have it or not.
You can save money and time if you check prior to heading out the door.
5. Trial and Error
After making your plan and getting your materials ready, now it is time to make your busy book.
One mistake to avoid is to not have room for trial and error.
What I mean is that making a busy book is just like an arts & craft project. You try making something whether it is by following instructions or making your own. Even so, we all can make mistakes.
We must allow ourselves some room to have errors (or mistakes) and then improve on it.
If something doesn't work or look right the first time you put it on a page, change it. Maybe don't sew it in or put
E6000 glue
on it yet. Format it in a way that makes you feel confident and happy about your busy book.
This takes time. Once again, don't do this last minute. A half-put together busy book might make you regret why you started on this project at all.
Take your time. Allow room for trial and error. Make it the way you want it to be.
6. Not Using It After Completion
This is the saddest mistake of them all. After making your wonderful busy book and not using it, that would be a shame.
So, I brought the busy book that I made to Asia with us. Due to the other toys that were given to us on the plane or just reading a book here and there, Baby K did not really use the busy book until our return back to Canada.
Maybe she played with it once.
Can you imagine? I rushed to make this busy book for her.
It fell apart (because of the hot glue) in the end. It is a failure project, but that is why I want to share with you my mistakes, so you don't have to.
If your child might not be interested in busy books, or have other toys to play with and books to read, maybe you do not need to make or buy one.
Choose to make or
buy one on Etsy
and make sure that it's placed in a highly visible area. This way, they will see it and hopefully play with it more than once.
Do you have anything you want to add to the list? Please let me know in the comments below.
To see more on our adventure to Asia, please read the posts below (will update as I write them):
Mistakes to Avoid When Making A Busy Book (This post)
Thank you for reading my post on "Mistakes To Avoid When Making A Busy Book". If you like what you read, please pin the image below and share it with others. Thank you so much!