Babies are so cute, especially when they look at you and smile knowing that you're their parent or grandparent. Before I had Baby K, I would look at other babies and just smile at their adorableness. I had no idea about the labor and delivery process until I had my own baby.
Please know that this is just my labor and delivery story. It might be different for you. Don't worry and just know that your body is made to do this. If you are pregnant, know that you are capable to give birth to your beautiful child or children. Whether it's natural, medicated, or even a c-section, as long as your baby is healthy, that is all that matters.
Before we continue, please know that this blog post is part of Baby K's first birthday series. Here are the other posts:
1. How to Design a Birthday Invitation for Free
2. 9 Motherhood Lessons: My First Year
3. DIY First Birthday Games: Who Knows Baby Best
4. Cheap Party Decor: $5 Paper Plate Wall
5. How to save money on 1st birthday party
6. My 30 Hour Labor and Delivery Birth Story (this post)
Pin this for later!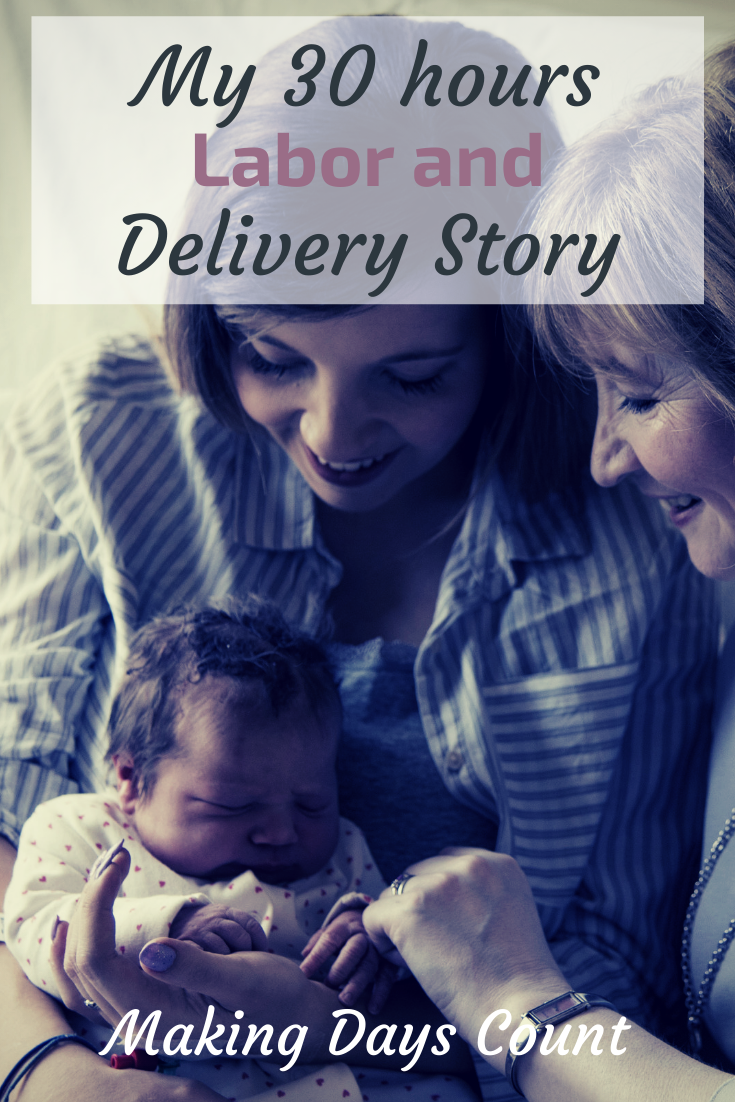 My Labor and Delivery Birth Story:
BY CLICKING THE LINKS AND MAKING A PURCHASE, I MIGHT BE EARNING A SMALL COMMISSION AT NO ADDITIONAL COST TO YOU. PLEASE SEE OUR FULL DISCLOSURE FOR MORE DETAILS.
1. Contractions at 3 a.m.
On a Saturday morning in September at 3 a.m., I woke up with a cramp. It felt really weird because it was uncomfortable but not unbearable. This cramp would come and go at different time intervals and last for a short time.
I thought, they must be Braxton hicks. If you do not know what Braxton hicks are, they are these fake contractions that the doctor and parenting class teachers tell you about. For more information, please do your research online as I am not a professional.
At this time, I did not want to wake M up as I thought that these are just fake contractions and he was sleeping. My water did not break like my coworker or relative so I just need to wait for that moment (if it happens and it did not).
I can't sleep while I'm uncomfortable with these so I was just awake the entire time. They were not regular but not far apart enough for me to rest or sleep.
Little did I know that I was having real contractions during the early labor stages.
Background: I was 39 weeks pregnant and 1 cm dilated. My doctor performed a cervical sweep a few days prior, so that might have sped up the process of my labor and delivery.
At 7 to 8 a.m., I fully wake M up and tell him that we should go to the hospital just to check out the situation. He could see that I was just pacing back and forth with discomfort. I thought that they would probably send us back home but at least we know for sure how I was doing.
So we brought our hospital bag, called our family members, and headed to the hospital.
2. First Hospital Check
When we went to the labor and delivery ward, I told them what I had been feeling.
The nurse was really patient and directed me to a room and she checked my dilation.
At this point, I was at 2 cm dilated.
10 cm is the magic number to push the baby out. They could not admit me until I reach 4 cm dilation.
They sent us home.
The nurse said that we should be back in 12 hours as I seem to have regular contractions. So we went home.
3. Sent Home for 12 Hours
We head home and M made lunch. I don't remember what he made but I'm sure it was good.
While the contractions come and go, M and I were working on a puzzle (similar one here). I had to stop every time a contraction came just to breathe and say affirmations to myself.
Many hours have passed. No water breaking, but the pain seems to be more intense.
M decided that we should take a walk to see if we could speed up the process. We would time the contraction but it does not seem that much closer together or as intense.
While we took a walk, I would stop every time a contraction came. I was exhausted at this point with the lack of sleep.
We had dinner afterwards.
At 10 p.m. (after many hours of labor), I felt that the contractions are worse. We debated whether to go to the hospital and decided to give them a call.
They said that it's probably best to go in and check how dilated I was.
4. Second Hospital Visit
Driving to the hospital was uneventful. We got there and it was a different nurse.
At first, this nurse did not seem like she could be bothered, but she turned out to be really nice. She checked me and said that I was 3 cm dilated.
It was not the news I wanted to hear.
I had been up since 3 in the morning and now it's 11 pm. I have 7 more cm to go before I can push this bundle of joy out. Sounds pretty ungrateful, but at this point, I was really worn out.
The nurse suggested that we try walking around the halls of the hospital for 3 to 4 more hours to encourage more dilation. It was getting late and she did not want to send us home.
We walked around the hallways. It was so quiet at the hospital with occasional people walking in and out.
M was amazing at encouraging me to keep walking when I felt that I could not. Passerby also sympathize with us. A man came and said that he knows how hard it can be as he has a few kids (can't remember how many).
When it was finally 3 a.m., M suggested that we go check with the nurse and I just followed.
Side note: I have been up for a full 24 hours with contractions. This labor experience that I had was completely different from my mom's. No matter what others tell you, you will have your own experience which might be similar or very different than others' labor and delivery.
When we checked, I was 5 cm dilated. Thank God. I could finally be admitted.
5. Hospital Admission and Epidural
They asked if I wanted an epidural and I said yes immediately.
During my pregnancy, I was thinking whether I wanted to get an epidural as I have heard different stories about the pros and cons of getting one. It is up to you whether you want to get one or not. Do your research and decide what is best for you.
I think at this point of being 5 cm dilated and up for 24 hours, I needed some relief and I chose to have an epidural.
The process of getting an epidural was pretty quick and M was there to hold my hands through it all.
While I was resting after getting an epidural, a doctor came in to break my water. To me, it felt like warm pee but it gushed out pretty quickly. Soon after, I was able to fall asleep.
6. Baby, Finally!
At around 7 a.m. (4 hours after the hospital admission), I felt like I needed to pee and a bit of pain.
I mentioned that to a nurse who was checking on me. She went ahead to check my dilation and said that I was 10 cm dilated.
It's finally time to push the baby out.
I'm not sure how it works in your hospital, but for me, the nurse was guiding me through the pushes. She talked me through how to do it and also when to do it.
A doctor (not mine) on duty came by with her students. They introduced themselves and then shortly left.
After an hour, she checked with the doctor to give me Pitocin to encourage the contractions to be closer together for me to push. When she gave me some and another hour of pushing, M could see Baby K's head.
I asked if she had hair. Seriously, that's the first question I asked about my baby. Hahaha.
The nurse then called the doctor and her students to actually deliver the baby. They asked me to push and untangle the cords around Baby K's neck. Before I know it, Baby K is on my chest.
M cut the cord and then the doctors stitched me up as there was minor tearing.
There she was, a perfect little one. A blessing from God to join our family.
I am so blessed.
Thanks for reading my labor and delivery story. To see more of Baby K's birthday series, please check these posts below:
1. How to Design a Birthday Invitation for Free
2. 9 Motherhood Lessons: My First Year
3. DIY First Birthday Games: Who Knows Baby Best
4. Cheap Party Decor: $5 Paper Plate Wall
5. How to save money on 1st birthday party
6. My 30 Hour Labor and Delivery Birth Story (this post)
If you like what you read, please pin the image below and share this with others. Thank you so much.