Character breakfasts are a must if you want to meet certain Disney characters without the long lines and have enough time to interact with each one. One of our favorite characters is Stitch. We love the silliness and how the focus of the movie is on the importance of family.
Ohana restaurant, located at the Polynesian resort at Disney World was a must-eat for our family. You get to meet Lilo and Stitch, and Mickey Mouse and Pluto.
In this post, I will share our Ohana Restaurant review.
Before I continue, please know that this is part of my Disney series. It would be great for you to check the other posts too:
Ohana Restaurant Review at Walt Disney World (this post)
If you have following my series, thank you so much.
Here is our experience at Ohana restaurant in Polynesian resort, Disney World:
BY CLICKING THE LINKS AND MAKING A PURCHASE, I MIGHT BE EARNING A SMALL COMMISSION AT NO ADDITIONAL COST TO YOU. PLEASE SEE OUR FULL DISCLOSURE FOR MORE DETAILS.
How we got our reservation:
This was the first dining reservation I made for us using the My Disney Experience app. Yes, even before Be Our Guest.
Download the free My Disney Experience app where you can book dining reservations and get fast pass. Once again, free, except you do need to give your credit card number for dining reservations. This is because if you don't show up, they'll charge you $10 per person.
Unlike Be Our Guest, it is easier to get reservations at Ohana.
There are two ways to book your dining using the app. You can search for Ohana restaurant directly. You can also click on the + button on the homepage of the app, and click on Reserve Dining.
Following the instructions of choosing your date and inserting the number of people in your party, they will show restaurants that are available for the selected time. You can always play around with the time to see if new available slots will pop up.
The first time I searched, I found it for our second day at Magic Kingdom at 7:40 a.m. It was pretty early, but I knew that there might be a good chance a later slot will pop up. It did. The next day, I found an availability for Ohana at 8:40 a.m. which was much better for us.
If you cannot get the timeslot you want at first, try looking again later.
Arrival and Atmosphere
Since we were staying at Disney's All-Star Sports Resort, we need to first head to Magic Kingdom by bus, then take the monorail to the Polynesian resort.
You get a beautiful view of the resorts and Magic Kingdom during the monorail ride. Also, since it was not packed, we were able to bring Baby K in her stroller without taking her out unlike the buses.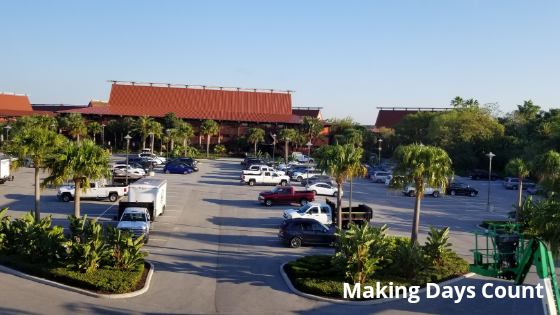 Upon arrival, you'll be on the second floor. When you go through the entrance doors past security, you will see Ohana restaurant straight ahead.
There is a cast member in the front that will confirm your reservation and take down your number for them to call you. It took a whole 2 minutes for them to get you. It was fast and seems like there are tons of tables available.
We were seated and served bread immediately. I could see the Polynesian Resort pool with a slide from our table. It looks so nice. It is a luxury hotel after all.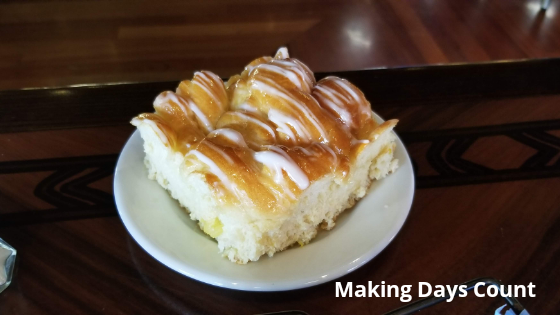 Soon after we sat down, they started a line led by Lilo. They invite the kids to grab a shaker and dance with them as they go around the restaurant.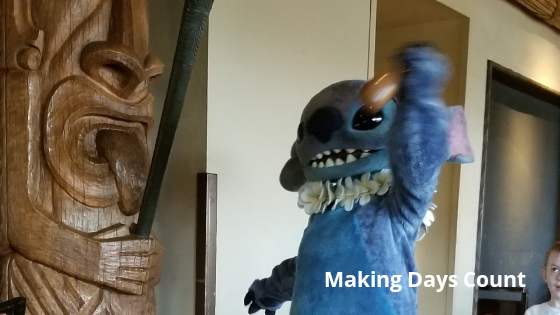 It looked like a lot of fun.
We had just arrived so we wanted to eat first. Baby K was also hungry so she didn't show interest in joining the line.
If you have young kids and they love to participate, definitely recommend it.
Meeting the Characters
We met four characters here at Ohana restaurant. Mickey Mouse, Lilo, and Stitch were in the restaurant and Pluto was near the entrance/exit of the restaurant.
The characters will go from table to table, spending as much time as you need to talk to them and take pictures. They won't talk back but they will make actions in response to what you said.
Stitch is more cheeky and playful, whereas Lilo and Mickey are gentle and seem nice. I read somewhere that you can only meet Lilo at Ohana restaurant. Let me know in the comments if you know.
Pluto is much taller than the other characters. You can also get the Disney photographers to take your pictures with Pluto. With the other characters, you'll be using your own phone or camera.
It was so much fun to meet these characters so be sure to check out the different character breakfasts.
Food and Stitch Juice
Our server, cousin as they called themselves in Ohana restaurant, Brett (or Brad? Sorry!) came with the food platter. It contains sausages, ham, eggs, waffles, and others.
Also, he came with Stitch juice. It's a mix of different tropical fruit juices.
Can I tell you a not-so-secret secret? I am not a juice person. There, I said it out loud. But, this juice, was amazing.
Shocking! I'm serious. M literally had to take a picture of me drinking it because he couldn't believe his eyes. Haha!
Get the Stitch juice!
Since this character breakfast is an All-you-can-eat, you'll just ask for the refills for whatever you ate from the food platter served in the beginning of your meal.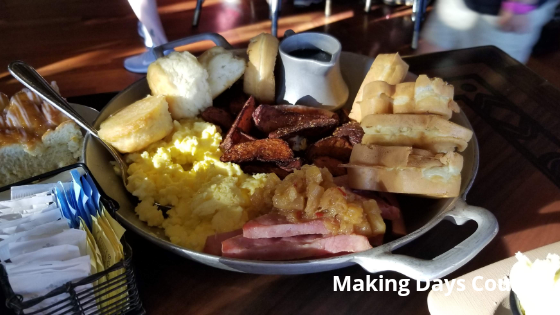 Brett was so nice, he made sure to come by and check on us. Also, clumsy me, spill the wonderful juice on my chair. I felt so bad but he was still so nice about it.
The food overall is pretty good. I especially enjoyed the eggs, sausages, and waffles.
Similarly to Be Our Guest, it started to feel salty at the end of the meal. It really could be that we don't really add salt to our meals at home.
The cost was a lot pricier, but we knew that coming to the restaurant. The total we paid were about $100 for two people inclusive.
If you're interested to check out their menu, here is the link.
Would we come again?
Maybe when Baby K knows who these characters are and can fully enjoy the experience.
Be sure to check out my other blog posts in my Disney series:
Ohana Restaurant Review at Walt Disney World (this post)
Like this post? Please pin it and share with others. Thank you.