Raise your hands if you are thinking about organizing your home, stocking up on your snack pantry, and maybe replace some utensils that you had for a long time. Like 10 years (okay, maybe not that long). It is possible to have an organized home (sort of) on a budget.
When we visited Oomomo in Toronto and in Markham (a nearby city), I realized that they have many items from Daiso. For those who are not familiar with Daiso, they are similar to Dollar Tree in Japan.
The exciting part of the Oomomo store is that everything is $2 unless otherwise stated.
Pin this for later!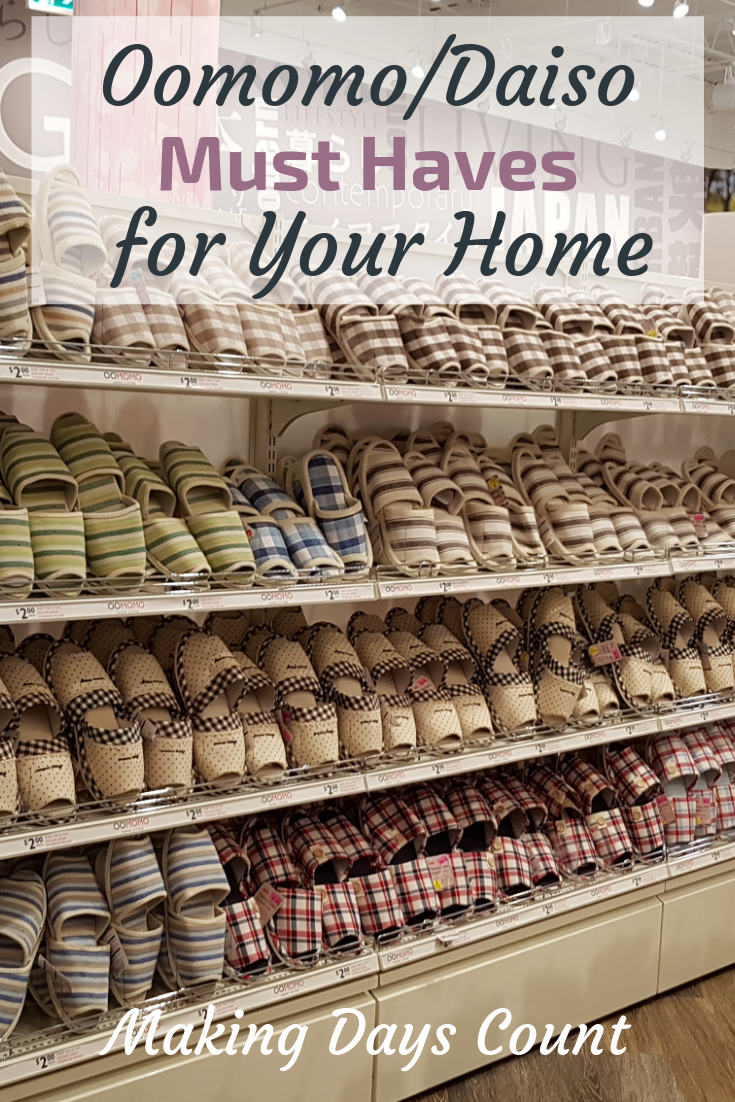 Here are 7 items you want to buy for your home:
There are so many options ranging from beauty to snacks available. I will be focusing on home-related products in this blog post.
BY CLICKING THE LINKS AND MAKING A PURCHASE, I MIGHT BE EARNING A SMALL COMMISSION AT NO ADDITIONAL COST TO YOU. PLEASE SEE OUR FULL DISCLOSURE FOR MORE DETAILS.
One: Get comfy with these House Slippers
I can't believe that Oomomo has these house slippers available at the store for such a reasonable price. For those of you are unfamiliar with the Asian culture, we pretty much take off our shoes at the entrance and walk either barefoot or with house slippers in the house.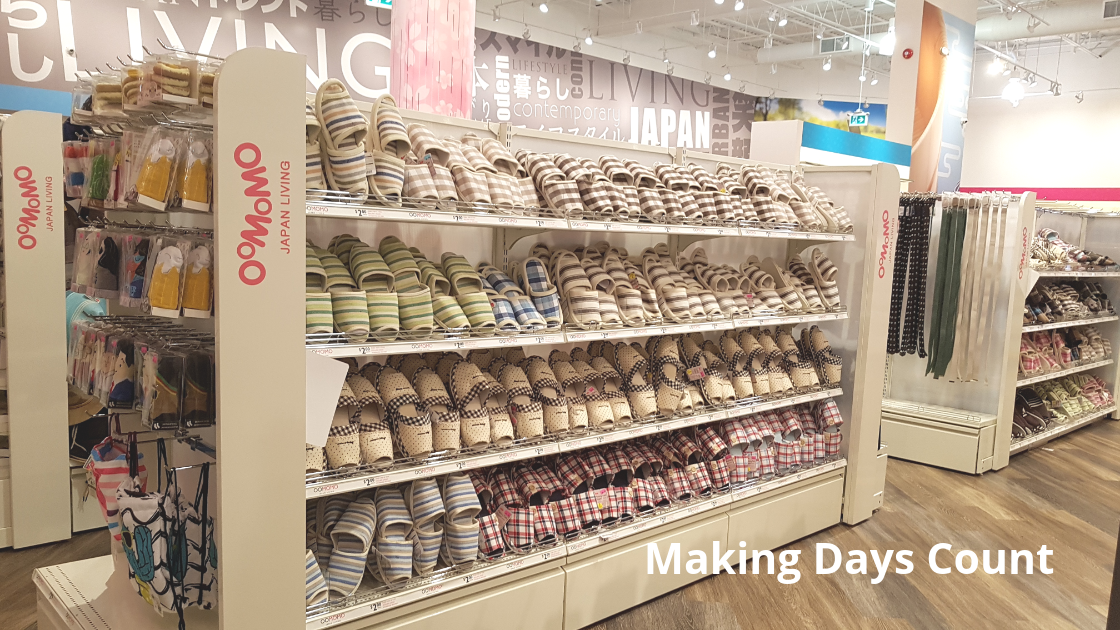 They look so comfortable and has a few options to choose from as well. If you want to keep your feet warm and not wear shoes in the house, consider these house slippers. Test out the padding with your hands before purchasing them for your feet.
The ones I am wearing at home are still in working condition, so I do not have the experience of wearing these ones. If you do, please let me know how they feel.
Two: Enjoy meals with pretty ceramic bowls
What makes a meal prettier beyond the food itself? The bowls and utensils of course! Browse through their aisles of ceramic bowls to see which design you like best. Your guests might not know that they are only $2 each.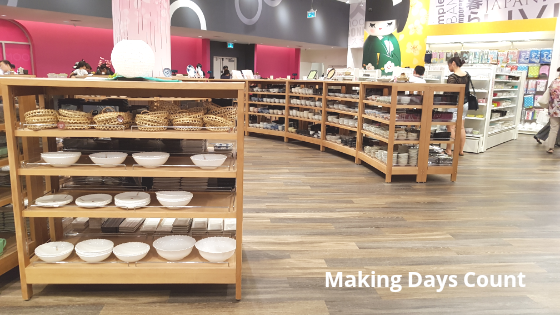 The best part of it is that if you accidentally break one, you do not need to buy a whole set to replace it. Just get another one from the store and you will be fine.
No need to keep these bowls for special occasions. Use them since you got them at such an amazing deal.
Three: Kitchen stuff galore
From measuring spoons to bento boxes, Oomomo has many Daiso items which (Daiso) is a Japanese dollar store. They range from different sizes and a ton of variety. If you need something for your kitchen, you can check out the kitchen section to see what you need and did not know that you need here.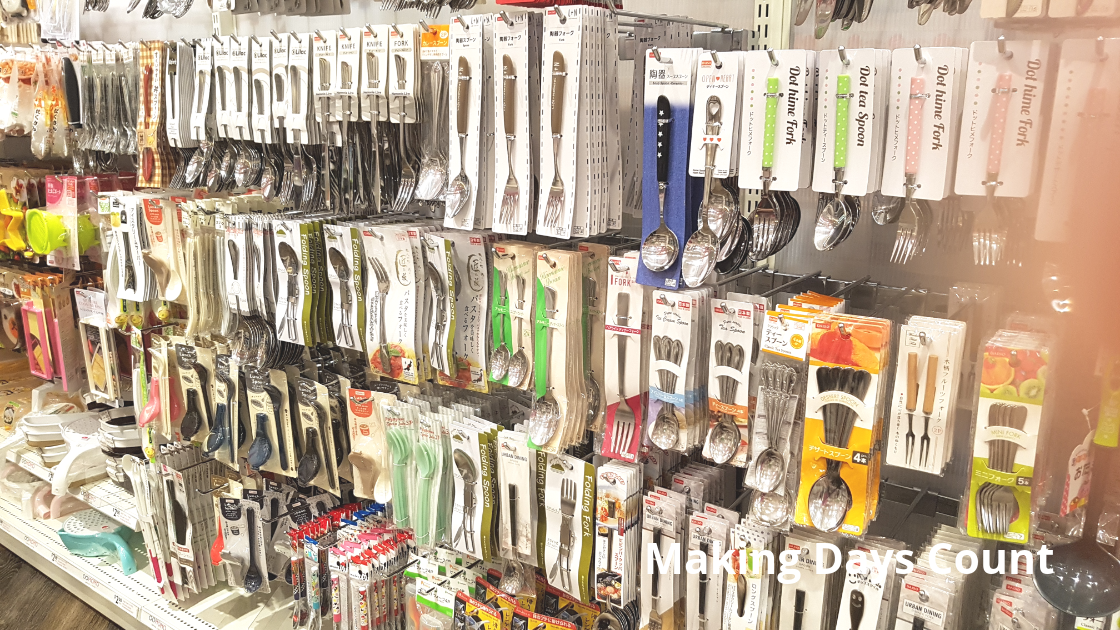 I was thinking that if Oomomo was opened a long time ago, I would have bought some of my kitchen items here. Now, I just need to wait until I actually need something.
Side note: These things are great, but if you already have them at home, it's better to walk away and not have duplicates. Another reason to get these items are for house warming gifts, especially for those who just got their own place for the first time.
Four: Organize your belongings with organizational baskets
Oomomo has a ton of baskets with different sizes and colours. They also have the cardboard boxes version that you might see at Michaels. It reminded me of the Dollar Tree videos I have seen with these baskets.
Related:
This will be great for those who need to store their items in a neat and colour-coded manner. What you might need to do is to measure the space you would like to put these boxes so when you go into the store, you would know which boxes would work best for you.
Five: Snacks
Technically this is not just for your home, but it would be nice to have snacks. They have tons of snacks with colourful pictures and words. I think it would help if you understood kanji or the Japanese characters.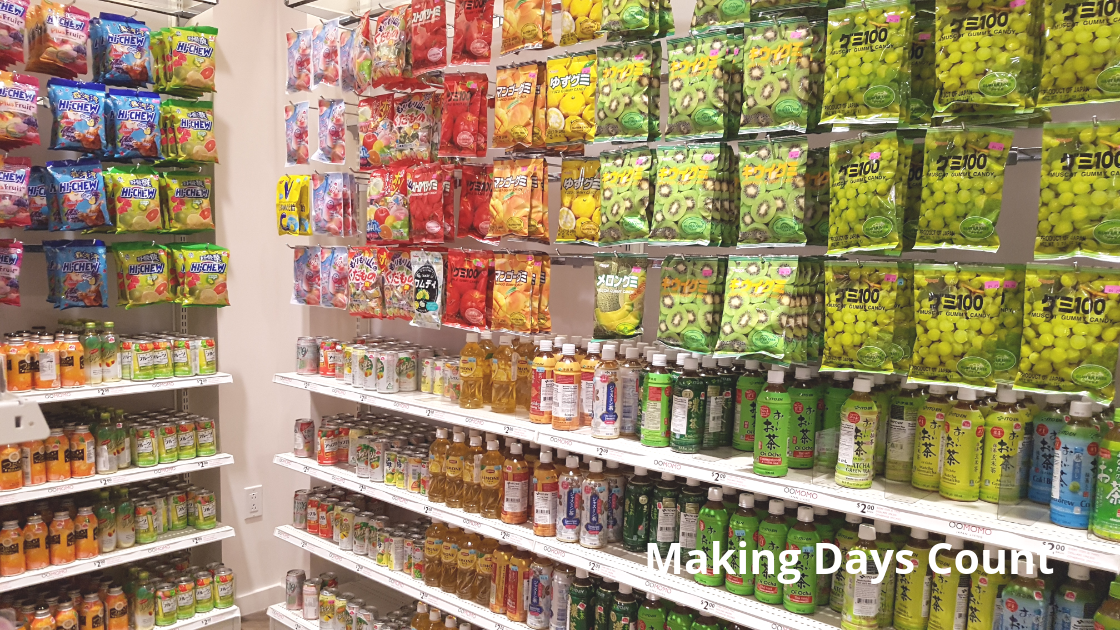 Unfortunately, I do not understand kanji but I can try to guess from the pictures of what is in it.
When you have guests over, you can offer them these snacks or try them out together. It will be an interesting conversation piece for sure.
Six: Decorate with their Faux Plants
In the Markham store, you can walk to the back and see an array of faux plants. From tiny ones to bigger pieces, you can decorate your home with these plants without worrying about taking care of them.
Especially for really busy people who still want their place to look nice, this would be a good option. Also, for people like me who might not have the greenest thumb, they are so beautiful and they stay that way for a long time.
Yay!
Seven: House Cleaning Supplies
Oomomo also has these house cleaning supplies. We bought a similar dry cloth to Swiffer to clean the floors. It is thinner and a lot cheaper. But, I do think that the Swiffer picks up dust a lot more and faster as well.
There are other cleaning supplies from brooms to different types of cloths. Feel free to check them out and see what you need for your home. If not, keep an inventory of what they might have so that you can drop by the next time you need something.
Thanks for reading. If you are interested in similar posts, please check these out:
If you like what you read, please pin the image below and share it with others. Thanks!